ST. LOUIS • City leaders and St. Louis Blues executives are seeking taxpayer help to pay for a $138 million renovation of Scottrade Center.
The city would fund the initial $67.5 million in improvements in the proposal, which was rolled out in a Tuesday morning news conference.
Under a proposal expected to be submitted to the Board of Aldermen this week, the city's contribution would come from current sales taxes generated at Scottrade as well as a new 1 percent sales tax on Scottrade Center ticket sales, concessions and other retail.
"The Scottrade Center is no longer competitive," said Blues Chairman Tom Stillman, adding that NCAA and concert promoters have warned that they will stop coming to St. Louis without upgrades to compete with facilities in Indianapolis, Kansas City, Nashville, Tenn., and elsewhere.
"We're going to need the city to invest alongside the Blues ownership," Stillman said.
The city's contributions would fund new seating throughout the stadium, a new scoreboard hung in the center of the stadium, sound system and lighting upgrades, renovated locker rooms, renovated concessions stands and new administrative offices. Various entryways and facades would also get makeovers.
City and Blues officials also are planning to ask state legislators for $70.5 million for further renovations in a second phase, the timeline for which is still being finalized. But that request comes as Gov.-elect Eric Greitens has publicly opposed taxpayer stadium funding and called it "welfare for millionaires."
A spokesman for Greitens, who takes office Monday, could not be reached for comment Tuesday.
The city's $67.5 million would be raised in a tax-exempt bond issue and would be spent in the next three years under the plan.
Board of Aldermen President Lewis Reed said a bill would be introduced this week and could get a committee hearing as early as next week.
Blues owners intend to contribute $50 million out of pocket over the next 20 to 30 years for additional improvements beyond the other renovations, Blues Chief Executive Chris Zimmerman said.
Blues executives and city officials are asking for the state contribution to come in $6 million annual installments. However, Blues officials said that request hasn't been finalized.
Zimmerman said they're asking for a higher amount from Jefferson City because the state gets a larger share than the city of the annual sales taxes generated by the Blues.
Stillman said the stadium generates $14 million total in sales tax annually, with about $6 million going to the city and $8 million to the state.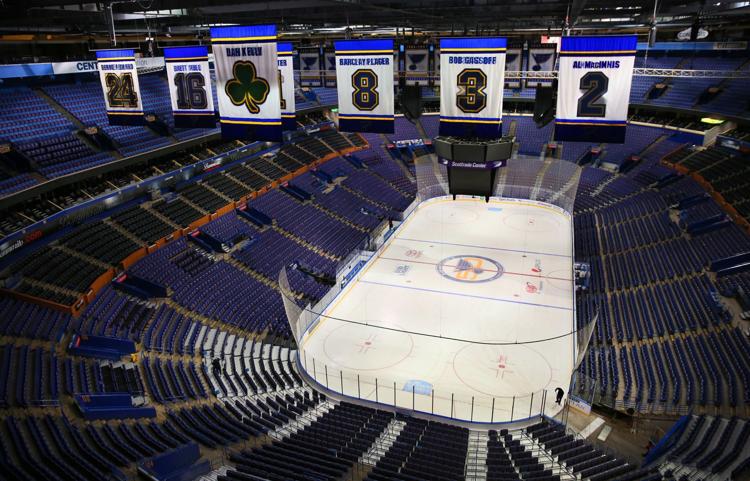 Included in the $138 million in renovations is $10.3 million already spent recently by the Blues to improve water systems and the video production and control room, as well as to install wireless internet in the arena. However, those costs could end up being reimbursed by the state or the city.
Records filed with the Missouri Ethics Commission show the Blues and the Kiel Center Partners have hired 14 lobbyists to represent their interests before the Legislature in 2017. That's a comparatively high number among professional sports teams in Missouri. The St. Louis Cardinals baseball team has seven lobbyists. Three lobbyists are registered to represent the Kansas City Chiefs.
Formerly called the Kiel Center, the downtown arena is owned by the city of St. Louis and leased to the Blues, who operate and manage the facility. It opened in 1994 and cost $170 million at the time with $62.4 million in tax-exempt financing.
Slay said Scottrade has generated $100 million in tax revenue for the city since it was opened nearly 23 years ago. Now, he added, "We have to take care of our building."
Over the life of the building, private owners have contributed $237 million to building maintenance and improvements, Stillman said. He said combined losses for Blues ownership groups "over the years" were about $500 million.
"The Blues have not exactly been a get-rich-quick proposition over the years," said Stillman, whose ownership group bought the team in 2012 for an estimated $132 million.
Forbes Magazine estimates the team's current worth at $310 million, ranking 23rd out of 30 NHL teams. Forbes estimates the team's annual revenue at $129 million, with an operating profit of $3.2 million.
Officials said the stadium directly generates $132 million in spending in the city annually.
"These events (at Scottrade) make us money," Slay said. "The Scottrade Center has been the gift that has kept on giving."
Among events Scottrade may be vying to host in the coming years, officials said: NCAA wrestling tournaments, the NHL All Star game, NCAA men's basketball regional tournaments, figure skating competitions and the NCAA Frozen Four.
Reed stressed that the facility has already paid for police officers and transportation needs but hasn't had a major upgrade since it was opened. "We must stay competitive," he said.
In addition to the city-funded renovations, connections between the Peabody and Scottrade would also be improved through a combination of private and state financing. A new roof, new escalators and elevators, a water cooling system and security upgrades would also be funded under that portion of the plan.
The public's costs would be fixed, meaning any cost overruns on projects would fall to the private ownership group.
Tuesday's news conference came one day after Greitens said he had "completely ruled out state funding for stadiums." Greitens' opposition to state tax credits for a proposed Major League Soccer stadium in St. Louis may eventually nix the city's effort for a team, ownership group vice chairman Dave Peacock said.
Meanwhile, America's Center and the Dome need about $350 million in renovations, St. Louis Convention and Visitors Commission President Kitty Ratcliffe has said. America's Center is owned by the city while the Dome is owned jointly by the city, county and state.
Last week St. Louis County Executive Steve Stenger said a specific proposal for the Dome and America's Center had not yet been submitted by Ratcliffe's organization.
Editor's note: This story has been corrected to explain that the proposed 1 percent sales tax would apply to all sales at Scottrade, from event tickets to concessions.
Post-Dispatch reporter Kurt Erickson contributed to this story from Jefferson City.