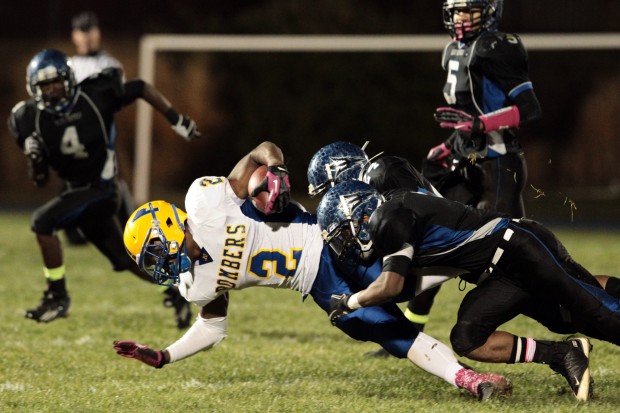 CLAYTON • Students at Clayton High School and Maplewood Richmond Heights High School may soon have the opportunity to play together on a merged varsity football team.
Clayton School District's Board of Education on Wednesday gave final approval to plan to allow Maplewood Richmond Heights students to participate in Clayton's football program and to share expenses for participation.
Maplewood-Richmond Heights School District's Board of Education also must approve the cooperative sponsorship and related expenses, said Bob Bone, the Clayton District's athletic director.
"If the final agreement is approved by everyone, we expect Clayton-Maplewood-Richmond Heights will be in the new team name, which likely will continue to be the Greyhounds," Bone said.
Maplewood Richmond Heights High School currently does not have a football team, Bone said, while participation in Clayton's high school football program has declined in recent years. During the 2018-2019 season, Clayton only fielded a varsity team. Twelve of the 33 students who participated were seniors.
In an effort to maintain Clayton's program, their athletics department petitioned MSHSAA/the Missouri State High School Activities Association — the governing body for high school activities throughout the state — to place a rule change on their spring ballot that would allow Clayton to enter into a cooperative sponsorship with another school for football.
Bone said the rule change vote is passing — vote deadline is the end of April — and MSHSAA has given permission for Clayton High to begin the process of forming a cooperative sponsorship with Maplewood Richmond Heights in football.
Maplewood-Richmond Heights High discontinued their football program in the 2015-16 school year and is interested in re-establishing the program, but does not have enough players to field a team, Bone said.
With board approval, the cooperative sponsorship process involves the two high schools working together to field a varsity football team starting in the 2019-2020 season.
Costs for the cooperative sponsorship would be shared between the schools based on the number of students participating, Bone said, adding Clayton would be the host site for games and practices.
Clayton's team name would not change and there would not be any need to purchase new uniforms except as needed, Bone said.
Both districts are still unsure of the total number of students that would be interested in playing football, Bone said, adding Clayton's school board later will review the sponsorship agreement when logistics are completed, before being finalized.
Clayton District Superintendent Sean Doherty added that, if a large number of students at both schools want to participate, officials may look into adding a junior varsity team later on.
Clayton High Principal Dan Gutchewsky said the agreement would be authorized annually with both school districts.
Bone said that having a program in place with established costs will allow costs to be prorated each year depending on the total number of students participating in the football program.
"I appreciate this out-of-the-box thinking, to benefit all students who want to participate in football," said Clayton district board member Kristin Redington.  
Be the first to know
Get local news delivered to your inbox!