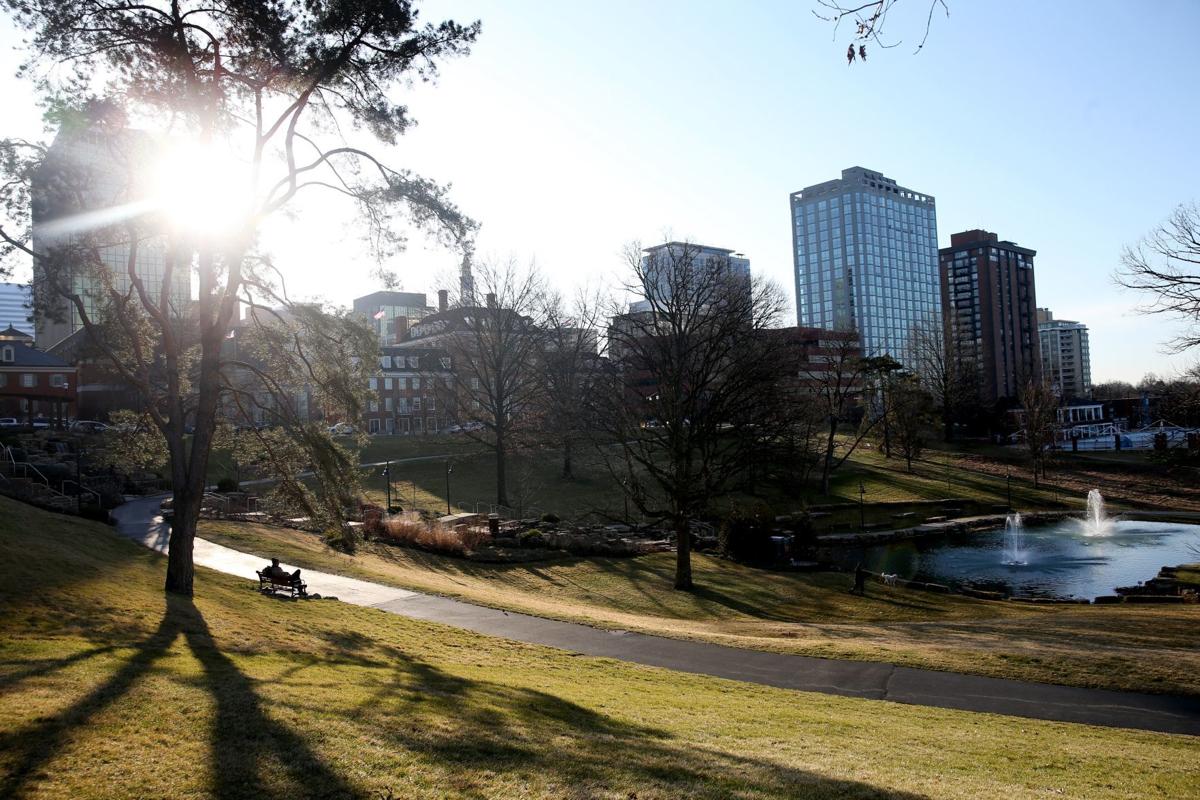 CLAYTON — Mayor Michelle Harris, citing nationwide efforts to remove monuments to those who have advanced racism and oppression of others, said Tuesday the Board of Aldermen will study Clayton's "monument landscape and commit to making the changes that our community wants."
Harris, who said the review would examine statues, street names and public art, cited a recent move by St. Louis County, which is conducting a similar review under the direction of Hazel Erby, county director of diversity and inclusion, and other county officials.
"Symbols of oppression and exclusion do not reflect the values of the Clayton community," Harris said.
The discussions will begin at a July board meeting.
She said the study will require research and possible collaboration with neighboring cities.
"We look forward to engaging in this work with our community, our Community Equity Commission, and our partners, making changes for the better," she said.
Clayton is the county seat.
Also Tuesday, Harris and the Board of Aldermen gave approval to staff to use orange traffic barricades as additional parklets to expand space for outdoor dining at various restaurant locations throughout the city.
City Manager David Gipson said that, in 2014, the city created the only parklet the city has so far, at a cost of $32,000 to design and build.
"A parklet (about 20 feet long and 7 feet wide, in two or three sections and constructed from steel and wood) is a deck-like conversion, allowing restaurants to expand into parking spaces alongside the sidewalk (in front of their business) to allow for more outdoor seating," he said.
"Our parklet was designed to move to various locations."
In 2014, the 10 block of North Central Avenue — that street has been identified in the city's 2010 downtown master plan as the center of downtown for events and dining — was selected as the original location of the city's current parklet, he said, adding the first parklet was located in front of the Barcelona restaurant.
Since 2014, the parklet has been moved to various locations including at Avenue Restaurant on Meramec Avenue, Remy's Wine Bar on Bemiston Avenue, Sasha's on Demun Avenue, Seedz Café on Rosebury Avenue, and, now, at Akar restaurant on Wydown Boulevard, Gipson said. Staff has determined locations by gauging interest from restaurants, agreement by surrounding businesses/property owners, and acceptance by residents in the neighborhood, he said.
In 2018, aldermen approved a parklet policy which set forth standards — such as appropriate locations, uses, design parameters, access by the general public, neighborhood support, and more — for which private businesses could install parklets in front of their locations.
He said staff originally planned, on Tuesday, to seek direction from aldermen on whether the city should fund the construction of additional publicly owned parklets and establish policy guidance on the process by which businesses or areas are selected to receive a city parklet.
"Akar is currently using two two-person tables and a planter between the tables as the furnishings," Gipson said, adding that "given the current spacing requirements due to COVID-19, a 20-foot parklet would accommodate three two-person tables."
More parklets could be built for $10,000 to $20,000 each, depending on materials used and construction labor, he said, adding the city typically allows its parklet to remain in place only in the spring and summer and removes it prior to fall leaf sweeping and snowfall.
Gipson said that, as the COVID-19 pandemic unfolded, businesses closed and the city focused intently on how to expand outdoor dining (since St. Louis County guidelines allow for only 25 percent of indoor occupancy), "we wanted to allow as much outdoor dining as we can.
However, Gary Carter, the city's director of economic development, came up with the idea — on Tuesday — to use about 60 orange traffic barricades the city has available, to quickly create 12 — each using five barricades — temporary parklets.
Each of these parklets would create a space of about five by 18 feet and use two parking spaces, Carter said.
"Though they would not provide (handicapped) access, they could be set up relatively quick — it would take only one day to deploy all 12," he said.
"However, this is a temporary solution for this year, not a multi-year solution, though it could provide for getting more restaurants back in business as soon as possible."
While some aldermen have suggested closing off some streets to allow for outdoor dining, Carter said Clayton "doesn't have the restaurant density on any one street to justify a closure."
Regarding use of the barricades, Carter said the trade-off for their use will be the loss of some parking spots, which some businesses use for curbside pickup of products.
"We will need a policy on how we deploy barricade parklets, such as approval of adjoining businesses," he said,
Harris said the barricade parklet plan was "important to demonstrate to the community that we're making an effort to help restaurants and maintain Clayton as a fine dining destination — my observation is that they're very desirable and a good solution."
Officials said the barricades would be mounted and secured, with reflectors on them so drivers could see them at night. They could be decorated, such as with planters, Carter said.
"This is a solution we can afford," Alderman Joanne Boulton said, though Alderman Ira Berkowitz admitted the barricade parklets would be "pretty damn ugly, though I appreciate that the idea is easy to carry out and gives more space to restaurants."
Officials said they would likely avoid parklets on streets with higher speed limits and volumes of traffic such as Brentwood Boulevard, Maryland Avenue and Hanley Road.
Be the first to know
Get local news delivered to your inbox!