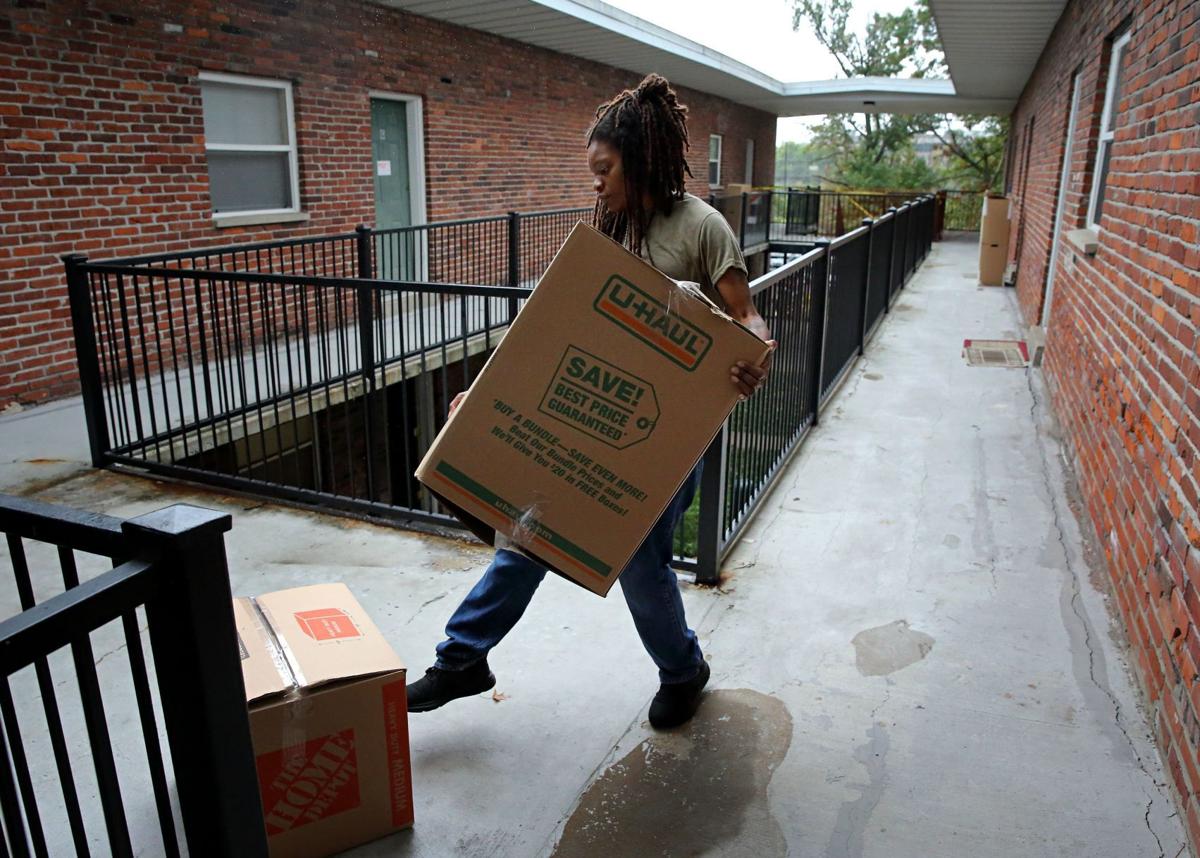 FERGUSON — The night before some low-income residents of troubled apartment complexes here planned to move out on orders of the property owners, others met with St. Louis County officials, legal advocates and activists on Wednesday night to get answers — and help.
The residents at Park Ridge and Northwinds apartments were told by the complexes' owners, T.E.H. Realty, to move out in recent weeks after an Oct. 25 inspection of the complexes and several others by the St. Louis County Housing Authority.
The inspections followed reports about substandard conditions at several apartment buildings.
T.E.H. sent Park Ridge tenants letters that blamed the Housing Authority for pulling funding. Calls Friday to a phone number listed on the letters went to a recording that said the number had been temporarily disconnected. Some residents were told to leave by Thursday, others by Nov. 30.
Some Northwinds tenants got letters saying they owed money and would be evicted if they didn't pay, though they denied that any missed payments were due. The recipients say they have gotten no follow-up information from T.E.H.
But the director said the Housing Authority had only barred Park Ridge from accepting new Section 8 applications until April, giving T.E.H. until then to fix severe issues.
Compounding the confusion were separate cases where units within the Park Ridge apartments failed inspection. Housing Authority workers were contacting those tenants to advise them that they may have to leave if the conditions aren't repaired at the same time that other tenants were receiving letters from T.E.H.
At least a few dozen apartment tenants, Ferguson residents and activists attended a meeting called by Ferguson Southeast Neighborhood Association President Latasha Brown to get answers from Housing Authority Executive Director Susan Rollins. The meeting was also attended by county officials tasked with aiding the homeless, lawyers with a handful of legal advocacy nonprofits and County Councilwoman Hazel Erby and a number of other local officials, including Ferguson Mayor James Knowles.
An attorney for T.E.H. and two other of the company's representatives also attended the meeting but did not speak publicly.
In a phone call shortly before the meeting, Michael Fein, one of the owners of T.E.H., denied the company was stonewalling the Housing Authority and avoiding questions from tenants.
Fein said the letters to Park Ridge residents were sent only to people who had recently moved in and were applying for Section 8 vouchers. He said inspectors had approved the tenants' units but then denied their housing vouchers, forcing T.E.H. to tell them to leave.
Fein said he did not know how many tenants had gotten letters. He also did not know how many Northwood tenants had received notices of late payments, but said that any incorrect notices would be cleared up at the complex's offices — or in court.
Park Ridge residents who had received letters from T.E.H. telling them to move included people who had lived there for a year or more, Brown said. That included her own daughter.
"I think we heard tonight that they haven't talked to tenants," Rollins said, referring to the many questions asked Wednesday night. "T.E.H. has not sent us any information."
And without any names on the T.E.H. letters, it was difficult for the Housing Authority to follow up with tenants. Rollins said the agency was still unsure exactly how many tenants had gotten orders to leave.
Sarah Hugg-Turner with Legal Services of Eastern Missouri urged attendees to contact lawyers immediately.
Asked by attendees why legal advocates weren't telling tenants not to move out, she said that even if the legal notices were illegal, T.E.H. could still sue tenants and that even lawsuits settled in their favor could make it much harder for them to find future housing.
"The concern is that T.E.H. could still file a lawsuit," she said after the meeting. "And that could be very damaging to tenants' futures."
Rollins and other county officials gave attendees their phone numbers and promised to follow up on each case.
But for some residents and advocates, the answers given at the meeting weren't a source of relief amid concerns that they had to be out of their apartments by Thursday.
Marble Davis, 51, a St. Louis activist who has been helping tenants, said they needed help immediately.
"What is tomorrow going to look like?" she said.
Be the first to know
Get local news delivered to your inbox!