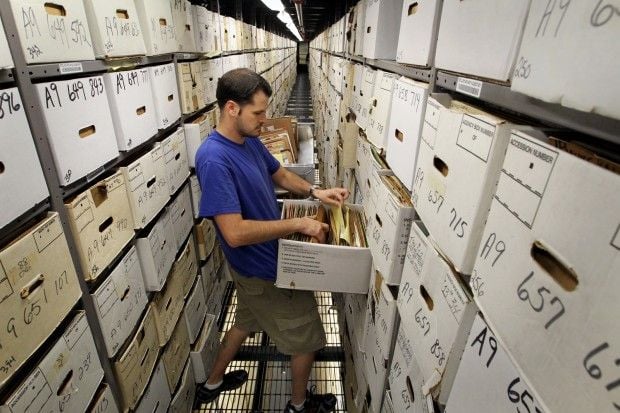 ST. LOUIS COUNTY • An employee of ancestry.com who was working at the federal records center in north St. Louis County was fired for allegedly throwing out draft-card information, a federal administrator said.
Bryan McGraw, director of the National Personnel Records Center, said Friday that his staff recovered all the papers, some of them from a trash can. The incident on March 12 prompted the federal agency to halt contract work by Ancestry Inc., which operates as ancestry.com, at St. Louis and four other sites.
McGraw said the man was part of a 13-person Ancestry team that, since August, has been scanning the center's collection of about 49 million draft cards from the World War II era. Non-subscribers of Ancestry can access the information for no fee at the records center.
Ancestry has worked with the National Archives and Records Administration since 2008.
McGraw said the employee apparently had been warned about productivity by his supervisor and tried to dispose of a pending stack of supplemental papers that had been attached to individual draft cards. McGraw said another person found some of the records on the employee's desk and others stuffed into a latex glove in a trash can. Some archives workers use gloves while handling documents.
The National Archives and Records Administration in Washington is allowing Ancestry to resume work at two sites, but not yet at St. Louis. McGraw said the U.S. Justice Department was looking into the case of the fired employee.
"We are reviewing our procedures and processes," said McGraw. "We're in the midst of a formal investigation to make sure the system works."
In a statement, Utah-based Ancestry called the case "an isolated incident" and said it was working with the agency "to make appropriate preventative measures in the future."
The records center, near Interstate 270 and Highway 367, is the national repository of about 100 million federal personnel files dating to the early 1800s. The $115 million building, completed in 2012, replaced the old records center in Overland.
It is most known for its 57 million military files, which are used by the public for everything from verifying veterans' benefits to providing information to historians and genealogists.
This isn't the first time someone handling records at the center has been accused of improperly stashing records.
Two former employees pleaded guilty of destruction of government records, and several others resigned.
---
EDITOR'S NOTE: World War II-era draft records that Ancestry.com, a private genealogy service, is scanning under contract at the National Personnel Records Center in north St. Louis County are free to non-subscribers only at the records center. An earlier version of this story gave incorrect information.