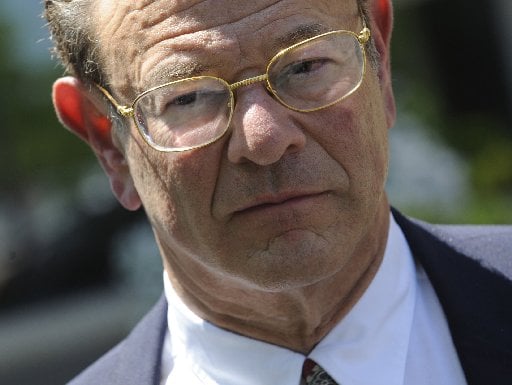 Dr. Mark Geier has opened eight autism treatment clinics called ASD Centers across the country but is only allowed to practice at two of them — in St. Peters and Springfield, Ill.
Missouri and Illinois are among the last states to seek discipline against Geier, whose hormone therapy for children with autism has been called dangerous, abusive and exploitive by various medical boards.
In the last two years, his medical license has been revoked or suspended in California, Florida, Indiana, Kentucky, Maryland, New Jersey, Texas, Virginia and Washington.
Missouri, Illinois and Hawaii have filed complaints against Geier based on other states' actions, but his license remains active in all three states. A disciplinary hearing in Geier's case is set for Oct. 19 before the Missouri Board of Registration for the Healing Arts in Jefferson City.
Geier did not respond to requests for comment.
After Geier and his son, David, ran into trouble in their home state of Maryland, they apparently came to Missouri.
Last year, David Geier, who has a bachelor's degree in biology, was charged with practicing medicine without a license. In their case against him, Maryland authorities said he had diagnosed patients, used ultrasound machines and ordered blood tests.
David Geier now works at the St. Peters clinic in a shopping center on Mexico Road.
"I don't see patients," Geier said when reached at the clinic Wednesday.
A man who answered the phone at the ASD Center in Springfield, Ill., said Dr. Mark Geier does not see patients there but consults with the clinic's director, Dr. Georgia Davis.
A local pediatric neurologist said he was stunned when a teenage boy came to a Mercy clinic this summer after being prescribed the testosterone-suppressing drug Lupron and diuretic Aldactone at the ASD Center in St. Peters.
"There is no evidence that the drugs used by Dr. Geier have been helpful for any autistic children," said Dr. Steven Rothman. "This is not a therapy that should be tried without very careful controls and really convincing preliminary evidence."
Lupron, which can cost $6,000 a month, is given to men with advanced prostate cancer and women with endometriosis, and has been used for the chemical castration of sex offenders. In rare cases, it has been prescribed for children younger than 9 with early puberty but is not approved for the treatment of autism.
In articles and other writings, Geier associates autism with mercury in childhood vaccines. The theory that vaccines have any link to the developmental disorder has been debunked by mainstream autism experts and the U.S. Centers for Disease Control and Prevention.
Geier also has written that he prescribes Lupron to reduce testosterone because it binds to mercury.
David Geier said Wednesday that "many peer-reviewed scientific studies" have been published that support the theory. All of the research articles cited on the ASD Centers' website are co-authored by Mark or David Geier.
The Geiers' research has been discredited by the Institute of Medicine and the American Academy of Pediatrics.
Geier's case illustrates some of the limitations of state medical boards. A complaint in one state does not necessarily launch an investigation by any other state where the doctor is licensed.
It's easier to discipline a doctor when another state has already gone through the investigative process, said Susan Hofer, spokeswoman for the Illinois department of professional regulation.
State medical boards generally rely on doctors to self-report their discipline from other states when reapplying for their licenses every one to three years. In the meantime, a doctor can move from state to state and continue to treat patients before the discipline process catches up.
The Illinois medical board had been tracking Geier for more than a year, Hofer said, but an automatic discipline action is not triggered until another state revokes a doctor's license.
In a 2011 ruling to suspend Geier's license, the Maryland medical board said a 9-year-old Illinois boy received a prescription for Lupron over the phone. The ruling also said Geier injected Lupron in children with normal levels of testosterone, or who were too old for a diagnosis of early puberty.
After multiple appeals, Maryland authorities revoked Geier's license in August for his "almost total disregard of basic medical and ethical standards."
If you or your child have experience with Dr. Mark Geier or David Geier at their clinics in St. Peters, Springfield, Ill. or elsewhere, please call reporter Blythe Bernhard at 314-340-8129.