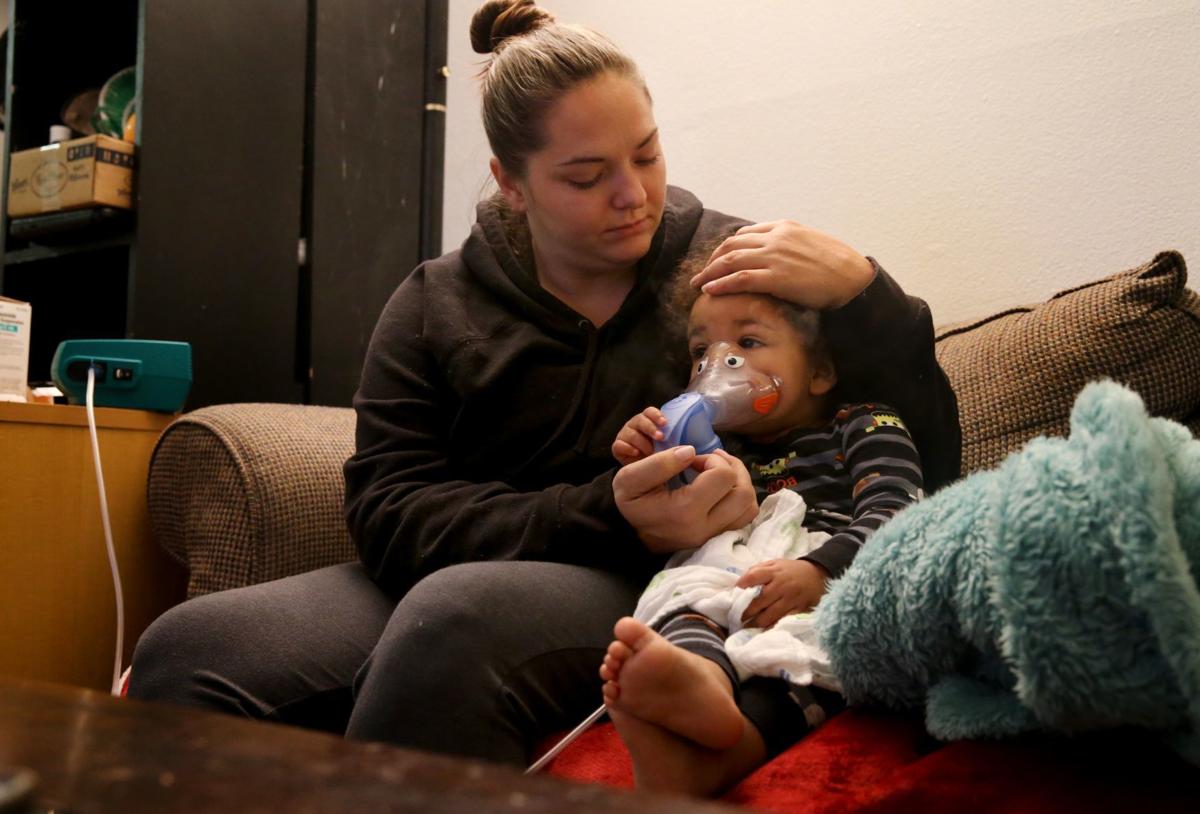 ST. LOUIS — Displaced by a fire last winter, Amanda Jackson and her infant son, Marquise, needed a place to land fast. She chose Southwest Crossing Apartments, a T.E.H. Realty property off Interstate 55 in far south St. Louis.
Jackson liked the one-bedroom apartment that management showed her. It was cozy enough, in a good location and affordable: $550 a month, including water, trash and sewer.
But soon after she settled, a neighbor on the top floor moved out. Then the people in units directly above and beside her. They were fed up with ceiling collapses and shoddy repairs. Then, the fire department showed up early one morning a few weeks ago after a swath of the roof finally collapsed.
Still, she stays. Even though Marquise, 1, is allergic to mold, which is a trigger for his asthma. He gets multiple breathing treatments a day. She's rushed him to the hospital lots of times.
"I don't want to stay here because it's making my son sick, but I can't afford to just pick up and move without getting my security deposit," Jackson, 34, a construction worker, said Wednesday.
Since late 2014, the firm gobbled up as many as 12 large low-income housing apartment complexes in the region that have generated numerous complaints from residents, housing officials and attorneys. Earlier this year, a bank foreclosed on Park Ridge Apartments in Ferguson. On Wednesday, a new management company took over control of Northwinds Apartments, also in Ferguson, and Crown Manor Apartments in unincorporated north St. Louis County.
The fate of other complexes in the region was unclear Wednesday. Owner Eliram Rabin, executive Shlomo Lerner or other T.E.H. associates could not be reached for comment. A manager who didn't want to be named said T.E.H. is trying to get out of the St. Louis market.
The challenges at Southwest Crossing are the same at nearly all the T.E.H. Realty properties, according to numerous visits by the Post-Dispatch over the past year and a half.
And Jackson's situation of being trapped by poverty isn't unique, either.
Last summer, following advice from her pediatrician, Jackson said she called the city Health Department because her son was getting sick from mold at home. She said property management would only spot treat her apartment with bleach.
"If there is mold in the other units, they aren't dealing with all the problems," she said. "They just wanted to put a Band-Aid on things. They didn't want to actually fix them."
According to Leilani Liddell, the recent property manager at Southwest Crossing, 25 to 50 of the occupied units have water damage or mold; about 50 vacant units have either mold or plumbing issues.
"I just think it's a superiority thing," Liddell said of T.E.H. Realty's lack of investment. "It's impossible to run it better if they don't value people as much as they value themselves."
"They would say," she added about high-level management at the firm, "people choose to live this way."
Liddell, who was fired this week after she and other employees blocked in one of the owners for not paying them, confirmed that a roof recently collapsed in Jackson's building. Liddell said there is mold in the vacant units surrounding Jackson's apartment. She said she has tried to move Jackson to a different unit.
Jackson said that was true, but that Jackson feared moving would be a major disruption and that the next unit wouldn't be any better.
On Wednesday, her living room was piled with clothing and toys for Marquise. She said they mainly stay in the living room because she fears the mold is worse in other areas.
"We stay in here and keep the bedroom doors closed," she said.
Harold Bailey, public information officer for the health department, said the city received two internal mold complaints at Southwest Crossing in 2019.
"We can't cite them for mold," he said. "There is no ordinance. If we did do something, it might have been just giving them some advice about that probably being the result of a water problem."
He said an inspector who visited the property Wednesday was probably going to cite Southwest Crossing for excessive trash, and possibly other matters. He said the full report wasn't complete.
Southwest Crossing has a private contract for trash pickup, a bill that apparently hasn't been paid. A recent maintenance worker told the Post-Dispatch that he saw a notice that the water was also supposed to be cut off in the next few business days. Liddell said the water bill rose to about $63,000 over the summer.
Jacob Long, a spokesman for Mayor Lyda Krewson, said Wednesday that the city was not going to cut off the water though the apartment complex is behind "several thousand dollars in payment."
Heather Dixon, 26, feels like she dodged a bullet. She changed her mind about moving into Southwest Crossing this week. Still, she'd like the $700 back that she paid to have her application processed. On Wednesday, the front office was closed and she wasn't getting anywhere with T.E.H. Realty.
Dixon has an 11-month-old baby. She wants to move somewhere soon.
"We need stability," she said, "and that's what I am trying to create for my daughter."
Deplorable conditions at T.E.H. Realty property Southwest Crossing Apartments
Deplorable conditions at T.E.H. Realty property Southwest Crossing Apartments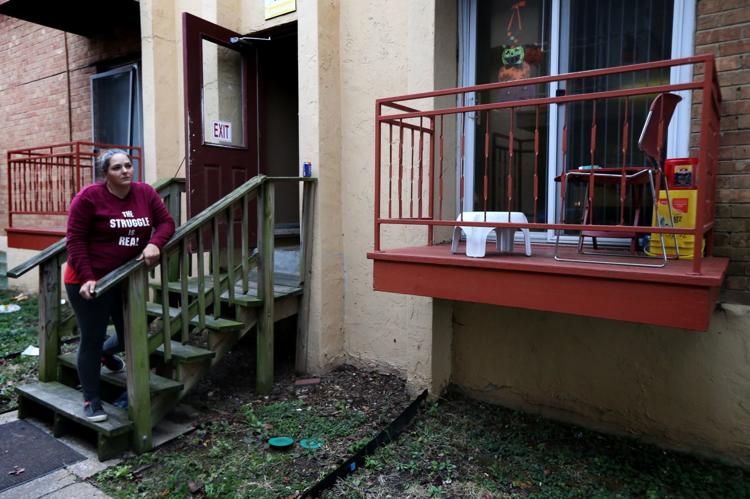 Deplorable conditions at T.E.H. Realty property Southwest Crossing Apartments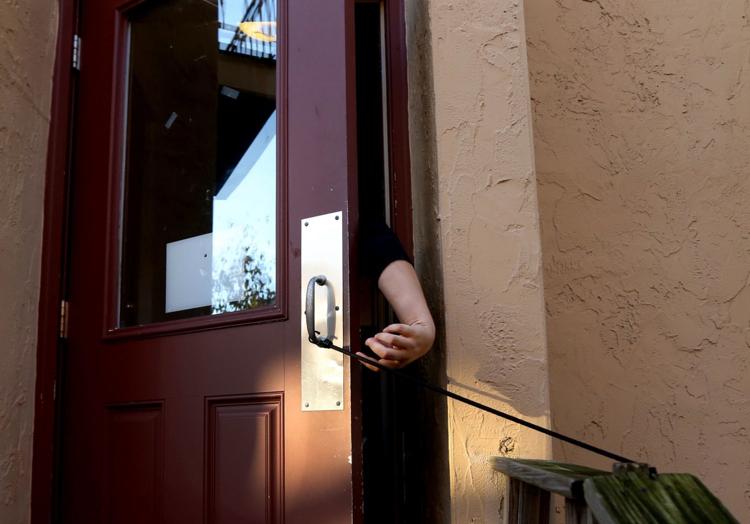 Deplorable conditions at T.E.H. Realty property Southwest Crossing Apartments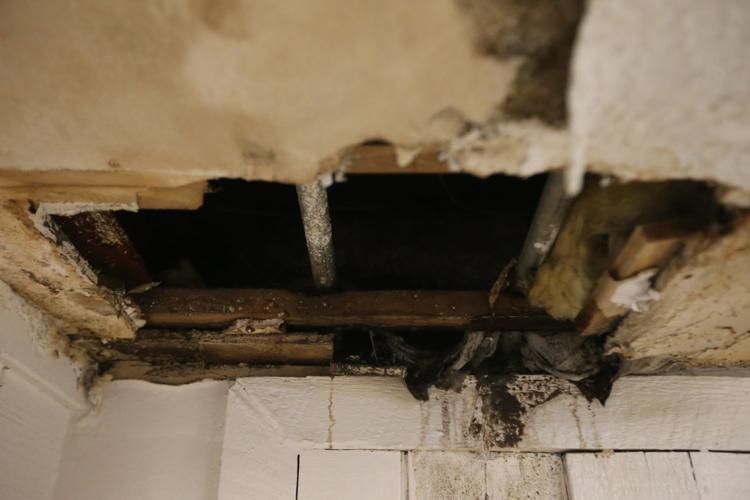 Deplorable conditions at T.E.H. Realty property Southwest Crossing Apartments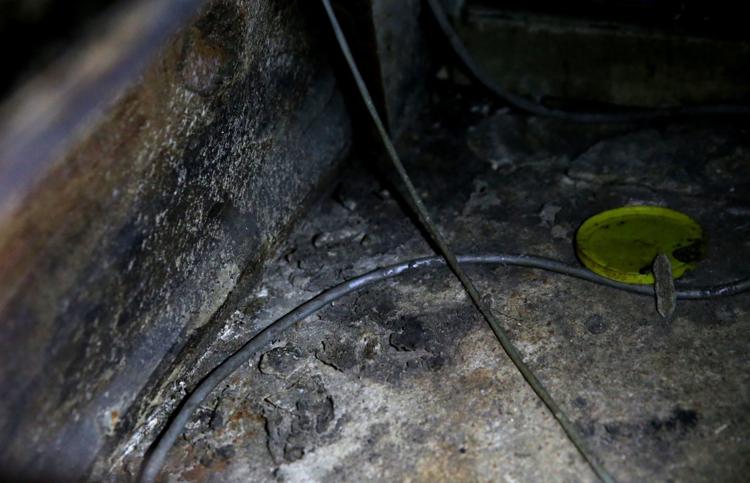 Deplorable conditions at T.E.H. Realty property Southwest Crossing Apartments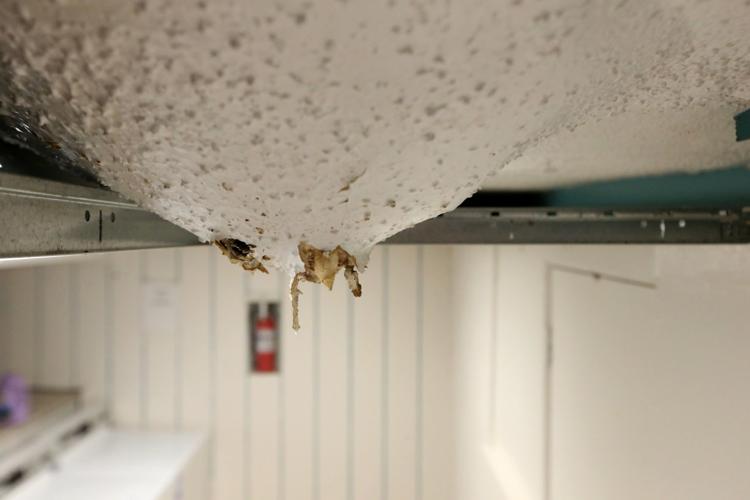 Deplorable conditions at T.E.H. Realty property Southwest Crossing Apartments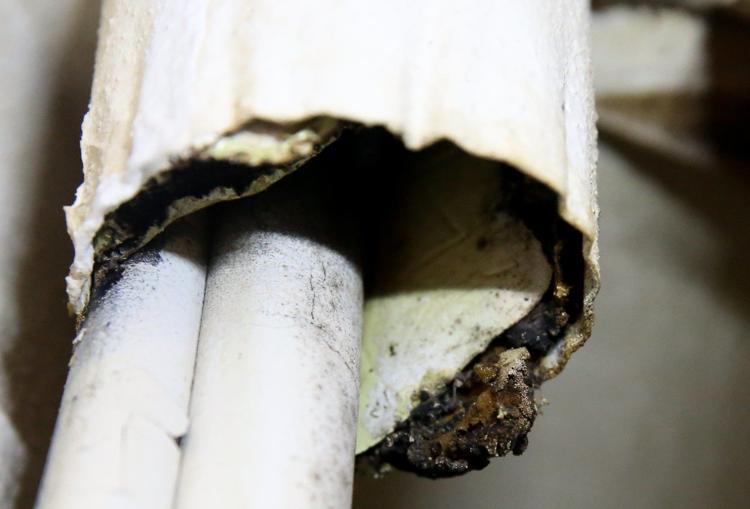 Deplorable conditions at T.E.H. Realty property Southwest Crossing Apartments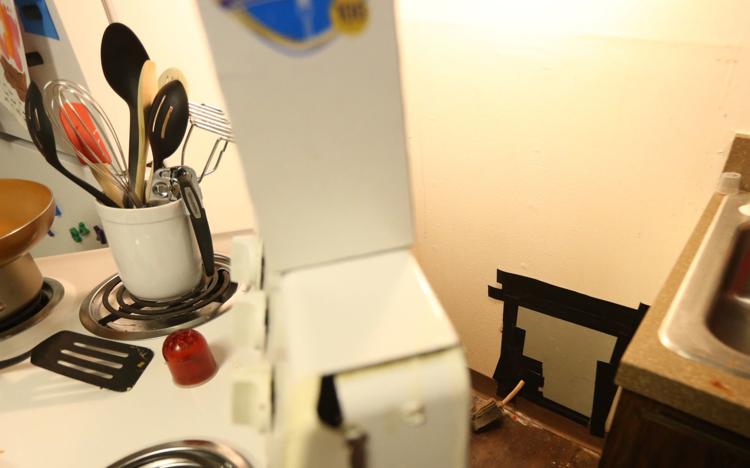 Deplorable conditions at T.E.H. Realty property Southwest Crossing Apartments