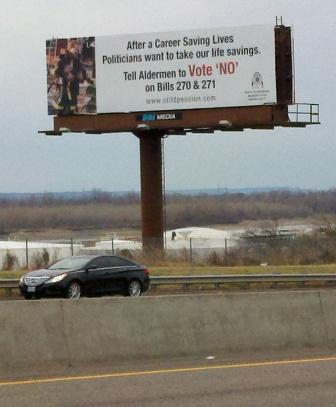 ST. LOUIS • City Comptroller Darlene Green might decide the future of the Firemen's Retirement System of St. Louis.
By law, she has a seat on the eight-member pension board, either personally or through Deputy Comptroller John Zakibe, who has long represented her.
And that seat may well matter in coming months. Mayor Francis Slay has proposed two pension overhaul bills, which make deep cuts to firefighter benefits, tighten disability rules, and create a new retirement system.
Firefighters are fighting to stop Slay's bills – leafleting homes, pasting up billboards, teaming with Aldermanic President Lewis Reed to lobby for their own plan, and using their seats on the pension board to sue the city should Slay's bills succeed.
But the board is split. Firefighters have four seats – three active employees and one retiree – who generally vote together. Slay has two appointees.
That leaves two wild cards, whose votes could swing the board.
The first, Fire Chief Dennis Jenkerson, is appointed to his post by the mayor and placed on the board ex-officio. Earlier this month, he cast the deciding yea in the vote to sue – leading to a phone call from his boss and an expression of "extreme disappointment" from Slay.
The second is Green, the city's chief fiscal officer and the only truly independent voice on the board.
But Green, until now, hadn't publicly expressed an opinion on the matter.
And she didn't want to talk about why.
Spokesmen Sean Hadley first refused to answer questions on the subject, referring reporters to the fire pension board.
Green then said she was at Harris Stowe State University that day – though her own City Hall calendar puts that event much earlier than the pension board meeting.
Green later refused to answer where she was, or if she had been told of the meeting.
She did, however, ask an assistant to email to a reporter her first public statement on the merits of Reed's and Slay's proposals:
"While both plans have merit, it is my hope that there can be a compromise," Green wrote. "If a compromise cannot be reached, it is my position that we should move forward with what all sides currently agree on.
"The legality of certain aspects of the proposed plans is questionable at this time," she concluded. "However, I do not believe we can afford to stop negotiations in favor of a court battle."