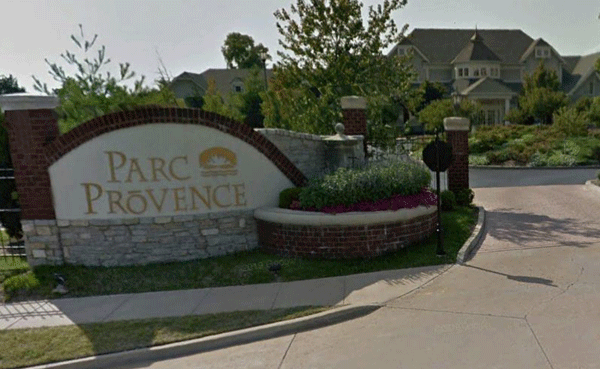 CREVE COEUR — Two more long-term care facilities in the St. Louis area are dealing with deaths attributed to complications of COVID-19, underscoring the heavy toll the coronavirus is taking on the region's most vulnerable population.
Five residents of Parc Provence, an assisted living and skilled nursing home at 605 Coeur De Ville Drive, have died "presumably from COVID-19," said Kathy Aragon, the facility's administrator, in a note Wednesday to family and residents.
Separately, a 95-year-old resident of Delmar Gardens of O'Fallon, Missouri, died of COVID-19, her grandson told the Post-Dispatch on Thursday.
Parc Provence has about 130 beds spread across five group homes, or households, each with a different level of care. A private room can cost about $400 a night.
It is unclear when the residents died. Aragon could not be reached for comment.
According to a Monday note to families, each resident of the Rose Garden household was tested last weekend for COVID-19; 18 of those residents tested positive, as well as another five in the hospital. Parc Provence reported then that no other residents in the remaining four households — Sundial, Parkview, Windchime and Lakeview — were showing symptoms.
By Wednesday, that had changed, when at least four residents in Lakeview tested positive and 14 tested negative.
"At this time, there are no residents with COVID-19 in the other three households," Aragon reported Wednesday.
On Thursday, a 95-year-old resident at Delmar Gardens of O'Fallon died overnight in the hospital from COVID-19, said her grandson. He said she'd been taken to the hospital a week ago because she had a fever. While in the hospital, he said, she was tested for COVID-19 and the result came back positive; she died about five days later.
Patricia Muich, a spokeswoman for Delmar Gardens, declined to comment on the death, nor would give an update on all its facilities, citing federal patient privacy laws.
"Under HIPAA guidelines, it is our legal responsibility to protect the privacy of our dear residents and staff," she said in an email Thursday.
HIPAA is the acronym for the Health Insurance Portability and Accountability Act, a federal law enacted in 1996 that establishes standards to protect medical records and other personal health information.
Chesterfield-based Delmar Gardens is the largest for-profit provider of long-term care in the St. Louis region, with a total of 1,806 beds spread across eight facilities in Black Jack, Chesterfield, Creve Coeur, Fenton, O'Fallon, south St. Louis County and Town and Country.
In addition to Delmar Gardens and Parc Provence, at least eight other residential care facilities in the St. Louis area have had COVID-19-related deaths.
On Thursday, the St. Charles Department of Public Health reported the 16th death of a resident of Frontier Health and Rehabilitation of St. Charles from COVID-19 complications. The victim was a woman in her 70s, the county said in a news release.
At least 10 residents have died at Edwardsville Care Center, a skilled nursing and rehabilitation center. Grandview Health Care in Washington, Missouri, also has reported at least 10 deaths.
It has been difficult to get a complete accounting of how many have been affected by the coronavirus in St. Louis area long-term facilities because health departments in St. Louis County, the city of St. Louis and the state of Missouri do not provide that information.
Illinois, by contrast, provides that information on a statewide website. Updated at 6:37 p.m. with the 16th death at Frontier in St. Charles
Concerned about COVID-19?
Sign up now to get the most recent coronavirus headlines and other important local and national news sent to your email inbox daily.