LAKE SAINT LOUIS — The nation's largest pharmacies on Monday gave the first of more than 120,000 vaccinations to Missouri's long-term care facility residents and staff, beginning the inoculation process for some of the state's most vulnerable.
CVS and Walgreens, through a contract with the federal government, began administering the vaccine manufactured by biotech company Moderna to among the first of roughly 56,000 long-term care residents and 70,000 staff in Missouri. The vaccinations should eventually allow family members to visit residents and end the isolation they have endured for months.
"It's not all going to happen tomorrow," said Al Beamer, CEO of the Cottages of Lake St. Louis. "But we have a lot of hope that over the next few months we can transition to a better way for having our elders be able to see and touch their loved ones."
Missouri has recorded 383,616 known cases of the virus and 5,316 deaths. But nursing homes have been hit the hardest, registering 2,518 COVID-19 deaths in Missouri as of Dec. 13, according to the U.S. Centers for Medicare & Medicaid Services — nearly half of the state's total reported virus fatalities at the time.
Hospitals got the first doses of vaccine in the St. Louis region and began administering them to health care workers two weeks ago. As of Monday, at least 50,000 health care workers had been vaccinated in Missouri, according to state Department of Health and Senior Services spokeswoman Lisa Cox.
CVS was expected to vaccinate residents and workers at 10 to 15 vaccine clinics for long-term care facilities in the St. Louis area on Monday, according to CVS district leader Nate Burrell.
At the Cottages of Lake St. Louis, Monday marked just the beginning. Beamer said the home has 100 staff members and 58 residents. The vaccine offers some immunity after the first dose, but its full protection doesn't build until after the second dose, which staff and residents will receive in four weeks.
When federal agencies eventually relax nursing home restrictions, the first phase should allow for limited indoor visits, Beamer said, with plexiglass between residents and a maximum of two family members. Beamer said he's already purchased the plexiglass.
Brandi Smith, the facility's administrator, was among those vaccinated Monday morning.
Back in spring, Smith, 33, of St. Charles, moved into a trailer in the parking lot of the Cottages of Lake St. Louis. She, along with several others, stayed on site for eight weeks to care for residents full time.
Residents were adjusting to isolation. Family members were allowed window visits, and some used Zoom or visited outdoors. But Smith said there is no replacement for in-person visits.
"Our employees do a really great job of trying to step in and be that family for them, but it is not the same. It never will be," she said.
In the fall, shortly after Thanksgiving, COVID-19 hit Smith's family. She said her father was admitted to the hospital the weekend after Thanksgiving, and died on Dec. 19.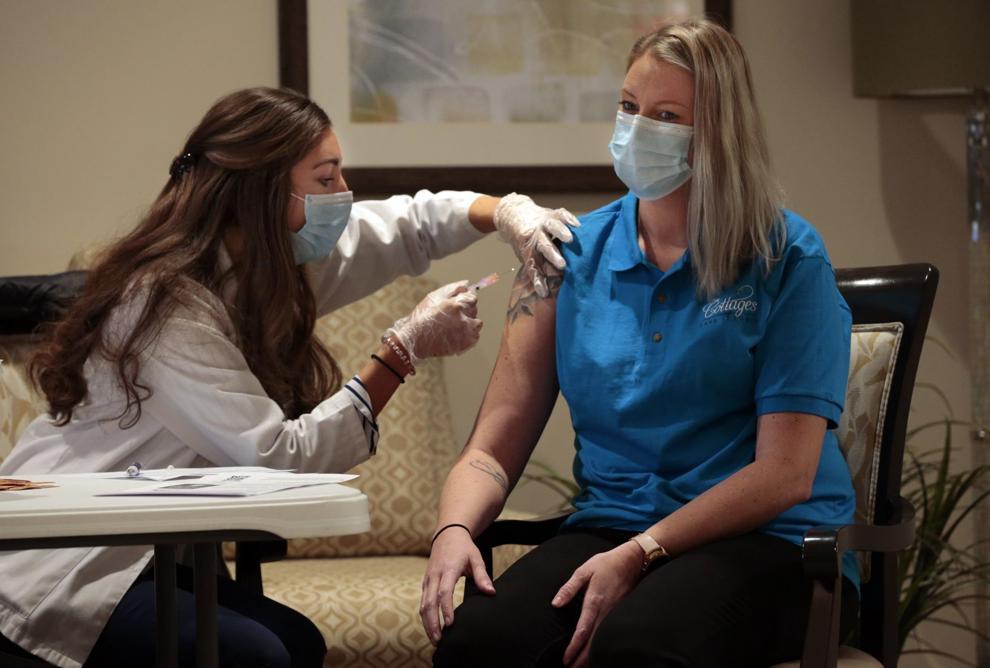 "I know I'm not alone in losing someone to COVID, and I'm not going to be the last, unfortunately," Smith said. She hopes that the vaccines will save others from the heartache she's felt.
"I'm hoping that it means change is coming," Smith said.
Missouri reported 1,522 new cases of COVID-19 on Monday, up from 1,451 the day before, but far lower than the 2,186 seven-day average, according to a Post-Dispatch analysis. That is down from a peak of 4,723 on Nov. 20. The state also reported four more deaths due to the virus.
The St. Louis Metropolitan Pandemic Task Force reported 94 new COVID-19 patients admitted to hospitals in the area, up from 64 the day before. On Sunday the seven-day average of new admissions dipped below 100 for the first time in more than six weeks, and on Monday it remained below that benchmark, at 97.
Dr. Alex Garza, who leads the task force, called the decrease "encouraging," during a briefing Monday, but said the overall number of hospitalized patients is still very high, and any post-holiday surge would stretch hospital staff thin. The number of virus patients in intensive care units is at least not increasing at the rapid rate seen earlier this month, but is "still much too high," Garza said.
The task force reported a total of 865 virus patients across area BJC HealthCare, Mercy, SSM Health and St. Luke's Hospital facilities — up from 805 the day before. Task force data lags two days.
These maps and charts show the spread of COVID-19 in Missouri and Illinois.