ST. LOUIS — A Stanley Cup champions flag would look real nice outside her new home in Grafenwoehr, Germany, Julia Etcheson said.
"We're going to rep St. Louis for everyone to see," said Etcheson, 31, outside Enterprise Center on Thursday afternoon.
It was a day after a momentous Blues victory 52 years in the making, and St. Louisans were basking in the silver glow of the Stanley Cup. Celebrations came in the form of commemorative tattoos, plans for a downtown parade and long lines for T-shirts to mark the moment.
Etcheson and her husband, St. Louis natives and "die-hard" fans, drove into town from their home in Clarksville, Tennessee, to watch the games. Her husband, who serves in the Army, wanted to take the flag when they move next month to his new assignment in Germany.
She hadn't found one by 2 p.m. when she left Enterprise Center, where all day Thursday lines snaked through the arena store with fans on the hunt for Stanley Cup merchandise. Drivers passing by blared the Blues season anthem "Gloria" from their cars and honked at people coming out of the arena with bags of goodies or taking photos with the gigantic image of the Stanley Cup outside.
Andrew Marsh, 23, paused on his way home from the arena to look up at the trophy image. Marsh, a former hockey player and lifelong fan, wore a Blues jersey and carried a bag filled with shirts, polos, hats, a hockey puck and a patch he plans to iron onto his Blues jersey. But he wants to come back for more.
"Honestly, anything I can get my hands on I'll end up buying," he said. "I'll probably wear my champions shirt all weekend."
Ken Kurtz was outside the arena after leaving work early.
"I just told them, 'I've got to take a vacation day,'" said Kurtz, 48, of North County.
He was at work before leaving to pick up his daughter, Katie, 13, and buy merchandise for relatives, including Kurtz's sister, who drove in from Iowa for the Stanley Cup series, before a trip to Branson.
"We're going to be fully decked out," he said. "Our whole family bleeds blue."
Kurtz thought of his father, who passed away two years ago. Kurtz placed a hockey puck on his grave before the final game Wednesday night.
"We'd been waiting so long for this," he said. "I know he was with us."
Dick's Sporting Goods sold out most shirts and hats within 30 minutes of opening their St. Louis area locations at 7 a.m.
"People are picking them up as soon as they hit the table," spokesman Scott Casey said early Thursday afternoon. "We've had six or seven more shipments already and more are coming."
Every St. Louisan's champions shirt came from Larry Hanneke's south city print shop. His printing machines were running by 10 p.m. Wednesday and had pressed nearly 15,000 T-shirts by 3 a.m. They started work on the next 15,000 shirts hours later.
"We've done this for the Rams, the Cardinals, and we've always wanted to do it for the Blues,'" said Hanneke, a St. Louis native and Blues fan, as more than 30 employees packed T-shirts into boxes for shipment Friday morning. "It's great to see this in my lifetime."
And by 9 a.m., most copies of the Thursday edition of the St. Louis Post-Dispatch were sold out at retailers, prompting a Friday reprint of 60,000 copies of the paper announcing the Stanley Cup win.
"Newspapers are hard to find," said Elaine Figueroa, 44, of Ballwin. She got to be close to one piece of history when the Stanley Cup made a visit to her workplace. Her son, who just graduated from Priory, got to take a photo with it.
"This has been very commemorative in so many ways," Figueroa said Thursday outside the Enterprise Center. "But it hasn't quite hit me yet — I feel like I need to go to another game."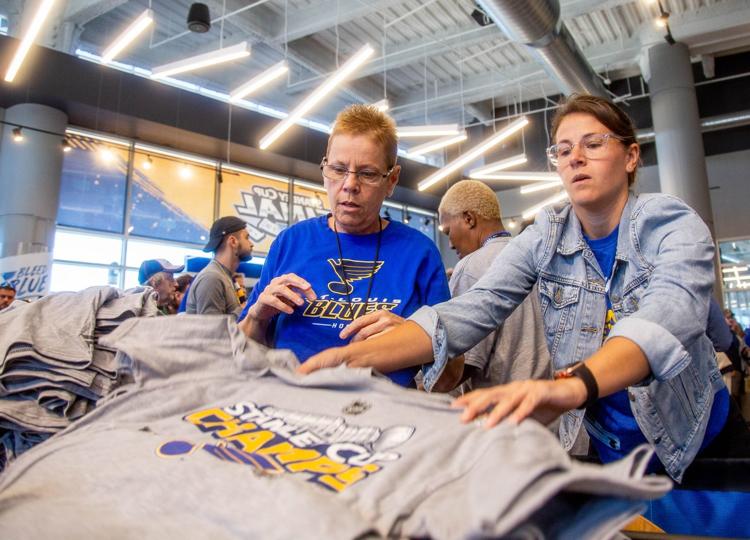 The Blues announced plans Thursday for a championship parade at noon Saturday in downtown St. Louis. The route will start at Market and 18th streets and will continue down Market Street to North Broadway, followed by a party around the Gateway Arch.
Within minutes of the official announcement, workers descended on the Arch grounds to start preparations for the rally, laying interlocking flooring for a stage area.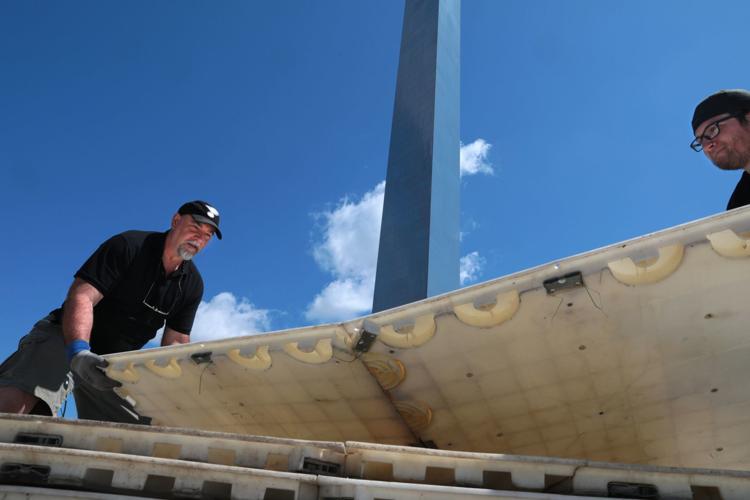 The parade announcement also meant Blues fans everywhere worked to clear their Saturday, including Mary Khouri, who had a birthday party for her 8-year-old son, Jay, scheduled for the same time at a South County rollerskating rink.
"I thought: Oh, no. Well, there goes at least half of the attendees," she said Thursday. "But hey, the win was a pretty amazing birthday gift for my son."
Khouri tried Thursday to reschedule the party, but she is planning to make a Blues-themed cake no matter when it's held.
The parade also upended plans for youth sports, prompting leagues like the Catholic Youth Council to let baseball teams postpone their games Saturday to attend the parade.
"What a great problem to have," said league director Dan Fitzgerald in an email to the Post-Dispatch. "LGB!"
By about noon in Brentwood, an impromptu Blues rally started up outside OB Clark's sports bar, where Blues players, including Ryan O'Reilly, greeted hundreds of fans. The players reached over the railings and caught hats and jerseys to autograph as fans passed by honking to start chants of "Let's go Blues."
At Mercy South hospital in South County, father Ashley Moore and mother Haylee Faulkner were welcoming their newborn girl: Vivian LeAnne Gloria Moore, born 20 minutes before the puck dropped in Game 7 and weighing 7 pounds, 7 ounces.
Moore said they heard Blues fans yelling in the hospital waiting room watching the game as the new parents welcomed their daughter into the world. They knew then they needed to name her for the Blues season anthem, "Gloria."
"We knew we had to pay tribute," Moore said.
And less than 24 hours after the Stanley Cup win, Richard Lund, 56, walked into Tower Classic Tattoos in St. Louis to make good on a bet that he'd get a St. Louis Blues tattoo if the team pulled off the unthinkable.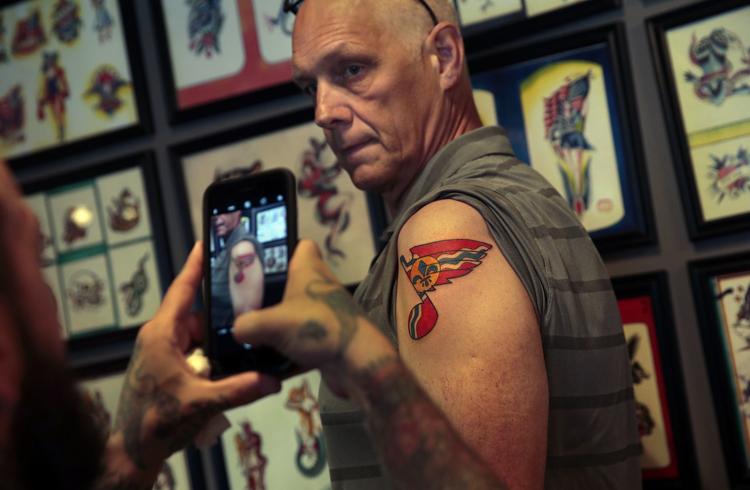 "Ever since I got here, I said, 'If the Blues win the Stanley Cup, I'll get a Blues tattoo,'" said Lund, who lives in Richmond Heights but grew up in London. "I said, 'If I don't do it now, I'll never do it.'"
Lund has grown fond of his adopted hometown. His new tattoo is the team logo, the bluenote, with a fleur de lis inside.
"In the 32 years I've been here," Lund said. "I think it's one of the best things that's happened to the city."
Griffin Fletcher and Benjamin Hochman of the Post-Dispatch contributed to this report.