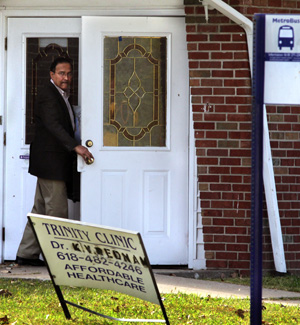 Dr. Krishnarao V. Rednam is free to practice medicine in Missouri, three years after his license was revoked following a felony conviction.
Rednam, the subject of a Post-Dispatch investigation in 2010, billed Medicare for expensive drugs but injected his patients' eyes with cheaper, experimental drugs while he was a lead partner at the St. Louis Eye Clinic. He also sometimes split a single-use vial into multiple injections while billing patients for the full dose, according to an audit of his practice.
Rednam overcharged patients and their insurance by more than $600,000 and admitted destroying patient records. He was sentenced to six months in prison and four months of home confinement and ordered to pay more than $400,000 in fines and restitution.
Rednam did not respond to a request for comment through his attorney.
After the 2008 conviction for obstructing a health care investigation, the Missouri healing arts board handed Rednam its toughest punishment — revocation of a medical license for seven years. The earliest Rednam could practice again would be 2015.
Last October, Rednam appealed to the board to allow him to reapply immediately. Rednam told them that "irrational insanity," and not greed, drove him to commit the crime. He insisted that patients were not harmed.
The board agreed and approved his application effective July 27.