ST. LOUIS — Downtown St. Louis was on the upswing this year.
"We had a lot of momentum coming into 2020," said Missy Kelley, president and chief executive officer of Downtown STL, Inc.
Then the coronavirus hit. Downtown streets and restaurants emptied. Baseball and hockey games disappeared along with concerts and conventions that formerly drew tens of thousands. And while hotel doors have stayed open, far more rooms sit empty than full. At least nine downtown restaurants and bars have shuttered.
The pandemic has vacated downtowns nationwide, as events canceled and companies kept employees working from home. Officials estimate some will recover quickly with virus vaccinations ramping up, sports contemplating the returns of fans, and some companies already bringing back workers. But cities like St. Louis, which had labored for years to shed urban decay and where renewal has been more tentative, are bracing for a much more difficult recovery.
"The downtown is the historic center of the region. You can go to Westport, you can go to Clayton. It's not where St. Louis was established," said Todd Swanstrom, a University of Missouri-St. Louis professor of political science and public policy administration. "Part of our identity is wrapped up in how downtown does."
And although he sees downtown rebounding, the current outlook is bleak.
The city issued its most-recent quarterly budget report in October. Payroll tax receipts declined 9%. Earnings tax withholdings dipped 10%. But the killers: Sales tax collections dropped 27%. Restaurant receipts fell 54.5%. And city hotels, largely centered downtown, crashed a staggering 83.5%, even worse than projected.
"These levels of decline are unprecedented and reflect the severity of the economic toll of the coronavirus pandemic," the report said.
Office workers, tourists, conventiongoers and sports fans are the lifeblood of downtown bars and restaurants — and without them, many are sinking.
The Missouri Bar and Grille closed for good, joining other restaurants and bars to fold since the pandemic began including the downtown Crazy Bowls and Wraps, Mango Peruvian Cuisine, The Eatery food hall, Caruso's Deli, Hamburger Mary's, the Tiny Bar and the adjoining concepts the Note Bar and Vaya Con Dillas.
And questions loom about where a post-pandemic workforce will do its work, from home or in an office.
Urban planners say a hybrid model is emerging where people would work remotely two or three days per week but still go to the office for meetings and human contact.
"I believe the workplace will change, but it will not go away," said Janet Pogue McLaurin, global workplace research leader for Gensler, an architecture and planning firm.
Sarah Coffin, an associate professor of urban planning and development at St. Louis University, compared downtown to the Grove, another neighborhood that has made gains in recent years — if a restaurant closes in the Grove, another restaurant likely will move in there.
Downtown is a different economy, she said, and relies on a different workforce.
She cited the coming move by payment-processing company Square to downtown. The company bought the six-story, 235,000-square-foot former home of the Post-Dispatch in 2018. Last year, it said it intended to employ 1,250 people there. But that number could be substantially smaller. Square said in May that employees can work from home as long as they like, even after the coronavirus no longer is a threat.
She does believe the downtown office market is flexible and resilient, and that companies there want proximity and ways to interact — although she worries about short-term shrinkage.
OAKLAND, Calif. — For a preview of the future of office work, watch how the biggest tech com…
"I'm concerned about every business owner down here," said Aaron Perlut, the founding partner of Elasticity, a digital marketing and public relations firm at 1008 Locust Street.
'Quiet 24-7'
The coronavirus is a test case in letting employees work from home. As managers see high employee productivity, they ponder the need to pay for so much office space when a smaller footprint might suffice.
And while Perlut's firm is doing well — it hired four people in the last month — the little bar that was Perlut's pet project in the building couldn't withstand the punch of the coronavirus.
The Tiny Bar opened five years ago. At most, 20 people could drink cocktails and local beers inside its snug 250 square feet.
It embraced its size, or lack thereof. One wall is adorned with a mural of Eddie Gaedel, who at 3-foot-7 had a one at-bat major league career as a pinch hitter for the St. Louis Browns in 1951. Shortly after the bar opened, it hosted the self-proclaimed "world's tiniest parade" that included the world's smallest horse, Thumbelina, in a ⅛th-block-long procession led by then-Mayor Francis Slay.
Perlut's firm leases about 12,000 square feet in the building, which had been empty for at least 30 years before Elasticity came. Long ago, a bridal shop occupied the first floor. Grooves in the floor upstairs showed where rows of sewing machines sat decades ago.
The area destined to become the Tiny Bar was too big for a lobby and not big enough for anything else, Perlut said Tuesday, sitting in the closed bar where he'd scoop ice and check inventory before heading to his real job each morning.
The bar's goal never was to turn a profit, he said, just to cover costs and serve as a gathering place for the area.
"We didn't open it to make money. We opened it to have another business downtown," he said.
But its balance sheet had started to slip into the red before the coronavirus. And by May, Perlut shut the bar down with no plans to reopen it, at least as a bar. A couple of people have inquired about renting the space for small get-togethers. He kept the liquor license.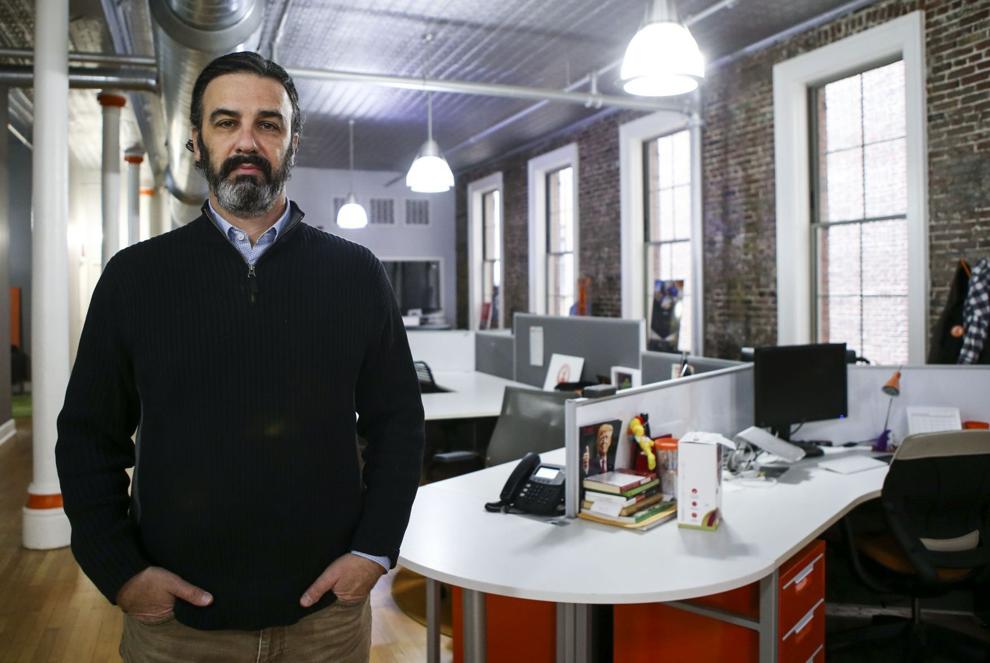 Perlut worries about the perception of downtown among those who visit, whether from neighboring counties or further. He said that before the coronavirus, out-of-town clients commented how quiet it was after 5 p.m.
"Now it's quiet 24-7," he said.
The events dried up
The loss of big conventions are one reason for that added silence. Coffin, of St. Louis University, said St. Louis had been a great place to hold a convention.
"Conference facilities are a lot cheaper here than in other places," she said.
And the first half of next year is expected to be especially rough for downtown businesses as even fewer people travel during an already sluggish time of year for tourism.
"The next three months are going to be very difficult because it's normally the slowest time for tourism in St. Louis," said Kitty Ratcliffe, president of the St. Louis Convention and Visitors Commission, known locally as Explore St. Louis.
And it's already tough, including for almost-deserted hotels. From March through October in 2019, the average daily occupancy was 72.4%. This year, it was 18.1%.
Ratcliffe said she and her staff are working with the city on guidelines for hosting events at America's Center. She said some groups are interested in booking events next year, but she didn't want to name them because details are not final.
"It's pretty weak in the first quarter. That's probably putting it mildly," she said of bookings there.
It has been a sharp downturn from what hotels had expected.
"January and February were phenomenal. 2020 was going to be our best year ever," said Steve O'Loughlin, president of Lodging Hospitality Management, which owns Union Station and the St. Louis Hilton at the Ballpark Hotel.
He said they will end the year with just 30% of rooms booked. Concerts bring in thousands of people to hotels each year, and big-name acts set to perform downtown had included Elton John, Justin Bieber, the Rolling Stones and the Zac Brown Band.
"Large urban hotels really got hit the worst. They depend on events, and the events dried up," he said.
He said industry reports are predicting it could be 2024 until hotels truly come back to post-pandemic levels, but he thinks next year will be better.
"I do feel good on June through the rest of the year," O'Loughlin said of 2021.
Kelley, of Downtown STL, expects to see more office workers return after the first of the year. And her organization is working on a "first 100 days plan" for how to begin recovery for businesses suffering losses due to the coronavirus.
A major component of that plan will be adding activities at the street level to give a sense of energy and connection, she said. Ideas include pop-up retail spots, or coffee stops and public art, to make it feel like there are less gaps between businesses. No timeline has been set for when that could begin, she said — that rollout will depend on city health department guidelines.
The Associated Press contributed to this report.
40+ St. Louis restaurants that said farewell in 2020