ST. LOUIS • Train, a 12-year-old Chesapeake Bay retriever from St. Louis, has been at the center of a wildlife conservation research team for about a decade, but he's more focused on something else: his tennis ball.
Train is a conservation detection dog, one of the more unusual research tools for tracking elusive animals in the wild, and works alongside Washington University biology researcher Karen DeMatteo. The two have spent years on projects aimed at tracking carnivores in a biologically important stretch of Argentina and monitoring mountain lions in the U.S.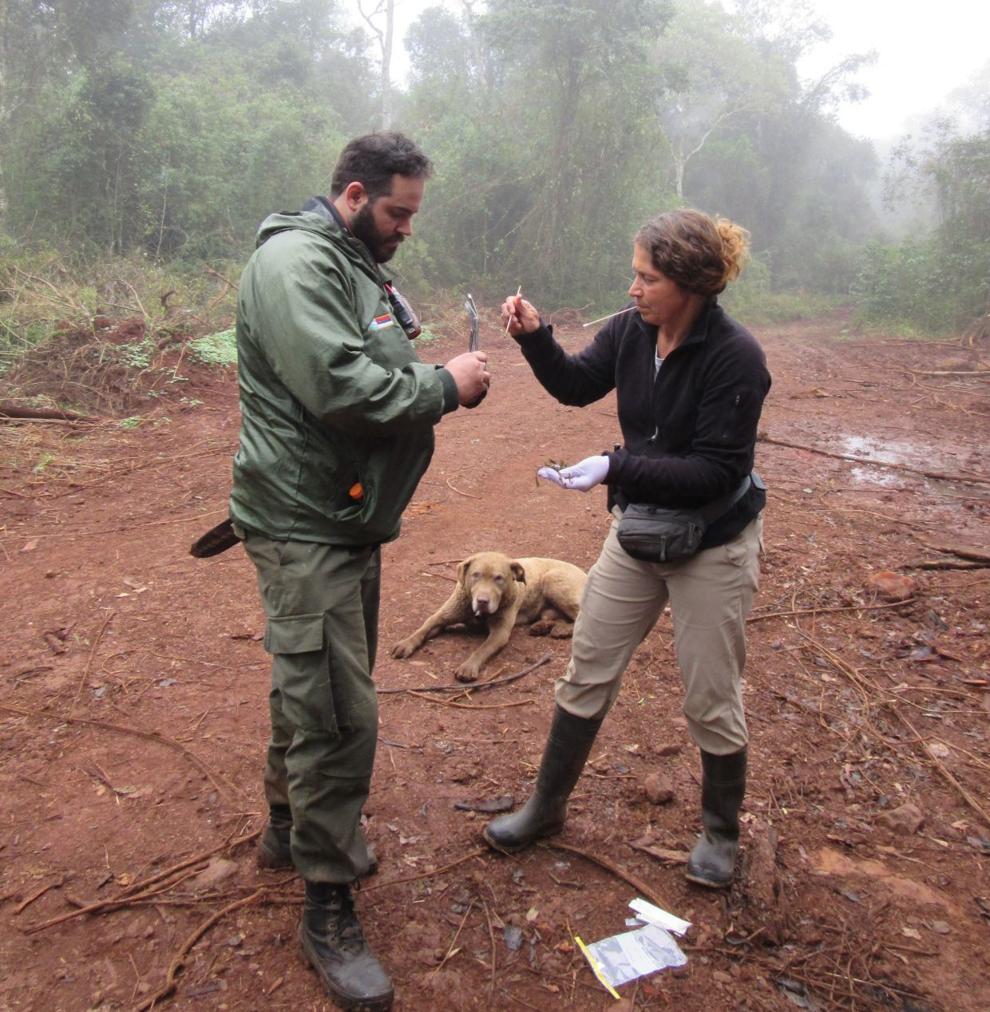 Train's work uses something most dogs do naturally: sniffing out poop. He has been trained to sniff out the droppings, known as scat, from specific species like jaguars, pumas, ocelots and other carnivores. Every time he finds the right sample in the field, DeMatteo gives the dog his prize — a tennis ball attached to a piece of rope.
"It's like a game," said DeMatteo, who teaches in the environmental studies department at Washington University. "He knows exactly what to do to get him that ball."
It took a while, though, to discover that a life of science was Train's true calling.
He was adopted from the Lewis County Humane Society in Washington state and was first trained as a narcotics dogs for the Seattle police.
"He failed out of narcotics dog school," said DeMatteo. "We say he was too energetic. Put him in an enclosed space, and he would bounce off the walls, his tail would be knocking things all over the place."
But that energy is perfect for conservation work, where dogs often have to walk dozens of miles through the forest in search of scat, according to DeMatteo.
"He's unstoppable in the field," she said. "We call him the Big Brown Machine."
Tracking elusive animals
DeMatteo came to her research through an animal many people have never heard of — the bush dog, a canine that looks a bit like a bear the size of a cat. She studied the small animal for her Ph.D. research through St. Louis University and the St. Louis Zoo.
Bush dogs are famously hard to find in the wild and often elude wildlife cameras, so DeMatteo aided studies that attempted to lure them with smells, sounds and urine. Each attempt ran into problems, so when she heard about detection dogs, she knew she had to try one.
In 2007, DeMatteo spent two weeks in training in Washington as a detection dog handler through PackLeader, one of the first groups to train detection dogs in the country. DeMatteo learned how to spot the changes in a dog's tail, ears and speed when the animal picks up a scent. She was taught to take into account wind directions, terrain and the position of the sun, which can all impact what a dog smells.
In her first research trip, DeMatteo used a veteran dog to learn the ropes — Merlin, a retired narcotics-sniffing police dog. But for her second trip in the field in Argentina, she brought in two new dogs to field train: Train and a yellow lab named Lucas.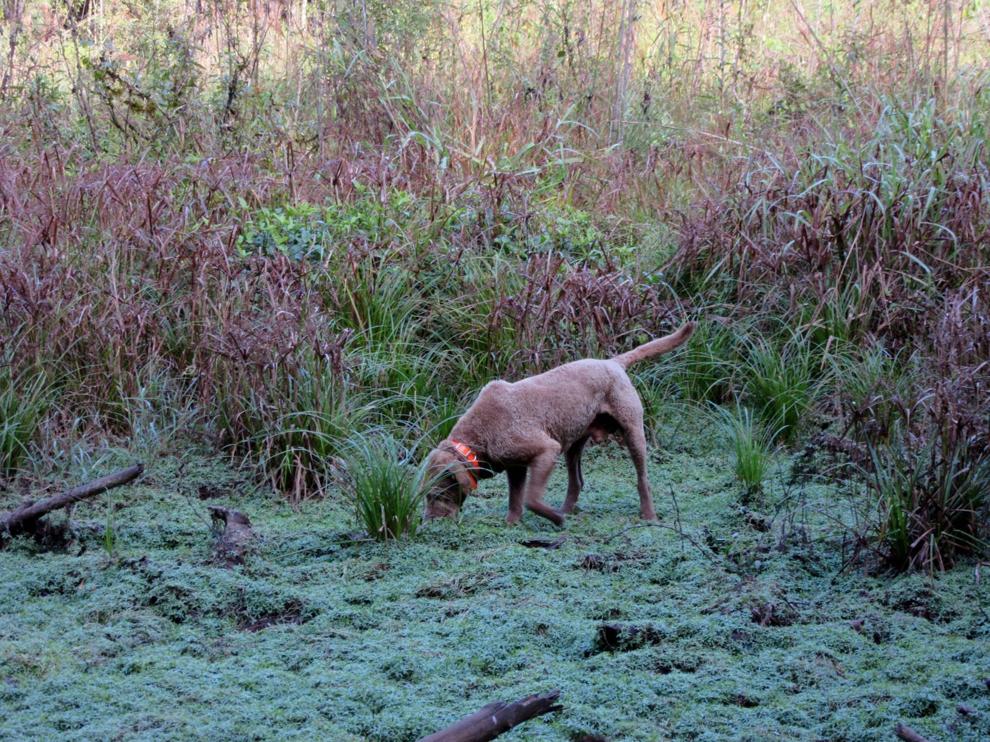 Train quickly became a star science dog, but Lucas had a tendency to proudly pick up the scat in his mouth and bring it to DeMatteo, thereby ruining the sample.
"His heart was in the right place," DeMatteo said. "But he just wasn't cut out for the job."
DeMatteo returned Lucas to get retrained at PackLeader but kept Train as her longtime research helper and companion.
A fully trained and field-tested dog like Train can cost around $10,000 or more, DeMatteo said. He lives with her now in her St. Louis home, and they often train on detecting the right scat in nearby Tower Grove Park.
"People will see us out there and will have no idea he's looking for jaguar poop," she said.
DeMatteo and Train went on monthslong research trips to Argentina in 2009, 2011, 2013 and 2016.
And a day in the field is hard work. They wake up before the sun rises and walk through the forest at least 10 miles every day, sometimes running into armed poachers and tough terrain on their way.
Train wears a bright orange harness, a little bell around his neck and booties to protect his paws. He can detect scat that's buried deep in a hole or log and can pick up scents from droppings that are weeks or months old.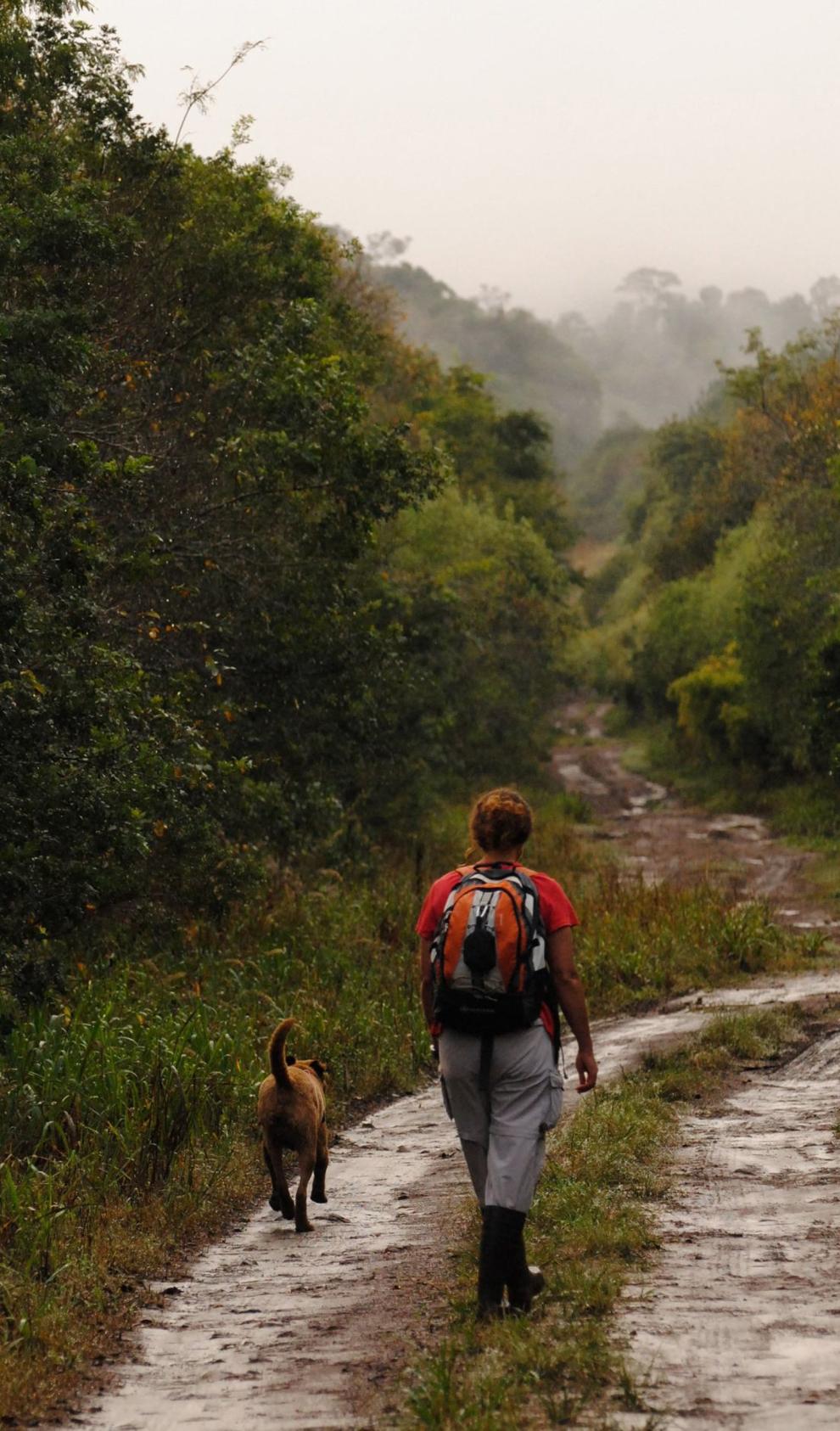 After each trip, DeMatteo brings scat back to the U.S. and performs genetic tests that allow her to confirm which species Train found and track their movements in Misiones.
"Yes, I do have a fridge full of poop at home," she said.
She then flies the samples back to Argentina in a cooler on a commercial flight.
"I had proper permits for everything, but I would ask the gate agents: Do you want me to open them?" DeMatteo said. "They'd say: 'It's poop, right? Uh, no, please don't.'"
Beginning in 2010, Train was asked to help the Nebraska Game and Parks Commission with tracking mountain lions. He trotted along remote cliffs finding the cats' droppings to help the department form its conservation plan.
On one trip, Train stopped dead in his tracks, and looked up at DeMatteo.
"I said, 'Train, did you find it?' but he wouldn't move," she said. "We rounded the corner and found fresh, brand new mountain lion scat. The cat was probably still right there."
Now, after 10 years in the field, Train's snout is flecked with gray, and he's likely seen Argentina for the last time.
DeMatteo plans to return to the country this year and in 2020 as local teams begin to implement the corridor plan by working with landowners to limit activities like hunting and livestock farming on land between protected areas. DeMatteo hopes to prepare an Argentinian student to carry on her work by training him to handle a detection dog of his own and perform genetic testing on samples.
But Train isn't retired yet. DeMatteo and her dog plan another trip to Nebraska this summer to track mountain lions, though a younger dog will come along to give Train more days off.
"So far, both his spirit and his body say, 'I want to work,'" DeMatteo said. "Train still has energy."