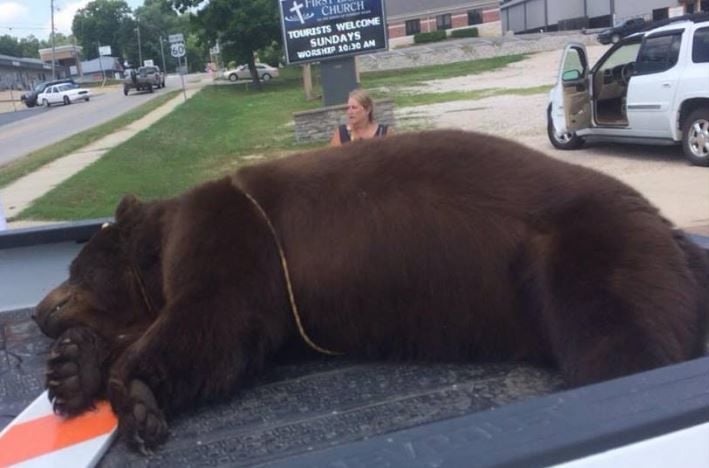 JEFFERSON CITY • When Mark Wilcoxon and his son puttered their boat over to a campground on the Current River last week, about 30 people had already gathered around an unusual sight.
Volunteers had dislodged a 400-pound dead black bear from a root wad and dragged it out of the water. It is unclear how the male died, but the beast may have become stuck as it traversed the rugged river country in the Ozarks of southeastern Missouri.
"It's just something you don't find in the river every day," Wilcoxon, an agent for the Missouri Department of Conservation, said Monday.
The bear died near the town of Van Buren in the Ozark National Scenic Riverways, federally protected waters that contain some of the state's most picturesque views. Even in this area, an hour north of the Arkansas line, black bear sightings are not common, Wilcoxon said. But in recent weeks, Missourians have spotted bears across the state.
A dead bear, presumably struck by a car, was found on Interstate 44 near Strafford in southwestern Missouri last month. Two others were recently found on Highway 60, both near Mountain Grove.
Officials with the Missouri Department of Conservation say bear sightings are common this time of year, with the animals prowling for ripening berries and other food. Young males are also seeking mates and unclaimed territory.
"We do tend to see some spikes in bear reports during this time of year, which is basically spring," said Joe Jerek, spokesman for the Missouri Department of Conservation. "Bears are kind of eating machines during most of the time they are awake."
He said that most of the bears spotted in spring around residential areas tend to be young males that have left the ranges of their mothers in search of easy food and their own territory.
"That can cause some of them to wander into communities where they may not be welcome," Jerek said.
Though black bears are native to Missouri, they were largely driven out of the state as it was settled. Today, the Department of Conservation estimates that there are between 300 and 350 bears in the state and that the population is growing.
According to the department, females are monitored to study reproduction, sex ratios of their cubs, and cub survival rates. Scientists study the males' range.
The vast majority of the population, Jerek said, is concentrated south of the Missouri River and Interstate 44, which contains most of the state's wilderness, as opposed to the northern half of the state, which is primarily agricultural land.
"A better habitat for them is in the southern part of the state," Jerek said.
But the animals are expanding their range.
"The bulk of our population is generally south of Interstate 44, but we do have bears that are kind of moving into some of these expanding areas in the state, around the Lake of the Ozarks and some areas in south-central Missouri," said Laura Conlee, the state's bear expert.
Jerek said roaming bears might be drawn to the St. Louis region by way of wooded corridors and watersheds. Plus, Jerek said, bears "try to go into areas where there aren't mature bears that have already claimed that territory."
Alan Leary, wildlife management coordinator for the Department of Conservation, recommended that people bring bird feeders in during the summer, clean their grills, secure their trash and store pet food indoors.
Never feed black bears, Leary said.
"A fed bear is a dead bear," Leary said. "As they start to associate food with humans they tend to lose their fear of humans. … At some point the bear might get over-aggressive and we have to euthanize the animal."
He also recommended electric wiring for those worried about hungry bears stomping around chicken coops, bee hives, vegetable gardens and orchards.
He said residents of southern Missouri were already "bear aware."
Jerek advised steering clear of bears if they enter back yards, though if they get a "little close for comfort," you could bang pots or yell to make the bear uncomfortable.
"Never corner a bear or pursue one," Jerek said.
Missouri's black bear population is tiny compared with states such as Massachusetts. Ralph Taylor, an official for MassWildlife, estimated last year that the bear population there had increased to more than 5,500. There were as few as 100 bears in the state in the 1970s, Taylor said.
"Our bear population is increasing exponentially — not linearly," he said last year, adding that there were not enough checks on the population. He recommended that the state issue more hunting permits.
Missouri wildlife managers are planning to start a limited bear hunt when the population here reaches 500, according to the Missouri Black Bear Project.
The Associated Press contributed to this report.