ST. LOUIS COUNTY • The signs at Lone Elk Park read: "Absolutely do not approach the elk!"
But the signs apparently aren't enough.
Within the past two weeks, two people have been injured by charging elk in the west St. Louis County park, alongside Interstate 44 near Valley Park, after ignoring the warnings.
Lone Elk Park officials say they usually get about one report every year of someone being gored. The animals are especially dangerous during mating season, which lasts from about mid-August into December, when bulls are especially aggressive.
Since Sept. 30, two women have been injured when they got near the herd of 17 elk.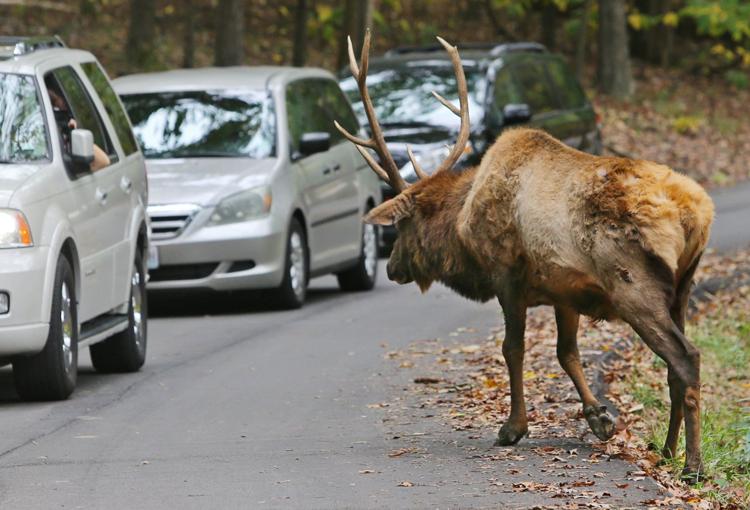 Nature photographer Kent Burgess said he watched the latest incident unfold through the lens of his camera Sunday afternoon.
A group of two women and two men were walking along a trail among the herd, taking selfies with the animals, Burgess said.
Signs at the park say to stay 100 feet away from the animals.
Burgess could hear the distinctive sound of the bull's bugle, a noise that helps them attract a mate and warns other animals to stay away. As the group wandered near the dominant bull, Burgess snapped photos of the dangerous situation.
"It was startling," Burgess said. "I saw the dominant bull moving toward them and I tried to yell at them to get away."
But the people didn't hear him.
The bull first slowly approached them before lowering its head and charging, Burgess said. Its large antlers connected with a woman's arm and she started to bleed. One of the men took off his shirt and wrapped it around her arm.
"There was a lot of blood on her arm and on her face," Burgess said.
Burgess picked up the group of people in his truck and drove them about a half-mile to their car, he said.
"I was so upset," Burgess told the Post-Dispatch on Monday. "I just want people to know what can happen when you get so close."
As Burgess rounded the park, he said he saw two more groups of people walking near the elk and told them to move back.
Local hospitals could not confirm if they got a patient reporting an elk injury Sunday.
The incident followed an earlier goring on Sept. 30, said Tom Ott, assistant director of the St. Louis County Department of Parks and Recreation.
A woman in that case got too close to a bull and was gored in the lower back, Ott said. Rangers reported that she had a hole in her back and was taken to the hospital, but was able to walk.
The incident prompted additional signs in the park instructing people to stay away from the elk, though there were already seasonal signs that read: "Elk mating season: Use extra caution."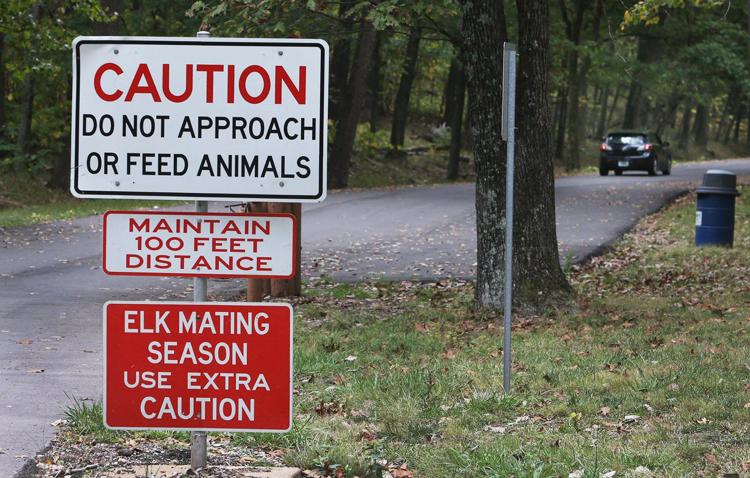 "Some people unfortunately think elk are this gentle, tame animal, but that's just not true," Ott said. "They are wild animals. These people who are walking up to them are asking for trouble."
Ott said the parks department is considering adding extra patrols in the area after the incidents.
Those who get too close to the animals can be cited for trespassing or wildlife harassment, Ott said. Still, there are several YouTube videos of people within feet of elk at Lone Elk Park getting charged. A Post-Dispatch photographer at the park Monday saw several groups of people get out of their cars near a group of elk, though none approached them.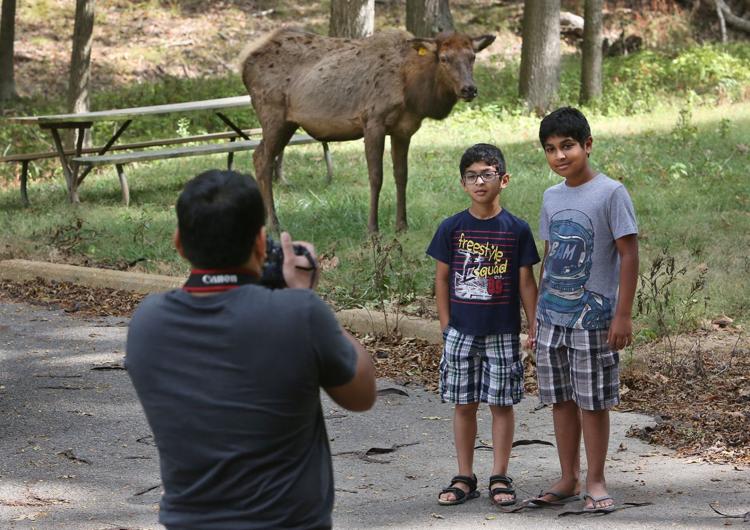 Park staff say that if you are walking on a path and see elk or bison, which also roam the park, turn around or cut a wide path around the animals.
If you are confronted with an elk, do not turn your back, but back away and find cover behind something large like a tree or vehicle.
"The basic rule," Ott said. "Use your common sense."
Be the first to know
Get local news delivered to your inbox!