In a long-awaited decision that appears to be a compromise, the Environmental Protection Agency on Thursday recommended partial excavation of the West Lake Landfill in Bridgeton to remove radioactive waste linked to the Manhattan Project.
The EPA said the proposed remedy, which it calls "Excavation Plus," is expected to take five years to implement and will remove the "majority" of radioactivity by digging to a depth of about 16 feet, while installing an engineered cover system for long-term protection.
"The consideration here was timing, it was certainty, it was respect to human health that was being protected," EPA Administrator Scott Pruitt told the Post-Dispatch in a phone call Thursday morning.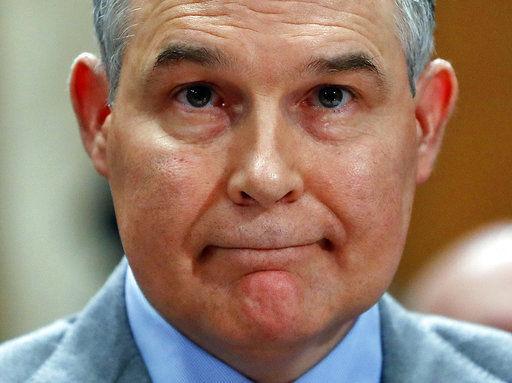 Radioactive waste was dumped illegally at West Lake in the early 1970s, but the landfill wasn't placed on the Superfund National Priorities List until 1990. Today, the landfill is widely regarded as one of the most high-profile — and complex — Superfund sites in the country, and in December was named one of 21 nationwide to be targeted for "immediate, intense action" by the EPA Superfund Task Force.
Though area residents and others waited patiently for a cleanup strategy to finally emerge, for years many have pushed fervently for a single, maximally protective option: full excavation and off-site removal of the landfill's contaminants — the most thorough and expensive option the EPA had considered.
Meanwhile, companies such as Republic Services — which operates the landfill through a subsidiary and is one of the entities responsible for funding the site's remediation — strongly opposed calls to excavate the landfill and instead supported a "capping" strategy as a preferred remedial action. Other entities potentially on the hook for the cleanup costs include the U.S. Department of Energy and Chicago-based Exelon Corp., whose subsidiary ComEd once owned uranium processor Cotter Corp.
The proposal announced Thursday falls in between those wishes of the most vocal community members and industrial interests.
"A cap is not sufficient to protect the health of the citizens in the area," Pruitt said.
Other options weighed by the EPA included an enhanced capping strategy that would meet federal standards for uranium radiation control, a full excavation alternative with disposal of radioactive material in an on-site storage cell, or varying degrees of partial excavation. Another partial excavation scenario would have removed material at any depth until a certain concentration of radioactive contamination was reached.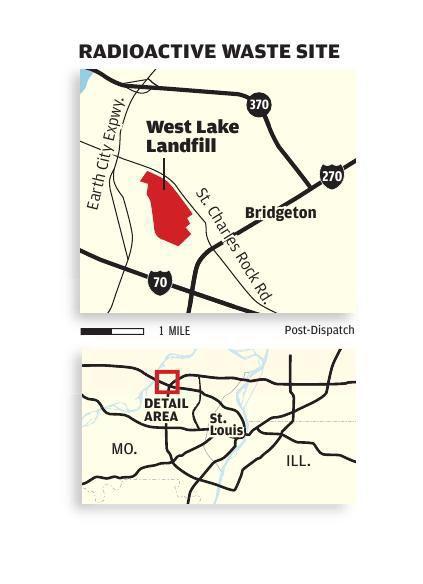 The options ranged in cost from estimates of $75 million for the basic capping remedy, to $695 million for full excavation combined with off-site disposal. The selected remedy is projected to cost $236 million and will include the enhanced cap, EPA officials said.
A feasibility study released in the months leading up to the proposal estimated that the 16-foot partial excavation strategy would remove 27 percent of "radiologically impacted material" from the site. With the announcement Thursday, however, agency officials said that removing that material would address the bulk — about 70 percent — of the landfill's total radioactivity. Pruitt said the agency would take public comment to help determine whether the material is eventually disposed of in on-site or off-site containment cells.
Some in the community who have followed the issue said that the proposed measure does not go far enough.
"Partial removal is not acceptable," said Ed Smith, policy director with the Missouri Coalition for the Environment, in a statement. "It means high levels of radioactivity will be left behind with the potential for water or airborne contamination into the future, creating unnecessary long-term risks to the St. Louis region."
Others were more supportive of the proposal and said it marks an "encouraging" change of direction from the agency.
"The major victory is we heard a lot of acknowledgment from EPA that this waste is dangerous and needs to be removed from your community," said Dawn Chapman, a co-founder of Just Moms STL, a group of resident activists focusing on the landfill that contains radioactive waste. "This is a far cry from the conversation that was happening five years ago."
Chapman was among a group of concerned citizens who spent Thursday morning discussing the proposal in person with agency officials, including Albert Kelly, a top adviser to Pruitt and the chairman of the Superfund Task Force.
"There's no doubt from what he said that they'd been lobbied hard to make a different decision," Chapman said. "Overall, I feel like we're in good hands right now."
Pruitt said that although deeper radioactive contamination occurs 40 to 80 feet beneath the landfill's surface, it does not pose a public health risk and, according to agency technicians, removing it could possibly trigger a new subsurface fire.
"As we looked at going deeper than we are now, we had to ask the question: Is it necessary to protect health and does it pose other risks and dangers?" said Pruitt. "We absolutely, through this process, thought through all those options and believe we've gone down exactly the amount of depth we need to go to achieve protection and also not to create new issues and new concerns for people in the community."
He said he was also concerned by the extra decade that deeper excavations were expected to take for completion.
"The proposal that I saw with that was around 14 to 15 years, and that's something that I thought was simply not acceptable," Pruitt said. "It did not provide that kind of certainty to the community."
Reactions from area politicians ranged from disappointment that full removal of contamination was not pursued to relief that the EPA was, at last, advancing toward a plan of action at the site.
U.S. Rep. William Lacy Clay, D-St. Louis, called the decision "a huge victory for our long-suffering community." Rep. Ann Wagner, R-Ballwin, applauded the EPA for proposing "a viable, permanent solution." But St. Louis County Executive Steve Stenger said he was disappointed in the EPA's proposal, saying the agency "should have elected to excavate and remove all hazardous material from the West Lake Landfill."
St. Louis Mayor Lyda Krewson said she was briefed Thursday morning by several EPA officials, in part because the city-owned St. Louis Lambert International Airport is close to the site. She said the city will have to work out an agreement with the Department of Energy, Republic and other involved entities regarding "bird mitigation" to ensure that uncovering garbage at the landfill won't attract birds that could interfere with aircraft serving Lambert.
Manhattan Project legacy
The radioactive contamination at the site traces its origins to the development of nuclear weapons through the Manhattan Project in World War II, which used uranium processed at the Mallinckrodt Chemical Works factory north of downtown St. Louis. In 1973, about 8,700 tons of leached barium sulfate from the weapons program was "mixed with approximately 38,000 tons of contaminated soil and used to cover trash being dumped" at the landfill, according to the EPA.
The process of settling on a cleanup strategy also stretches back decades. After years of analysis, a decision to place a cap over the landfill was seemingly reached in a 2008 "record of decision" from the EPA, before public outcry pressured the agency to re-evaluate. That record of decision had not regarded groundwater as a potential pathway for contamination, although the unlined landfill rests above a porous layer of gravel in the flood plain of the Missouri River.
In the years to follow, the site took on new levels of notoriety — and public concern — when a smoldering underground fire was detected in the adjacent Bridgeton Landfill in 2010. The fire, officially referred to as a "subsurface smoldering event," is still burning a couple hundred yards away from areas of known radioactive contamination.
With Thursday's newly proposed remedy, the agency has now taken a major step — perhaps the biggest step — toward producing another record of decision for the site. By Tuesday, when a formal notice is published and supporting documents that guided the decision will be available, the proposal will be subject to a period of public comment before any decision is finalized. People will be able to submit comments by mail, email, or online or in person at a March 6 meeting in Bridgeton.
"I do want to emphasize this is a proposal," Pruitt said. "We may learn things throughout this decision that inform this process."
That process is likely to attract a storm of comments from both citizens and the entities paying for cleanup — formally identified as "Potentially Responsible Parties," or PRPs. Depending on the amount of feedback received, that final decision could still be months away, or beyond.
"The path to beginning implementation of the final record of decision could take years," Republic Services said in a statement on Thursday. "From here, we will participate fully during the EPA's comment period, as well as engage vigorously with the EPA and the other PRPs to ensure that the final remedy performed is based on science, and is fully protective of human health."
A spokesperson for the Department of Energy did not respond to a request for comment. Cotter, in a statement, said the company "will continue to work toward a science-based solution that protects the health and safety of the local community."
Community members are also preparing to make their voices heard in the comment period, including those still advocating for full excavation of the site's contamination.
"If people around St. Louis agree that while they're digging, they should get it all, hopefully we get a massive public comment," Smith said.
Chapman said that while EPA officials noted they are confident there is sufficient scientific evidence to fend off challenges to the proposal, she has some concern about well-funded opposition hindering it from crossing the finish line.
"There's a lot that this community still faces with this site," Chapman said. "We have an even bigger battle now to make sure this happens."