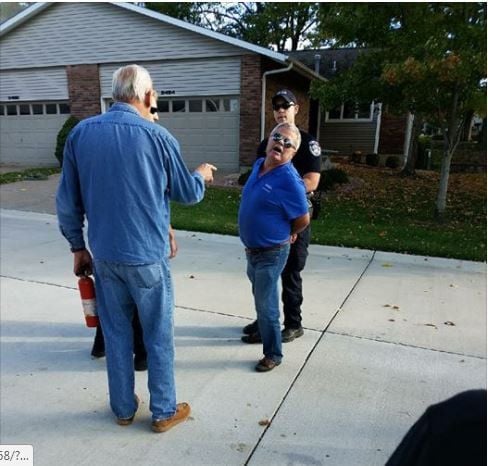 UPDATED at 9:30 p.m. with information from Lake St. Louis police
A former state lawmaker from Ballwin says he was briefly detained Thursday after he helped three people get out of a burning house and then used a garden hose to put out the fire.
A police official said an officer acted out of concern for his safety.
Neal St. Onge told the Post-Dispatch late Thursday he was driving home when he saw smoke coming from a house in Lake Saint Louis about 4:30 p.m. St. Onge said he told his fiancée he was going to go see if anyone was inside.
He said after he helped evacuate two adults and a child from the home he tried to extinguish the fire with a hose in the backyard. But when police arrived they told him to leave, St. Onge said.
"He said, 'You have to get away. You're in danger,'" St. Onge said of an officer. "He kept insisting. But I said, 'No, I know what I'm doing.'"
St. Onge, 62, said he is a former firefighter.
St. Onge said the fire was sizable at the back of the home and he believed it may have reached the ceiling of the house. Fire crews later arrived at the home on Fox Bridge Court to extinguish the blaze.
"I got three people out of this fire," St. Onge said. "I worked to put this fire out. That's what I was trained to do years ago."
He recounted in a Facebook post that another man walked into the backyard and turned off the hose as he was using it. St. Onge said he used an expletive and asked the man if he was "crazy."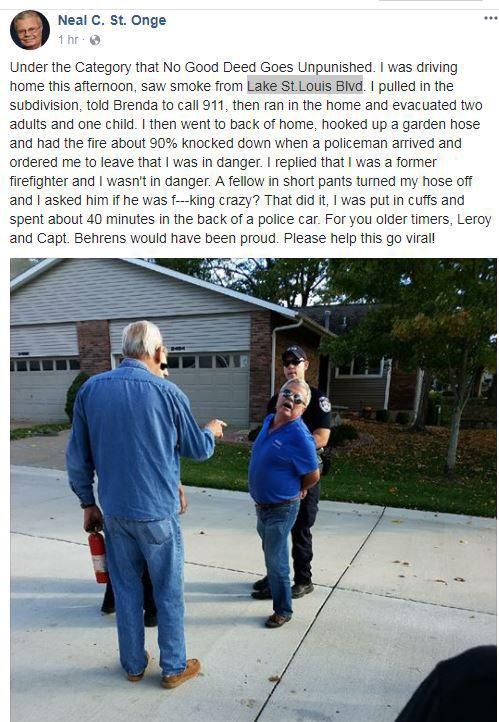 But Lake Saint Louis Police Chief Chris DiGiuseppi said St. Onge got in the way of firefighters and refused requests that he move.
"In all honesty, he started off trying to do a good thing," DiGiuseppi said. "But then he got all worked up."
DiGiuseppi said police and fire crews asked St. Onge to leave because they were concerned he would get hurt.
He said they asked St. Onge multiple times to get off the back deck, where the fire was, so firefighters could get to the fire that was spreading to the attic. Police said everyone else had been evacuated.
"He refused to get off the deck and got really belligerent," he said, adding that St. Onge was also yelling and cussing. "And that went on for awhile."
DiGiuseppi said St. Onge was detained after he eventually got off the deck, when it appeared that "he started at the firefighter."
"Our basic thing was the house was on fire and we didn't want him to get hurt," DiGiuseppi said.
St. Onge said the officer who took him into custody put him in handcuffs and escorted him to the back of a Lake Saint Louis police car, where he estimates he was detained for about 40 minutes in a "hotter than hell" back seat. He also said the handcuffs were on "pretty tight."
St. Onge said he told police, "You either take me to jail or let me go." But said he was given a ticket for not complying with an officer's lawful order and released.
"It was a total overreaction on his (the officer's) part," he said.
He added later, "I'd do the same thing again," believing that his actions were justified given the situation.
St. Onge said neighbors thanked him and one resident of the home hugged him.
"I've never in my life had issues with a policeman before," St. Onge said, noting his years working with police liaisons during his tenure as a state representative. "I always respect police officers. This kind of enlightened me about why some of the stuff that's going on today is going on."
St. Onge served in the Missouri House until he was forced out by term limits in 2008. A Republican, he represented a district that included Ballwin. He is now a sales associate for the Coldwell Banker real estate firm. He's based in Lake Saint Louis.