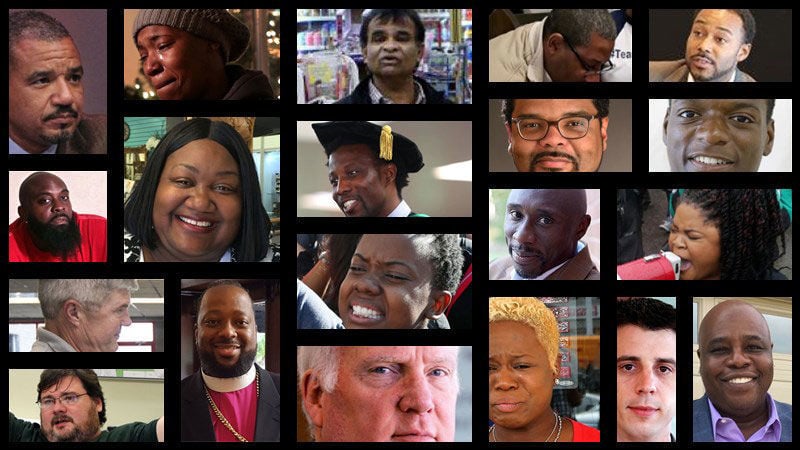 Five years ago, their faces and voices were everywhere.
As events in and around Ferguson made international news, protesters and police, shop owners and clergy wound up in the limelight. But what became of them once the furor faded?
The impact runs the gamut, in big ways and small.
A Missouri Highway Patrol captain, treated as a rock star of sorts on the streets of Ferguson, has since retired. He wrote a book about his experience.
One protester committed suicide. Another was found shot to death inside a burned car, his murder unsolved.
A woman whose store selling keepsakes burned to the ground during the unrest has rebuilt her shop — but acknowledges she still struggles for customers.
One civil rights leader during the Ferguson unrest ended up teaching at Harvard.
A politician tried to parlay his popularity in the spotlight into a run for mayor of St. Louis, but fell short. The events in and around Ferguson also spurred others to get involved in politics. 
An arsonist who set fire to a QuikTrip has three years left in his prison sentence and is hoping for clemency.
Post-Dispatch reporters caught up with some of the people who made headlines in 2014. Some didn't want to talk; others couldn't be located. But many were eager to share what they had learned from the events in Ferguson and how it had changed their lives.
Some of the headliners have moved away. One pastor left for Ohio, where he now shares lessons of Ferguson with police when race issues surface there. Others happily stayed put, using their experience as a springboard to more social activism.
But as one lawyer who helped defend activists put it: "It took a toll on a lot of us. People ended up in prison, all the hours put strains on personal relationships."
Faces of Ferguson: Five years later
Antonio French: Former St. Louis alderman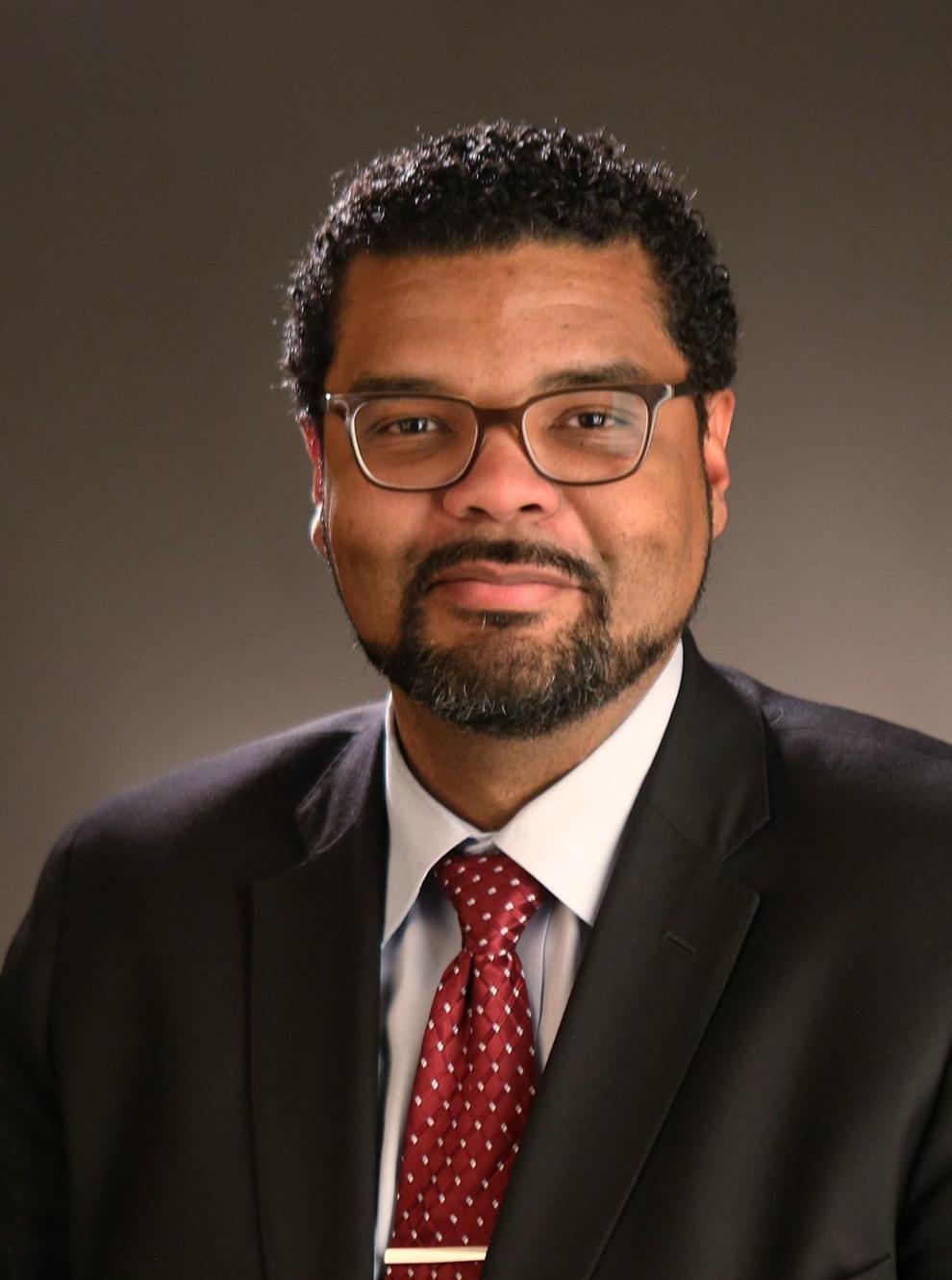 French was one year into his second term as a St. Louis alderman representing north St. Louis when Michael Brown was fatally shot on Aug. 9, 2014.
He quickly became a fixture on the streets of Ferguson, and was the foremost elected official in using social media to document the unrest with a mix of opinion, reporting and photos. On a number of occasions, French helped diffuse tense encounters between police and protesters. French became an oft-seen face not only on local television but also in the national media that converged on Ferguson in the days after Brown was shot. Eventually, he was profiled by both the Los Angeles Times and Ebony magazine.
In 2017, French opted not to run for a third aldermanic term, but instead threw his hat into the ring for mayor. He was endorsed by the Post-Dispatch, but only managed to finish fourth in a seven-candidate fieldamong the seven candidates in the Democratic primary. French still lives in north St. Louis. He owns and manages MetroSTL, an online news service, and publishes The Northsider and The Southsider newspapers.
"Over the course of those events, I got to see the best and worst of human nature. And that certainly had a lasting effect on me — in some ways hopeful, and in some a bit more cynical," French said.
Hope springs from the increased activism of young people, French said, adding: "something I'd tried to encourage before Ferguson, getting involved and actually change what is wrong here. And that has for the most part continued."
Cynicism came along in the time following the relative calm after the unrest. "Before Ferguson, you could tell yourself some people simply were not aware of what was happening in the place they call home," he said. "But after it was over, and after the Ferguson Commission report came out, people couldn't say they didn't know any more.
"It just meant that as a region," he continued, "the majority just doesn't care."
Andy Patel: Ferguson Market & Liquor owner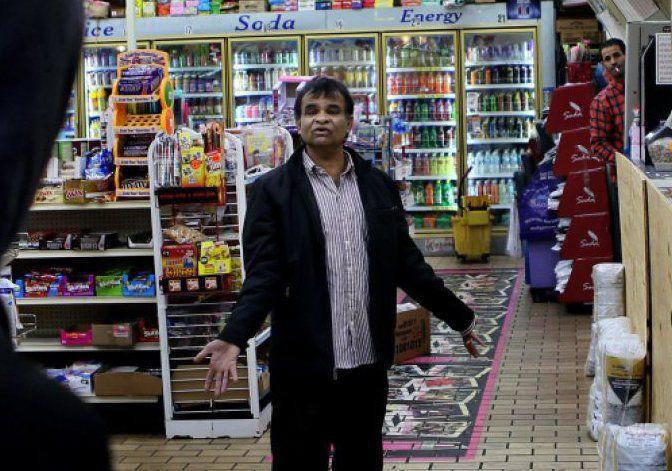 Andy Patel says his business has slowly made a comeback in the years since looters caused more than $50,000 in damage during street protests in 2014.
Patel's Ferguson Market & Liquor at 9101 West Florissant Avenue is in the heart of the bustling commercial strip that became a nightly battleground between police and protesters in the months after Brown was killed by a Ferguson police officer.
"Nothing different," insists Patel, who owns and manages the store with his brother and oldest daughter. "I stay in Ferguson."
As the five-year anniversary of Brown's death looms, Patel says he hopes Aug. 9 comes and goes like any other of his 12-hour shifts behind the counter.
Five years ago, Brown appeared to shove Patel while leaving the store with unpaid cigarillos, shortly before Brown's fatal encounter with a Ferguson police officer in the Canfield Green apartment complex.
The market was looted at least twice and caught fire in the months that followed.
"No come back," Patel said, in hopes that protesters won't target his store again.
In 2017, some residents who claimed criminal activity at the store called on the city to not renew Patel's liquor license. It was approved.
Last August, protesters continued to gather outside his store, calling on the store to acknowledge its role in the Brown saga and demanding that the Patel family relinquish the store.
Patel couldn't agree to that, said his lawyer Jay Kanzler. Ultimately, a deal with protesters to temporarily close the store on Aug. 9 to host a free community barbecue fizzled.
"They've made the commitment to stay here," Kanzler said.
Patel emigrated from India in 1995. He worked at a Dunkin' Donuts and a liquor store in Bellefontaine Neighbors for years before his family opened the Ferguson store a decade ago.
One challenge, Patel said, is that he has been unable to recoup thousands of dollars in repairs through insurance because investigators seized store surveillance footage that would have proved looters had caused the damage. Despite those losses and a slowdown after the protests, Patel said business has picked up and he feels the community has begun to embrace him again.
"Neighborhood nice," he said. "No nothing to argue with me."
No one even discusses Brown or the protests with him anymore, he said. And even though he hasn't forgotten what happened, he says he wants to remain part of the Ferguson community for years to come.
Michael Brown Sr. Michael Brown's father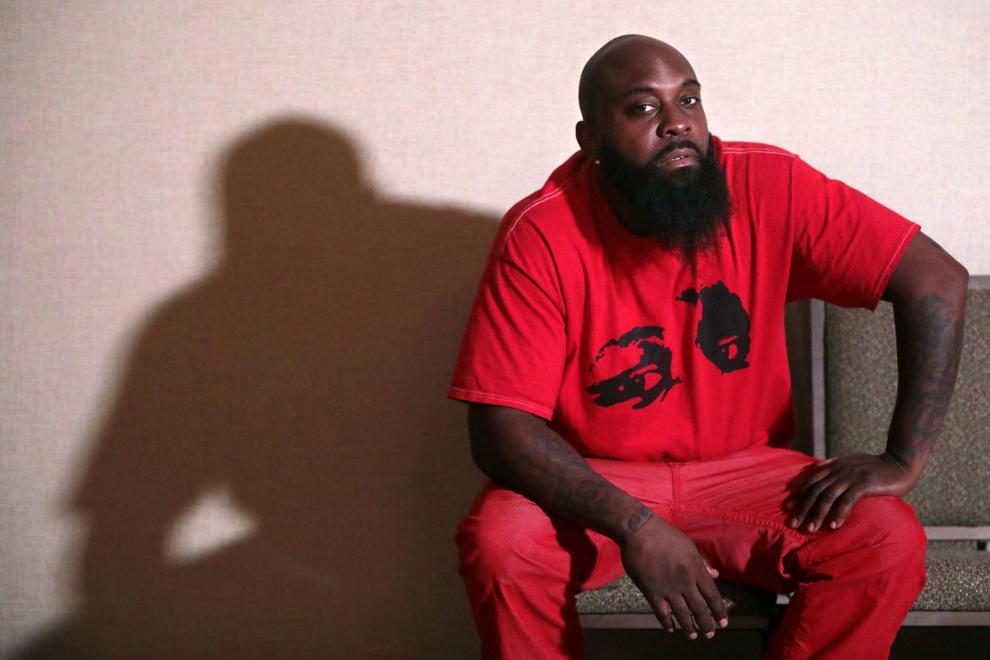 Michael Brown Sr. and Lesley McSpadden have traveled the country to share their stories, support activists calling for criminal justice or police reform, endorse political candidates, or to lend their names to art installations or community events about Ferguson, like the National Urban League's opening of a $4 million job training and education center at the site where a QuickTrip burned down during the unrest in 2014.
They launched a campaign to have police officers nationwide wear body cameras and founded nonprofits aiming to help black youth in disinvested areas, tackle police reform and support parents who have lost children in police encounters.
And they continue to publicly argue the details of their son's death and call for a new investigation. In 2017, Brown and McSpadden, who were separated and married to other people before 2014, split a $1.5 million settlement they won in the wrongful death lawsuit they filed against the city of Ferguson in 2016 over their son's death.
McSpadden, founder and president of The Michael Orlandus Darrion Brown We Love Our Sons and Daughters Foundation, did not respond to requests for comment for this article. In April, she lost a bid for a seat on the Ferguson City Council, coming third in a three-way race that garnered national attention. 
Five years after his son's death, Michael Brown Sr.'s family continues to heal from the loss, he said. For at least three years, he felt as if the family hardly had time to grieve in private.
"We were just able to get by a little bit, to never forget, just try to get into a space of comfort, as much as we can," he said. "We're definitely just trying to find a space where we can just be OK in."
Recently, part of that healing process included making a booklet with photos about his son and the Ferguson unrest for the slain teen's siblings, who were toddlers at the time, the elder Brown said.
He spoke with the Post-Dispatch during a brief interview at St. Louis Lambert International Airport, a day after returning from a speaking engagement at a prison in South Carolina and a few hours before flying to Minnesota for another speaking engagement, one of many he has done at schools, prisons, corporations and nonprofits across the country as founder of the Michael Brown Chosen for Change Foundation, which aims to empower youth, strengthen families and give back.
"With nothing positive, you're just going to always ground negative," he said.
Brown recently met Jason Armstrong, the new chief of police in Ferguson, and has consulted with the department about how to build trust with the community.
"Someone has to start from somewhere, either the community or the police," he said. 
Every anniversary of his son's death, Brown Sr. has helped rebuild a makeshift memorial in the middle of Ferguson's Canfield Drive, where the younger Brown died. But when he needs quiet time to reflect, he visits the cemetery where his son is buried.
He has seen positive changes in Ferguson and elsewhere that he attributes to his son's legacy, he said, thanking activists who continue to invoke Michael Brown's name as they pursue change.
"He definitely opened up the world and put it on a microscope," he said. "And people are definitely watching and seeing, when I guess they were blind of, what was going on. I tell people all the time he is still working from the grave."
Jeniece Andrews: Hidden Treasures Boutique owner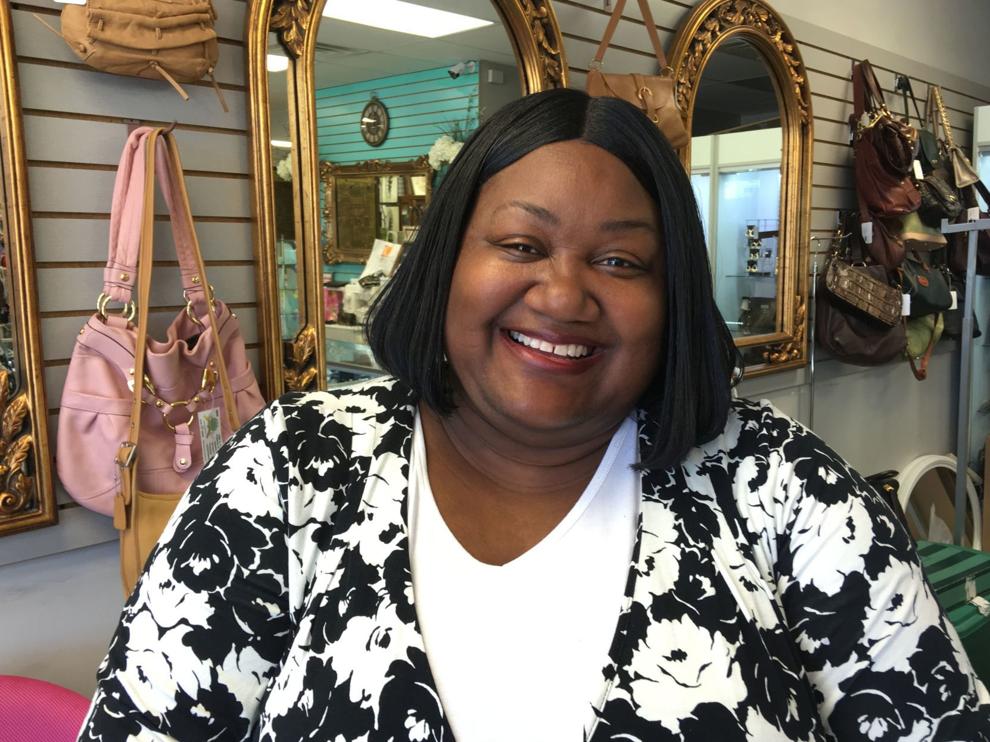 Jeniece Andrews' dream burned to the ground on Nov. 24, 2014.
The Hidden Treasures Boutique she first opened two years earlier in Ferguson after spending most of her adult life as a stay-at-home mother was destroyed in the unrest that followed a grand jury's decision not to indict a Ferguson police officer for killing Michael Brown.
"I cried so hard," she said of losing her business. "It was heartbreaking. I put a lot of work in and I lost a lot of things that can't be replaced."
Down but not finished, she vowed to resurrect her shop in her hometown. It took more than 18 months to clear wreckage, rebuild, restock shelves and reopen the doors but she says she did it with community support, her husband's help and faith in God.
Andrews, 53, opened in 2012 at 220 North Florissant Road, with keepsakes she had collected since childhood and by scavenging for treasures locally and during out-of-town travels.
"I know good quality when I see it, I've been told," she said. "I can find a jewel any place. I can find a blessing any place."
After a fire gutted her boutique and the Little Caesar's pizza shop next door, she contemplated her future in Ferguson but said her religious faith led her to reinvest in Ferguson instead of moving elsewhere.
She says business has slowed since the 2014 uprising but that she remains optimistic things will improve.
"It's been a sacrifice," she said. "Some days, I regret it. But God tried to see a bigger picture."
Andrews said she is working to rebuild her customer base and to thrive again in Ferguson. She said she needs customers to help her rebuild her dream.
"Even though things are pretty slow, God always provides," she said. "Even though sometimes it gets hard, I know God maintains and he always finds a way."
The Rev. F. Willis Johnson: clergy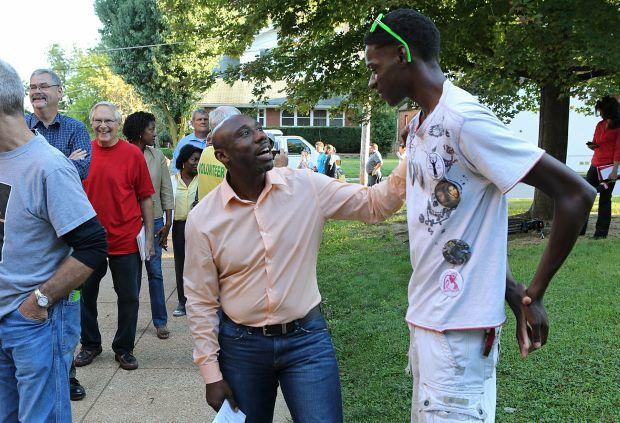 "We stopped doing ministry; we became ministry," said the Rev. F. Willis Johnson, who from 2011 until last year was pastor of the Wellspring Church and a community leader who emerged after Michael Brown was killed.
Johnson moved to Columbus, Ohio, in 2018 to become pastor of the Living Tree Methodist Church. Although Wellspring has closed, the Center for Social Empowerment, which Johnson co-founded and directed, still operates in Ferguson.
"We actually had to embody what we had always espoused, making our faith organic and alive. The faith community was put on the alert, that we were required to do more," Johnson said.
Johnson said Ferguson drove home the point that a church, "regardless of the denomination," needs to know that worship takes place more often than just on Sunday. "Wellspring became a safe haven, a community meeting place, a resource center. The physical space actually was transformed," he said.
His personal life also was changed significantly. "For the first year and a half, two years after (Brown was shot), I was going all across the country meeting with different groups."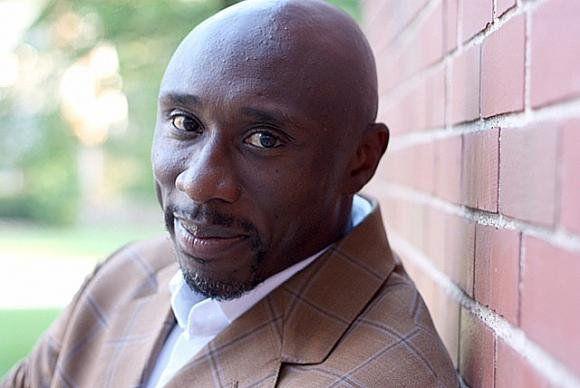 And Johnson still is sharing the lessons he learned in Ferguson. Even though he has been in Columbus slightly less than one year, he has been called to meetings with Columbus police and elected officials to consult when race-related issues have surfaced.
"They're asking me," Johnson said, "'What should we be doing?'"
Scott Bonner: Ferguson Municipal Public Library director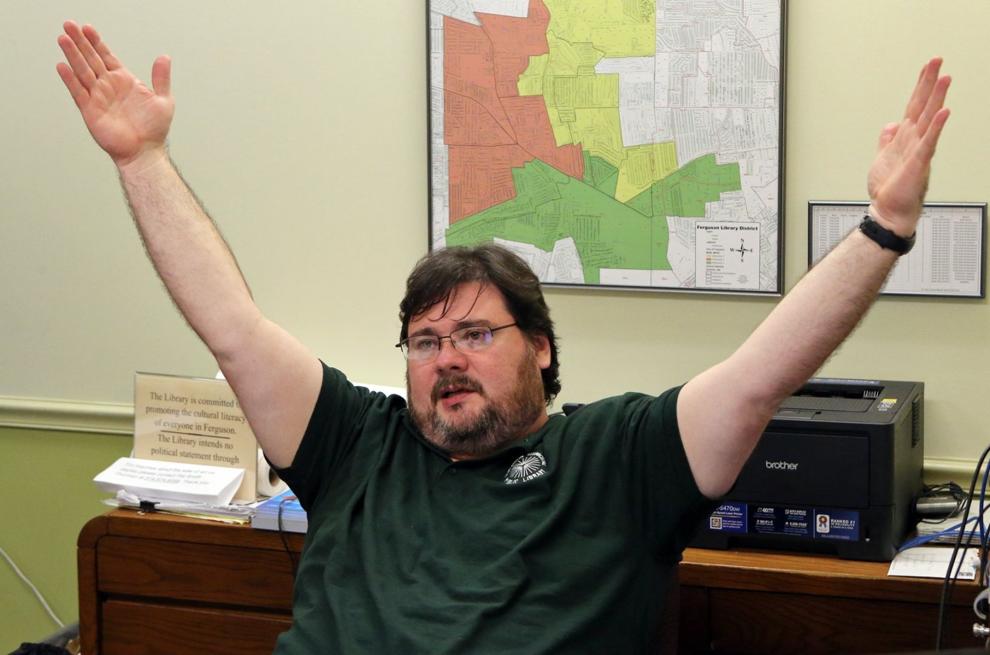 The Ferguson Municipal Public Library and its director, Scott Bonner, attracted worldwide attention after Brown was shot. First, it was for opening a "School for Peace" and educating students when local schools were closed immediately after Brown's death. Then, for doing it all again after the grand jury decided not to charge Wilson.
Bonner said the motto was, "If safe, open. If open, do everything we possibly can."
That second time, the library's actions triggered hundreds of thousands of dollars in donations from thousands of donors.
Bonner said there were no large cash donations. "It was really all individuals giving 20, 30, 40 dollars."
That money allowed the library to hire more staff, buy new computers, expand the collections and fix up the building.
Bonner said the library had been struggling. The donations, which tailed off quickly, "allowed us to operate a better-funded library for a couple of years," he said, "which, I think, allowed us to prove ourselves to the people." Voters in 2018 approved a tax increase that allowed the library to keep services at the level that donations had first allowed.
Bonner and the library won awards, and he was invited to a series of conferences to discuss what the library did during the protests.
But he says he and other staff were simply doing what libraries have always done.
"It just so happens that libraries kick a lot of ass," he said.
Bonner said he would take it all back if he could — to have Brown still alive and avoid the turmoil in Ferguson and the damage to the community's reputation.
"I would gladly give up all the donations for all of that.
'It's been a horrible five years and it's also been a very good five years, depending on how you look at it," he said.
Joshua Williams: Protester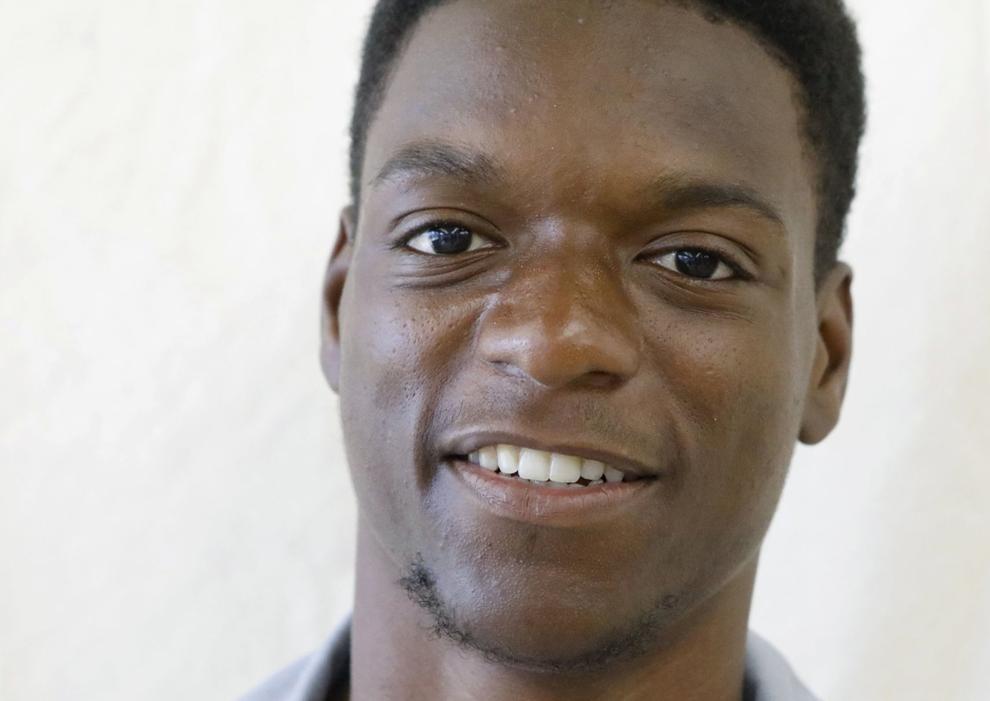 Joshua Williams was a student at Jennings High School and knew Michael Brown casually through his mother, who worked for the Normandy School District. When Brown was shot, Williams went to the scene, and saw Brown's body on the ground.
He became an outspoken, colorful character at protests, often seen in a red hoodie and colorful sunglasses at the front of the line, standing up at meetings, screaming at officials. One night in December 2014, a Berkeley police officer shot and killed a teenager outside a gas station after the officer said he pulled a gun on him. Williams went to a protest after the killing, and set fire to a QuikTrip gas station across the street. The fire was put out quickly, and Williams was arrested.
"I did it out of anger, I don't know," he said during a phone interview from the Missouri Eastern Correctional Center in Pacific. "I thought it would make the people more aware."
He regrets the decision, he said, because it affected the workers and owner of the gas station. He does think his sentence of eight years was too harsh. He has about three years left, but is hoping for clemency.
When he gets out, he wants to start a group called Teen Lives Matter. He wants to build youth centers. Now at age 23, he thinks he knows what teens need. He had never had a run-in with police before the protests, he said.
"My life has changed since Ferguson because it opened my eyes to what's going on in the world, and it gave me my dream of what I want to do because before that, I wanted to do something else."
"It was to be a police officer."
Dellena Jones: Former 911 Hair Salon owner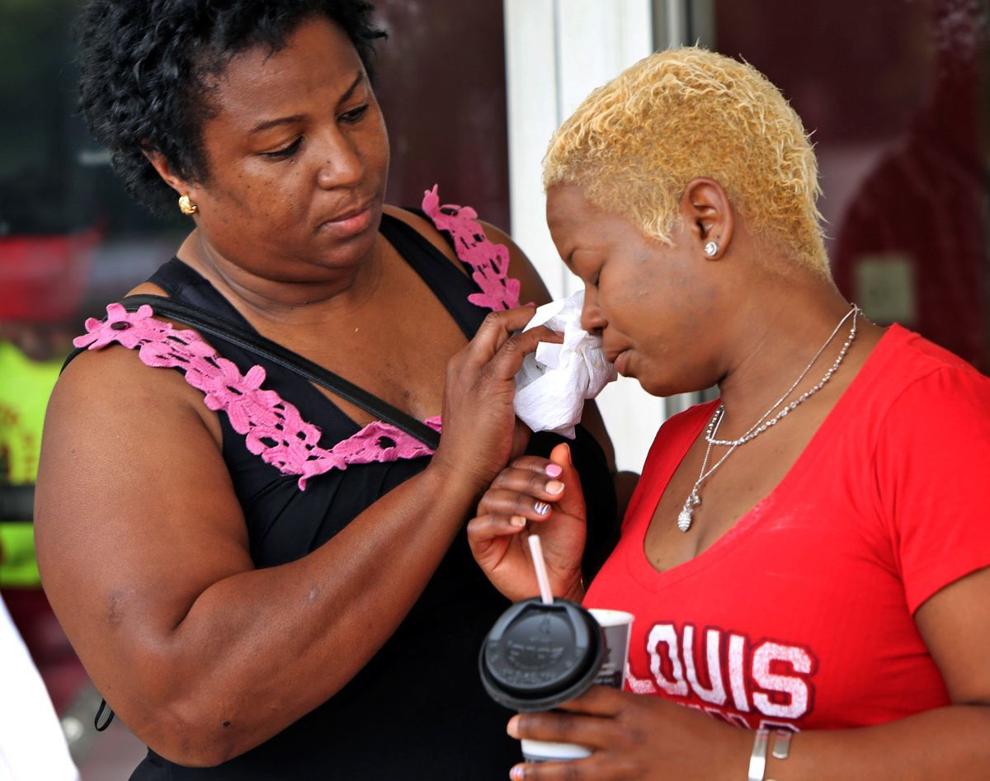 Dellena Jones worked at the 911 Hair Salon on West Florissant Avenue for more than a decade before buying it in 2012.
Her salon was broken into multiple times during protests, and the unrest also drove business away, even five years later, she says.
'It's not like, 'Oh this happened in 2014,' and that was it," she said.
Customers' co-workers "told them not to come back because of where I was located," she said.
"I had clients coming from East St. Louis saying, 'Oh, lock the door," she said. "I'm like, 'Really?'"
Although the beneficiary of a GoFundMe that raised over $7,100, Jones said she struggled to find other support to rebuild her business, and had to get loans to stay afloat.
She lost the salon at the end of January. Her landlord sued in February and won a judgment of $20,000 in back rent.
The Ferguson native and McCluer High graduate now lives in Florissant, working out of her home and from friends' salons. She's also started a Mary Kay business.
She said she hopes to reopen a salon, but doesn't know where, saying, "I don't want to have a stigma where people don't feel comfortable coming."
Cornell William Brooks: Professor, former NAACP president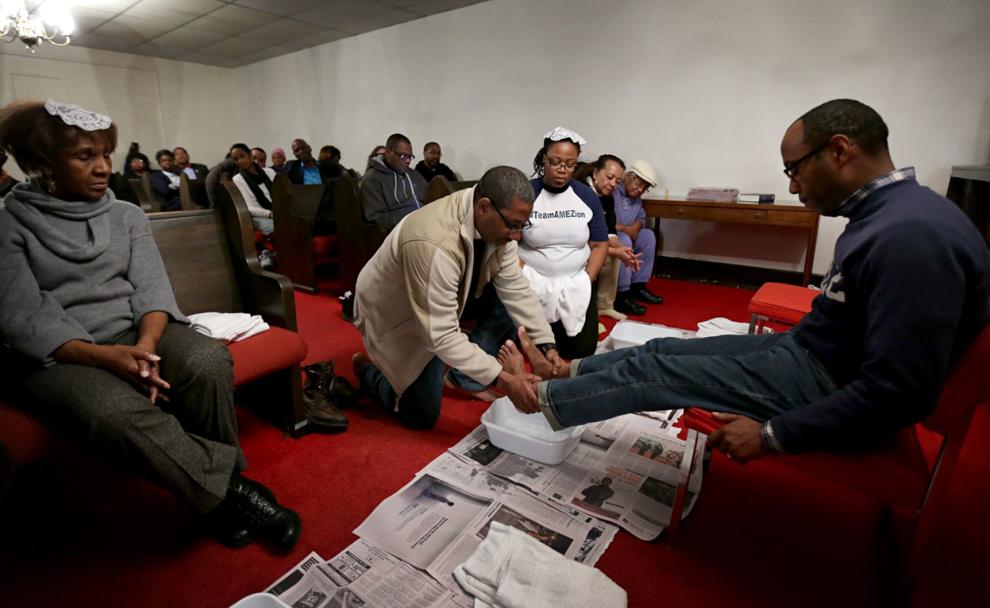 In the days and months after Michael Brown's death, one key figure guiding the ensuing activism was Cornell William Brooks, the former president of the National Association for the Advancement of Colored People. Since last September, the civil rights lawyer and ordained minister has been a professor of public leadership and social justice at Harvard University's John F. Kennedy School of Government.
Brooks' role from five years ago is perhaps best remembered for helping lead the NAACP-organized march from Ferguson to Jefferson City in November and December 2014, in an effort to advocate for systemic change. Today, he says the spirit of the Ferguson protests has made a lasting impact on him, personally, and on the nation.
"It reaffirmed for me what I committed to doing when I began my civil rights career," said Brooks. "It really, for me, underscored just how deeply the problems of systemic racism in our country are, but also the possibilities of activism. And it's important to remember both."
Besides fueling his own activism, he said the Ferguson protests helped launch "a narrative about the direction that the country is going to take," likening it to an electric shock that helps revive a patient.
"It was a shock to the heart of the country," Brooks said, adding that he sees a "generationally unprecedented" level of activism today. Pointing to rippling movements like the Women's March, March for Our Lives, and climate marches, Brooks said Ferguson's legacy reminds him of the civil rights movement's Montgomery bus boycott for helping to "ignite and inspire" broader activism.
"What I teach in my class is, to some extent, what Ferguson taught the country," Brooks said. "I would argue that Ferguson is a post-millennium Montgomery … . That activism is felt now."
John Zisser: Zisser Tire & Auto Service owner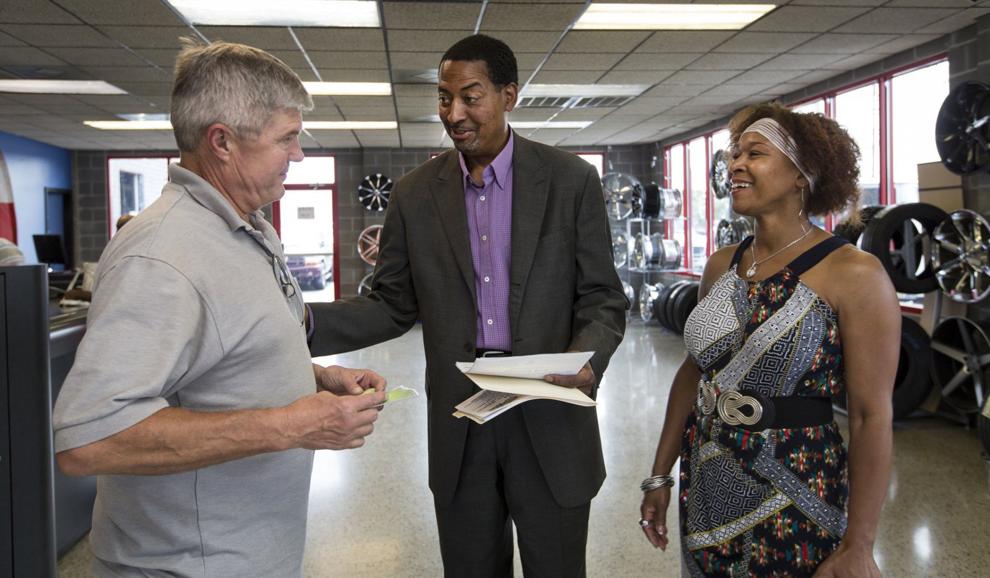 John Zisser has owned Zisser Tire & Auto Service since 1984, and has run the location at 9990 West Florissant Avenue since 1987. In multiple waves of 2014 protests, the building was ransacked and had windows smashed. Five years later, Zisser says the flow of things is largely back to normal, with just a couple differences.
One is a reflex that he says is hard to shake.
"Have you ever had your car broke into, or your house broke into?" Zisser asks. "Every single time you walk back to your car, the first thing on your mind is, 'You think my window is still there or is it smashed out again?' That's the biggest, I guess, fear. Going through the actual experience wasn't that traumatic, unlike every time you hear something or you see something, or something is in another city, it all comes back."
He said there's also a lingering stigma held by outsiders who don't know the community, but which warps how the area is viewed.
"I have friends and customers that would prefer to go to one of our other stores than go here because they still think that it's terrible here," Zisser said. "I just had a guy the other day ask me if 'everything is settled down up there yet?' I'm like, 'It's coming up on five years!'"
That mindset could also affect his insurance rates, he suggested — noting that he was dropped by his previous carrier, and quotes for coverage since the protests have nearly doubled or tripled in price.
"The stigma is still out there," he said. "Lightning very seldom strikes twice, but it does."
But the rapport with the community and customers is strong, he said.
"The relationship in the community is as good as it's ever been, and it wasn't bad then," said Zisser. "People that destroyed this place … they're not the ones that are our customers that come in and get their car worked on or come by and see us. I mean, we have customers that, every time they come in, they bring us cookies. We have ones that come in and buy us lunch. We've got good customers."
Charles Poole: Writer
Charles Poole experienced personal tragedy against the backdrop of the Ferguson riots when his sister Kimberly Poole, 48, died in her home on Nov. 25, 2014, the day after it was announced that Officer Darren Wilson would not be charged.
When his sister needed him most, when she wasn't picking up her phone and Poole feared the worst, he wasn't able to get to her house because of a police blockade meant to control the chaos. Police found her the following day, lying on the floor near her front door.
"We were always there for each other," Poole said. "Did she lie there and suffer for some undetermined amount of time? That's very hard to shake as an idea."
Since then, Poole has learned that Kimberly Poole died of a pulmonary embolism, which can occur quickly.
"No matter what happened under those circumstances, the chances were that I probably could not save my sister anyway, unless I was right there at that moment and had some medical skill," he said.
His brother James Poole was devastated by their sister's death, Poole said, and died less than a year later. Two years after that, Poole published a book, his third, about loss and healing.
He still takes care of his sister's dog, Diddy, who was in the home when she died.
"I have buried every member of my family," Poole said. "Without them in my life, I would never have the strength to do what I have been called to do … they each gave me something from their spirit and their experience that helped strengthen me."
Bishop Timothy Woods: Clergy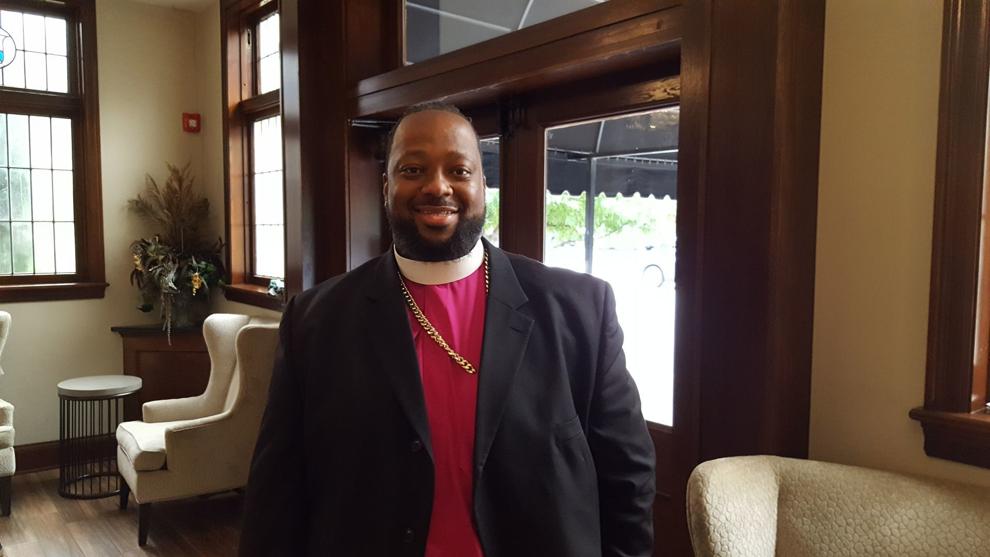 Woods was among several local clergy members who tried night after night to keep the Ferguson protests peaceful.
He said his involvement began with a prayer vigil at Ferguson City Hall, after which "some of us kind of banded together" to act as a buffer between protesters and police.
"I was out there every night for three weeks,'' he said. "Looking back, I think we were pretty successful."
He added, though, that "at times, we were misunderstood. Some of the protesters thought we were for the police; the police thought we were protesters."
He said he more or less was forced into service on some days because the protests and snarled traffic kept him from getting to his house in Ferguson. However, he said, "I wanted to be there as well."
Woods said people protesting had valid criticism over the way African Americans had been treated over the years by Ferguson police.
However, he said, he wanted the peaceful protesters' voices "to be heard louder than the violence'' of some others during the Ferguson unrest.
"A lot of people were violent because they had an opportunity to be violent and they could get away with it," Woods said.
Five years later, he said, the general public knows more about problems in the municipal court system. "The awareness has come about," he said. "I believe that's what's gotten better. This stuff was happening for years; I mean decades."
Woods, 41, continues to serve as pastor of First Free Will Baptist Church in north St. Louis, and now lives in west St. Louis County.
Brittany Packnett: Protester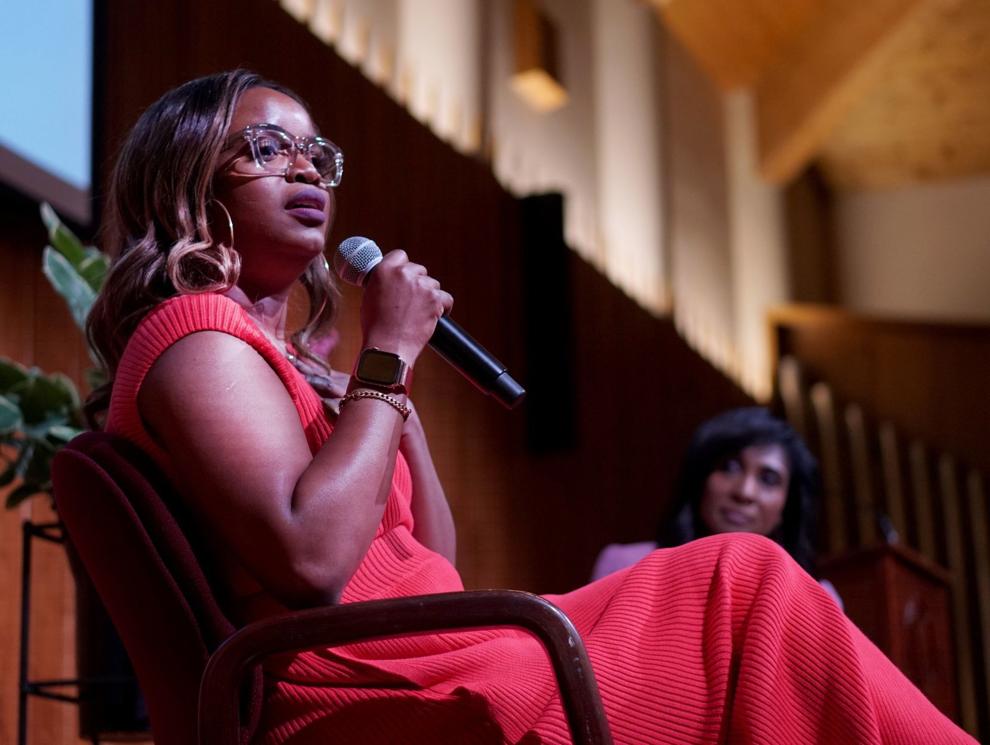 One of the most prominent leaders to emerge from the Ferguson protests, Brittany Packnett is a St. Louis native and former Washington, D.C., elementary teacher who now serves as Teach for America's vice president of National Community Alliances. 
When protests erupted in Ferguson, Packnett worked with local parents and educators to support a substitute school at the Ferguson library, where more than 50 Teach For America alumni, among others, offered academic instruction and a safe place for students while their schools were closed during the unrest.
"Ferguson called me back into who I always was, but not necessarily who I was being," Packnett said recently. "Professional life can easily make us comfortable. I was teetering on the edge of being comfortable. Ferguson made me uncomfortable again, in a productive way."
Packnett went on to serve on the Ferguson Commission and also on President Barack Obama's task force examining national policing methods. Awards and accolades followed. Time magazine named her as one of the "12 New Faces of Black Leadership" and Essence magazine put her on its list of "100 Woke Women."
She is co-founder of Campaign Zero, a policy platform to end police killings. The campaign's focus includes endorsing the use of body cameras for police and standards for reporting police use of force. She and fellow activist DeRay Mckesson are two of the hosts of a podcast called Pod Save the People.
Packnett is getting married in October, to a fellow St. Louisan she met at a protest in the Shaw neighborhood, months after Brown's death. She also is writing her first book, due out next year, called "We Are Like Those Who Dream," a collection of speeches from famous black woman and personal essays from Packnett.
She was a headliner at a TED Conference in Vancouver; her talk was about confidence. She has had more than 20 public-speaking engagements so far this year. She lives in Washington, D.C.
John Ammann: Retired professor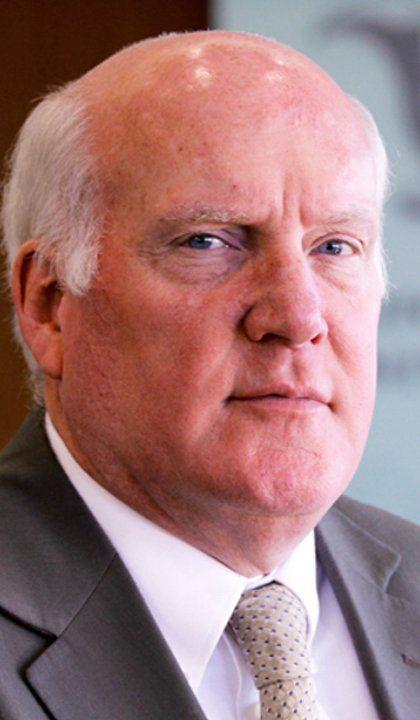 As the longtime director of St. Louis University's School of Law legal clinics, John Ammann had worked for years with other lawyers trying to generate interest in the problems they saw with the area's municipal courts.
"It wasn't getting any traction," he says.
While not directly related, Ammann says, the fatal shooting of Michael Brown and the subsequent protests helped get people to take seriously complaints about the use of city ordinances "to make life harder for poor people in our community" by jailing those who can't afford to pay fines.
Among the changes: the Missouri Legislature in 2015 passed a broad court reform bill capping traffic court revenue in St. Louis County, although some provisions were struck down by the state Supreme Court. Various cities and courts made other changes, he pointed out.
"Fewer people are being held in jail and we are now looking at people's ability to pay to determine whether they should be held in jail or on bond," he said of cities in general.
He said most county municipalities are writing fewer traffic tickets and "I think the culture has changed somewhat from the idea of balancing budgets" with ticket revenue.
But he said the municipal courts still have many problems. "What Ferguson changed was, it opened up the avenue to do systemic work to change the system," he said.
Ammann, 61, retired at the end of June. However, he plans to continue to work for municipal court reform and on behalf of women sexually assaulted in prisons on a volunteer part-time basis.
Dornella Conner: Bystander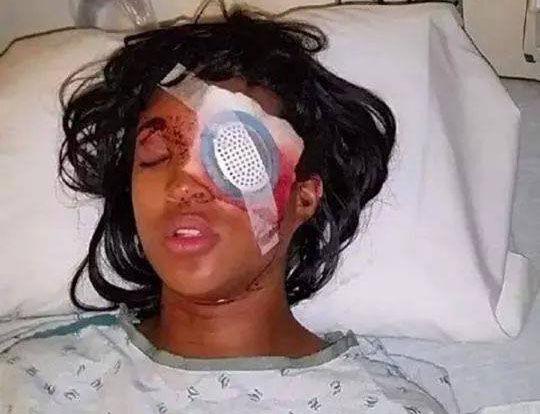 During the unrest following the grand jury's decision, Dornella Conner was blinded permanently in one eye.
Conner, who was pregnant at the time, said that she was at a Ferguson gas station early on Nov. 25, 2014, in a car with her daughter, two other family members and her daughter's father, DeAngelas Lee, who was driving.
Recalling that night, Conner, who is now 28, said they were not involved in the protests. They had stopped to buy gas and snacks.
According to a statement issued at the time, a detective at the gas station stepped out of a car, and Lee sped at him. Fearing for his life, the detective shot a bean bag round into the car, the Post-Dispatch reported.
The bean bag round broke the window and hit Conner in the face.
She was taken to Barnes-Jewish Hospital and underwent surgery. Her unborn baby was uninjured.
Lee was charged with second-degree assault on a law enforcement officer. Conner said the charges were dropped.
Conner, a single mother, now lives in St. Louis County with her two children and her godmother. She said she also co-parents two other children who live with their father.
Monday, Conner said, is the first day of her new job at a cell phone store.
"It's been very hard trying to make it," she said, and "trying to get the help and resources I need."
Brendan Roediger: Professor, attorney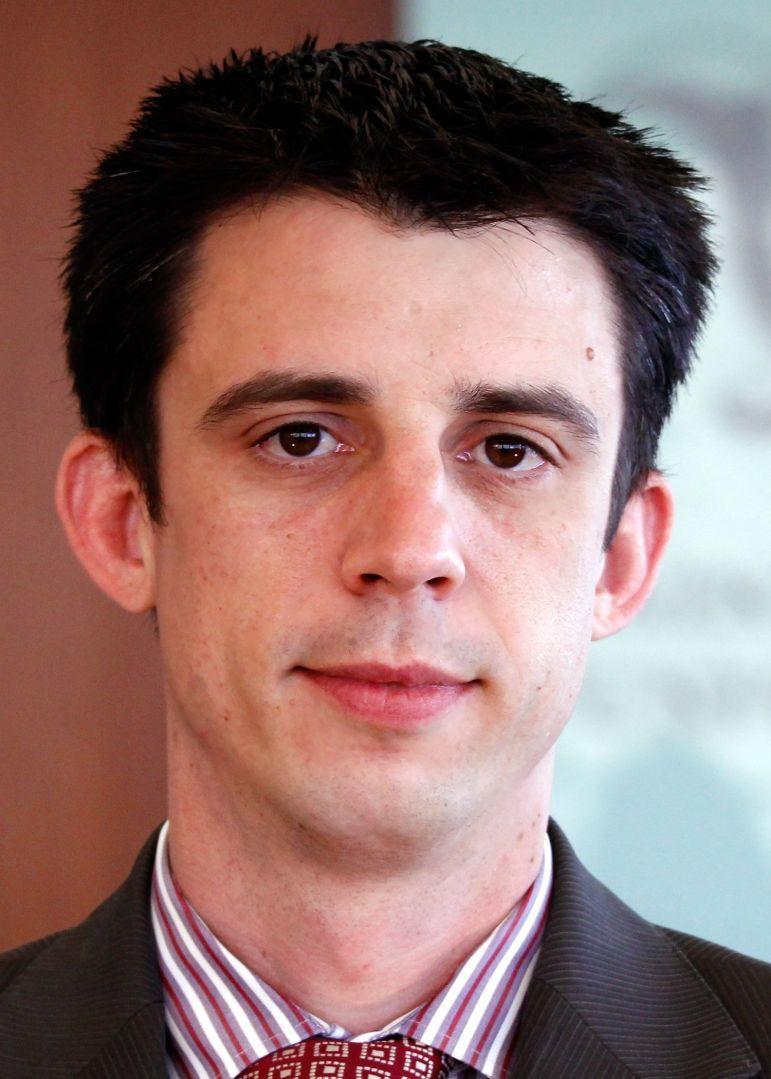 St. Louis University Law professor Brendan Roediger was a prominent legal ally of the Ferguson protest movement.
Roediger became a lawyer after overcoming drug addiction in 1999 and spending years as an activist in the Twin Cities.
When Michael Brown was killed, Roediger was head of the Civil Litigation Clinic at SLU, which gives legal aid to low-income people in St. Louis.
Roediger marched in the protests, then took on about 100 criminal cases filed against fellow protesters for things like trespassing and peace disturbances.
He also filed lawsuits challenging the use of tear gas and other chemical agents by police in Ferguson and questioning the charge of "interfering with a police officer" often used to criminalize protesters. The latter resulted in a ruling that the charge was constitutional, but didn't apply to verbal interference the way it was sometimes applied during the protests.
Roediger was among a team of lawyers who sued several St. Louis area municipalities claiming overly aggressive municipal court practices brought to light in part by the Ferguson protests.
In 2016, Jennings settled one of those federal suits, agreeing to pay $4.7 million to reimburse 2,000 people who were jailed for unpaid traffic tickets. Another similar federal lawsuit against Ferguson is still ongoing.
Today Roediger remains the director of the SLU clinic. Many cases he filed in the wake of Ferguson are still tied up in court, but he's also focused on other causes including the rights of women who say they've been sexually assaulted in Missouri prisons.
"The law doesn't transform society," Roediger said in his office this summer. "You need the power and energy of a social movement like Ferguson to do that, then the law catches up."
On a personal level, Roediger said he regrets that many of the people he bonded with during the protests have struggled in the years since.
"It took a toll on a lot of us," Roediger said. "People ended up in prison, all the hours put strains on personal relationships. There was stress and trauma people were dealing with. Sometimes I do think about: Was it all worth it?"
Brittany Ferrell: Protester, graduate student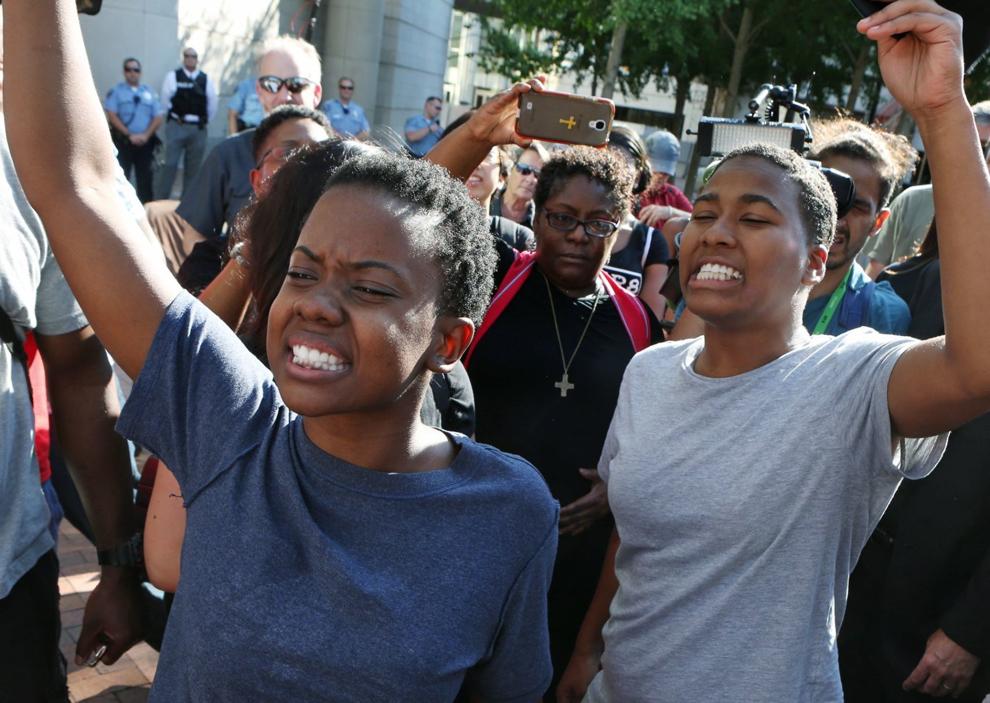 When Michael Brown was killed, Brittany Ferrell was a 25-year-old nursing student in her senior year at the University of Missouri-St. Louis.
But she soon took to the streets.
"I would go straight from class to the protest until 3 a.m. in the morning then wake up for clinicals after an hour of sleep," she said. "But I remember one day my hands were shaking and I realized I had to stop."
Ferrell eventually took a break from school to focus on the protest movement full time, often bringing her 6-year-old daughter to the protests during the day.
Ferrell made headlines in 2014 when she got engaged to another Ferguson protester Alexis Templeton, though the relationship has since ended.
Her days protesting on the street came to an end on the one-year anniversary of the shooting of Michael Brown when she was charged with felony property damage, trespassing and peace disturbance stemming from a highway shutdown. She was accused of kicking a car causing damage.
She pleaded guilty in March 2016 to the charges and was sentenced to five years' probation. According to her plea agreement, if she successfully completes probation, the charges will be dismissed.
After her arrest, Ferrell shifted her focus from protesting to advocacy work because she didn't want to face more legal risks.
Today, she is in graduate school at Washington University working toward a master's degree in public health.
She continues to be politically active, working with groups focused on the birth justice movement, aimed at improving healthcare for black pregnant women and infants. She's also been active in protesting conditions at the St. Louis Medium Security Institution jail, commonly called the Workhouse. She also works with Black Futures Lab, an advocacy group that conducted a survey gathering opinions from 30,000 black people in the U.S.
She still lives in St. Louis with her daughter, now 11, who she says has come to care about social justice issues in part because of what she saw coming along to the Ferguson protests with her mother.
Dwayne James: Former council member

Dwayne James was Ferguson's lone black City Council member when Michael Brown was killed. He left the council because of term limits in April 2016. He is now the county program director for the University of Missouri Extension. James said the events of August, 2014, showed him that there was a disconnect between the community and the government when it came to issues like race, community relations, equity and privilege.
"I think what 2014 showed some of us was that conversations were had in isolation. Some people knew of these issues that our community was dealing with. But other sections of our community were not aware," James said. "We had a community that knew there were issues that were taking place. But, people either were not voting or coming to council meetings."
"2014 did not happen overnight. Mike Brown was the catalyst of a lot of people being tired and stressed," James said. "Mike Brown was the symbol of years of oppression."
He said the events surrounding Brown's death forced the community to confront those issues.
"I'm not saying I wasn't doing it prior, but there is more of a sense of urgency," James said.
James has considered running for other elected offices, but he said he is more inclined to offer his support to others who want to serve the public.
"I'm still doing community work. I'm doing it with a more defined purpose," James said.
Justin Hansford: Professor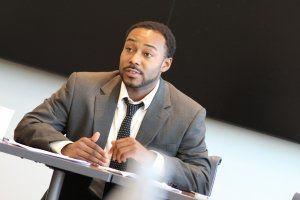 Justin Hansford was a law professor at St. Louis University and a longtime activist at the time of Mike Brown's death, so it was an easy decision to host protesters from around the country at his house and to organize support for protesters at St. Mark's church in Ferguson.
Hansford also helped organize the group of activists who traveled with Brown's family to Geneva to testify before the U.N. Committee Against Torture. He was arrested during a protest at the Maplewood WalMart.
Hansford, 37, feels he was forced out at the university partly because of his activism. He began looking for other opportunities and got them: Harvard offered him a fellowship to write a book, he taught a class on Black Lives Matter at Georgetown University, and he's now the founder and director of the Thurgood Marshall Civil Rights Center at Howard University in Washington, D.C., where he is also a law professor.
He says people outside of St. Louis seem more willing to talk about Ferguson and civil rights issues.
One of the best part of his job, he said, is teaching and talking to law students who were in high school or middle school when Brown was killed. "And this changed their lives, this made them want to go to law school and focus on social justice. I think that's amazing."
Johnetta Elzie: Protester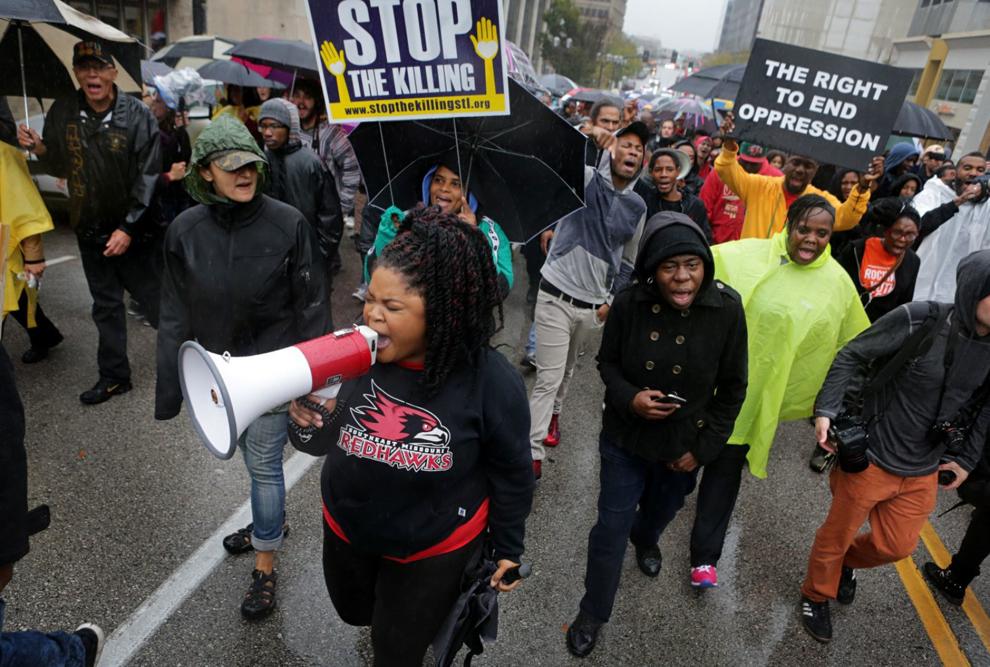 Johnetta Elzie, 30, describes 2014 as "the most insane year of my life." Her mother died from lupus, a close friend named Stephon Averyhart was shot and killed by police, and later that year, the St. Louis County native joined the protests that erupted after the police shooting of Michael Brown. Documenting the protests on social media, Elzie established herself as a video blogger  focused on the movement in Ferguson — going on to co-author a newsletter devoted to police violence issues around the country, and attracting an online audience of hundreds of thousands of followers.
Elzie, who had dropped out of Southeast Missouri State University's journalism program to help cover her mother's medical bills by working, is now back in school. She is enrolled at Washington University, and weighing political science and African-American studies as possible majors.
One main pursuit was forming Campaign Zero, which promoted a "10-point policy plan to end police violence in America," and included data surveys on police department use-of-force policies. The platform, she said, allowed her to meet with "political big wigs," including top-level officials from President Barack Obama's administration, such as Valerie Jarrett.
Elzie believes that the activism that emerged from the Ferguson protests has changed national policy conversations.
"This is the second presidential debate I've ever seen, or the second round of debates where I've seen police violence even talked about," she said. "It definitely happened in 2016 and it's happening again now. And people are being strongly critiqued on their answers and based on their histories."
She believes that Ferguson protests also helped provide a spark for other movements — and a blueprint that showed the amplifying power of social media.
"I think we also helped people not be afraid. I mean, think of all the mass protests and movements that you saw after Aug. 9, 2014," she said. "We're not the first people to protest, God knows, but I do believe that we were the first people to use protests, social media, and real life in the way that we did."
Stanley Andrisse: Professor and nonprofit co-founder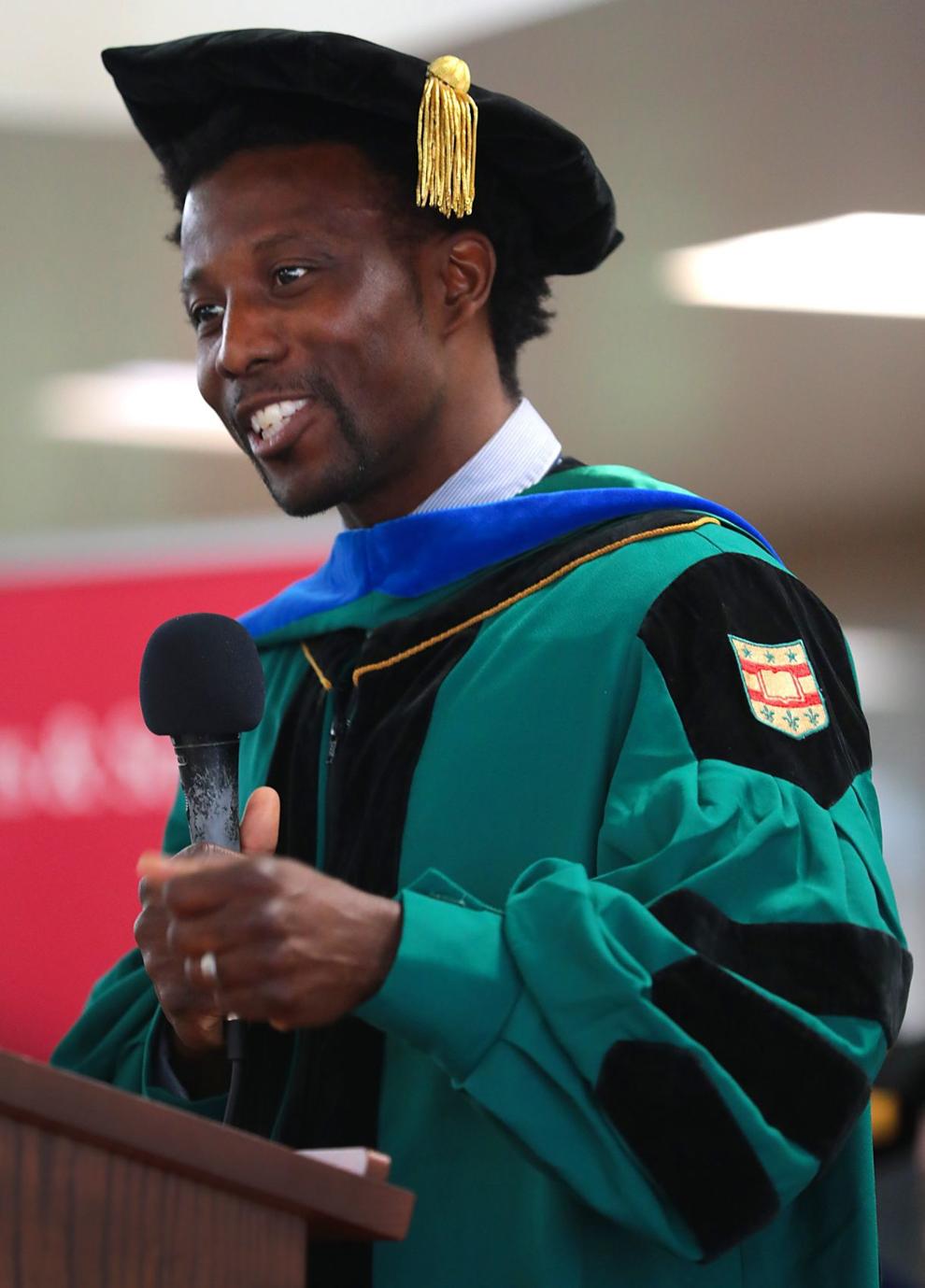 Stanley Andrisse had gone from convicted felon to career scientist by fall 2014.
But it was the events in Andrisse's hometown of Ferguson that transformed his personal redemption arc into a public mission, he said.
"I could very easily have been Mike Brown, or Mike Brown could very easily be me," said Andrisse, now a professor at Howard College of Medicine, an Adjunct Assistant Professor at Johns Hopkins University and founder of the nonprofit From Prison Cells to PhDs, which helps provide formerly incarcerated people and black youth in disinvested areas with education and other opportunities.
Growing up in Ferguson, Andrisse said he made bad decisions that sent him through the "revolving door" of the criminal justice system. 
He was 22 when, shortly after graduating from Lindenwood University with a bachelor's degree, he was sentenced to 10 years in prison for drug trafficking. The prosecutor had pushed for 20 years in prison to a life sentence, calling him a "career criminal," he said.
But a mentor helped Andrisse challenge that narrative and realize his potential, he said. He enrolled in a drug treatment program that reduced his prison sentence and read voraciously while behind bars. His mentor, a professor at St. Louis University, helped him get accepted to the school - it was the only college he applied to that didn't reject him because of his criminal past.
Andrisse and two of his former cell mates formed From Prison Cells to Phds in part to challenge that narrative, he said. Since its start in 2016, the nonprofit has helped transform the lives of dozens of formerly incarcerated people.
"The drive I had is something that is not unique to me," Andrisse said. "All of them have that same drive and hunger. Once they're give the second chance, almost everyone has that same drive."
"We hope to change the narrative about what it is to be incarcerated, and thereby change the system."
Police: Darren Wilson, Tom Jackson, Ron Johnson, Jon Belmar

Darren Wilson
Darren Wilson resigned from the Ferguson police department after a St. Louis County grand jury declined to indict him in November 2014. He had served six years with the department. At that time, he was expecting his first child and had just gotten married to another Ferguson police officer. She has since resigned from the department as well.
The couple still lives in the St. Louis area. Wilson has tried several other careers, one selling cars and another selling boots. He is now selling insurance.
And he believes his actions on Aug. 9, 2014, were justified, said his attorney, Greg Kloeppel.
"Attorney General Eric Holder turned over every rock in his investigation into the matter and discovered Officer Wilson conducted himself as any reasonable officer would have in the same circumstances," Kloeppel said. "He's just trying to live a normal life now and be a dad."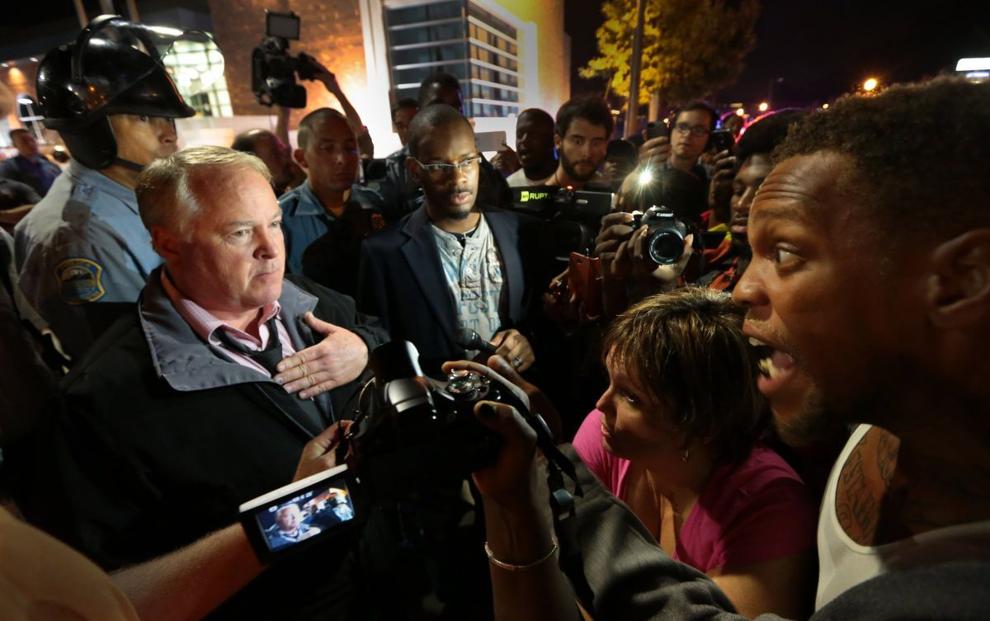 Tom Jackson
Tom Jackson resigned as chief of the Ferguson Police Department seven months after Michael Brown's death and five years to the day that he became chief. He had retired from the St. Louis County Police Department as a captain of the Multi-Jurisdictional Drug Task Force before taking the reins in Ferguson. He has since published a book, "Policing Ferguson, Policing America: What Really Happened — and What the Country Can Learn From It," and remains retired. He has traveled the country giving presentations on the events in Ferguson. He still lives in the Ferguson area.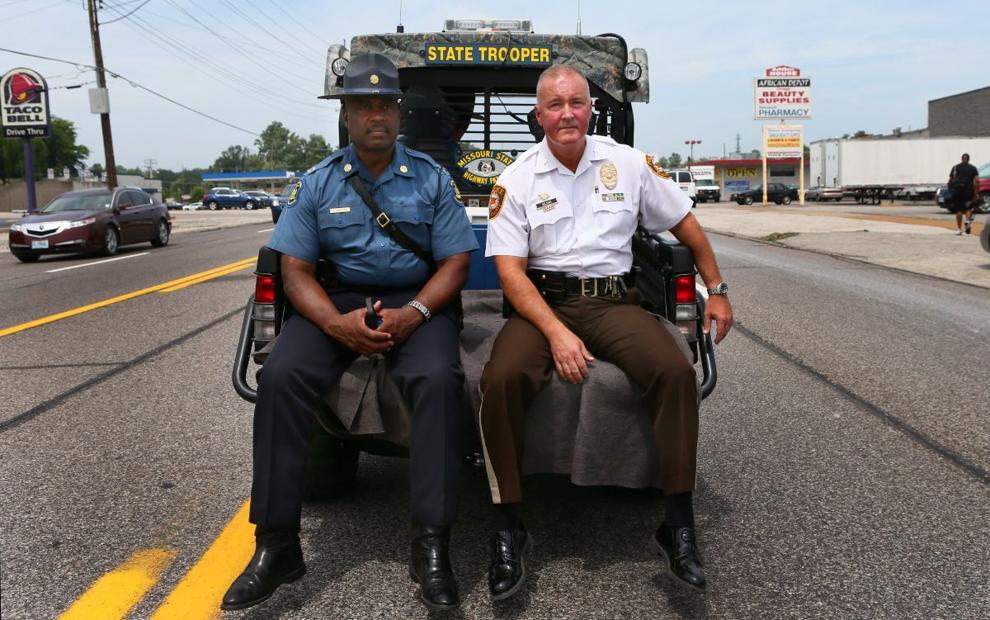 Ron Johnson
Gov. Jay Nixon put Missouri Highway Patrol Capt. Ron Johnson in charge of policing the Ferguson protests after stripping St. Louis County Chief Jon Belmar of his command. Johnson joined protesters in the streets, without wearing his bullet-resistant vest and also ordered armored police units to back off. He was both criticized and celebrated for his approach to the situation, and has since published a book titled "13 Days in Ferguson."
He retired from the Highway Patrol in 2018 after 31 years and now speaks about his experiences across the country.
Jon Belmar
St. Louis County Police Chief Jon Belmar led the police response to the Ferguson protests for five days before Missouri Gov. Jay Nixon placed the Highway Patrol in charge following protester complaints. Belmar was named chief in February 2014, a few months before the shooting of Michael Brown, and remains in that position today.
Other faces: Brockmeyer, Crawford, Seals, McKesson, Knowles

Ronald J. Brockmeyer
Ronald J. Brockmeyer formerly presided as a municipal judge in Ferguson for about a decade, and resigned in March 2015, days after his court was harshly criticized by the Department of Justice's investigation of the Ferguson Police Department. The findings depicted the court as a key enforcer of revenue generation for the city, and said that Brockmeyer had instituted a list of "additional fees, many of which are widely considered abusive and may be unlawful, including several that the City has repealed during the pendency of our investigation." Brockmeyer remains a criminal defense attorney in private law practice in St. Charles.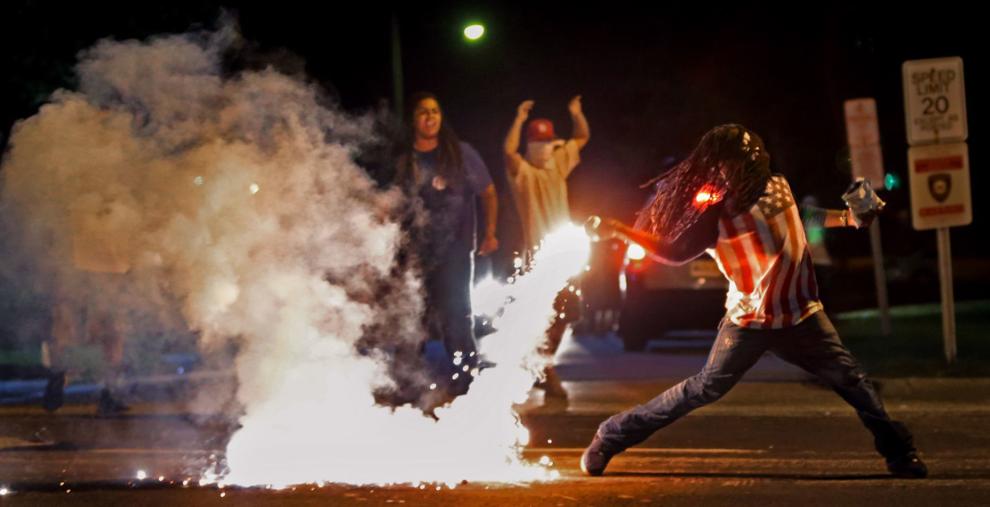 Edward S. Crawford Jr.
Edward "Skeeda" Crawford Jr. became the face of the protest movement in Ferguson when he was photographed by a Post-Dispatch photographer three days after Michael Brown's death. The photograph of Crawford throwing a tear gas container back at police during a protest — shared around the world — was part of a Pulitzer Prize-winning photo collection by Post-Dispatch photojournalists. In May 2017, Crawford, 27, was found dead of a self-inflicted gunshot wound to the head, according to the St. Louis Medical Examiner's Office. Police said he told acquaintances he was distraught over personal issues. His death was ruled a suicide.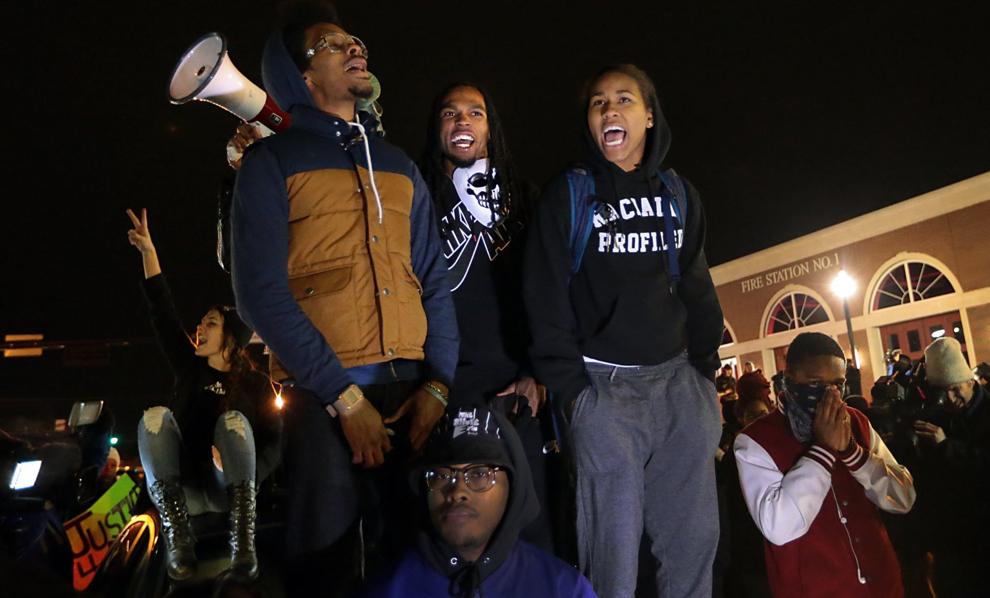 Darren Seals Jr.
Darren Seals Jr. was known as "King D Seals" on social media and had been involved in protests in Ferguson, joining Twitter that August and becoming active there. He talked to MTV about holding Michael Brown's crying mother in his arms after a St. Louis County grand jury decided to not indict Darren Wilson. Seals was found fatally shot inside a burned car in Riverview on Sept. 6, 2016. Seals' killing has not been solved. He was 29.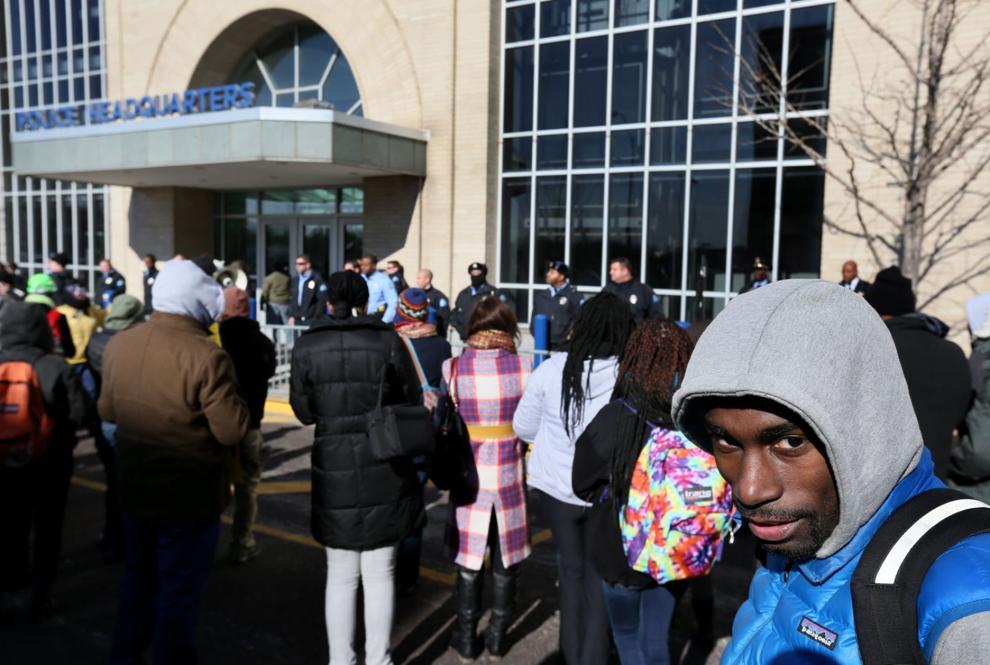 DeRay McKesson
DeRay McKesson left his job as director of human capital for Minneapolis Public Schools after Brown's death to become a full-time activist. He unsuccessfully ran for mayor in Baltimore in 2016, started a podcast and wrote a book, "On the Other Side of Freedom."
James Knowles III
Ferguson Mayor James Knowles III was thrust into the international spotlight along with his town during the shooting and protests. Knowles was reelected in 2017. He got more than 56% of the vote.
He began serving on the City Council at age 25.
"I have spent, really, the entirety of my time in office working to bring this community together to rebuild what had been damaged and destroyed," he said during the campaign. "I've been accused of many things by many people. I think most people who know me, know those things are not true."
Natalie DuBose: Natalie's Cakes and More, owner
A few months after Natalie DuBose opened a bakery in 2014, a witness saw three teenagers throw a metal chair through the display window, spraying cake boxes, bowls and utensils with glass shards.
Later that night, in the tumultuous hours after a grand jury decided not to indict Ferguson police Officer Darren Wilson in the fatal shooting of Michael Brown, a Post-Dispatch photographer captured an image of DuBose in tears in front of her damaged store. The photograph was carried by news outlets worldwide.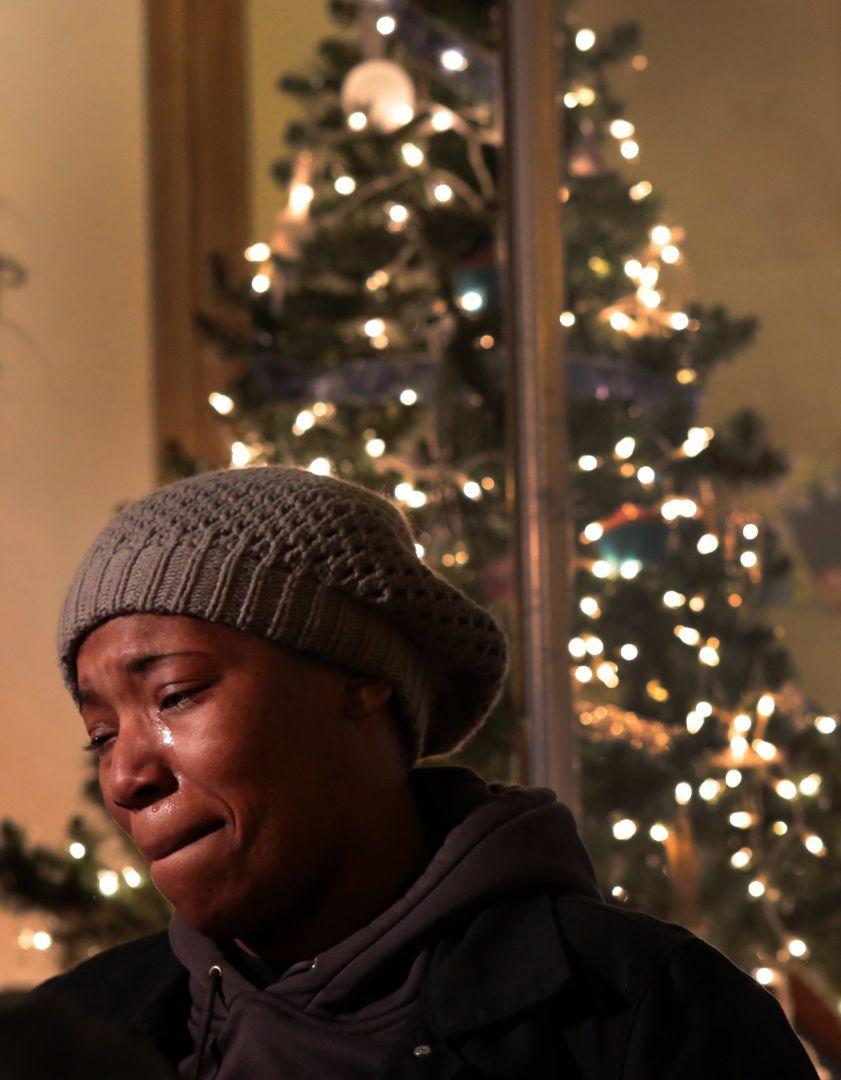 The bakery's ovens were still working, so once the debris was cleared, her team got to work completing the roughly 50 orders they needed to send out for Thanksgiving, which was three days away.
Customers told her they could cancel their orders, DuBose remembers, but she told them it was critical that the bakery stay up and running. "I don't think we ever stopped," DuBose said recently, reflecting on that week.
Online fundraisers brought in more than $150,000 for the shop in just a few days, the Post-Dispatch reported at the time.
The bakery was repaired and the business continued operating. In the years since, DuBose's baked goods have been sold by larger outlets including Starbucks. Last year DuBose moved to 6621 West Florissant Avenue in Jennings, but the retail location closed this month. 
Before the retail location closed, the shop offered entrepreneurs an area for catering businesses to prepare food. The business also had hosted "Coffee with the Cops," an event where members of the public and law enforcement officers were welcomed to mingle. The business continues to sell its signature caramel cakes online and several local retailers, including Schnucks grocery stores. 
Next year, Natalie's Cakes and More is set to have a presence at City Foundry, a mixed use development expected to open in midtown St. Louis.