FENTON • In December 1979, Stephen Strehl walked across a stage during a police academy graduation ceremony and became a police officer. Almost 37 years to the day later, his son, Joseph, 26, did the same, and hoped that his father was watching from wherever he may be.
Joseph Strehl was 2; one brother, Sean, was 18 months; another, Stephen, was 8; and their mother, Kathy, was 33.
His mother, now Kathy Yansen-Strehl, had been dating Stephen Strehl when she watched his police academy graduation in St. Louis.
On Tuesday, during the St. Louis County and Municipal Police Academy graduation at the Maritz Center in Fenton, she pinned a badge on "Joey," as she calls her middle son, while her husband, Brian, looked on. The two married about nine years after Stephen Strehl was killed.
In the audience at Tuesday's graduation were almost two dozen DEA agents, known as Group 32. Some of the agents knew the elder Strehl and others "only knew the stories of Steve Strehl," said DEA analyst Tony Wagner, who once supervised Strehl as the lieutenant of the city's narcotics division.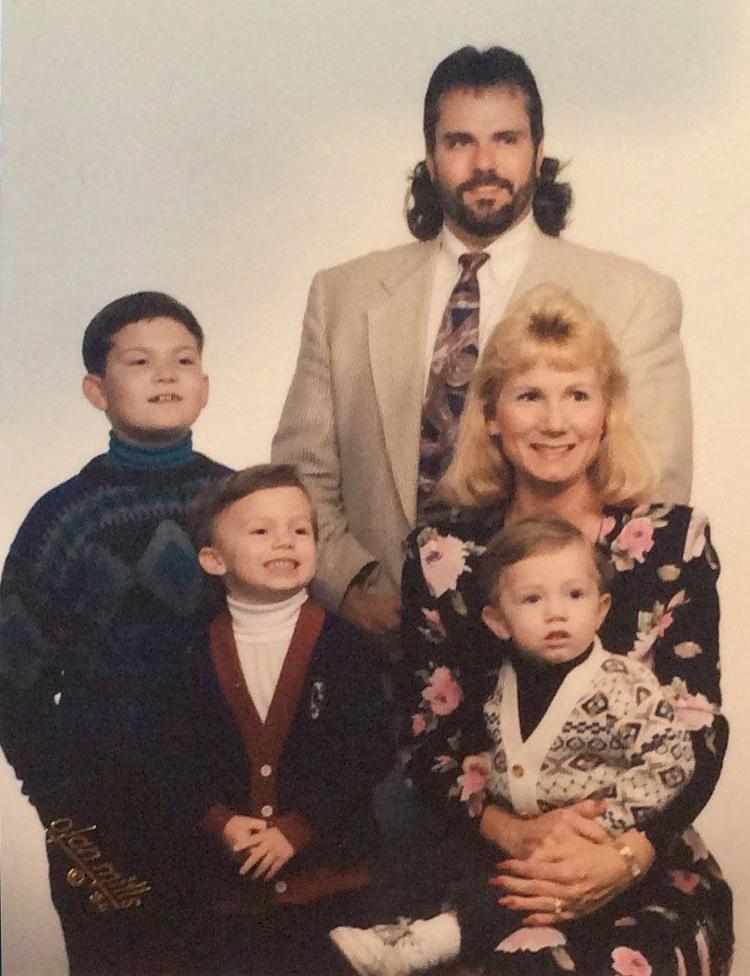 Seated with the Strehl family was St. Louis police Col. Jerry Leyshock, who gave a eulogy at Stephen Strehl's funeral. The two graduated from the police academy together on Dec. 2, 1979, and Stephen Strehl asked him to his oldest son's godfather.
"When Steve died, it was like a part of our body got chopped off," Leyshock recalled. "We were inconsolable."
Leyshock said he has worried, like so many other officers, about what would become of the Strehl boys and whether they would go on to do things that would have made a man they barely knew proud.
The night Strehl was killed, Leyshock said, a different officer couldn't make it to work, so Strehl went in his place. That's how passionate Strehl was about his job, Leyshock said.
"If I was onto something, it was nothing for him to come out at 1 a.m. and do surveillance with me," Leyshock recalled. "I didn't have to ask him what he was doing, his question was, 'Are you picking me up or am I picking you up?'"
Leyshock was one of the first people whom Joseph Strehl told about joining the academy to become a St. Louis County police officer — a career move that followed a tour of duty with the Army in Kuwait.
The past 25 weeks in the academy proved more grueling emotionally than Joseph Strehl expected. Each day, recruits touch a memorial plaque at the entrance of the academy in Wellston. Joseph Strehl said he always touched his father's name. Once inside, he said, he had to walk past his father's name twice more, on memorial plaques hanging in the hallway leading to his classroom.
Just when he said he thought the experience was getting to be too much, class supervisor Sgt. John Wall put him in touch with Lt. Michael Reifschneider and Officer David Weinhold.
"I wanted him to know, you're not alone in it, but at first, when you're in the academy, and you don't know anyone, it certainly seems like it," Weinhold said. "You walk in and there's plaques and pictures and more plaques with your dad's name on it, it's kind of shocking at first.
"After 20 years of not addressing it and living your life, going to high school, playing sports and then college, it wasn't in my face every day. And, all of a sudden, they remind you that this is a job where you can get hurt or killed. He asked me if I ever lost it. … Absolutely."
Weinhold also imparted to Joseph Strehl the advice Reifschneider had given Weinhold before he started his first shift.
"He told me that from now on, you'll always be 'Rick's kid,' [a reference to his father] and that can be a burden or something you're proud of," Weinhold said. "My dad was an amazing guy, and I'm sure so was his dad, and people want to talk to me about him.
"If, after 30-some years, me and Joe retire and if I'm still known as Rick's kid and he's known as Steve's kid, I'm perfectly fine with that."
Another bond the men share is being BackStoppers babies. The nonprofit financially supports the families of fallen first responders. The DEA Survivors Benefit Fund also financially supported the Strehls.
Joseph Strehl and Weinhold have both attended numerous BackStoppers events. Strehl's academy class was dedicated to the organization, and at Tuesday's graduation ceremony Joseph Strehl spoke about its impact.
"I can honestly say I don't know where me or my family would be without them," he said.
Joseph Strehl's family snapped pictures on their cellphones of the newly minted officer in uniform, his badge shining with every flash. In addition to his mother, his older brother Stephen, now 31, was there. The youngest, Sean, couldn't get away from college for the event.
When Leyshock put his arm around her son to pose for a picture, Kathy Yansen-Strehl said the memory of Leyshock once posing with Stephen Strehl, beaming with just as much pride on his graduation day, popped back into her mind.
"I just got the chills," she said.
That's how she knew her late husband was watching.