ST. LOUIS — An unprecedented infusion of federal money is headed to the city, offering both a cushion to bounce back from the pandemic and an opportunity to make major investments after years of tight budgets.
The $1.9 trillion American Rescue Plan, signed by President Joe Biden on March 11, is expected to send $517 million directly to City Hall, a much larger sum than any surrounding jurisdictions, including St. Louis County, which is in line to receive $193 million. That's because the allocation of funds is tied to poverty, the age of housing stock and population trends — metrics that benefit an old city like St. Louis with a shrinking population and a disproportionate share of the region's poor.
It's far more than the $35 million the city received last year from the Coronavirus Aid, Relief, and Economic Security (CARES) Act. Because the city's population was below 500,000, the CARES Act money came via the state; this time, city officials say there is broad flexibility in how the federal money can be used, so long as the city can show it's going to services or replacing revenues affected by the COVID-19 pandemic.
"Basically there's only two restrictions as to the uses of the funds," said Steve Conway, chief of staff to Mayor Lyda Krewson and a certified public accountant. "The funds cannot be used indirectly or directly to offset tax reductions or delay a tax increase, and funds cannot be deposited into any pension fund."
After the Great Recession, it took years for the city to claw its way back. The $787 billion stimulus bill of 2009 didn't give local governments nearly as much spending flexibility nor as much money, said Paul Payne, longtime city budget director. It was only in the years just before the pandemic hit that shortfalls were turning to surpluses, and the city was rebuilding reserves depleted during the last downturn.
"You're not going to have to go through that big, long slog again to get back to where you were following the last recession," Payne said. "This gives us the opportunity to get back to where we were before. … You've just got to make sure you do it in a way that's responsible and prudent so that you don't end up, after this is all gone, that you're left with a structural imbalance."
Krewson's administration has released a broad outline of how it would spend the money, with investments spread throughout across the health department, city buildings, business assistance, affordable housing and vacant property. Her staff says it's meant to be a conversation starter and a framework upon which the next mayor and Board of Aldermen can build.
By the time the first half of the money arrives in May, either Treasurer Tishaura Jones or Alderman Cara Spencer will be the new mayor, and the priorities are likely to shift. Spencer has called for a large portion of the money to be used to rehab vacant properties owned by the city's land bank and get them into private hands, along with help for home repair and down payment assistance programs. Jones has said she would gather more input from the community while immediately focusing on pressing needs such as assistance for renters and small businesses along with funding for more local vaccination sites.
The Board of Aldermen will need to pass legislation accepting and appropriating the funds, meaning some consensus will have to be reached among a majority of the board's 28 members. And the Board of Estimate and Apportionment, made up of the mayor, Board of Alderman President Lewis Reed and Comptroller Darlene Green, will also need to sign off on the spending.
Reed said the money could be "a real game-changer for our city." Beyond immediate needs like mortgage and rental assistance, he said the city should look at expanding broadband access in underserved neighborhoods and funding small business assistance programs outlined in the city's new Equitable Economic Development framework.
There's a lot of work to be done in the next few weeks to accept and allocate the funds, Reed said, adding he would work to solicit community input.
"I am dedicated to moving the bill through the Board of Aldermen in an efficient manner to get the funds out into the community as soon as possible," Reed said in a statement.
'Bridge the gap'
Among the major provisions is the ability to replace lost revenue. City revenue is expected to be about $70 million lower this fiscal year, which ends June 30. It was off about $20 million in fiscal year 2020, which overlapped with the first few months of the pandemic and the imposition of public health orders restricting business activity. Under the provisions of the new stimulus, local governments can use fiscal 2019 as their baseline for replacing revenue, Payne said, meaning the city can say revenue is about $90 million lower than it would have been but for the pandemic.
And, Conway notes, it will take years for revenue to bounce completely back while businesses get back to their pre-pandemic volumes, meaning tax revenue growth could still lag in future fiscal years.
Using stimulus money to plug the difference will give the city flexibility to catch up on programs or capital spending — repairing roads and buildings, for instance — that it reduced to balance its last budget.
But Conway noted that the Biden administration is also pushing a large infrastructure bill that could arrive later in the year. There's relatively little money in Krewson's framework for old bridges or road improvements. Any money that comes through from the infrastructure bill means the next administration could shuffle again how this initial allocation is spent, Conway said.
And beyond the direct aid to city government, millions more dollars will flow through the state or federal agencies for specific programs such as utility assistance and small business grants, Conway said. The trick will be making sure city government uses its funds to maximize the total funds flowing to city businesses and residents, he said.
"The one thing I do know that I've seen, when you add another layer of government to the process, I'm not going to have the funds as timely as I may need," he said. "What we're trying to do is leverage the funds that we have immediate access to, bridge the gap to the additional funds meant to help our residents and most importantly continue the aid that both the residents and businesses need to work through this pandemic."
Inclusive growth
The infusion of federal money comes less than a year after some area leaders ended efforts to lease St. Louis Lambert International Airport to a private operator. The rationale for that effort was that a lease could provide as much as a $1 billion upfront payment to the city to pay for dire needs and investment in the region's poorest neighborhoods in north St. Louis.
This isn't quite as much as what privatization-backers touted. But it's still a sum equivalent to about half of what they'd hoped to raise.
Jason Hall, a privatization opponent who now heads the regional civic and business group Greater St. Louis Inc., said cities can use this opportunity to invest in neighborhoods that have been left behind in the past, opening the possibility for inclusive and transformative change. The city, with its new Equitable Economic Development framework, and the region, through the new 2030 Jobs Plan Greater STL Inc. has underwritten, now have recently formulated and strategies with some community buy-in for those kinds of investments.
"Part of the reason the allotment is so high to the city of St. Louis is because it was based on need," Hall said. "It's our obligation and duty to make sure these funds are going to the areas of highest need."
Bob Lewis, a longtime planning consultant and now a St. Louis University professor, echoed that concern. He said a lot of political power resides in the city's central corridor — from the downtown business district through Forest Park — and the south side.
"There's going to be those tensions between where I am, how much I believe in equity and where's my political power, and most of that power is not up north, unfortunately, unless we can appeal to the conscience of the voters," he said.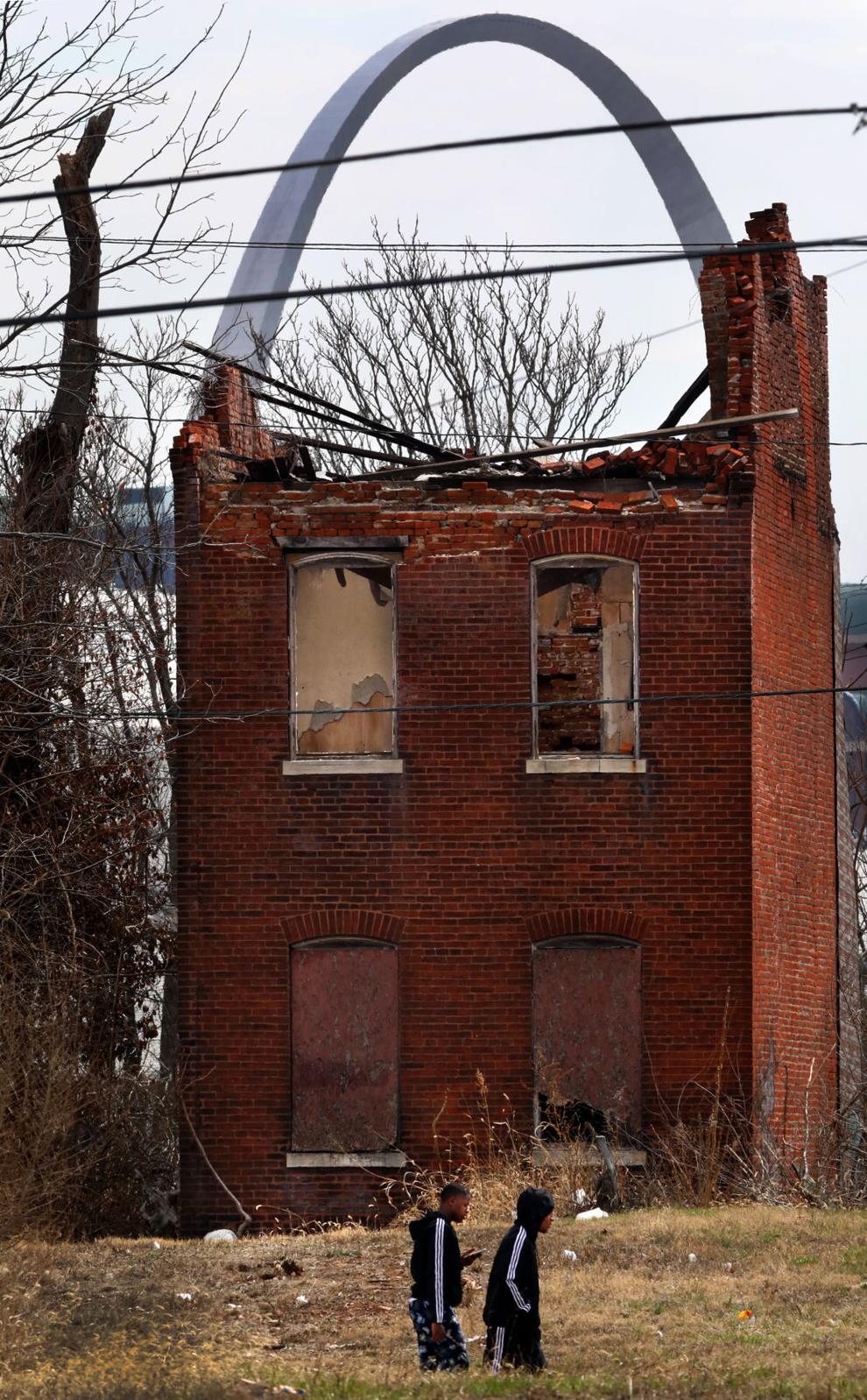 Without improving the city itself, he added, job and training programs that improve people's incomes might just enable them to move to the suburbs.
Using the money to tackle issues such as vacancy with home repair assistance programs could go a long way to helping the most distressed neighborhoods, said Dana Malkus, a SLU law professor and a longtime member of the STL Vacancy Collaborative. Investing in staff and resources for the city's land bank could also help to get more of the thousands of properties the land bank owns fixed up and back onto the tax rolls, Malkus said. There's already a plan with strategies outlined. It just needed funding.
"How did this vacancy come to be?" Malkus asked. "It has roots in racism — redlining and racially restrictive covenants and white flight and all that history. That's why we are where we are today. So, I think it's important that we think about that history and take that into account as we are thinking about the use of this money."