FERGUSON • Missouri Highway Patrol Captain Ron Johnson said 47 people were arrested and three loaded handguns were seized during the protests Tuesday night and early today.
In a news conference that began at about 2:15 this morning, Johnson said officers interrupted criminal activities and prevented violence.
"Protest crowds were a bit smaller, and they were out earlier," he said, noting that no Molotov cocktails were thrown or bullets fired by protesters.
However, he said some "criminals and agitators" threatened police, threw glass and plastic bottles — some filled with urine — at officers and hid behind members of the media covering the protests.
He said one of the arrested was a man from Austin who had been arrested twice previously for actions at the protests.
Johnson praised religious and community leaders with keeping tensions lower than in recent nights. He also thanked hundreds of volunteers who cleaned area streets and businesses.
"That is the true spirit of Ferguson," Johnson said.
Protesters begin to leave
West Florissant Avenue was mostly clear of protesters by 1 a.m., but a heavy police presence remained.
Earlier, police had asked protesters to move out of the street to the approved assembly area at an old Ford dealership at 9026 West Florissant Avenue. Protesters were told that they could stay in that spot overnight.
A contingent of about 10 observers from the human rights group Amnesty International was among those in the assembly area.
Several of the more aggressive protesters were arrested in sporadic clashes with police. No tear gas was used in those clashes but there was isolated use of pepper spray.
Chaos after peaceful night
As midnight approached, an earlier peaceful evening turned chaotic after somebody threw a plastic water bottle at police officers. Police moved in quickly, rushing from the QuikTrip area, heading south on West Florissant and pushing people back. An officer on a loudspeaker told people to disperse immediately. One protester smashed a television crew's camera, ordering him to turn it off.
As police moved in to arrest one protester, other people threw water bottles at the assembling police officers.
A long line of police officers formed in the middle of the street, and a line of peacekeeping protesters joined arms in front of them to try to block troublemakers from police.
- Jesse Bogan, 12:06 a.m.
Pastor leads parking lot prayer service
At about 11:30 p.m., Pastor Herbert Thompson Jr. yelled into his bullhorn and gathered people around for a prayer circle on the parking lot of Sam's Meat Market & More. A huge circle of protesters and media gathered around him.
Thompson, of the Ramoth City of Refuge Church of God in Christ in the Spanish Lake area, gave thanks for the peace so far tonight. "God, bring us together as one," he prayed. "God, we need you right now. Bring us together, Lord."
Several hundred people remained on West Florissant Avenue. It was a mostly calm, if not somewhat drained atmosphere. Some people stood with their faces covered with bandanas or masks, as if waiting for something to happen. Police officers were intermingled on West Florissant and the perimiter, some leaning against their shields, holding batons. At one point, a blue mini train, nicknamed the "love train," wound its way down the street with some protesters aboard. Some officers smiled as it drove by.
Minor skirmish in parking lot
In Ferguson, protesters continued marching and chanting without any major incidents late into the evening. At about 10 p.m. a fight between a handful of guys broke out in the parking lot front of Ferguson Burger Bar and More, near Ferguson and West Florissant Avenues. Police and another protester jumped in to break it up, as dozens of reporters and camera crews swarmed to the area. Nobody was arrested.
Charles Brooks, 41, of St. Charles, wearing a white tank top, helped break up the fight. He held an impromptu press conference for the flocking press corps. "I want peace, man," he explained. "I want to figure out how we can work together. This isn't just Missouri, this is worldwide."
Brooks said that he "represents the black man." He and others there had questioned the massive media turnout of press from all over the world, and a police officer at the scene remarked that the protesters seem to hang out where the media trucks park.
- Jesse Bogan, 10:25 p.m.
Wal-Mart worker protests, despite changed hours
Louis Head, 18, of Jennings, has been at the protests in Ferguson every night. He's juggling this between his job at Wal-Mart, which had been the target of looters last week. He has to get up early to get to work at 7 a.m. The store changed his hours after the looting because the store closes earlier now, he said.
"I came out here so people will stand up for their rights against police," he explained. "The police will beat you up….and act like nothing happened. That's how this world is."
He's here in Ferguson after 11 p.m. tonight, but says he's itching to get out before any tear gas comes.
- Jesse Bogan, 11:15 p.m. Tuesday
In Ferguson, the scene was quiet and subdued Tuesday evening on West Florissant Avenue as about 250 people milled around. Someone was handing out roses, and several members of the clergy mingled with protesters, as well as members of the Nation of Islam looking sharp in suits and bow ties. By 9:30 p.m., police presence got heavier, moving in from the periphery. A fleet of police vehicles sat in the middle of the action.
One woman was arrested but to officers could not tell a reporter why.
Some had come with containers of milk, prepared to pour it over their eyes in case of tear gas.
- Lilly Fowler, 9:30 p.m. Tuesday
More than $95,000 raised to help Michael Brown family
A crowdfunding site set up for the family of Michael Brown had helped raise more than $95,000 by Tuesday night for a memorial fund to help his family. The goal was $80,000.
"Their pursuit for justice will be lengthy and hard but with the support of the community they will get justice," the site says.   "If you are willing to support Michael's family please donate to Michael Brown's Memorial Fund.  These funds will assist his family with costs that they will acquire as they seek justice on Michael's behalf.  All funds will be given to the Michael Brown family.  We appreciate your support."
The site was set up by the family's lawyers, Benjamin L. Crump and Anthony D. Gray.
- Valerie Schremp Hahn, 8:22 p.m. Tuesday
A movement is afoot to shift the site of demonstrations protesting the Michael Brown shooting from Ferguson to Clayton, the St. Louis County seat.
"We're telling people to move from Ferguson to Clayton, we need to go the people who are making the decisions - and that is (St. Louis County Prosecuting Attorney) Bob McCulloch," said independent financial adviser Marvin Mitchell, a resident of Maplewood and Ferguson native.
Mitchell was among the handful of protesters demonstrating outside the Justice Center in downtown Clayton Tuesday afternoon.
Demonstrator Jeffery Hill, with the Organization of Black Struggle, blamed the ongoing protests on the lack of transparency by authorities.
He pointed to the release of a photograph showing Darren Wilson, the officer who encountered and then shot Brown shortly after noon on Aug. 9, receiving a citation for meritorious service.
Authorities, he charged, are "trying to make him look like a hero" while depicting Brown as a possible suspect in a strong armed robbery prior to the shooting.
- Steve Giegerich, 9:21 p.m. 
Evidence in shooting to be presented to grand jury starting Wednesday
Evidence in the shooting of Michael Brown by a Ferguson police officer will be presented to a grand jury beginning Wednesday.
"We are going to attempt to start giving evidence to the grand jury (Wednesday), depending upon the ability to get the witnesses in and the witnesses showing up," said Ed Magee, spokesman for St. Louis County Prosecutor Robert McCulloch. "It will be handled by the attorney regularly assigned to the grand jury. It will not be by Mr. McCulloch."
The standing St. Louis County Circuit Court grand jury, not a special assembly, will hear the evidence.
- Tim O'Neil, 4:15 p.m. Tuesday
New protest zone established
The Missouri Highway Patrol has closed West Florissant Avenue for the evening and declared a new "approved assembly zone" for protesters at 9026 West Florissant, on the lot of a former Ford dealership. That site is south of Ferguson Avenue but north of the Westfall (formerly Northwoods) shopping center, location of the police command post.
A new staging area for reporters and photographers is at the Public Storage buildings, across West Florissant from Canfield Drive, the scene of much of the street turmoil during the last several nights.
West Florissant at Lucas and Hunt was to be closed unless you could prove you live in the area.
- Tim O'Neil, 6 p.m. Tuesday
78 arrested in Ferguson protests overnight; many from here, some from elsewhere
In the blur of firepower and outrage that have consumed Ferguson's streets the past 10 days, the flow of even the most basic information often has been muddled by police agencies scrambling to maintain law and order.
St. Louis County jail records say at least 86 people have been booked there for "refusal to disperse" since Aug. 13, the day before the Missouri Highway Patrol took command of securing West Florissant Avenue, an after-dark battleground between protesters and police since the day after Michael Brown was shot and killed by a Ferguson officer.
At least 78 protesters were arrested Monday night into Tuesday morning for refusing to disperse, unlawful use of a weapon and interfering with a police officer, records say. That total more than doubles that reported by the Missouri Highway Patrol early Tuesday morning after protests subsided. The patrol reported that 31 people had been arrested.
Those arrested for offenses during the protests Monday and Tuesday had all been released, according to jail officials.
Highway Patrol Capt. Ronald S. Johnson has said some of the protesters causing problems have come to Ferguson from outside the St. Louis area, but that most are local.
Jail records say more than 40 of those arrested are from the St. Louis region and parts of Missouri, but that at least 13 have addresses outside the region including Chicago; Des Moines, Iowa; New York City; Huntsville, Ala.; Washington, D.C.; and San Diego, Calif.
Among those arrested were New York City residents Carl Dix, a member of the Revolutionary Communist Party, and Travis Morales, who identifies himself as a party supporter. Reached by phone Tuesday, Morales confirmed the arrests and said he would call back later to provide a comment.
"Because people defiantly refused to be stopped by curfews, National Guard deployment and states of emergency, the whole world now knows about the unjust murder of Michael Brown," Dix said in a news release Tuesday.
St. Louis County police said Tuesday night that they had arrested 52 people from Monday morning through Tuesday morning, but it was unclear how many of them were included in the 78 previously counted who were arrested Monday night into Tuesday morning.
Of those arrested, the majority were for "refusal to disperse." One person was arrested for drug possession, two for outstanding warrants or failure to appear in court, and one for interfering with a law enforcement officer.
Of those arrested, 93 percent were not from Ferguson, police said. And 27 percent were not Missouri residents.
Of those from Missouri, 15 were from St. Louis, seven were from Florissant, six from unincorporated St. Louis County, four from Ferguson, two from Jennings, and one each from Floridell Hills, Creve Coeur, Hazelwood, and Bel-Ridge.
Of those from outside Missouri, four each were from New York and Illinois, and one each from Washington D.C., Maryland, California, Virginia, Alabama, and Texas.
- Joel Currier and Valerie Schremp Hahn, 8:45 p.m. Tuesday
Funeral for Michael Brown will be Monday
A funeral and public memorial for Michael Brown will take place Monday morning, according to family attorney Anthony Gray.
The location and time for the event have not been set, but Gray said services likely will begin between 10 a.m. and 11 a.m.
"It's going to be public and it's going to be supported by national leaders," Gray said. "We don't have details on who those national leaders will be at this time."
He said organizers were working to find a large enough venue for the memorial.
-Staff, 12:45 p.m. Tuesday
United Way opens resource center
A community resource drop-in center will open Wednesday for individuals and families impacted by the unrest in Ferguson and living in the 63135 and 63136 zip codes.
The center will be open daily for the remainder of the week from 10 a.m. to 2 p.m. at the Dellwood Recreation Center, 10266 West Florissant Avenue. It will be closed Saturday, but open Sunday from 11 a.m. to 2 p.m.
Residents can get respite, hot meals, food staples and access to resources from other local agencies. Children's activities will also be available.
Bring a photo ID and a current utility bill to access the services.
A free shuttle will be available from the following locations:
- Canfield and Stonefield
- Canfield and Caddlefield
- Canfield Leasing Office
Dial 2-1-1 or call 1-800-427-4626 for more information or to get access to immediate resources such as counseling.
Could Obama be coming to Ferguson?
The Washington political website The Hill is reporting today that the White House "hasn't ruled out" sending President Barack Obama to Ferguson — though at least one of Missouri's U.S. senators thinks it's "a bad idea."
"A presidential visit requires a lot of security from local officials," Sen. Claire McCaskill, D-Mo., said on MSNBC's "Morning Joe" in response to the speculation of an Obama visit. "Right now our local officials have their hands full. It is a very bad time for a presidential visit for the practical reasons — many of these people are not getting enough sleep. We are really taxing all of the jurisdictions on the police forces."
The Hill reported that "White House has weighed sending President Obama to Ferguson, Mo., and has not ruled out a visit in upcoming weeks." It cites unnamed "sources familiar with the internal decisionmaking."
Obama didn't directly answer the question when asked by a reporter Monday whether he considered going to Ferguson.
- Kevin McDermott, 12:45 p.m. Tuesday
When it gets dark, go home, city officials urge
The city of Ferguson on Tuesday called for nighttime quiet as the 21,000-person town seeks to deal with the ongoing crisis since the fatal shooting death of Michael Brown.
"It is our hope that as we continue to work for the well-being of Ferguson, residents will stay home at night, allow peace to settle in, and allow for the justice process to take its course," the city said in a statement. "We owe it to our children to be able to return to school and work together peacefully for Ferguson's future."
The city has pledged to help increase black applicants to the county's police academy, raise funds to secure dash and vest cameras, develop programs and incentives to encourage residency of police officers in Ferguson, work with schools to engage young people and provide resources for growth, and rebuild the West Florissant business district.
Nighttime has produced police standoffs on a stretch of West Florissant Avenue since Ferguson police officer Darren Wilson shot Brown on Aug. 9.
-Nicholas J.C. Pistor, 11:45 a.m.
Three people sent to hospital overnight
Local hospitals report treating a total of three individuals following Monday night's protest in Ferguson.
Christian Hospital treated and released two adults for breathing difficulty Monday, according to spokesman Bret Berigan.
SSM DePaul Health Center treated and released one adult for minor injuries, according to spokeswoman Jamie Sherman.
The four individuals that remained at DePaul Monday morning following a high-speed chase with police Sunday night have since been released, Sherman said.
-Samantha Liss, 11:30 a.m.
Jennings School District staff marches through Ferguson with trash bags
With schools closed today, nearly the entire staff of the Jennings School District paraded down West Florissant Avenue in Ferguson armed with brooms and trash bags.
Many of them were clad in orange safety vests as they picked up empty bottles leftover from a night of unrest.
"We're here to be part of the community," said high school math teacher David Fox. "We've got to do something."
After notifying parents about the cancellation, Superintendent Tiffany Anderson sent an email to all district staff asking for volunteers to clean up part of the protest area in neighboring Ferguson.
About 250 district employees, everyone from custodians to principals, walked down West Florissant picking up any litter or debris they came across.
"It feels like we are taking care of our own community," said high school principal Dayle Burgdorf. "It feels awesome to be out doing it."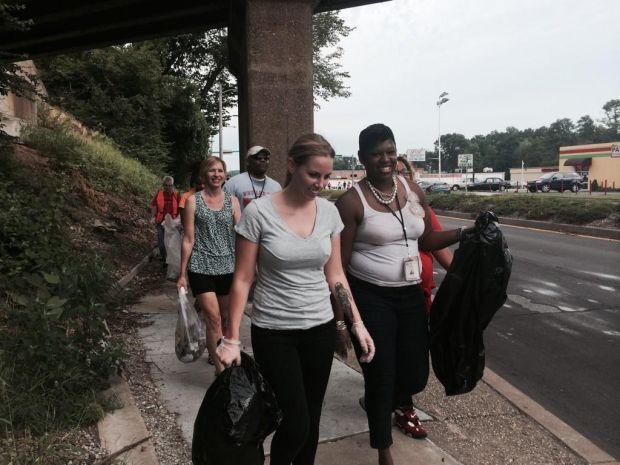 Down the road, there were changes at a QuikTrip that had served as ground zero for protests last week. The business was looted and burned on Aug. 10.
On Monday, police kept people off the lot, and on Tuesday morning, workers arrived to erect a chain link fence to keep protesters off the property. A tanker truck came in to remove gasoline from the defunct pumps, and workers were digging beneath the ground to remove gas lines. A St. Louis County police officer told media and protesters Tuesday they could not walk past the chain link fence.
Rob Hoffman, a 20-year-old student and baseball player at nearby UMSL, walked along West Florissant Avenue after seeing news accounts to witness the scene in person. "There's a lot of confusion with the people and everyone wants to know the truth," Hoffman said. "It's hard to know what to believe."
Hoffman said his baseball team gathered together Monday night to watch news accounts of the unrest in Ferguson, happening just a few miles away. One school had refused to travel to St. Louis to compete against UMSL's women's soccer team, he said.
"Trust has been lost from the people who are supposed to protect us," Hoffman said. "I think it will be awhile before it's restored."
Hoffman said he thinks peace in Ferguson is possible. "I think it would be amazing if it did," he said. "I hope and pray."
-Elisa Crouch, Lisa Brown and Joe Holleman, 11 a.m. Tuesday
Tally of another tense night in Ferguson includes fires, shootings and 31 arrests
Two men were shot during the chaos of demonstrations late Monday and early today near West Florissant and Canfield, police confirmed. Officers weren't involved in the shootings. There was no immediate information on the identities or conditions of the victims.
Police also confirmed that 31 people were arrested, including some who had come from as far as New York and California.
In an emotional news conference around 2:30 a.m. in the area of the protests, Missouri Highway Patrol Capt. Ronald S. Johnson said the shootings demonstrate "a dangerous dynamic in the night" in which a few people determined to cause trouble can pull a whole crowd into it.
While he acknowledged there is currently no curfew in place, he urged legitimate protesters come out during the day from now on, rather than at night.
"We do not want to lose another life in this community," said Johnson.
His comments came after a night punctuated by bottles thrown at police, two fires in the area, and scattered reports of gunfire.
"Our officers came under heavy fire," said Johnson. He stressed that "not a single bullet was fired by officers."
Johnson, who was put on charge of security in Ferguson last week under orders by Gov. Jay Nixon, appeared before a table that displayed two handguns that officers had confiscated in an unrelated incident during the night's strife, as well as a Molotov cocktail.
Johnson said the weapons were confiscated from "violent agitators" who were using other peaceful protests as "cover" to cause conflicts with police.
"This nation is watching each and every one of us," said Johnson, who was visibly angry and emotional during the news conference. "I am not going to let the criminals that have come here from across this country, or live in this neighborhood, define this community."
Johnson also lectured reporters at the scene, telling them they were interfering with police and putting themselves in danger by failing to immediately clear areas when asked to by officers. He also implored reporters to "not glamorize the acts of criminals."
Some reporters at the news conference pushed back, saying he was infringing on their ability to do their jobs by asking them to stay separate from protesters.
- Kevin McDermott, 3 a.m. Tuesday
The Ferguson-Florissant School District announced Monday night that schools would stay closed for the rest of the week.
The nearby Jennings and Riverview Gardens school district also cancelled classes Tuesday and expect to resume Wednesday.
Some of the districts are still offering food for students who use the free lunch program at school.
 FERGUSON  • With armed Missouri National Guard troops posted to area streets for the first time in modern history, violence erupted anew Monday night as protesters hurled bottles at police and fired shots, and officers responded with sound cannons.
"Back off now!" one officer ordered protesters as the conflict escalated shortly before 10 p.m.
Later, police fired tear gas at protesters who defied orders to disperse. Police fired at least three tear gas volleys near the QuikTrip as emergency vehicles sped to the scene. Police also used tear gas to break up protesters near West Florissant Avenue and Northwoods Estates.
"They're gassing our kids," one protester shouted.
In front of McDonald's, a tactical unit removed a driver from his car at gunpoint. Some protesters tipped over portable toilets and dragged them into the streets.
An armored vehicle moved down the street trying to clear the crowd, and some pastors stood with their arms locked trying to restore peace. They helped to move protesters away from the police line.
The confrontation followed a day of dizzying new developments in the Aug. 9 police shooting death of unarmed Michael Brown, 18, and the week of protests, looting and violence that has followed:
• Missouri Gov. Jay Nixon brought in the National Guard early Monday to keep order and protect a police command center. It marks the first time the Guard has been deployed in the St. Louis area to address civil unrest since at least World War II.
• In a national address, President Barack Obama condemned violence by protesters, cautioned against use of "excessive force" by police and urged Americans to "heal rather than wound each other." Strikingly, his comments on Ferguson were paired with a discussion of the violence in war-torn Iraq.
• Obama said he will dispatch U.S. Attorney General Eric Holder to Ferguson on Wednesday to meet with FBI agents and Justice Department personnel conducting the federal criminal investigation into the shooting.
• In what might be the most fundamental measure of the lack of normalcy, the Ferguson-Florissant School District announced Monday night that schools — their opening already postponed — would stay closed for the rest of the week "to allow needed time for peace and stability to be restored to our community."
Monday in Ferguson began, as most mornings have for the past week, with local business owners cleaning up debris and assessing damage from the vandalism and looting of the night before.
"At least in Iraq you know who the enemy is," said Air Force veteran Virgil Smith, 48, of Florissant. He was driving through the area, saw the broken storefront window at Rehoboth Pharmacy on West Florissant and stopped to help sweep up. "Here you never know. They are all blended in with the community."
The owner, Idowu Ajibola, was doing an inventory. Looters took some pain medication and Xanax, he said. They also stole hair products. Replacing the glass will probably cost $6,000, Ajibola said, "and what they took is probably just 10 percent of that." He figures they didn't get more because he had turned off all the security lights inside the store when the rioting began and the looters couldn't see what was inside.
Sunday night's violence had been, by most accounts, the worst yet, frustrating officials who have used a series of rotating responses to end looting and violence.
Missouri Highway Patrol Capt. Ronald S. Johnson, who was put in control of security on Ferguson's streets last week, blamed a small group of agitators for Sunday night violence that included shootings, Molotov cocktails and looting. He said he believed those who instigated the violence came to what had been a peaceful protest determined to "provoke a response."
Other law enforcement authorities said three people had been injured in shootings during the night. None of the shootings involved officers, authorities said. Police said seven or eight people were arrested on charges of failing to disperse.
"Based on these conditions, I had no alternative but to elevate our response," Johnson said, referring to officers' push to clear the streets hours before the midnight curfew with measures that included the use of tear gas.
As cleanup continued in Ferguson, Michael Brown's mother, Lesley McSpadden, appeared on ABC's "Good Morning America" on Monday, where she was asked how peace can be restored in Ferguson. "With justice," she told the show's Robin Roberts. Her definition of justice, she said, is arresting Darren Wilson, the officer who shot Brown, "and making him accountable for his actions."
Nixon announced early Monday that he was eliminating the previous night's curfew but calling in the Missouri National Guard. It was the latest shift in strategy as officials struggled to maintain security without further inciting protesters.
Last week, Nixon called in the Missouri Highway Patrol to take over security from the St. Louis County Police, on the premise that it would provide a less-militarized police presence, and it appeared to calm tension Thursday night. But the situation deteriorated over the weekend after local authorities identified Brown's shooter as Wilson and a video was released implicating Brown in a robbery shortly before the shooting.
Nixon said the Guard's role will be limited to protecting the command center in the Westfall shopping center, formerly Northland, on West Florissant Avenue. Police officials said the center was the destination of protesters who were met with tear gas Sunday evening.
"The Guard will concentrate its resources on carrying out this limited mission," Nixon said in a statement.
"I join the people of Ferguson, and all Missourians, in strongly condemning the violent acts we saw (Sunday) night, including the firing upon law enforcement officers, the shooting of a civilian, the throwing of Molotov cocktails, looting and a coordinated attempt to overrun the unified command center," he said in the statement.
"We are all frustrated and looking for justice to be achieved regarding the shooting death of Michael Brown," he said. "As the dual investigations continue into what happened nine days ago at Canfield Green, we must defend Ferguson from these violent interlopers so that the peaceful protests can operate in peace and the search for answers and justice can continue."
Peace and the search for answers were themes Obama employed later in the day. He addressed the Ferguson situation in a national speech on the "pair of violent crises" facing the nation, as USA Today put it Monday — the other being continuing violence in Iraq.
"We have all seen images of protesters and law enforcement in the streets. It's clear that the vast majority of people are peacefully protesting. What's also clear is that a small minority of individuals are not," Obama said. "While I understand the passions and the anger that arise over the death of Michael Brown, giving into that anger by looting or carrying guns, and even attacking the police only serves to raise tensions and stir chaos. It undermines rather than advancing justice."
Obama reiterated the right to peacefully protest without undue restrictions and said that constitutional rights must be vigilantly protected.
Holder, the attorney general, will travel Wednesday to Ferguson to meet with those in the Justice Department who are conducting a separate, independent civil rights investigation into Michael Brown's death.
Jesse Bogan, Joe Holleman, Margaret Gillerman, Denise Hollinshed, Michael D. Sorkin, Joel Currier, Kim Bell, Lilly Fowler, Ken Leiser, Tim O'Neil, Valerie Schremp Hahn and Chuck Raasch all of the Post-Dispatch contributed to this report.
Follow us on Twitter @stltoday