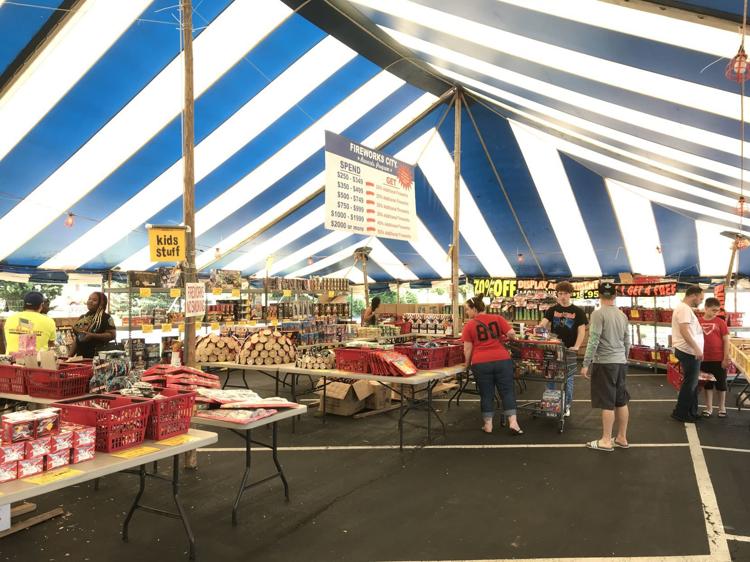 Before you set off your bottle rockets or ready your shooting stars, remember that some police departments have promised to write it if you light it.
A ticket, that is, for violating fireworks ordinances where you live around the St. Louis area. The rule of thumb for fireworks fans is to know what's allowed and what's not.
In St. Charles, for instance, where fireworks tents dot the area, sales are allowed from June 25 until July 5. But the buyers can only set them off between noon and 11 p.m. on July 3 and 4.
The sellers face their own sets of rules. The tents are inspected by firefighters, and the operators make certain that banned items are not sold. For Mark Loyd, president of Atomic Fireworks, safety is emphasized.
Atomic keeps its customers safe by following all the federal and local regulations, and ensuring that all of their products are tested before they are added to the sales catalog. Atomic Fireworks owns all the Fireworks City retailers. Loyd said keeping dangerous products out of customers' hands is as easy as recalling "a bad lot of tuna fish."
Shopper Kaleb Larkins, 22, of of Lansing, Mich., stopped by a Fireworks City in St. Charles to see how it compared to tents in his hometown, where fireworks used to be illegal. He said he and his family shoot fireworks at home to avoid crowds and uneducated users.
"I've seen drunk people do stupid things," Larkins said.
Some of the shoppers in St. Charles come from cities or towns where fireworks are banned for sale or personal use. One woman shopper from Illinois, who declined to give her name, said she buys them and set them off at home despite the law. Most consumer fireworks are banned in Illinois.
Alex Ball, 40, of St. Charles, had a budget of about $1,000 to buy fireworks he and a friend would be setting off as part of a show in the friend's neighborhood. He said the neighborhood keeps festivities safe by only letting adults set off the fireworks, and keeping buckets of water and earplugs on hand.
"Everything pretty much gets hosed down," Ball said. Fireworks now are much safer, he said, than when he was a kid. And as a parent, safety is a priority.
Chelsey Towe of Springfield, Mo., is a regional sales manager at Crazy Cheap Fireworks. It's a family-run business that opened in St. Charles on June 25 and will be open until Friday. Having worked around fireworks her entire life, Towe said, it's her job to make sure customers know how to use fireworks safely. She said fireworks and particularly dry or windy environments don't mix well, and she emphasizes controlled use at all times.
Residents of St. Louis should be aware: Police have said they will seize fireworks and issue summons for anyone who violates the fireworks ordinance. They issued the warning two weeks ago via Twitter.
Per St. Louis city ordinance #65824 relative to the prohibited possession and discharge of fireworks in the city of St. Louis, our officers will enforce this ordinance during the Fourth of July. Offenders will be issued summons, and fireworks will be seized.

— St. Louis, MO Police (@SLMPD) June 19, 2019
The same goes in Manchester, where police Sgt. Meredith Absolon said people caught shooting off fireworks will be ticketed.
"We do get calls regarding the fireworks, people's dogs are scared, dogs run away and kids get hurt; we want to make sure that does not happen in our neighborhood," Absolon told KTVI (Channel 2).
She said last year, 83 fires were reported on the night of July 4 compared to 14 on a normal day.