ST. LOUIS COUNTY — The first doses of coronavirus vaccine were injected into the arms of area health care workers on Monday, an early arrival to a dose of hope for the region and country.
It started at Mercy Hospital South, with Dr. Aamina Akhtar, an infectious disease specialist and the hospital's chief medical officer.
"We have been eagerly waiting," said Akhtar, the first in the region to get a dose. She pumped her hands in the air. Hospital staff cheered and applauded.
The shot began the first wave of local vaccinations — for front-line health care workers — and marks a new phase of the pandemic which has already killed more than 2,500 people in the metro area and more than 300,000 across the country.
The U.S. Food and Drug Administration issued an emergency use authorization on Friday night for the vaccine, manufactured by drug giant Pfizer and German partner BioNTech. And shipments of the vaccine arrived by the thousands on Monday in Illinois and St. Louis, bound for area hospitals and assisted living facilities in coming days.
Illinois Gov. J.B. Pritzker said he expects about 100,000 doses to arrive this week. Most will be distributed by the state, but health departments in the Metro East counties of St. Clair and Madison are among four in Illinois set to get shipments directly from the federal government, because they have facilities to store them.
Missouri expects about 51,675 doses to arrive in the state this week, Health and Senior Services spokeswoman Lisa Cox said Monday. Those doses will be split among 21 hospitals across the state that are able to store them at minus 94 degrees Fahrenheit. Health care workers and long-term care facility residents and staff get the vaccine first, then first responders, teachers and other essential employees, followed by those at highest risk for COVID-19 complications.
BJC HealthCare said the first batch of the 9,750 doses it is expecting should arrive by Wednesday, with first vaccinations by end of the week. St. Luke's Hospital and SSM Health are both expecting the vaccine next week. SSM has requested 10,000 doses, said spokeswoman Stephanie Zoller.
The entire four-state Mercy system is expecting approximately 24,000 doses in its first distribution.
A high plateau
Officials said it will be months before vaccines are available to the general public, and warned that social distancing measures and mask wearing are still essential to prevent spread of the virus, which has plateaued at alarmingly high levels.
Missouri reported on Monday 2,562 new cases of COVID-19, down from 2,694 the day before. The seven-day average of new cases fell slightly to 3,235, according to a Post-Dispatch analysis. That's down from a peak of 4,723 on Nov. 20, but still higher than any level seen before November.
NOTE: Beginning Monday, March 8, 2021, the Missouri Department of Health and Senior Services (DHSS) began posting county-level data showing "probable" COVID-19 cases detected by antigen testing. Using historical data from the DHSS dashboard, we reconfigured this graph to include that number.
The state also reported three more deaths due to the virus, reaching 4,514 deaths so far in the pandemic.
Illinois announced 7,214 new confirmed and probable cases of COVID-19 and 103 new deaths, bringing its known case total to 856,118 and the state's death toll to 14,394.
Area officials called Monday's vaccinations a significant step.
"Throughout this year we've been on defensive for most of the time," said Dr. Alex Garza, head of the St. Louis Metropolitan Pandemic Task Force, a coalition of the area's major hospital systems.
"Today with vaccine arriving, we can finally start going on the offensive."
Still scared
Mercy South, near Sappington, is expecting to receive just under 3,000 doses in its first round.
Nicole Boyer, an ICU nurse there, was among the 20 staff members to be vaccinated Monday.
Boyer didn't know she would get the vaccine until she arrived at work that morning, she said. She was often afraid to go into work in the early days of the pandemic and said lately her unit has seen more critically ill patients with COVID-19 than ever before.
"I still get scared," she said.
Boyer said she hopes everyone will get vaccinated when they can, to take the stress off hospital units like hers that have been at or near capacity around St. Louis for weeks.
"I can kind of see a light at the end of the tunnel now," she said.
Mercy Hospital St. Louis, in Creve Coeur, also aimed to vaccinate about 72 employees Monday afternoon.
Teri Montgomery sat in the observation area after she received her vaccination on Monday afternoon at Mercy St. Louis. As a respiratory therapist, Montgomery performs some of the highest-risk procedures in COVID-19 care, like intubations.
"This is not going away anytime soon, this virus, and it's not even slowing down. So something's got to be done," Montgomery said.
Montgomery said she had COVID-19 in September, with a headache, fever, fatigue and a dry cough. Every day while she was sick, she hoped she wouldn't end up like her most severe patients, on a ventilator.
"It was awful," she said.
Right now, she said, she is seeing more coronavirus patients than in the past, and the number on ventilators has jumped in recent months.
"It's getting scarier," Montgomery said.
She sat next to Kevin Cronin, a security supervisor at Mercy St. Louis who has a heart condition that puts him at higher risk of severe coronavirus complications. Cronin said he and his coworkers are often called to the entrances of the hospital, to talk to people who don't want to wear a mask inside.
Jay Androphy, the head of pediatric anesthesiology, received his vaccination a little while later. He sat in the observation area, wearing a KN95 mask and a face shield. He turned as his coworker sat down, having also just received a vaccination.
"It's a good feeling, isn't it?" Androphy said.
Androphy said his family has been worried about him, because of the risks his job brings during the pandemic. He says he hopes people get vaccinated as soon as they are able to, unless they have a health condition that would prevent them from it. And he hopes residents don't stop wearing masks.
"We don't want to have a false sense of security," Androphy said. "We have a long way to go."
He thinks the general public will have to wear masks at least for another six months.
"And that would be optimistic," Androphy said.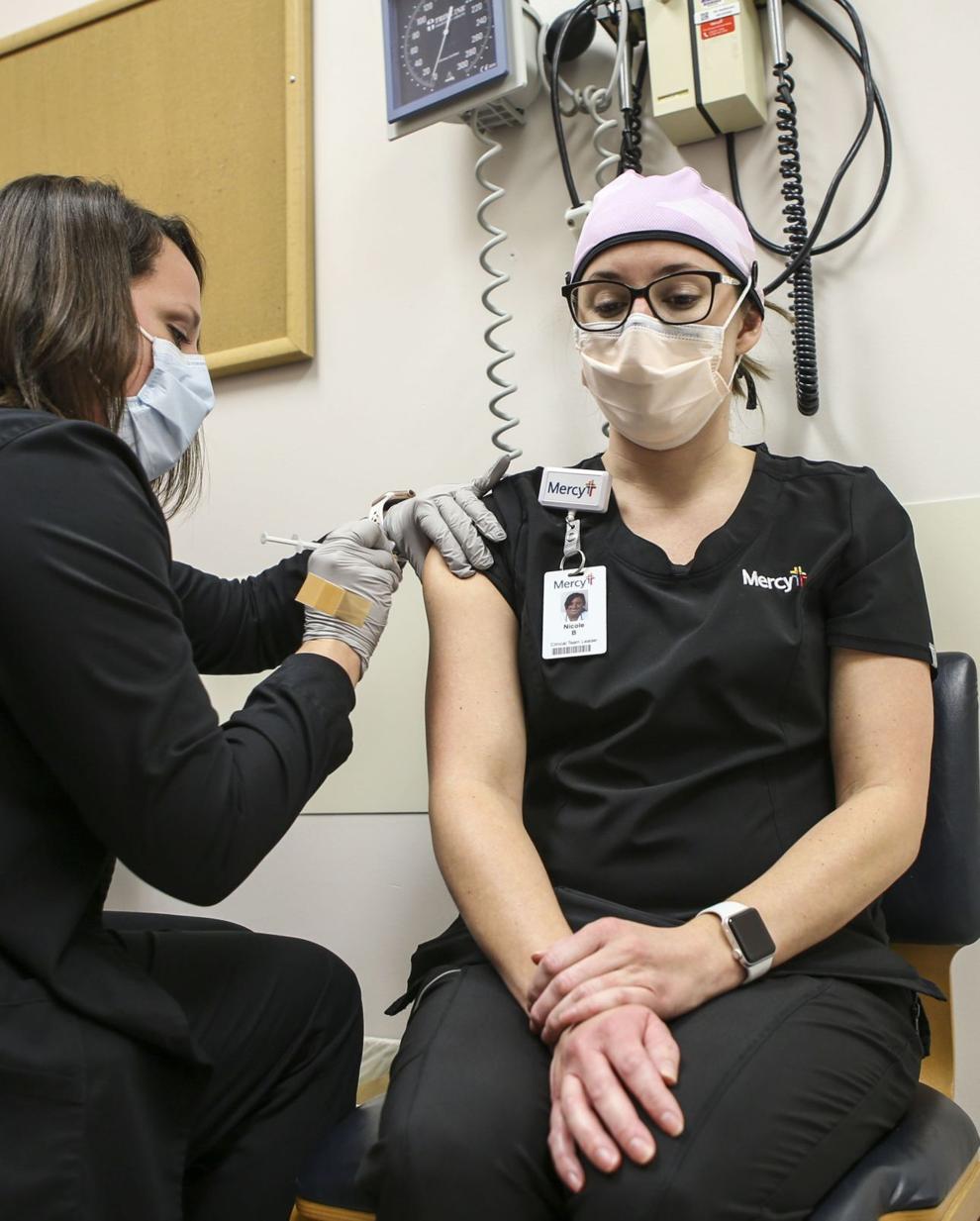 The comments came a few days after a Missouri appeals court declined to stop the county's 'safer at home' order.