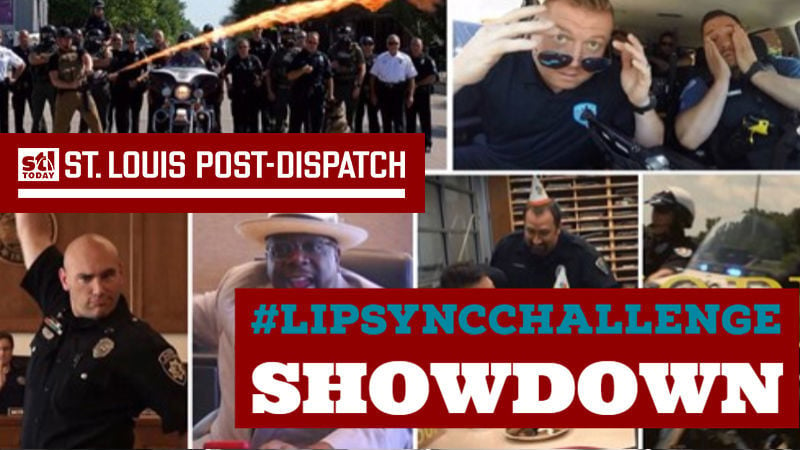 As single after single hit the Internet in the viral Lip Sync Challenge, most police departments in the greater St. Louis area exercised their right to remain silent.
Then, in mid-July, area departments finally broke their silence and took their turns on the stage. Better late than never — and in most of these cases, much better.
With a number of popular songs and video themes already taken by previous viral videos, the folks in blue around the St. Louis area raised the bar with seemingly every video that came out.
The Pevely Police Department kicked things off with a video set to Maroon 5's "Sugar" that racked up a million views in just over 24 hours. 
In the following weeks, Ballwin, St. Charles City, O'Fallon (Mo.), St. Louis Metropolitan Police Department, Potosi, Wentzville, North County Police Cooperative, Hazelwood and Ellisville all dropped singles that scored with fans for scenery, personality and creativity (a flamethrower, a celebrity, backflips galore and a cheeky reference to a Prince song, anyone?).
While other area departments may still take their turn on the stage, check out these solid entries (listed in alphabetical order) and then vote for the best at the bottom.
When you're done, take a look at some of the best entries from across the nation here and vote for your favorite in that poll. And then maybe have a doughnut or two.
The best lip sync videos from St. Louis area police departments
Alton (Ill.) Police Department
Set to Pharrell Williams' "Happy," the department, with a lot of help from the community and an excellent production crew, displayed some sweet dance moves, two women performing impressive backflips, some outstanding playful personalities and, yes, a tactical team in full gear working their groove while stopped on a bridge.
Ballwin Police Department
Though this video, like many others, goes hard for the doughnut angle, Ballwin comes through with a good story line centered on a crackdown of the sweet treat, excellent video production and several unexpected comedic moments — like one officer taking what appears to be shredded lettuce to his face.
Ellisville Police Department
its video, which starts with a familiar format: The police chief doesn't want to do a video, but some officers go behind his back and begin a lip-sync routine.
But the performance — complete with officers in full Kiss makeup, hilariously undersized guitars and a man playing air drums on just a set of cymbals — quickly comes to a halt and turns into a challenge to all greater St. Louis-area first responders to join the department in a karaoke benefit concert.
Eventually, the video resumes with a Kiss tribute band that has played several local venues, complete with a drummer playing on an overturned bucket.
Hazelwood Police Department
Five officers provide excellent lip syncing as scene after scene plays out almost perfectly from the Beastie Boys' "Sabotage" video, including kicking open a fence, a megaphone, binoculars, a slide over a car hood, a knife, running down stairs, and spot-on camera shots.
After a long transition scene, the video morphs into a rendition of Run DMC's "It's Tricky," which brings community members, the fire department and some playful and truly terrible dance moves into view. But with everyone clearly having fun, laughing at themselves and video production highlighting the hijinks in slow-motion at perfect times, everything works.
Manchester Police Department
This video is light on the lip-syncing, but heavy on the heartstrings.
Manchester's video, set to Lee Greenwood's iconic 1984 hit, "God Bless the U.S.A.," pays tribute to the 33 fallen officers across America who died in the line of duty between July and September with scenes depicting an officer leaving home for work and never returning. After the scenes finish, "Taps" plays as a list of the 33 officers who died in the line scrolls across the screen.
North County Police Cooperative
Right from the start, the video's different approach grabs attention, and while it takes a little while to grasp where the storyline is going, as soon as the "smooth criminal" shows off his moves, the fast-paced, well-produced ride through Michael Jackson's famous hit provides plenty of entertainment.
North County Co-Op brought in local radio stars Kiki the First Lady and Derrick "Lil' D" to play roles in the video, but though some officers certainly have some moves, the youngsters steal the show with top-level dancing. That includes the outstanding moves to Drake's "In My Feelings" after the credits.
O'Fallon (Mo.) Police Department
Clocking in at 7½ minutes, this video might be long, but it's well done and well worth watching all the way through.
Weaving a storyline of a sergeant tasked with asking other officers for great lip-sync video ideas, O'Fallon's video has plenty of clever call-backs, both musically and with references to previous lip-sync videos.
That includes starting the musical ride with a surprising, and well-done, performance to Warren G and Nate Dogg's "Regulators," mocking the St. Charles Police Department's flamethrower, an ode to the old TV show "CHiPs," a spot-on remake to the Beastie Boys' "Sabotage" video, a surprising and hilarious use of a Prince song, an officer mocking another officer, and much more.
Pevely Police Department
Picking up more than 1 million views within the first 36 hours of the video's life, Pevely officers put together a quality video, featuring a doughnut caper storyline involving the mayor, police chief and one stone-faced officer who provides moments of comic relief by staring blankly at the camera.
Potosi Police Department
Clocking in at 10 minutes, this video has a serious amount of "Dad dancing" and  a long mix of songs. 
In fact, Potosi's video doesn't even get to a song until more than two minutes in, but it's worth watching, because right off the top, surprises abound. That includes the second line of dialogue ("Do I look high?") a T-shirt reading "Enjoy Cocaine" and an entertaining story line that could have been ripped from the script of "Super Troopers."
From there, viewers are treated to a comedic re-enactment of the famous front-of-the-boat scene from "Titanic," hilarious expressions on the background dancers at times, sparklers, and more.
Richmond Heights Police Department
This video opens with a voice cameo from celebrity and St. Louis' own Joe Buck as the police chief tries to get his officers into Busch Stadium for a chance to lip-synch the national anthem.
The rest of the video goes through a couple of old-school classics with a department baseball game, complete with a Tom Lawless-esque bat flip, underhanded pitching, and a comebacker sending the pitcher diving, all set to Glenn Frey's "The Heat Is On."
That's followed by the theme to "Cheers" and a locked-arm dance across a street to the Black Eyed Peas' "I Gotta Feeling," which features help from the community and an interesting appearance from the chief at the end.
St. Charles Police Department
This one takes things to another level with a flamethrower, a reference to someone robbing a wine bar, Nelly, officers making it rain, a dancing dog and the police chief showing off some dance moves to a Bruno Mars song — surprisingly, no, not "Uptown Funk" — toward the end.
St. Louis Metropolitan Police Department
After being called out by other departments' challenges, the St. Louis Police Department finally dropped its single on Aug. 9 with a medley of songs, old and new, that feature plenty of the city's finest, one of its celebrities and several of its landmarks.
Waterloo Police Department
Waterloo's video hit the mark on all the lip-sync classics we've seen in the past several months. And while the lip-syncing and dancing probably won't win any awards, the infectious self-deprecating humor throughout is so good it's almost impossible not to laugh along.
From the opening act, Waterloo sets itself apart with a traffic stop scene that you really should watch right meow, if only for the line from one officer who says, "Do I look like a cat to you, boy? ... Am I drinking milk from a saucer? Do you see me eating mice?!?"
The rest of the video includes an ode to doughnuts set to Maroon 5's "Sugar" that takes that theme several comedic steps beyond what we've seen. 
Wentzville Police Department
Wentzville's video starts in familiar territory, with an authority figure laying down the law, saying it was time to get things under control. Then this production takes an upward turn, with officers coming out amid smoke to the opening strains to Kenny Loggins' "Danger Zone." 
The drone footage, scenery and creative moments outweigh the relatively sparse amount of lip syncing. The unexpected moments include one officer diving into the sand during a volleyball game and then rolling over to reveal perfect abs — hilariously drawn on with a marker and an amusing rendition of Ciara's "Level Up," which made up for no reference to Berlin's "Take My Breath Away."