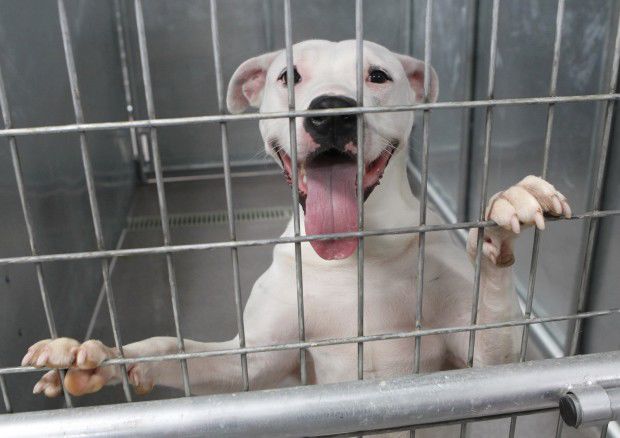 FLORISSANT • The Florissant City Council decided on Monday night to end its ban on pit bulls but strengthen an ordinance on dangerous dogs.
The vote came after weeks of hearing from residents and advocates wanting to defend their right to have pit bulls and from others who wanted the city to keep its ban on the breed in place.
Council President Jackie Pagano said that although discussions about the ban were emotional, she believed the council arrived at the best solution.
"In my mind I don't represent just my ward. I represent Florissant as a whole. So my goal was to get the best I could possibly get to get a happy medium," she said. "I weighed the pros. I weighed the cons. We've tried to put together the strongest ordinance we possibly could."
The new ordinance has stronger language requiring residents to register their pets and for enforcing rules on spaying and neutering.
The council chamber was packed with dozens of people for the vote.
Some proponents for keeping the ban on pit bulls intact said they held their stance against the breed because they were concerned about public safety.
But those in favor of repealing the rule said they too cared about safety but did not want to discriminate against one type of dog when safety also depends on people being responsible owners.
"It's great that a change can still happen," said Michael Cardenas-Salas, director of the anti-ban group Florissant Bully Alliance. "Our biggest thing was public safety. We just wanted them to strengthen the vicious dog ordinance."
The owner of four dogs, two of which are pit bulls, Cardenas-Salas said now he no longer has to pick and choose which of his dogs can go out in public with his family.
Among those also celebrating the decision were Ron Wright and his wife, Carol, who have lived in the city for 35 years.
In February they received a notice requesting they move from their home if they wanted to keep their Dalmatian mixed-breed dog. A neighbor had apparently called authorities about the dog and Wright said it nipped an animal control officer because it was startled and cornered. The dog was quarantined for 10 days.
Ron Wright said the dog had shown no other signs of aggression. He and his wife said the incident, recounted during the meeting, was exaggerated.
Ron Wright said he is active in his community and felt compelled to get involved with advocates against the ban.
Now that the council has repealed and replaced the law, he said he isn't worried anymore. "It's a great thing," he said of the council's decision.
Florissant's ordinance banning pit bulls has been in place since 2005.
Florissant Police Chief Timothy Lowery told the Post-Dispatch in February the department supported lifting the pit bull ban so long as the city's dangerous dog ordinance was strengthened.
The city seized 201 pit bulls between 2011 and last August. Of those, 164 were killed and seven were returned to their owners. The rest were adopted or given to dog rescue groups.
The organization in favor of barring certain breeds DogBites.org reports more than 700 localities around the United States have passed breed-specific legislation.
Law enforcement officials around the country, including in Springfield, Mo., have reported fewer pit bull attacks over time as a result of such bans. Other targeted breeds in various places include Rottweilers, German shepherds and Doberman pinschers.