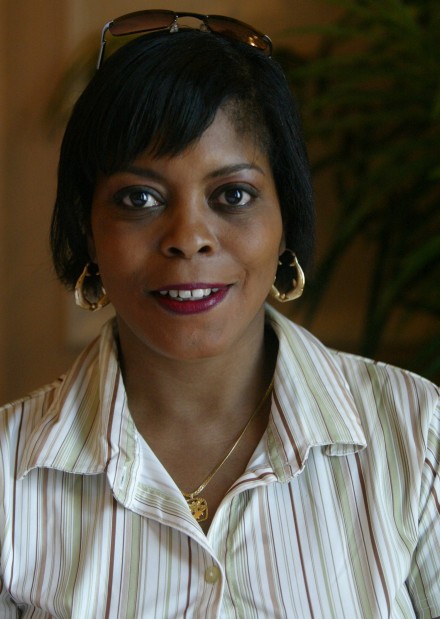 When Sandra Hayes hit a $224 million Powerball jackpot with 12 of her co-workers, she didn't retire immediately.
Hayes was a social worker with the state of Missouri then, and she was a single mom of three who was twice divorced. Her income was less than $26,000 a year.
She had debt, including school loans, and she still was having a hard time believing that she had won. She wanted to wait until she had her winnings in hand.
But things at work got increasingly difficult.
She started getting letters from all over the country from people who said they needed money for a variety of emergencies.
"They were desperate, but I had no idea who they were," she said.
Those who didn't send letters, sent faxes, or they'd show up in the lobby at her office and ask to speak to her.
"After a while, I just said I'm not coming out," she said. "I told them this is not a client."
Some even showed up at her Florissant home on the weekends. She got to the point where she didn't open her door.
And it wasn't just strangers. A friend whom Hayes had known for years sought Hayes' help in paying three years worth of back taxes. She said if she didn't pay up, she was going to lose her house.
Hayes offered the names of several organizations that could help, but the woman claimed she had already tried, and they wouldn't assist her.
"You know how you can pick up a vibe off a person that something's funny?" Hayes said. "Well that's how I felt, so I told her I'd think about it."
After the woman left, Hayes searched a St. Louis County government website for her friend's property tax records. They were paid in full. She printed out the page and mailed it to her. They didn't speak again.
Hayes said it was experiences like these that led her to now self-publish a 42-page paperback, "How Winning the Lottery Changed My Life." It's available at bookstores and online and retails for $11.96.
Hayes, 51, said she has matured a lot since winning the lottery in April 2006.
The morning she found out that she had won, she was running late for work. Hayes suffers from lupus, and she wasn't feeling well.
Her supervisor called to ask if she was coming in, and Hayes feared she might get fired. But she told Hayes she and her co-workers had won the Powerball. Even after another co-worker called and verified the news, Hayes didn't believe it.
Hayes said she was overwhelmed by her newfound wealth, and everything that came with it — like her new tax rate. She took a lump sum payment, which she said was significantly less than the $8.5 million reported at the time, although she wouldn't say how much she got.
She retired and paid off her bills and her home. She bought a second home and new cars for herself and her two daughters. She paid off her son's car loan and bought new furniture and clothes. She took her family on several vacations, something she was never able to afford before.
Hayes donated money to organizations that helped her when she needed it and to people who needed help, like a woman whose teeth were knocked out in a domestic assault.
She even appeared on a reality TV show that detailed how she and three of her other co-workers spent their first Christmas as millionaires.
But after the spending spree and the publicity died down, Hayes realized that even millionaires needed to be on a budget. She still shops at discount stores and is taking up couponing.
"If I don't budget right, I could spend my money by the time I'm 60," she said.
Hayes is grateful she won the lottery and can spend her days gardening, cooking or fishing. And she's working on an afterschool program that would teach children healthy eating habits and cooking skills.
But she's had to weigh those pluses against the minuses, like having to find new friends.
"It feels good now to be with people who will take you out to dinner or buy you a drink, and there's no strings attached," she said. "They love me for who I am and not because of what I have."