ST. LOUIS • It was dinnertime at Mandarin Inn Chop Suey, and a steady stream of hungry, loyal customers stood in the foyer waiting for food. Pork fried rice. Spicy chicken wings. Two duck necks for $2.
One by one they picked something from the menu on the wall, or from memory, and ordered takeout Chinese as they have for years.
There were no tables or chairs — just bars on the windows and a battery of woks behind a secure wall.
"I like their food, and I like the atmosphere," said Carolee Young, 88, a regular for more than three decades. "People don't bother you."
The retired beautician leaned on a cane until a batch of shrimp egg foo young was ready to go.
Corey More, 17, his saggy pants revealing bright red boxers, wasn't far behind, ready to order beef and broccoli. He said he's been a customer since "before I was born."
The restaurants battle it out against a backdrop of vacant lots and auto parts stores. The bowling alley, lumberyard, Kentucky Fried Chicken, meatpacking businesses and other companies along the once-vibrant strip are long gone.
There are 22 restaurants in St. Louis with "chop suey" in their name, most clustered in African-American neighborhoods on the North Side. There are more that don't have those words in their names.
The food is filling and cheap — a large meal can cost $5 or $6. And like sitting down for soul food, standing up for takeout chop suey is a ritual.
"It's part of tradition, like apple pie and baseball," said Shadrach McGill, 40, who grew up in north St. Louis and lives in Dellwood.
Though the restaurants advertise chop suey on overhead signs, people rarely order the dish itself. There is an array of other options. If regulars like McGill move to the suburbs or beyond, they still trickle back because, they say, the fried rice is better in the city — it's more tender.
The family enterprises are the envy of a St. Louis alderman who wants to use their example to encourage other small startup businesses. The restaurants show there is money to be made in some of the city's poorest neighborhoods.
Chop suey managers have stayed around long enough to watch customers grow up and start their own families. Meanwhile, the restaurants tap an insatiable market, offering Chinese food with a twist — noodles and fried rice, but also tripe sandwiches and strawberry soda.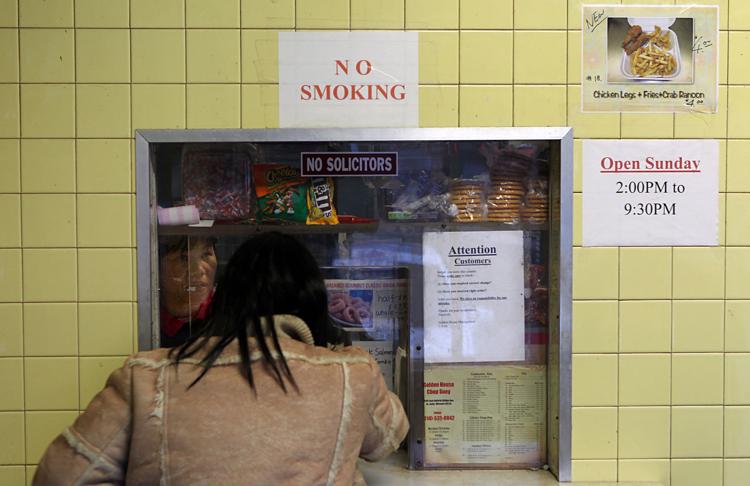 Cantonese-speaking Chinese immigrants started making chop suey in the United States, and St. Louis, more than a century ago. Chop suey typically features small pieces of meat cooked with bean sprouts, vegetables and gravy. It's served with rice.
As chop suey expanded beyond immigrant communities to local neighborhoods, seasoned pork, shrimp and rice matched the tastes of black residents, who shared similar racial hurdles as Asians, said Garrett Duncan, an African and African-American studies associate professor at Washington University.
"They are racialized, they are looked down upon," Duncan said of chop suey restaurants. "When they are in Clayton and Ladue they are called Chinese restaurants, not chop suey. Or better yet, they are called Japanese. It's all about image and semantics."
Like payday loans and booze, meals are usually peddled through little openings in bullet-resistant glass.
But Mandarin Inn often pushes its protective shield to the side.
"That's our business style, we open up," said Stanley Ng, 65, standing shoulder-to-shoulder at the takeout window with his brother, Daniel.
Their parents emigrated from China and started the business in 1973.
"We are older than Microsoft," Daniel Ng, 63, said with a smile.
And yet they don't recall a single restaurant review. They crafted their own reputation, as time went by, in soy sauce and established relationships.
"He knows my name," said Sylvestor Rhodes, 66, gulping a shrimp St. Paul sandwich at a nearby bus stop. "Sometimes when I am short, he goes ahead and gives it to me. He doesn't give me no lip. I guess it's because he gets me going there all the time."
The Ng brothers don't live in the area, but they've ridden the highs and lows of the neighborhood.
In 1987, Mandarin Inn was across the street from one of the worst mass shootings in St. Louis history, when seven employees at the now closed National supermarket were shot execution style, five of them fatally. There have been countless smaller but still frightening incidents, including a robbery at closing time.
"We are businesspeople," said Daniel Ng. "When there is opportunity, we grab it. Chinese restaurants are all over the world. We happened to land over here. We work hard, you know. We can have a business anywhere."
With a faithful clientele, there is no reason to uproot.
"Everybody likes chop suey, so they get in where they fit in," said Richard Norman, 49, who junks vehicles for a living.
The food is so cheap that it doesn't come with fortunes or chopsticks. Little distinctions set each shop apart.
Where one has a family vibe, another cleans its shrimp better or is more generous with condiments. Newstead Chop Suey Catfish seems to have people on the hook for its spice. It also offers a free can of Vess soda with any order over $15.
Despite the popularity of the establishments, some residents still express suspicion. Many of the chop suey owners, they say, set up shops in poor black neighborhoods, make a steady stream of money and don't live in the city.
"You aren't going to see these in the white community," said Chauka Farid, a retired foundry worker, walking out of Newstead Chop Suey and Catfish with an order of duck and noodles. "Everybody comes to the black neighborhood to set up shop because blacks don't have the capital to get out and create businesses."
Antonio French, alderman for the 21st Ward, wants to change that perception. Of the 11 restaurants in his ward, six are chop suey shops.
He said he has an initiative in the works this year to spur other small businesses like them.
"Somehow or another, there has been a disconnect between black entrepreneurs and the black consumers," French said. "With no disrespect to the hardworking entrepreneurs who do business in our community, we do want to encourage more African-American businesses."
Chop suey restaurants don't tend to open and close every few years, like other joints. Asian families run the restaurants with low overhead, often relying on a network of relatives for finances, labor and expertise.
"It's a great system," French said. "I am not knocking it. I am trying to replicate it."
MOKAN, an organization that helps minorities start and expand businesses, will soon relocate its offices to French's ward and will help train entrepreneurs. In addition, he said, he would direct federal community block grant money to refurbish buildings and help fill a shortage of available storefronts.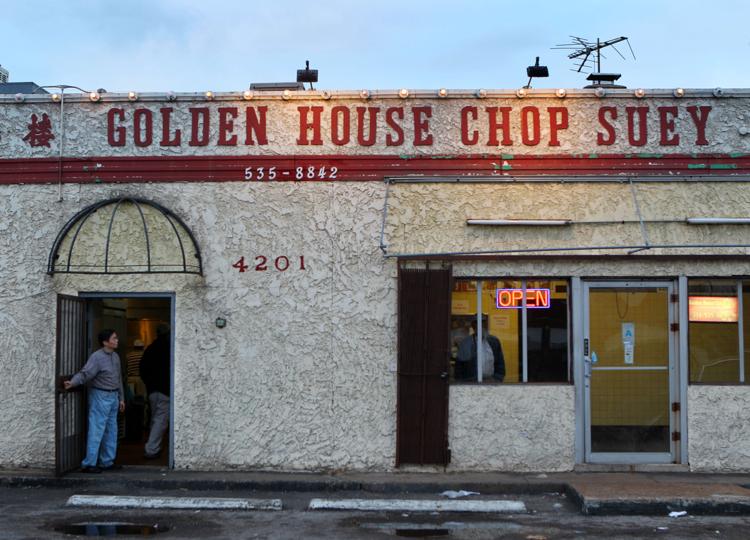 Golden House Chop Suey sits directly across the street from French's office on Natural Bridge. There's a menu on the wall, as in other shops. There's no room to get comfortable, only a small bench out front, barely wide enough to sit on.
"This is a rough area, but it's not that bad," Jiang "Ben" Bian, 35, said as sirens roared by.
His wife bought into the restaurant several years ago, with support from her father in Hong Kong and sister in mainland China.
"That's the Chinese way," Bian said.
Though most chop suey takeout restaurants are open six days a week, Golden House recently expanded to Sundays. Bian said his life consists of working, sleeping and taking care of his kids. He'll sneak a walk in sometimes when his daughter is at piano lessons.
Even after Golden House closed at 10:30 on a recent weeknight, patrons continued to stop by. The next day, Bian shoved the metal gate away from the door and had the business ready to go by 10:20 a.m., 40 minutes before its advertised opening. By noon, the foyer was getting full.
"It's very simple," said Simon Chin, a business partner at Golden House. "Just work."
But it's more than that. Chop suey fills a need. There's a taste for cheap, hot food.
Noshua Browder, pushing a grocery cart loaded with tin cans and a metal box spring down Natural Bridge, said he orders takeout every other day. There are four choices in easy walking distance, but he always goes to Golden House. He gets an order of plain fried rice — $1.85 — and maybe a side of cheese fries.
"It's something to last me until the next day," he said.