It's 101 degrees in St. Louis, but Raynard Nebbitt is determined to see his bridge.
He sits on his purple bicycle with a mud flap on the back and balances a 4-foot scale model of a highway overpass on his handlebars.
Nebbitt rides his bike an hour and 12 minutes on a hot summer day from Tower Grove South to Webster Groves, balancing the model, dodging cars and walking up steep hills on his way.
It's all to get to his favorite place in the world: the South Rock Hill Road bridge over Interstate 44.
Almost nothing stops Nebbitt, 58, who has a mental disability, from these daily journeys to the overpass.
Nobody quite knows what he sees in this seemingly unexceptional place — Raynard tends to be quiet and has limited speech — but he has visited almost every day for 20 years.
When there's litter on the road, he cleans it up. He often decorates the bridge for holidays. He motions for trucks to honk their horns and waits to watch trains pass on the nearby tracks.
Nebbitt handcrafted the model of the overpass he takes everywhere. The street markings, billboards and pipe-cleaner power lines are all there in incredible detail.
Nebbitt has even become something of a local celebrity over the years, inspiring art, a parade float and a Facebook fan page with more than 600 members.
"Of course we all know Raynard," said Webster Groves Mayor Gerry Welch. "Everyone has seen him on his bridge and I think people here look out for him."
But recently, life has made it harder for Nebbitt to see his bridge. Health and financial hardship in the family required him to move from Webster Groves to St. Louis last year, forcing him to make his hourlong bike rides each way to get to the community where he's become a fixture.
Still, he comes every day.
"You can't stop him," said Nebbitt's sister, Kathy Nebbitt. "I tell him: It's way too hot to be going to that bridge today. You know what he says to me? 'Goodbye Kathy.'"
Now the people of Webster Groves are working to bring Nebbitt back to his bridge.
"This is where he belongs," said Welch. "We all want Raynard to come home."
Nebbitt finds his place
Nebbitt and his family moved in 1973 to a modest blue ranch home on North Gore Avenue in Webster Groves. Back then it was Nebbitt, his mother and father, his brothers William and Kevin Nebbitt, who also has a mental disability, and his older sister, Kathy Nebbitt.
Growing up, Raynard was pretty sheltered, Kathy said. His parents didn't allow him to go many places alone, but Nebbitt was always fascinated by trains and trucks.
Kathy Nebbitt eventually took over her brother's care, moving in with him in 1999. She let him venture out on his own as long as he was home by dark.
"I always thought that as a working man, Raynard has a certain right to freedom," Kathy said.
He had a job at Industrial Aid, a manufacturing company that employs people with disabilities in Tower Grove South. He's been employed on an assembly line there for 31 years.
Kathy also had faith that Raynard would be safe in Webster Groves. The police looked out for him there. The shop owners knew him. Whenever Raynard seemed to be in trouble, someone would know to call Kathy.
Despite the new freedom, Kathy soon realized that her brother kept returning to the same place.
Nebbitt would be on the bridge in a coat and hat when it snowed, often laying down salt to make it easier for cars to pass. He'd be there wearing a tank top and denim shorts in the summer, no matter how hot.
Over the years, Nebbitt would make several versions of his bridge model. When the overpass got new paint, Nebbitt would spread out on the floor of his bedroom and add fresh paint to his model while watching his favorite show, "The Three Stooges."
If you ask him, Nebbitt says he likes the bridge because of the "truck honkers and trains."
But his sister thinks it's also the solitude. One day she and her daughter Ashley packed a picnic with a blanket and planned to spend the day on the bridge with Raynard. But when they got there, Raynard looked over at them, packed up his model and left.
"I just think it's his place of peace," Kathy Nebbitt said.
Everybody loves Raynard
Soon the locals started to notice Nebbitt. People began to wave as they passed, and he would give his signature over-the-shoulder smile. Trucks began to know to honk for him.
A BNSF Railway Company employee would stop his railcar by the bridge on the nearby tracks and say hi, once giving Nebbitt his own conductor's hat.
When Nebbitt's bike would break on his way to the bridge, he would visit The Hub Bicycle Co. in Webster Groves and get help, often without any money on him.
"It's happened a few times when people would see Raynard come in and they'd pay for his repair," said shop owner Alex Bischoff. "They recognized him."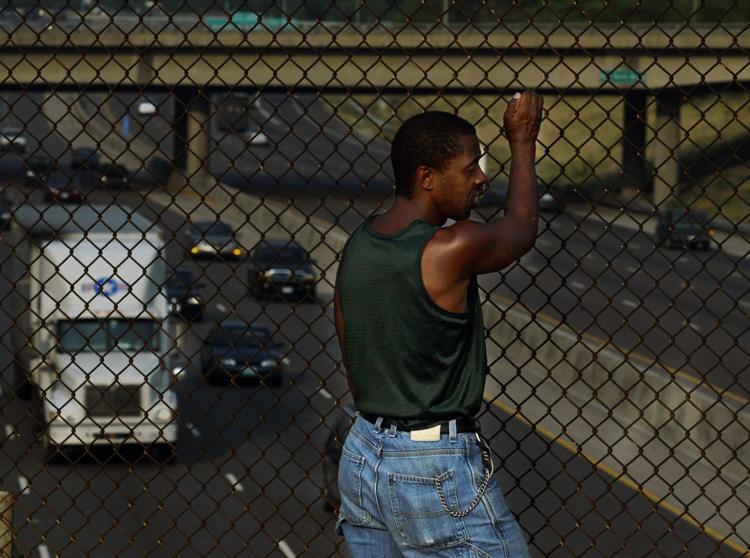 But it wasn't until a conflict in 2005 that many in the community learned Nebbitt's backstory.
It all started when a night-shift nurse moved next door to the bridge. One day she tucked a note in Nebbitt's backpack complaining about the noise caused by honking trucks. She asked if he could go to a different overpass so she could sleep.
When Kathy read the letter asking Raynard to move, she didn't know what to do. Nebbitt tried to stop motioning for trucks to honk, but they recognized him and honked anyway.
Kathy feared Raynard would be forced out and decided to write a letter to a local newspaper. She wrote that her brother had a mental disability and that both his parents were deceased.
"Life has given Raynard lemons, but Raynard has taken those lemons and made lemon pies," Kathy Nebbitt wrote to the Webster-Kirkwood Times. "He's learned to cope with his situation. He is my cheerleader, counselor and most of all, my brother! The bridge is what makes him happy."
She added that her brother's dream was to have the bridge named after him one day.
Webster residents rallied around him. Someone painted a sign with big blue letters reading "The Raynard Nebbitt Bridge." In smaller writing, it said, "Everybody ♥ Raynard."
There was a petition to make the name official. The mayor was bombarded with calls and emails. Later in 2005, hundreds came to witness the dedication of the now-official "Raynard Nebbitt Crossing."
In 2006, Nebbitt rode on a float in the Webster Groves Fourth of July Parade. He stood on a truck decorated to look just like his bridge and waved at the crowd like he always did on the overpass.
"I cried the whole time seeing him up there on that float," said Kathy, who walked alongside Raynard in the parade. "That was one of my happiest days."
Nebbitts face hard times
Kathy and Raynard lived happily in Webster Groves for more than 40 years, but both were forced to move in the last two years.
In October 2015, Kathy Nebbitt developed a disease caused by a severe allergic reaction called Stevens-Johnson Syndrome. She was hospitalized for eight months and developed other health complications that limited her ability to walk.
After she got sick, she lost her job at an insurance company where she had worked for nearly 30 years. Her job had allowed her to make enough money to keep Raynard, his brother Kevin and her daughter afloat in Webster Groves.
With Kathy Nebbitt in the hospital, the family lost their home on North Gore Avenue in September 2016. Raynard, Kevin and Kathy's daughter Ashley found a small rental home on Tennessee Avenue in St. Louis where they lived for about three months. They were eventually unable to pay the rent and had to move out.
Next-door neighbors Martha Enloe, a parking garage manager, and Jim Enloe, a cook, had lived in the neighborhood for 28 years and quickly stepped in to help.
The Enloes were able to set Kevin Nebbitt up with an apartment of his own using his Social Security checks. They took Raynard Nebbitt in full time in their busy home, often full of their grandkids who live on the same block, Martha Enloe said.
"He's just another person to love," Martha Enloe said. "He keeps to himself mostly, and we're happy to have him until he can find his way back home."
Nebbitt sticks to a strict schedule in his new life.
He goes to work, then bikes an hour or so to his bridge, where he stays until just before dark. He calls his sister, who now lives in an assisted living center in University City, twice a day and tells her he loves her. Every night he calls the Enloes to ask what's for dinner (always hoping for his favorite meal: hot dogs and baked beans.)
For a while, he would bike to the old house on North Gore.
"We had to tell him, 'You can't go there anymore,'" Kathy Nebbitt said. "Someone else lives there now. I know it's hard."
Webster Groves wants to help
Kathy Nebbitt recently wrote the Webster-Kirkwood Times again, this time to share what had happened to her and Raynard Nebbitt. She said she was looking for a house to rent that was handicapped accessible for her, and shared that her brother wanted to be closer to his bridge.
A real estate agent contacted the Nebbitts and offered to help them find something. There was an outpouring of support on social media, and Webster Groves resident Huy Mach created a GoFundMe page to allow people to donate to help.
The page raised its goal of $5,000 in just three days and is now up to about $8,500. It's not a lot, but it's a beginning.
"We want to raise enough for them to restart their life," said Mach, a former photojournalist for the Post-Dispatch. "People mostly see Raynard at a distance, but he puts a smile on their face and they wanted to help."
Kathy hopes the money will help her and Raynard return to Webster Groves soon, she said.
She also dreams of one more march in the town's Fourth of July Parade.
"This time," she said, tearing up at the thought, "We'll say: 'Thank you, Webster, you brought us home.'"