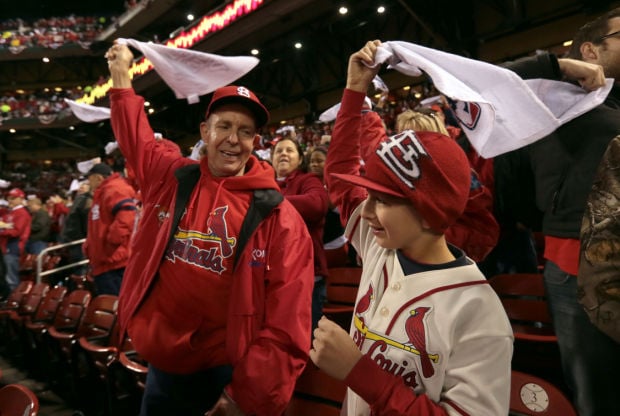 His mom wanted to know if he was warm enough.
"Sure you don't want to put any more clothes on?" she asked Saturday. Daniel Tobias stood in the front yard, the sun fading, and softly shook his head. He already wore two shirts stacked under a cream-colored Cardinals alternate jersey. He'd be fine. He just wanted to get to the game. His first World Series.
But first he'd have to bundle up. It'd only get colder at night, his mom told him. His grandma insisted. His dad agreed. Daniel left home carrying a red Cardinals sweatshirt and red knit cap. "Have fun," his mom said.
Daniel is 11. He's in the fifth grade. He plays on two baseball teams. He has four red Cardinals ballcaps. He collects baseball cards. He and his younger brother turn plays on a Busch Stadium replica made of cardboard and duct tape in the basement of their family's home in Kirkwood. He went to at least 10 Cardinals games this season.
Now, Daniel was headed to the World Series with his grandfather. This was not some contest in early August, where families are common, tickets plentiful and the mood relaxed. These games are hyped. They run late into the night, past bedtimes. Tickets go for whole paychecks. The stands at World Series games are filled mostly with "the hard-core fans and the fat cats," said Daniel's grandfather.
But experiences like Daniel's are part of what make the World Series so special, what sells those high-priced tickets and leads people to watch on TV. He should remember this night. And perhaps he will pass down its memory one day.
Daniel's grandfather drove with Daniel in the back. Doug Brockhaus, 67, shares season tickets with eight other guys. He landed two $225 tickets for Game 3. Brockhaus had to decide who should go with him. Daniel's family sat down and talked about it. Daniel's brother, Adam, is 7. He'd go next time.
Daniel's favorite Cardinal is Daniel Descalso, the scrappy infielder who has seen limited postseason play, and the young fan looks a bit like his hero. He has brown hair and light brown eyes. He wears his ballcap brim flat, just like the ballplayer.
Daniel sat quietly as his grandfather hit the highway. Daniel played with a Stan Musial window sticker. He tried to imagine how this game would be different.
"It's going to be a lot more important," he said. "It'll probably be more fun."
"You won't see any empty seats tonight, I don't think," his grandpa said.
"Yeah, true," Daniel replied.
As they neared the stadium, Brockhaus noted the inflated parking fees. The garage he favored had doubled to $30 a space. Brockhaus dug into his pocket for an extra bill. Daniel carried his sweatshirt; his grandfather carried a blanket. They walked to the stadium side by side, sucked into a sea of red.
Daniel quietly scanned the crowd, men with painted faces and in business suits and Red Sox jerseys, too. He looked up at a blimp hovering overhead. His grandpa pointed to the ESPN studio erected in a parking lot.
Inside, they grabbed some food and found their seats, in Section 138 along the right field line. Daniel wolfed down a hot dog, mustard and ketchup spilling on his fingers. He followed with potato chips. His grandfather ate his food in the same order.
In their seats, waiting for the game to begin, Brockhaus recalled the number of World Series he'd been to. This was his fifth. Daniel listened intently, asking questions about what his grandpa saw.
Another member of Brockhaus' season ticket group arrived. The two men caught up. Then he turned to Daniel.
"You know what you should do," he said, "take a notepad out tonight and write down what you remember, about this game with your grandpa."
Daniel slyly smiled. To an 11-year-old boy, the idea that this moment might fade must have seemed impossible. But this grandfather knew better. He securely held their World Series ticket stubs in his pocket, knowing their value.
The pre-game ceremonies flew by. It was time for the first pitch.
Daniel slipped on his knit cap.