UPDATED at 4:15 p.m. with updates from Eureka and Valley Park. 
For many of those living along the meandering Meramec River, it feels like deja vu.
New predictions Tuesday morning show the Meramec River likely to meet or surpass records set in December 2015 in Eureka and Valley Park. Those peaks will likely come early Wednesday.
A series of heavy rains over the weekend was more than the river and its tributaries could take, the water rising into homes, businesses and across highways, closing a stretch of Interstate 44 late Monday and canceling classes Tuesday in Valley Park, Rockwood and the Arnold-based Fox School District.
In Eureka the crest is expected to surpass 46 feet, a few inches higher than the record from 2015, about 1 a.m. Wednesday. Volunteers there, in a flurry of activity, filled about 200,000 sandbags over recent days, authorities said. By Tuesday afternoon, they decided they had done all that was possible and told volunteers they were no longer needed.
In Valley Park, the crest is expected to be at 7 a.m. Wednesday. The river is projected to crest at more than 44 feet — right at the record from 2015. Parts of Valley Park inside an evacuation zone were largely deserted, though some stayed behind.
In Arnold, the Meramec may crest at roughly 46 feet on Wednesday. The record there, also from 2015, is 47 feet.
Greg Horn, St. Louis district engineer for the Missouri Department of Transportation, said at a press conference late Tuesday morning that the best-case scenario would be to reopen I-44 on Friday morning for rush hour. However, Horn admits that with more rain coming, that might be too optimistic.
"You need to prepare to have (Interstate) 44 closed this weekend," he said.
Rain is expected to return Wednesday and Thursday, bringing 2 to 4 inches. The heaviest downpours are expected in areas south of Interstate 70.
I-44 continues to be closed from Rolla to Lebanon, Mo., and a lot of truck traffic is being re-routed onto Interstate 70.
With the closure of I-44 and other major roads, officials say they are happy they've been able to keep I-55 open so far.
St. Louis County Police Chief Jon Belmar said, "We are hoping to keep 55. That's really going to help us if that happens."
Mike Pennise, mayor of Valley Park, said he expects Valley Park schools to remain closed all week. Pennise said the Corps of Engineers is checking the Valley Park levee hourly. They have not detected any boils or any signs of stress so far, Pennise said Tuesday. "It will hold," Pennise said.
Mark Diedrich, the St. Louis County emergency management agency director, said 200 homes already have been affected by the flood and 1,500 more are threatened.
"We are all at the mercy of the rain and the river," he said.
Mark Fuchs, a hydrologist with the weather service, said it appears most of the impact of the new rain will be a secondary crest in areas that have already had one or "a prolonged bit of flooding for the folks that are near crest" in the bottom of the Meramec basin.
"It doesn't look like it's going to make it any worse for the most part," Fuchs said. "It might prolong the agony in some areas."
Mark Harder, a St. Louis County councilman, said for his residents: "They just need to stay put and kinda ride this out."
Harder on Tuesday morning said some breaches have been detected in the sand bag barriers protecting the old town portion of Eureka. He urged more volunteers to show up to bag sand.
"Water is on Central Avenue as we speak," Harder said at a 10 a.m. press conference. "If you have a teenager sitting at home today, maybe you can send them down there" to volunteer.
'A historic event'
Fuchs said the latest forecasts are showing higher crests than earlier predicted for the lower Meramec, primarily due to a higher Bourbeuse River. The Big River is "coming in with a record flood" near Richwoods, he said Monday, and the Big at Byrnesville "is very close to its all-time record flood" level.
"So this is, no question about it, a historic event," Fuchs said.
It will mean near-record or record Meramec floods at Eureka and Valley Park. But he said Arnold will have a lower crest than it had in December 2015 because of predicted Mississippi River levels.
Upriver, the Meramec at Steelville began falling Monday after setting a new record at 28.71 feet earlier in the day. The old record was set in 1998. The river also broke a record Monday at Sullivan, reaching 36.52 feet. The previous record, set in 1915, was 33.5 feet.
Pacific may see the Meramec crest about a foot short of the record level of 33.4 feet, set in 2015.
'Not going to go'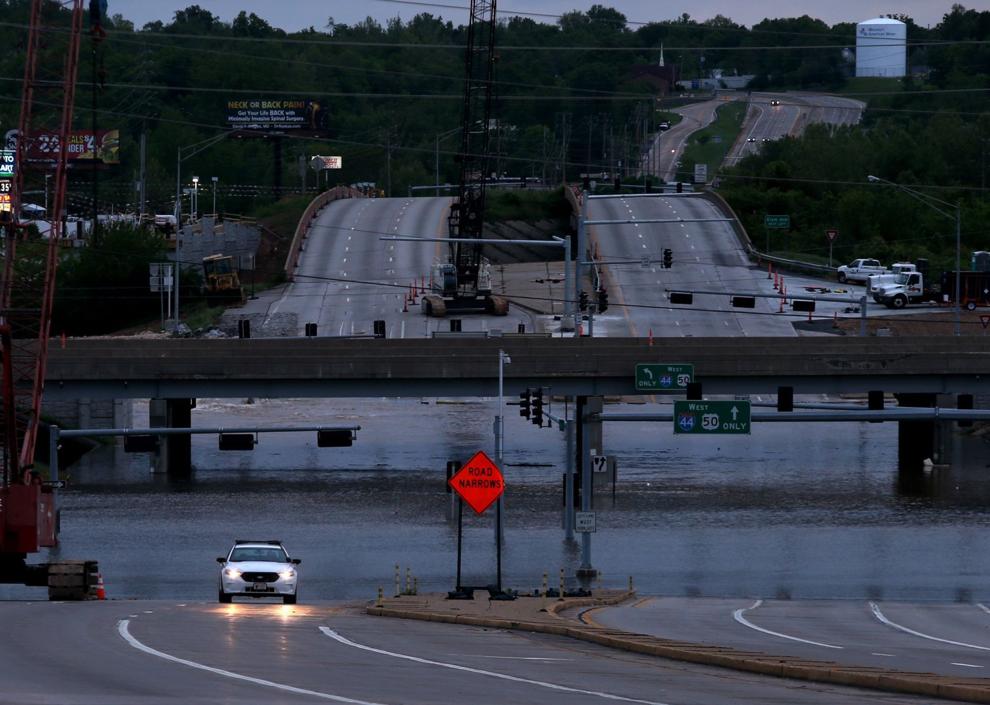 Pennise, the Valley Park mayor, issued a mandatory evacuation notice to residents living in areas of town protected by a Meramec River levee. They must be out by noon Tuesday.
Some residents were packing up Monday, for the second time since December 2015. Others, however, refuse to go.
"Things were just getting back to normal. No, we're not moving anything. Trust the levee, trust the city," said William Reynolds, the owner of Valley Deli Convenience Store, on St. Louis Avenue. Reynolds moved items out of his store last time floodwater threatened. It was a lot of work, and the levee held. He's not bothering to move again.
"Yeah, it might be stupid," Reynolds said, "but you know you can only take so much."
At the time the evacuation order kicked in Monday morning, Pennise told the Post-Dispatch that volunteers would be hand-delivering letters to 324 homes and 50 businesses in the affected area.
"That gives them roughly 30 hours to get their belongings and leave," the mayor said. At noon Tuesday, the National Guard will be stationed at both entrances to town and will not allow anyone to come back into the levee-protected area and until the evacuation order is lifted.
They are expecting a crest of 43.7 feet at 7 a.m. Wednesday, Pennise said. That gives little room to spare. In 2015, floodwater there crested at 44.1 feet, and the levee held.
"We want to stress there is no indication the levee protecting the city has been compromised or breached in any way," Pennise's letter said. "The U.S. Corps of Engineers and city officials have been continuously inspecting the levee and there are no signs of damage or breach."
The evacuation route from the levee-protected area is north on Highway 141. City Hall on Monday began keeping its doors open 24 hours to help accommodate residents affected by rising water. Although it's called a mandatory evacuation, Pennise admits no one will be forced to leave. There were a few holdouts in December 2015.
"We can't make them move," Pennise said. "The only thing we can do is go down there and get their names, make sure we have their information."
The mayor estimated 99 percent of people will leave. However, a Post-Dispatch reporter visiting the city on Monday morning easily found residents and business owners like Reynolds who won't be packing up. They are tired of moving and the stress it brings. The levee will hold, they said.
Dan Ward, a former alderman, said the last time was traumatic, and he is not evacuating his home this time.
"I'm not going to go," Ward said. "They're going to have to drag me out of my house."
Valley Park City Attorney Timothy Engelmeyer said he was concerned about the comments from some residents.
"If they choose to stay, that's at their own peril," Engelmeyer said. "We're tired of having to do it also, but it's the right decision."
At O.J. Laughlin Plumbing Co., on St. Louis Avenue, warehouse manager T.J. Laughlin was clearing out boxes of documents, file folders, office chairs and other belongings from the office building and warehouse.
"We're pretty much seasoned veterans here," Laughlin said. He said they already have 2 feet of water in the basement from Sunday. They were loading supplies onto a trailer and will be moving some of the materials to the homes of family members. Some of it will be stored in a nearby facility.
"It's not our first rodeo," Laughlin said. "It is what it is."
Belmar, the county police chief, told reporters that residents inside the levee protected area of Valley Park need to get out. "There's nothing more sacred than life," Belmar said. He said police would do everything they could to protect property.
'Force of the water'
Eureka's small downtown was bustling with people sandbagging, including Gov. Eric Greitens and Rockwood students whose schools were closed Monday and will be again on Tuesday. Children and adults shoveled piles of dirt into plastic bags, using traffic cones as funnels, and stacked them into fortress-like walls. Dozens of people were also sandbagging at the St. Louis County police's West County Precinct and a couple of homes near it.
Rescues were reported across the region, keeping emergency crews busy Monday. One death has been reported in the region as a result of the severe storms that pummeled much of the state.
In Jefferson County, Clifford H. Brandt, 77, walked from his home near Highway BB and Mimi Mountain Road on Sunday afternoon to look at rising water in a creek. He apparently slipped and was swept away by the current, said Brian Gaudet, assistant chief of the Hillsboro Fire Protection District. Searchers found Brandt's body along the shoreline less than a mile downstream, about three hours after he left his home, Gaudet said.
Floodwater on the Meramec River destroyed an aged and long-closed Franklin County bridge Monday. Rising waters carried the old steel truss Bruns Bridge near St. Clair downstream, causing it to collide with the replacement span a couple hundred yards away, said Franklin County Emergency Management Director Abe Cook. He said emergency crews are unsure how much damage was caused to the new span.
Steve Kimker's family has farmed along the Meramec River in Crawford County for generations, and they've seen the water rise countless times.
"It's something you learn to live with because you live on a river," said Kimker, 49, out surveying watermarks Monday.
But there's more water this time. By Kimker's calculation, the Meramec River early Monday was the highest he has ever seen it at Highway N.
"It's nuts," Kimker told a neighbor while speaking from the seat of a tractor.
"You'll be amazed by what you see when the water goes down," he said. "Logs. Sand. Campers. Outhouses. You find all kinds of stuff."
Downriver at Meramec State Park, near Sullivan, park ranger Angela Carson guarded Highway 185, which was covered in backwater near the entrance to the park. She said area residents are frustrated because the water has cut off access points to areas usually open during flooding.
"It's kind of boxing them in," she said. The river hit 36.5 feet Monday morning at Sullivan — more than 4 feet above the previous record set in December 1982.
Mark Johanson, a forester at Meramec Conservation Area, said campgrounds, river ramps and river outfitters that rent canoes, kayaks and rafts were damaged.
"It's higher than I've ever seen it," he said of the river.
Greitens declared a state of emergency on Saturday, and federal lawmakers, including Missouri's two U.S. senators, Republican Roy Blunt and Democrat Claire McCaskill, said they would work to get aid for the region's recovery efforts.
Post-Dispatch reporters Jesse Bogan, Kristen Taketa, Mark Schlinkmann Kim Bell, Christine Byers, Ashley Lisenby, Stephen Deere and Chuck Raasch contributed to this report.