ST. LOUIS • When Frankie Muse Freeman and other members of the U.S. Civil Rights Commission went to Jackson, Miss., in 1965, she gained a fan.
The first woman appointed to the commission, Freeman and other members were there for hearings on voting rights.
A young Michael Middleton noticed.
Freeman, who died Friday at 101 years old, was remembered and praised Saturday by people nationwide about the influence she had on the civil rights movement.
Middleton, the interim president of Lincoln University and former interim president of the University of Missouri System, recalls seeing her come to his hometown, Jackson, and being amazed. He has admired her ever since.
"She had the gumption and the power to bring the commission to Jackson, my hometown, to talk about treatment of African-Americans in Mississippi," Middleton said. "I was remarkably impressed by this powerful black woman who could do this."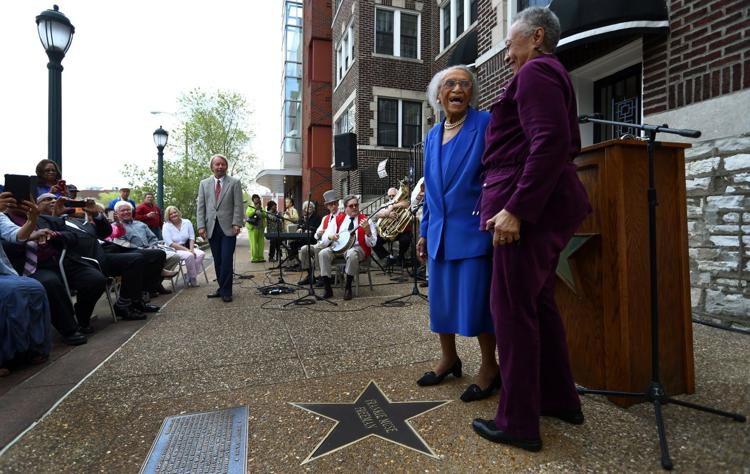 In 2010, the two were appointed to a committee to make recommendations for St. Louis Public Schools after the district lost its accreditation.
Freeman had a wealth of advice for Middleton, urging him to remember through the years that change takes time. "Hang in there," she would say.
In 2016, Middleton delivered Freeman's honorary doctoral degree from the University of Missouri-Columbia to her — a moment he cherishes.
"We were going to give it to her that summer and she said, 'I'm not going to come and get it until Mike Middleton is available to give it to me,'" he recalled. So they waited until December. "I was so flattered that she did that."
'Get even legally'
Jim Buford, 73, former longtime president of the Urban League, met Freeman for the first time when he was 15, and it changed his life. "I knew that was someone I wanted to be like," he said. She lit up the room. She spoke softly, but with authority. She commanded respect.
He never forgot her, and when he returned to St. Louis in 1981 to work on then Gov. Christopher "Kit" Bond's campaign as a liaison to the black community, he immediately turned to Freeman.
She knew every educator, preacher and leader. "She said, 'I'll introduce you,' and when Frankie introduced you to someone, you immediately had credibility."
She served on the board of the Urban League for most of Buford's 18-year tenure, and was the first female chair.
Buford credits her with helping him make it one of the top leagues in the country — and for keeping his anger in check at civil rights rallies.
"She would say, 'Never get angry, just get even,' and get even legally," Buford said. "Don't get even with a vendetta, get even with the courts."
Other people who knew Freeman paid tribute to her on Saturday.
"In her 8 decades of challenging bigotry and overcoming much of it, she leaves a legacy for future generations of freedom fighters to emulate," Bill Clay Sr., Missouri's first black congressman, said in a statement. "Imagine to what degree and number of the oppressed would be if Frankie had not so persistently fought to right the wrongs of this nation."
U.S. Sen. Claire McCaskill, a Democrat from Missouri, said in a statement: "Frankie Freeman — courageous, strong, and with a towering intellect — paved the way for both black and women attorneys. She was a civil rights icon, a mentor, and a dear friend. The world will miss her righteous passion. We have lost a St. Louis legend."
Former Washington University chancellor William Danforth, Freeman's longtime friend and colleague, said she "set a great example for all of us" about "always trying to do the right thing."
"(Her accomplishments) brought her satisfaction," Danforth told the Post-Dispatch. "That's the way she wanted to live her life, and it's the way she did."
Together, Freeman and Danforth led a committee to oversee a landmark settlement that ended a desegregation case involving the St. Louis School Board. That was 1999. Later, in 2006, they led another committee that looked into the St. Louis Public Schools' operations, leading to a state takeover.
"They became one person as it relates to what's right in this community and what's right for kids," St. Louis Public Schools Superintendent Kelvin Adams told the Post-Dispatch about the duo.
Adams got to know Freeman during her later years. He said her "conviction for what's right and what's wrong" always stuck out to him.
Freeman continued to be active in the legal and civil rights arenas into her 90s. She also remained active in the Delta Sigma Theta Sorority Inc.
"People would come (to events) even if they didn't plan on it if they knew she was going to be there," said Phyllis Russell-Smith, president of the St. Louis alumnae chapter of the sorority. "She had such grace and humility."
Freeman was a former national president of the sorority, which will honor her life with a ceremony sometime in the coming months.
St. Louis civil rights attorney Frankie Freeman celebrates her 100th birthday
Frankie Muse Freeman, who turns 100 years old on November 24, was celebrated with a dinner and dance Saturday, Oct. 22, hosted by the St. Louis NAACP at the St. Louis Marriott Grand Hotel. Freeman was the first woman appointed to the U.S. Commission on Civil Rights, and the lead attorney for the landmark case "Davis et al. v. the St. Louis Housing Authority," which resulted in the end of legal racial discrimination in the city's public housing.
In November, hundreds of people gathered to honor Freeman at the dedication of a new statue of her on Kiener Plaza, depicting her walking away from the Old Courthouse.
The statue is symbolic of her leaving after the 1954 landmark case "Davis et. al. v. the St. Louis Housing Authority," which resulted in the end of legal racial discrimination in St. Louis public housing. Freeman was the lead attorney for the case.
Freeman's daughter announced her death late Friday. The longtime lawyer and leader was surrounded by family. The family hopes to have more information after Sunday about planned services.
It's timely that Freeman died so close to Martin Luther King Jr. Day, Buford said.
"During this time, when people are recalling King and civil rights and his legacy," he said, "it couldn't have been a better time for Frankie to move on as a great civil rights leader."
Michele Munz of the Post-Dispatch contributed to this report.