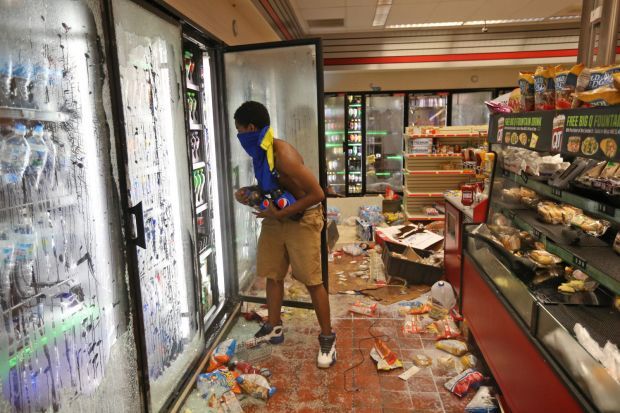 The United Way of Greater St. Louis set up a community resource center at Dellwood Recreational Complex earlier today. Agencies there provided groceries, toiletries, child respite care and counseling for local residents affected by the looting and protesting along West Florissant Avenue.
One family at the center told a harrowing tale of being caught inside the QuikTrip when looting began last Sunday.
Tremayne Belford, 12, and his sister, Cliuana Belford, 17, said they were marching in a peaceful demonstration along West Florissant when Cliuana had to use the bathroom, so they stopped at the QuikTrip.
As they were leaving the store, a throng of people ran toward them. They thought police had released dogs and tear gas so they ran with the people back into the store but once they got inside they realized people were stealing from and trashing the store.
Cliuana said they were cursing and yelling, "Y'all let my friend die."
She pushed her brother behind the counter and tried to hide his eyes. The looters had already beat up a QuikTrip employee and the employees had fled to a storeroom.
Cliuana and her brother ran to a bathroom and tried to lock themselves in but the door wouldn't lock. They waited inside the bathroom about two minutes then fled out the back door. The brother and sister said QT employees were using their clothes to hide their uniforms to get out of the store safely.
The two eventually fled to a friend's house in a nearby apartment complex. Their mom, LaJuana Brown, said living near the protest and looting area was scary.
"It's like a mystery you never know what's going to happen next," she said.
The family was at the resource center picking up groceries and supplies like many other families. They said they feel uncomfortable going out of their home to get basic essentials.
"It's been one horrifying thing then the next," she said.
At the resource center, Tremayne, also got a fake sparkly tattoo of a serpent on his upper arm that he said made him feel strong. He called it a power snake.