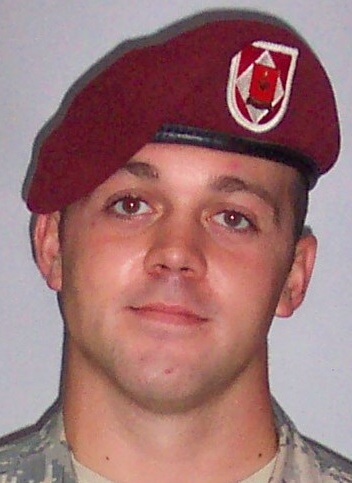 Funeral arrangements have been set for a soldier from Ballwin who was killed in Afghanistan last week.
Visitation for Sgt. Zachary Michael Fisher will be from 2 to 9 p.m. Sunday at Schraeder Funeral Home, 14960 Manchester Road in Ballwin.
The funeral procession will leave from Schraeder at 10:30 a.m. Monday for a graveside service. Family members did not wish to announce where Fisher will be buried. A graveside service will be held after the procession.
Sgt. Fisher, 24, was killed along with three other soldiers when insurgents attacked their vehicle with a bomb July 14, the Department of Defense said. Fisher was on his second tour of duty, having previously served in Iraq.
He graduated from Marquette High School but was a bit unfocused until joining the Army Reserves, his stepfather, Jim Jacobs, said. Fisher soon decided he wanted to join the active duty military.
"After his mother and I nearly collapsed, we said, 'OK, give us two adult reasons why you want to go,'" Jacobs recalled. "Basically all he had to supply me with was one. He said 'I need the discipline of the Army to be the type of person that I want to be.'"
Fisher met his wife of two years, Jessica Fisher, just before shipping out to Iraq for nine months. He was home for a time, then headed out to Afghanistan, Jacobs said. Jessica Fisher lives in Hazelwood.
"He was very committed to his life in the Army," he said. "He wanted to come home to his wife and have a life afterwards, but he was just as committed to what he did in the army as he was to that life."
Jacobs said his stepson's death is the worst thing he's ever gone through.
"When he went to Iraq, my wife and I both were glued to the TV trying to get every bit of information we possibly could," he said. "When he went to Afghanistan, I felt like I let my guard down. ... Then when we got the news on Wednesday, I thought maybe I should have kept my guard up."
Jacobs and his wife, Susan Jacobs, flew to Dover, Del., last week to be there when their son's body returned from Afghanistan, along with those of his three compatriots who died in the same attack.
"Up until the point when we pulled up to the military transport at four in the morning, I could say this isn't real, it's a nightmare, I'm going to wake up," Jacobs said. "When you're faced with four caskets, it's kind of hard to say that."
Jacobs said his stepson died doing his job: clearing the way for other soldiers.
"He would actually go out and search for IEDs and try to disarm them so that soldiers that came behind him had a clear path," Jacobs said. "He couldn't discuss it at length, what he did, but I know how good he was at his job and how much he loved it."
Fisher's family last saw him in May, when he was able to come home on leave for his grandfather's funeral.
"His mother said, 'Zach, I wish you didn't have to go back," Jacobs recalled. "He said, 'Mom, I have to go back. My guys are waiting for me."
In addition to his wife, mother and stepfather, Sgt. Fisher is survived by his father, Robert Fisher, and stepmother, Alicia, of Alton; three brothers, Andrew of O'Fallon, Mo., Clayton of Ballwin and Alex of Alton; and two sisters, Emily of Manchester and Zoe of Alton.