UPDATED at 6 p.m. Saturday with additional details.
ST. LOUIS — A 12-year-old girl was killed Saturday when she was swept away by floodwater following a powerful storm that caused broad damage in the St. Louis region.
The storm knocked down trees and utility lines, cut power to thousands of people and had crews scrambling to remove debris from yards and roads.
The girl was in a car traveling east on Interstate 70 near St. Louis Lambert International Airport about 1:30 a.m. Saturday, according to Missouri Highway Patrol Cpl. Juston Wheetley. The car was caught in a current when the driver attempted to make a U-turn and navigate Airflight Drive.
The car was swept into a large concrete storm drain, Wheetley said. Two children and the woman driving the car were able to exit safely, he said. But the 12-year-old was swept into the storm drain as she attempted to get out of the car.
The child disappeared just to the south of the airport, and her body was found hours later in Coldwater Creek near McDonnell Boulevard, to the north of the airport.
She was identified by Wheetley as Alyeya Carter, although several social media posts by people who appeared to be family and friends referred to her as Aaleya. She lived with her family in Black Jack.
It wasn't clear if the other three in the car were hurt, he said.
Several other vehicles attempted to drive through the same floodwater and were stalled, Wheetley said.
Steeple collapses
St. Louis fire officials, meanwhile, reported that the steeple at Centenary United Methodist Church collapsed. The church is downtown near the intersection of Pine Street and North 15th Street. Debris fell onto the streets and parking lots below. No injuries were reported.
Pastor Kathleen Wilder, 61, said she noticed as she drove into the city from her home that she couldn't see the cross atop the steeple off in the distance as she normally could most mornings. She then discovered why.
"It really was a part of the skyline," Wilder said. "As I was driving in, I noticed it was gone, and I lost my breath."
She wasn't sure how much repairs will cost but said it will be expensive. The portion of the church damaged in the storm was built in 1869, she said.
The church's caretaker, Gregory Allen, 63, was asleep when the damage occurred, he said. He awoke to firefighters knocking on his bedroom door around 1 a.m.
"When I heard the firefighters banging on my door, I thought I was dreaming," Allen said.
Widespread damage
Many people woke Saturday to fallen trees and limbs that damaged homes and cars, and blocked roadways across the region.
Officials in Clayton issued an advisory telling people to use caution when traveling in the city because of the debris that had fallen onto roads.
The Tower Grove farmers market in St. Louis was canceled because of what officials said was "extensive" damage to the park.
A car was crushed by a tree in the Southwest Garden neighborhood of St. Louis, and elsewhere in the neighborhood, Dr. Heidi Sandige came home after working overnight to find a large tree had toppled over in her yard.
"This was a beautiful tree. Probably the oldest tree in the neighborhood except for the Botanical Garden," she said. "It was a draw for the property."
Other areas to the west also appeared to be hard hit. A large limb fell on preschool equipment at Kirkwood United Methodist Church in Kirkwood, and crews in that city were busy much of the day clearing trees and limbs from roads.
National Weather Service meteorologist Jared Maples said roughly 1 to 2 inches of rain fell late Friday and early Saturday in most places in the metro area. Some places saw more, with an additional 1 to 2 inches falling through the day Saturday in some spots.
A flash flood watch was in place through Sunday morning. Maples said the likeliest chance of flooding was south of I-70.
Gusts early Saturday reached up to 70 mph, according to Kevin Anders, vice president of operations at Ameren Missouri.
St. Louis and St. Louis County were the areas most affected, with Maryland Heights, Overland and Creve Coeur among the places receiving particularly extensive damage.
Ameren Missouri reported that at the height of the outage there were more than 60,000 customers statewide without power. The utility said power to some customers may not be restored for 48 hours because of the extent of the damage and a forecast with a chance of more thunderstorms through the weekend.
Electrical supply from Ameren's energy centers was not an issue, Anders said. He knew of at least five downed power poles and said fixing power line infrastructure was the big task for crews Saturday.
Ameren had 300 people working and called in additional workers from neighboring utilities to speed the process, he said.
Photos: Strong storm roars through St. Louis, causing widespread damage and one death
Steeple lost at Centenary Church of St. Louis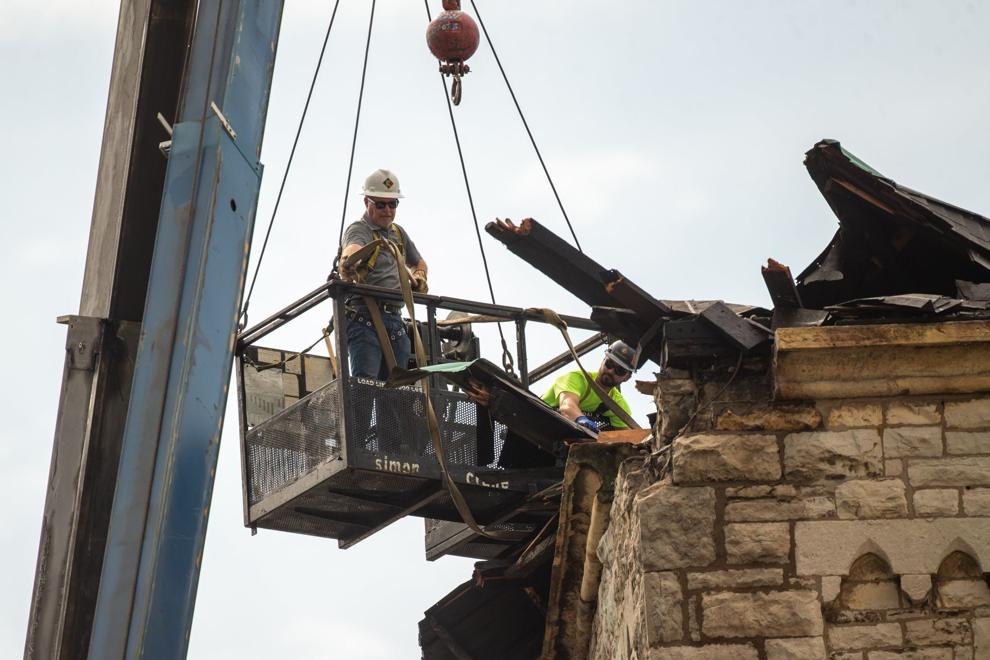 Steeple lost at Centenary Church of St. Louis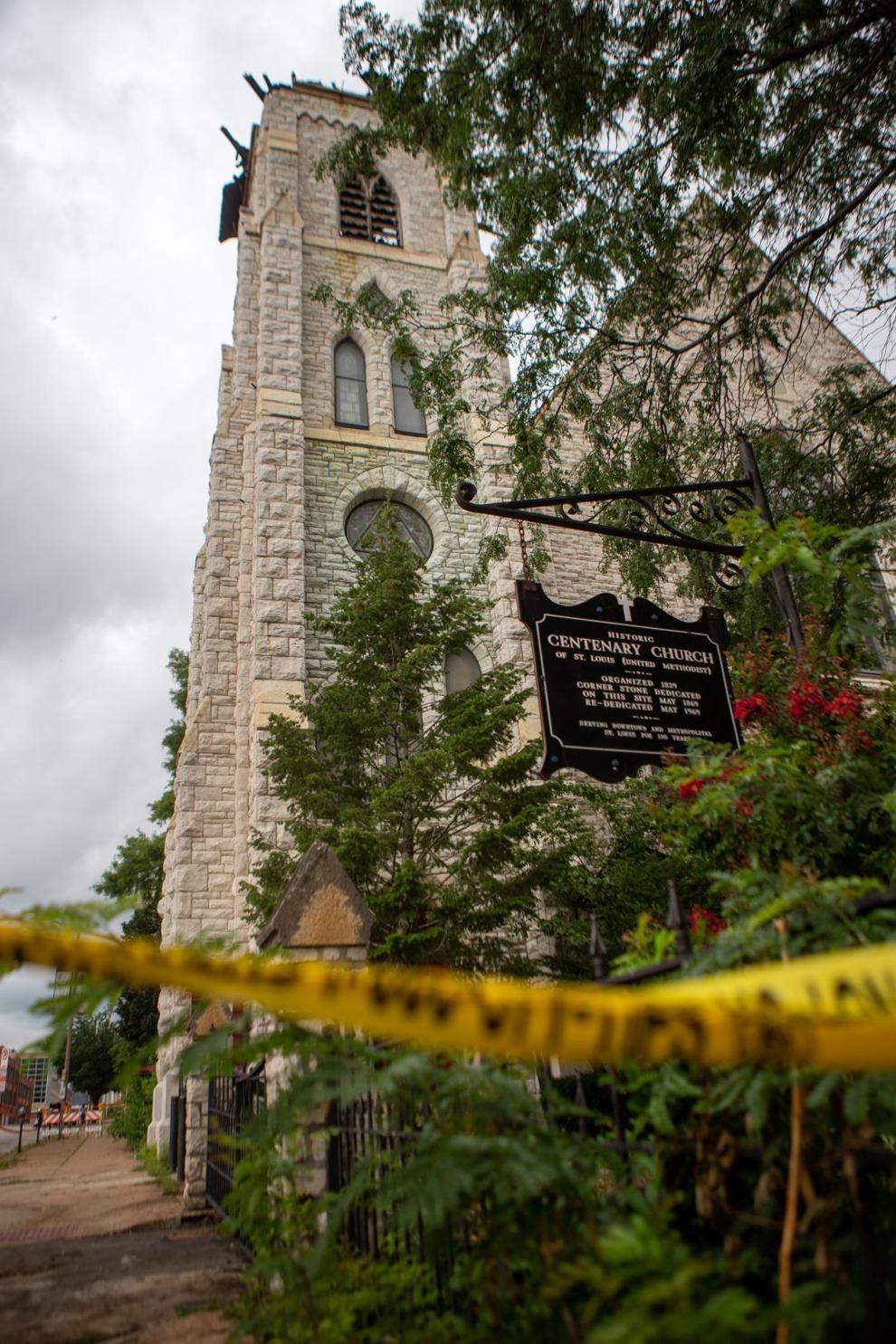 Storms cause extensive damage across St. Louis overnight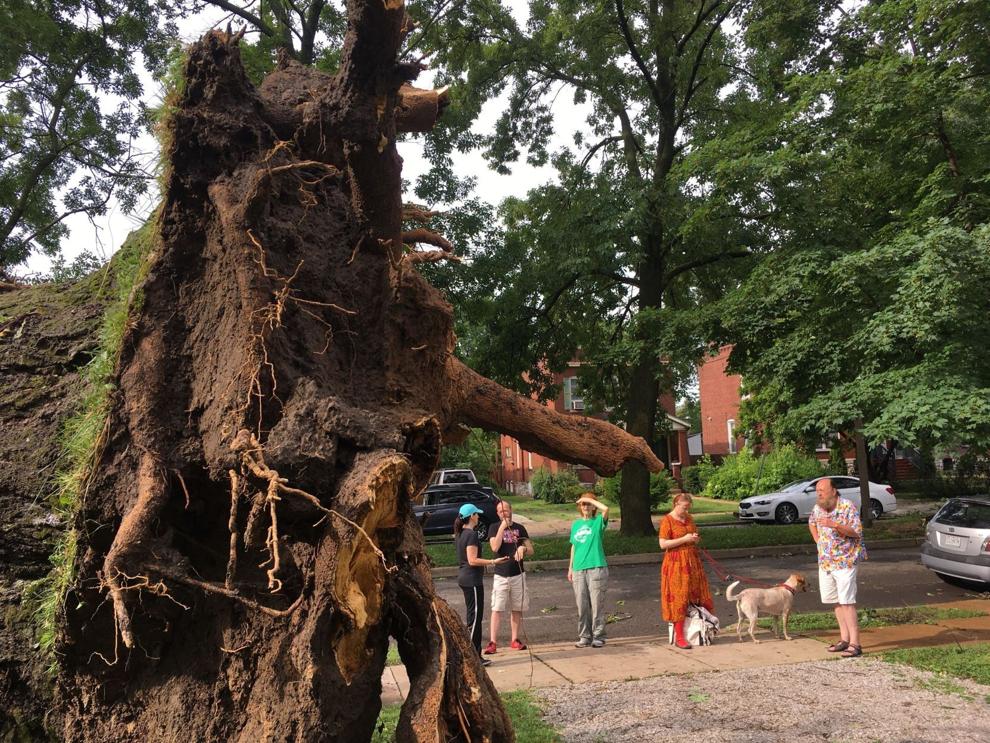 Storms cause extensive damage in St. Louis overnight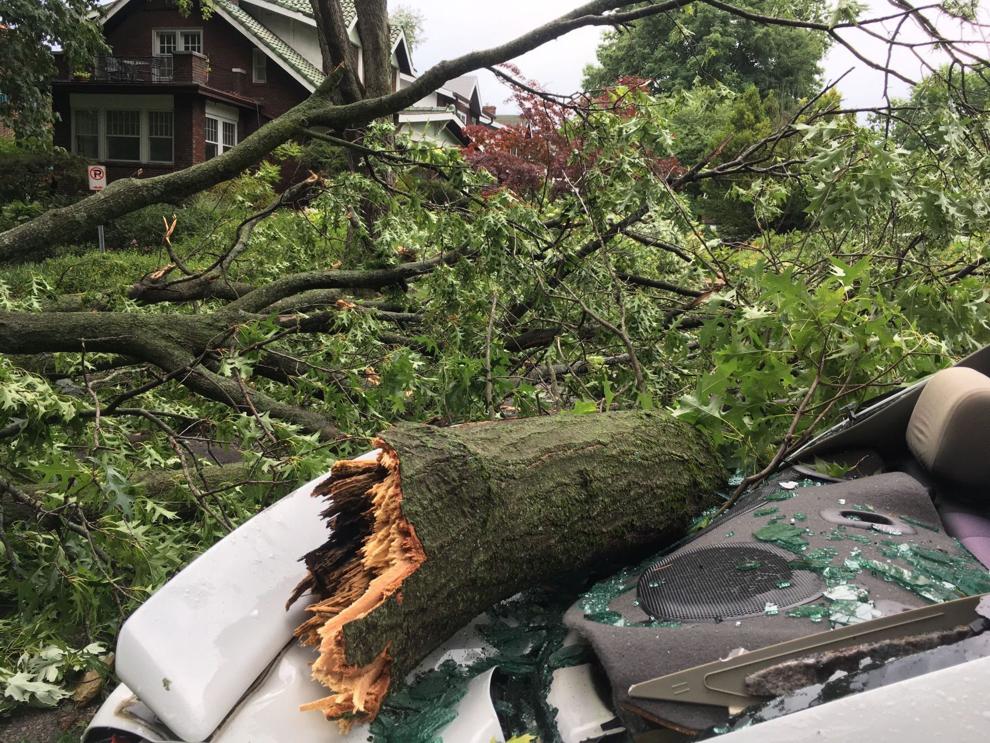 Storms cause extensive damage overnight in St. Louis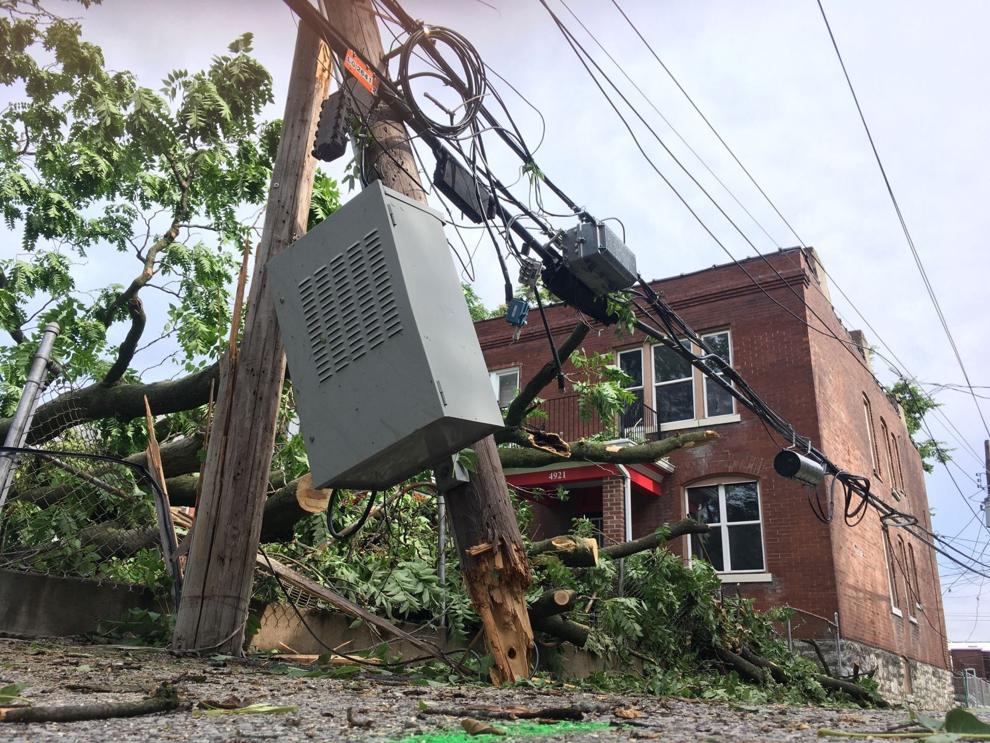 Trees down across the region following overnight storms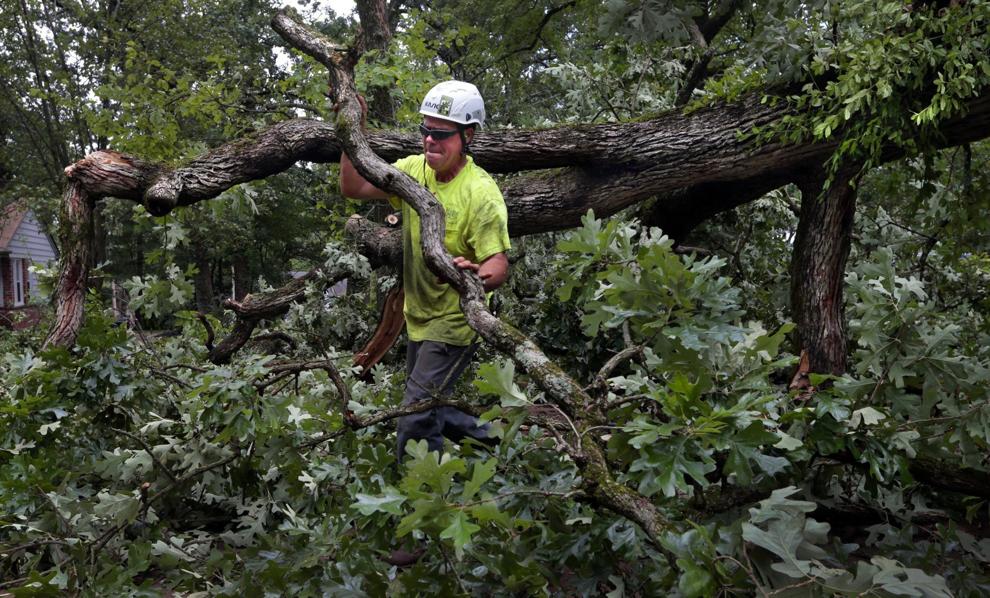 Search for missing 12-year-old girl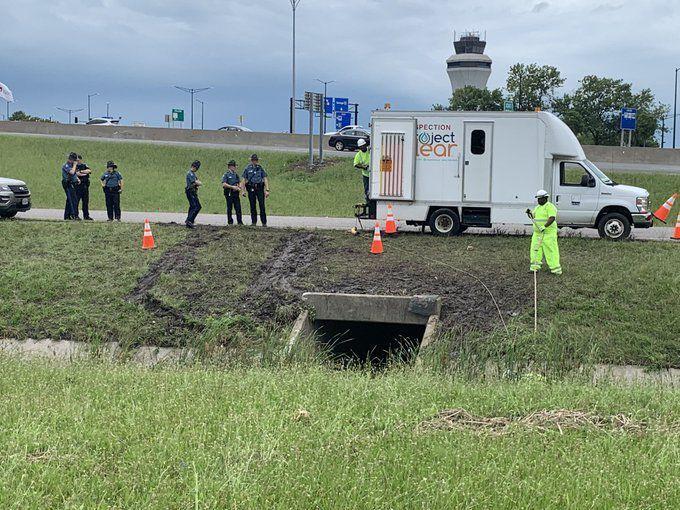 Storm clean up in Tower Grove
Storm clean up in Kirkwood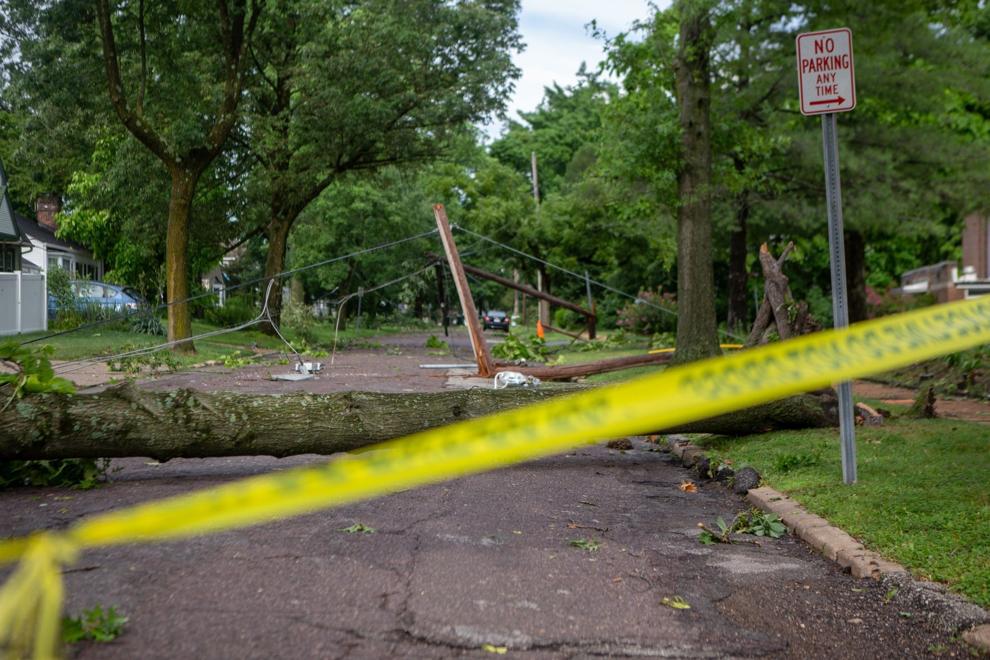 Storm clean up in Kirkwood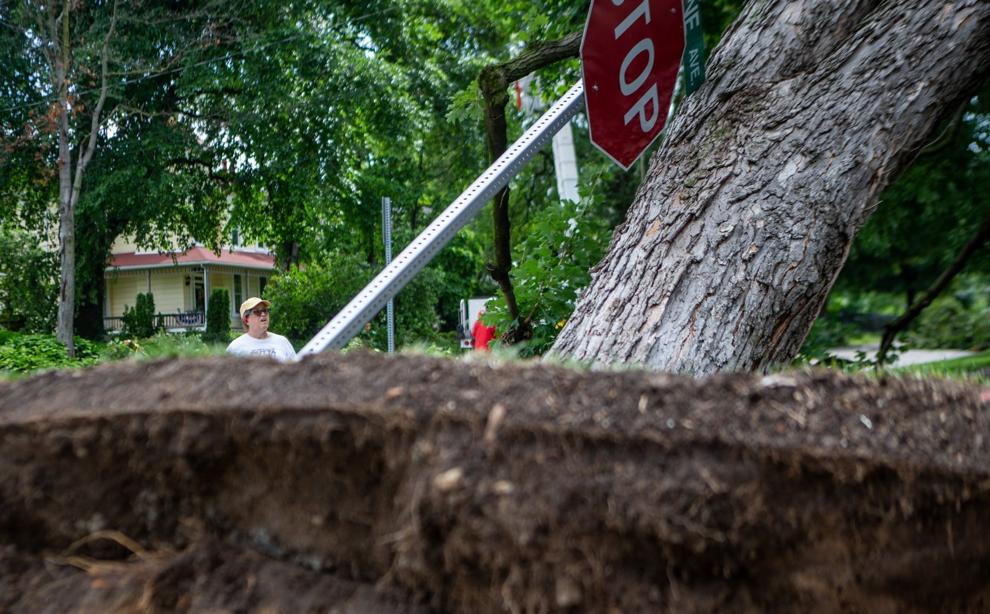 Storm damage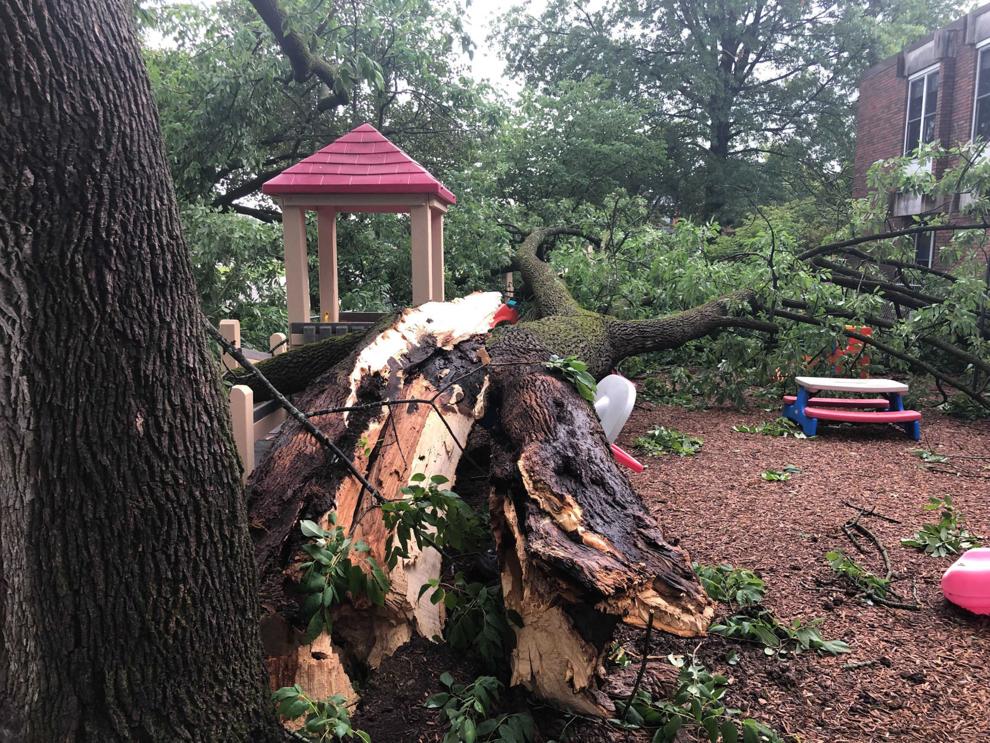 Storm clean up in Webster Groves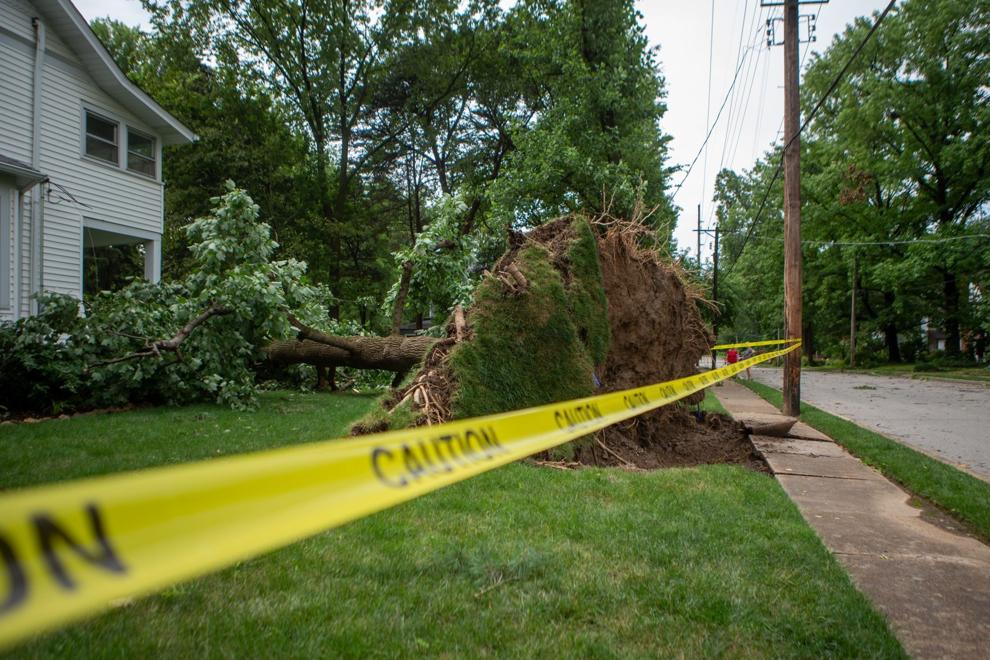 Storm clean up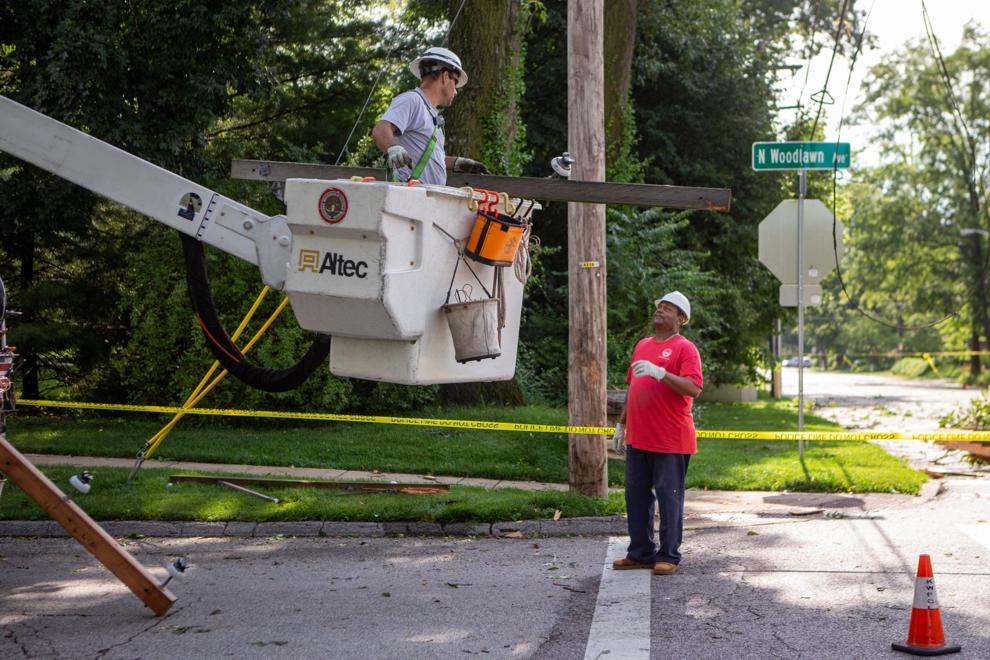 Storm clean up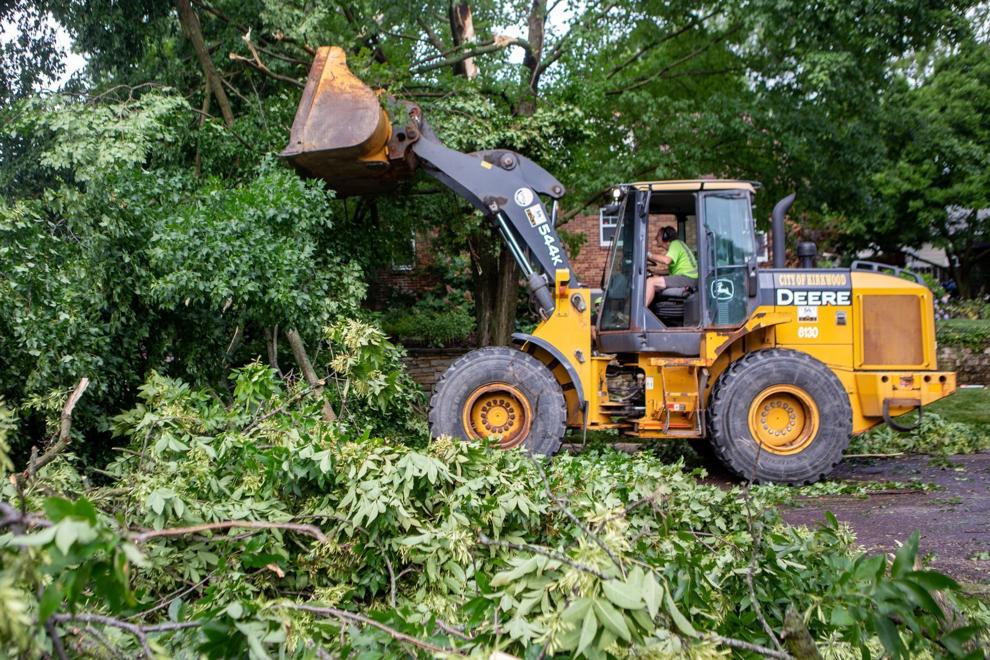 Storm clean up