ST. LOUIS — The oldest of three water towers in the city got a face-lift Saturday — a scrubbing and a coat of fresh white paint — as part of an ongoing revitalization effort in north St. Louis.
The 154-foot tower stands inside a roundabout at the intersection of Grand Avenue and 20th Street in the College Hill neighborhood. Built in 1871, the Corinthian column has weathered decades of neglect, leaving a mottled brick base exposed beneath peeling scraps of paint.
"I grew up under the water tower. This was my first monument," said James Clark, with the Urban League of Metropolitan St. Louis. "This was like a member of our family."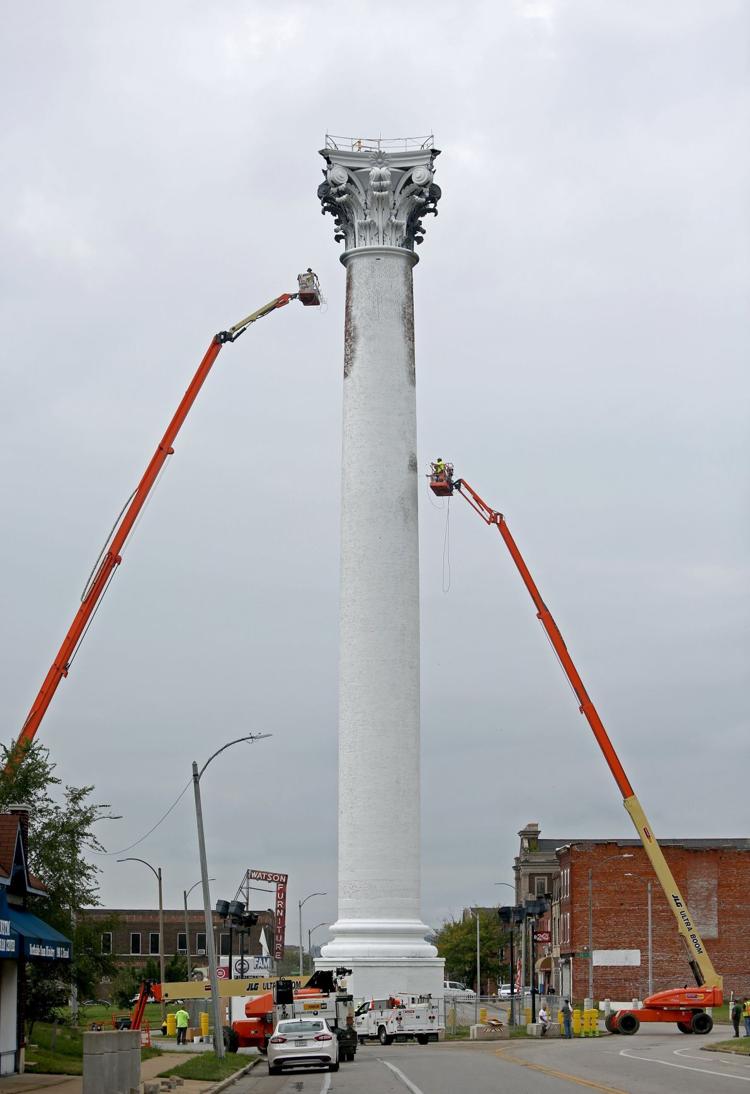 The Urban League sponsored the Operation Clean Sweep event, which stretched more than 2 miles from the decommissioned water tower to St. Alphonsus "Rock" Catholic Church in Grand Center. The collaboration between nonprofits, corporations, volunteers and the city aims to revitalize north St. Louis neighborhoods by demolishing vacant buildings, hauling away trash and clearing overgrowth.
Clean Sweep, which kicked off in 2017, typically holds four or five cleanups each summer and fall but was delayed this year because of the pandemic. Its second event is scheduled for Oct. 17 along Martin Luther King Drive.
On Saturday, four orange boom lifts rivaled the height of the Grand Avenue Water Tower, which is on the National Register of Historic Places. Workers from Fred Weber Inc. sprayed thick lines of white paint, back and forth, until each swath knitted together. The construction supply company donated labor and materials, including more than 450 gallons of paint.
"I never thought I'd paint a giant water tower," said CEO Doug Weible.
He wielded a lawn trimmer, knocking debris off the base, while crew members overhead primed the cast-iron crown to keep rust at bay. By noon, five hours in, the paint job was half complete. Two dozen cement bollards encircling the tower got a coat of canary yellow paint.
"Just imagine what it's going to look like tonight, lit up," said Clark, who grew up in nearby Jeff-Vander-Lou.
The spotlights around the tower have gone dark in recent years, he said. It's been at least four decades since the landmark's last makeover.
"There is an emotional tie to that monument," Clark said. "It's really going to send a message that we're moving in the right direction."
'More muscle'
At the opposite end of Clean Sweep's radius, about a hundred teenagers gathered at Rock Church to pick up litter along Grand Boulevard. Most were athletes from Cardinal Ritter College Prep and John Burroughs School, participating in a day of service.
"This is the community I live in," said De'Lesia Scott, 17, who plays basketball and volleyball at Cardinal Ritter. "When you look at it, you don't see much, but it's actually home to many people."
The Rev. Steve Benden, pastor at Rock Church, had been thinking about hosting a smaller event when he decided to join with Clean Sweep.
"I wanted some more muscle to this," he said.
Also on the itinerary was a sprucing up of Peace Park near the water tower, the demolition of about seven abandoned buildings, tree and brush removal, mowing and planting.
Emma Pou arrived with her friend Zoe Coffman, gloved, masked and lugging trash bags. The college students attend Rock Church and were happy to be working outdoors, even under misty gray skies.
"It's nice to be part of something bigger than yourself," said Pou.
Be the first to know
Get local news delivered to your inbox!