SUNSET HILLS • Lyle Bouck Jr. grew up tough in south St. Louis County. So tough that he joined the National Guard at 14 and stayed on as an instructor at the famed Army infantry school in Fort Benning, Ga.
He became one of the youngest commissioned officers to serve in World War II. Lots of close calls at the Battle of the Bulge and as a prisoner of war, it seemed nothing could stop him.
"I am alive," Bouck, the recipient of the Distinguished Service Cross, said the other day from his home here.
But the old war hero knows mortality nips at his heels. About five years ago, he progressively started to stumble, until he once spent the whole night on the floor, unable to get up. Eventually he needed 24-hour companion care.
Today, at 92, his status is DNR, do not resuscitate. A pacemaker keeps his heart in rhythm. He's had at least one stroke. A hand is twisted. He's hobbled by Parkinson's disease and needs assistance bathing, eating, getting in and out of a wheelchair and on and off the toilet.
All this, though, plays out in the comfort of his own space and rules.
"We are bound and determined that he is not going to end up in a nursing home," said Diane Bouck Simcik, 66, of Colorado, one of Bouck's four surviving children. "After what he went through in prison camp, it would be torture to him."
It has taken more than determination to keep Bouck in his home.
When faced with the steep costs and daunting complexities of elder care, Bouck's family rolled the dice. Their gamble paid off, with an arrangement that has paired their father with a most unlikely caregiver.
The vast majority of the elderly are navigating similar waters and hoping for the best. Just 5 percent of people 65 and older reside in nursing homes. The rest remain in private residences, cobbling together in-home assistance when needed.
More often than not, that long-term care is offered free from family members. In fact, 78 percent of elders benefit from such services, at a value estimated in a report by the National Alliance for Caregiving and Evercare of $375 billion a year. That's nearly twice as much as the $158 billion spent on in-home and nursing home services.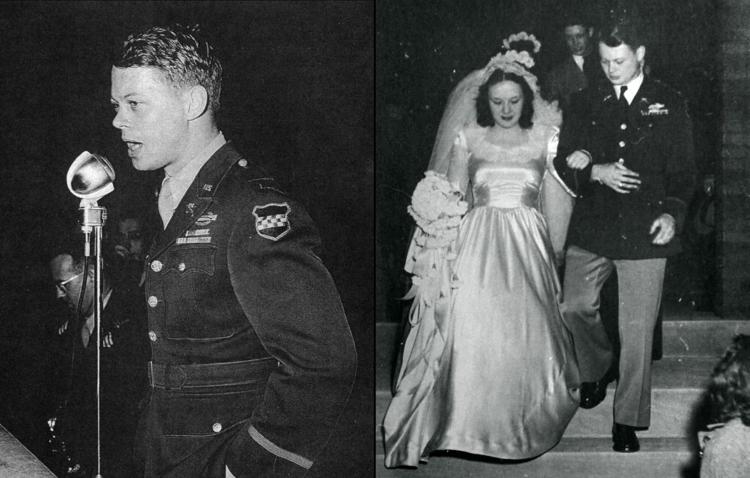 Bouck, a widower, is from the other 22 percent. The former chiropractor pays for in-home care, though his family is also involved. They went through a few senior service agencies before finally settling on a hire of their own to take the helm: a 29-year-old former landscaper, without any companion care experience, named Nick Miller.
Miller looks like the men Bouck served with decades ago. The wiry former wrestling standout moves Bouck around with ease. He gained Bouck's trust by treating him with dignity in personal situations.
In turn, Miller amassed the confidence to launch his own small business. As an independent provider, his rates are more affordable than large agencies that provide 24-hour in-home care, which can charge about $20 an hour or $14,000 a month.
Those agencies tend to have established track records, more thorough background checks and benefits for employees. But there's also high turnover among low-paid aides, which can be stressful for seniors who don't like surprise changes.
Finding the right fit among the various care options is agonizing, experts say.
"Thank God my parents had eight kids; it took all of us to take care of them," said Jamie Opsal, of the regional awareness organization Seniors Count. "This family, I give them credit, they are trying to think outside of the box."
She praises the family for its due diligence to find care for their father, yet cautioned others from using an unconventional provider.
"The chances of finding a Nick," Opsal said, "that's rare."
Seeking help
Nick Miller grew up in a Baptist household in De Soto where he was youngest of four children. His father worked on the railroad; his mother was a secretary.
His siblings followed their father's helping hand as a coach and played competitive basketball in high school. A sister was valedictorian of her class. They did well in college.
Miller followed a different path.
At the last minute, he decided he wanted to wrestle. He took major beatings his first year but progressively improved. He made it to state competition twice before he graduated.
Community college didn't last long. He tried the Navy, only to wash out in training when he became very ill. He struggled with finances. He had a son, but the relationship with the child's mother fell apart.
Miller succeeded at officiating high school sports and as a landscaper, where he made a name for himself by being reliable. Sometimes he'd do extra chores for customers, like a helpful grandchild who would fetch a prescription here and there.
Then he met Lyle Bouck under unusual circumstances in late 2013.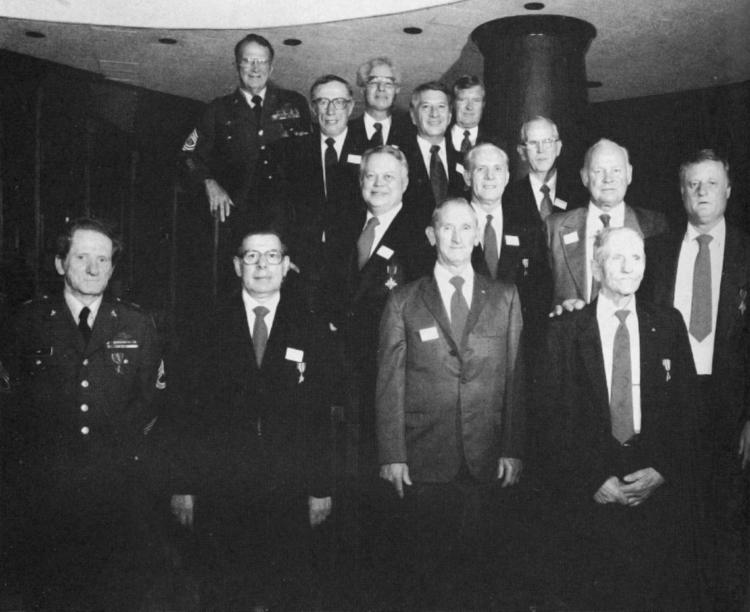 Diane Bouck Simcik knew her family needed more help. There are 168 hours of care in a week to account for, and they were cutting it too close between shifts.
She crafted a job description about needing a strong, able-bodied person to help care for a military veteran, then cast out into the social media stream. Amazed by 60 quick bites, she reeled in.
"Most gave me a résumé," she said. "Nick wrote me this beautiful letter describing himself."
He didn't have any experience; however, he was fascinated by military history. In fact, he said the reference to World War II in the job notice caught his eye.
After a phone interview, he was among four finalists.
Bouck Simcik asked each to bring a copy of their driver's license to coffee at a public place so she could launch a background check through the state. As they left the parking lot, she jotted down their license plate numbers.
"I didn't make it obvious," she said.
The meeting with Miller only sealed her interest. He was young, strong, polite and had the quiet demeanor her father prefers.
It would be a new mission for Miller. He would need to be engrossed in a large family going through the emotions of watching a loved one wither away and have the intimate job of caring for the dying man.
"He didn't know what he was getting himself into," Diane's sibling, Dwight Bouck, a pilot based in Chicago, said with a smile.

Honking the horn
The Bouck family ended up hiring two people from the internet search — Miller and a woman in her 50s who had experience. She showed up late a few times and didn't last more than a few weeks.
Miller started out part time and learned pointers from a few hospice workers and other trained caregivers on how to best take care of his hygiene. After a year or so, he took over the entire in-home care program and founded his own firm, Miller Senior Services.
"As a society, we are going to have to find better solutions for our seniors," said Miller. "It's a messy situation for a lot of people. Everybody needs something different."
Bouck is his primary patient. He hired three trusted friends to spread out the workload. He still spends at least 80 to 100 hours a week at Bouck's home, if not more.
"He's an angel," said Diane Bouck Simcik. "It's powerful that he's been so taken to this, the dedication he has to my dad."
Bouck hasn't fallen or gotten a bedsore since Miller took over, family said. Miller sleeps right across the hall from him on a foldout mattress, just in case Bouck wakes up in the middle of the night.
Bouck honks a bicycle air horn if he needs something. Miller seems to have the response time of a beagle when it goes off.
Miller prepared room service for a recent breakfast. The wooden tray of food was decked out perfectly with fried eggs, sliced strawberries, peaches, bananas, orange juice, coffee and milk. The fork wasn't clean enough. Miller picked another.
Bouck was in his soft chair, watching news about the recent bombings in Brussels, Belgium, near where he had bravely fought Dec. 16, 1944.
It took Bouck a long time to chew. Sometimes Miller fed him a bite. When he started coughing badly and couldn't wash the food down with a little milk, Miller looked straight into Bouck's eyes. Lift up your head, he told him, and breathe through the nose. Miller did the same to encourage him.
"That better?" he asked after the cough subsided.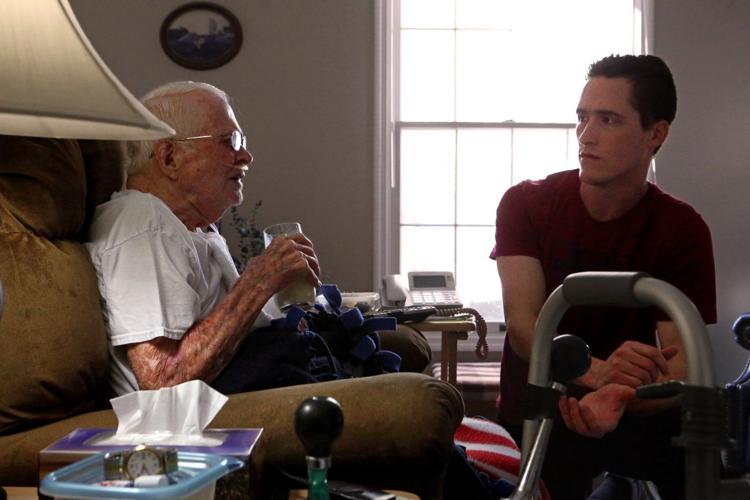 'The Longest Winter'
Most days it's routine caring for Bouck. He's tired of talking about the war, but one time he asked Miller to read a letter from a surviving member of his unit — the 99th Infantry Division's 394th Intelligence and Reconnaissance Platoon.
It wasn't until Gen. Dwight Eisenhower's son, John, interviewed Bouck years later that he realized his grossly outnumbered but strategically positioned I&R Platoon held up a major part of Germany's legendary offensive.
The 2004 book, "The Longest Winter," suggests that the platoon eventually became the most decorated of any that fought in the war. And Bouck had been its leader.
While the Distinguished Service Cross is second only to the Medal of Honor in distinction for members of the Army, Bouck was a good sport when Sunset Hills officials honored him last month with a proclamation naming March 22 "Lyle Bouck Jr. Day."
Miller had him fed and dressed in time for a small ceremony held in Bouck's living room. All of his children were on hand, as well as two D-Day survivors from the area.
Charles Ryan, 93, of the 2nd Ranger Battalion, still drives on his own. He and his 88-year-old wife live at home thanks to their relatively good health. He wants to stay there, like Bouck, as long as possible.
"To be quite blunt," Ryan said of nursing homes, they are "the kiss of death."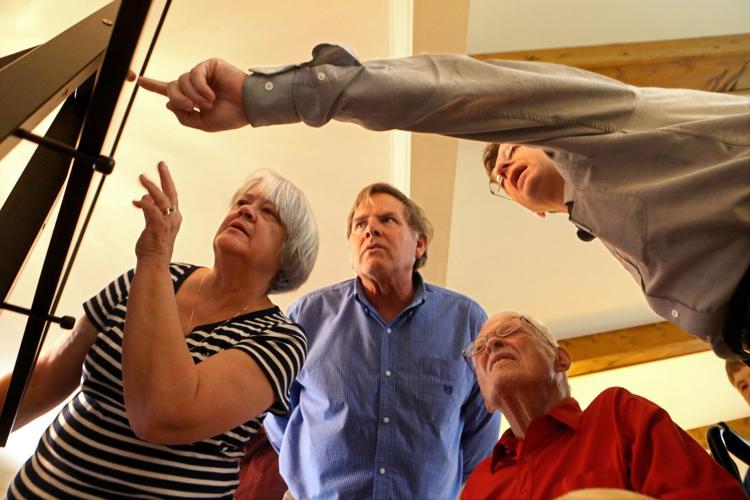 Bouck didn't say much at the ceremony. He ended up parked in front of a board of photographs taken of him when he was young, strong and could speak into a microphone about the war.
The family called on Miller to help navigate his wheelchair over the carpet to the center of the room.
The mayor read the proclamation. Scores of photographs followed. Miller was right there smiling next to Bouck for many of them until, following a few toasts of apple liqueur, he knew it was time to exit.
Miller quietly wheeled Bouck to his room, where a humidifier was already pushing a soft mist into the air. A sign on the wall from when his wife was still alive read: "Always kiss me goodnight."
Miller stripped Bouck down and laid him out on the well-made bed while making brief conversation about the ceremony.
"There's plenty of time to rest," Miller assured him.
Air horn within reach, Bouck fell asleep — another awards ceremony, another afternoon alive behind him.