ST. LOUIS • Jordan Westerberg was working out at a downtown gym with his fiancée Thursday morning as a sinkhole swallowed his Toyota Camry.
Westerberg had scored a prime parking spot on Sixth Street about 6:15 a.m. — no need to feed the meter, he thought, because it was before hours. He parallel parked between two cars and went for a quick workout.
When he came outside of the YMCA, before 7 a.m., he saw street workers and others gathered near where he had parked. He didn't see his white sedan at first. He figured it had been towed for street work.
A gaping hole, about 20 feet deep and 8 to 10 feet across, took up the entire southbound lane of North Sixth Street, between Locust and Olive streets. Gawkers could only catch a glimpse of the car if they stood near the sinkhole and peered in.
"It's pretty crazy," said Westerberg, 25, who lives in a loft downtown. "We could've been in the car. It's a compact car. It's not like it's heavy."
Westerberg spoke with a St. Louis water division employee, dispatched to get his account of the incident.
"I'm sorry for your loss," a worker said sheepishly, then jotted down Westerberg's story.
The worker's boss, Vincent Foggie, didn't have many answers about why the ground collapsed.
Sure, there was an 8-inch water main spurting water into the hole. But what Foggie pointed out was amazing: The water main may not have caused the collapse, but instead was a casualty of it when the car caved in.
He said the hole obviously was missing mounds of dirt that normally support the layer of concrete, topped by asphalt, to make the roadway.
"We don't know what happened," Foggie told a reporter. "It may not have been a break in the main. The street may have collapsed on the water main. There could be a big void under there.
"I have no idea where the dirt went," he added.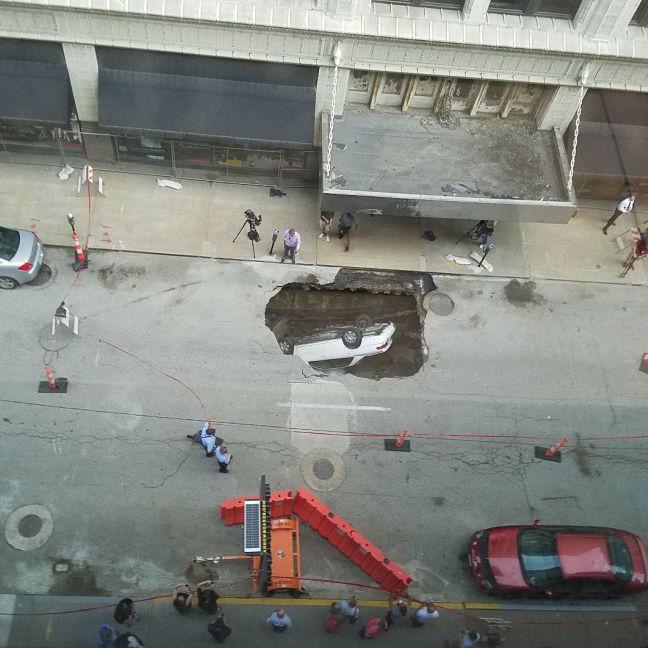 Foggie, water distribution superintendent for the St. Louis Water Division, said other utilities will have to take stock, too.
Sewer and electric lines run underground there as well.
Workers had marked in orange spray paint a section of Sixth Street that ran about 50 feet long. That mirrors the section below the street that is missing soil, Foggie said.
As he stood on Sixth, Foggie pointed to the street below his feet. "There can be voids, caves anywhere," Foggie said. "Remember, soil is not stable."
Foggie said a void big enough to swallow a car is a rarity in the city, and he was thankful no one was hurt.
He realizes, he said, that Thursday's accident could have taken a tragic turn, if the street had been busier with morning traffic, or if Westerberg had been a few minutes earlier returning to his car.
Westerberg, meanwhile, was trying to remain optimistic that the city, or whoever is at fault, would fix the situation so he is reimbursed for damages.
Nearby building flooded
The basement of the Railway Exchange Building was flooded Thursday from the water main break. Amos Harris, a developer for the building, said water was about 2 to 3 feet deep in a building that is 70,000 square feet.
Harris thinks the water likely started leaking into the Railway Exchange Building Wednesday, but St. Louis Fire Chief Dennis Jenkerson said he suspects the water started leaking into the building a couple of days, perhaps even a week, ago.
He said the vacant building had no tenants to notice a drop in water pressure.
The same basement flooded in November. Harris said that was after an Ameren contractor "nicked" a water main, though Ameren disputes that its workers damaged the main.
Harris said that water main break sent an estimated 9 million gallons of water into the basement. Water was 6 to 9 feet deep, he said. Harris wondered if the November incident was connected to the sinkhole collapse Thursday.
"Whether they're related or not is an open question so far," he said. "The volume of water from the first break was enormous, and that could have undercut the dirt. There was nothing to hold up the water main."
As for Foggie's question of where the dirt went before Thursday's collapse, Harris might have an answer.
"I know where a lot of the dirt was," Harris said. "It was in our basement," washed there when the water main broke in November. "Which would back up on to Ameren. They caused the first one."
An Ameren spokesman said a contractor for the utility was digging a trench for new conduit in November. "We never hit a water line," he said.
But early on a Sunday, when the workers were gone, a water main suddenly broke, he said. Meanwhile, Ameren said it hasn't worked in the area of the sinkhole collapse for several months.
Stephen J. Runde, director of the St. Louis Street Department, said the water main break in November was on Locust, between Sixth and Seventh streets, or just around the corner from Thursday's sinkhole.
"I can't believe the two are related," he said. "Just coincidental."
'That scares me'
On Thursday, the sidewalk on the east side of Sixth Street was lined with spectators. They took video of the workers on the other side of the caution tape. Some laughed at the spectacle. Others talked about a close call.
"That could've been my car," said DeAndre Williams, who lives in an apartment on that street. "I almost parked there last night. But I found a better spot in front."
Robert Hamilton stopped to soak it all in, and was worried.
"That scares me," he said. "This is serious. This can happen."
Curt Godier, who works at an office building around the corner, was less stressed. He and a co-worker waited outside a coffee shop and talked about sinkholes.
"You hear about it in Florida, so when we get them here, it's like, 'Why?'" Godier said.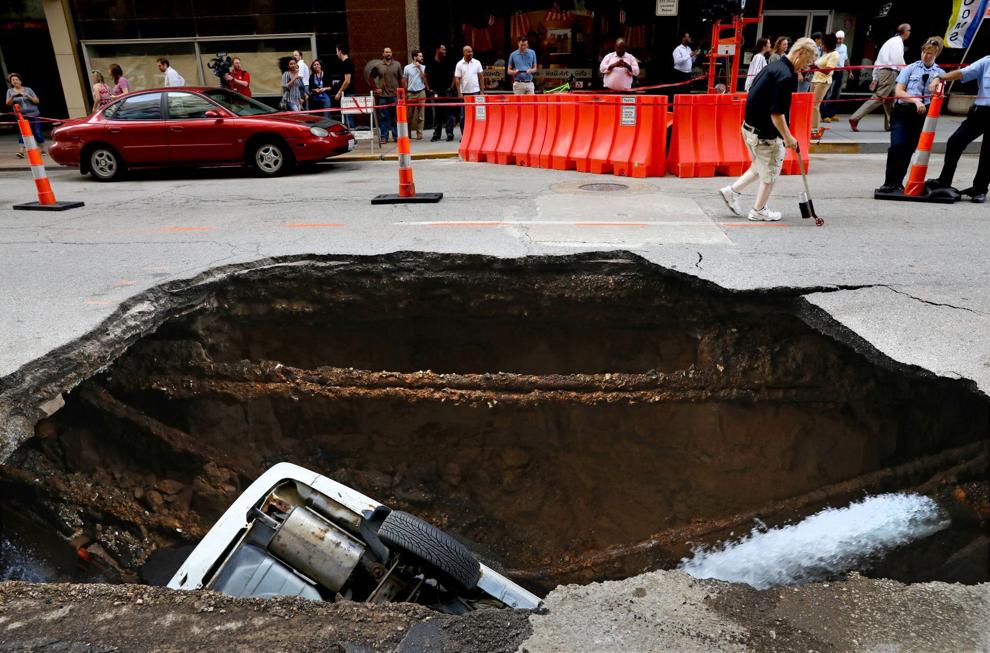 The city's Street Department hears from residents two or three times a week reporting small sinkholes, or at least depressions in the pavement that might be a sinkhole, said Stephen J. Runde, director of the Street Department. Crews sometimes will break a hole to see if there is a big void underneath. Once every couple of weeks, Runde said, they find a small void and will notify the sewer or water companies.
Jenkerson, the fire chief, said the city has sinkholes "every once in a while." In August 2014, for example, a city firetruck was stuck in pavement up to its front axle for about two hours because of a sinkhole near Ninth and Wyoming streets.
"Every once in a while we have these around the city. They happen," Jenkerson said. "We're a big mound city. There used to be caverns and caves everywhere."