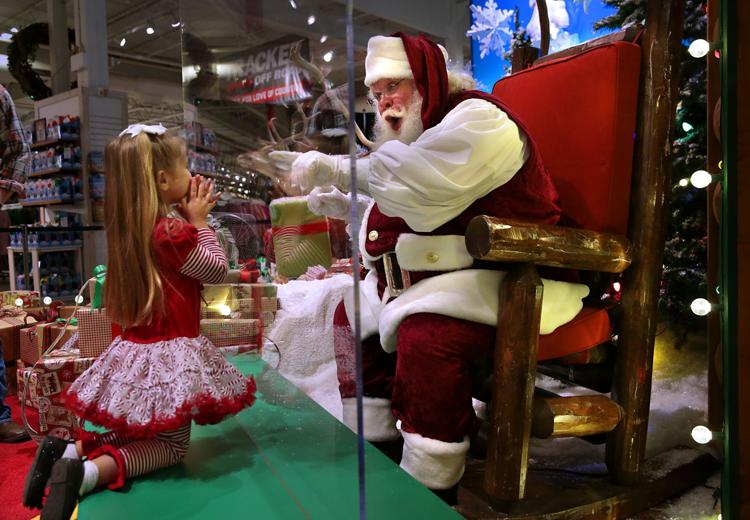 Kids who visit with Santa this Christmas season won't be whispering their wish lists into his ear. They'll likely be shouting their gift requests from afar — sometimes through a clear barrier.
The coronavirus pandemic has quashed the age-old ritual of children sitting on St. Nick's lap, but stores and malls are finding ways to keep the tradition alive, yet distanced. That means Santa may be encased in a snow globe, seen through a computer screen or separated by a "magic Santa shield."
Jason Newland, a Washington University professor of pediatrics who specializes in pediatric infectious diseases, said he appreciates that so many places are taking measures to encourage social distancing.
And while he tries to find a balance in ways for people to maintain traditions, at the risk of sounding like Ebenezer Scrooge, he suggests shunning Santa.
"I think I would just forgo that this year, and I hate to say it," said Newland. "But I think it promotes people congregating."
Parent Lynn Riney is on board. "We'll be skipping the mall this year," said Riney as her 5-year-old daughter played in Tower Grove Park on a recent morning. Riney said she's looking at other options, such as a Santa who can be seen from a car window as they drive past.
In previous years she has taken her daughter to Plaza Frontenac to visit Santa Claus, usually waiting in a long line for their turn.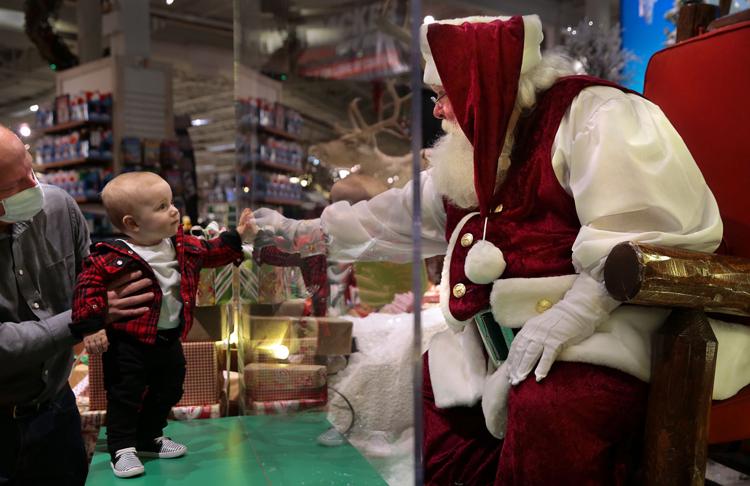 But these days, they don't leave the house much. When the coronavirus pandemic hit this spring, she withdrew her child from preschool.
Malls and stores are working to avoid lines, including by requiring reservations, and are putting other measures in place for separation.
At Plaza Frontenac, a decorated table will separate Santa from kids — masks will be required, even for photos, according to a mall spokeswoman.
Families can board Santa's outdoor, socially distant sleigh at the Magic House in Kirkwood. Santa will be on one side of a clear, acrylic panel in the sleigh and kids may share their letters with him through a mail slot.
At Eckert's Country Store and Farms, Santa will be inside a giant, clear globe. Kids will sit in front of it for photos.
https://www.facebook.com/eckertfarms/posts/10159165663320712
"We weren't sure if it would work at first," said Amanda Morgan, marketing director for Eckert's. The farm bought the globe on Amazon and it's roomy enough that a 4-foot by 6-foot rug fits on the floor.
Parents appear to be keen on the globe. Tickets, which are required for a picture with the spherical Santa, sold out within 24 hours of being available, prompting Eckert's to add weeknight times so kids can come after school, she said.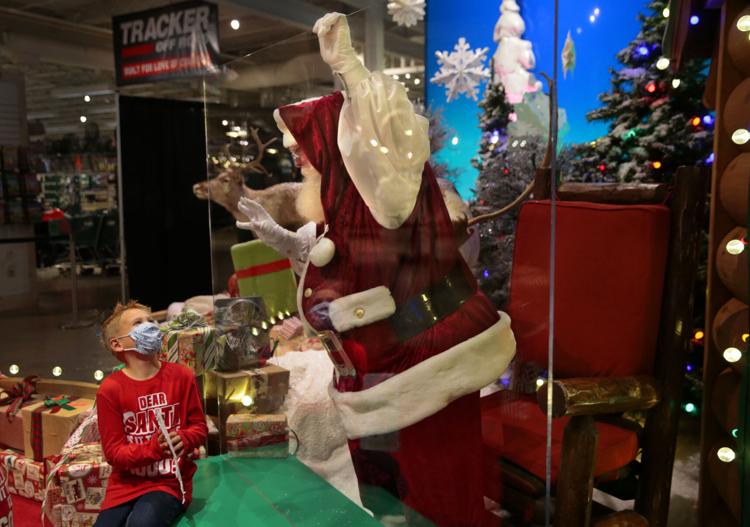 Eckert's canceled its annual breakfast with Santa. And while he'll be at the St. Louis Zoo's "Dinner with Santa" events in the days just before Christmas, no pictures will be allowed with him. Instead, a masked Santa will make his way around the room and visit each table.
Pictures with Santa aren't happening at Santa's Magical Kingdom at Yogi Bear's Jellystone Park Resort in Eureka. Instead, children will get to see Santa when driving through the holiday light show by car, train or wagon, the park said. They can bring their letters "to drop off for Santa in his special mailbox at the North Pole."
Bass Pro Shops is touting its contactless-Claus visits with a "magic Santa shield," a glare-free, clear protective barrier between Santa and families that is cleaned and sanitized between each visit, as parents seek ways to for their kids to visit Santa, but not too closely.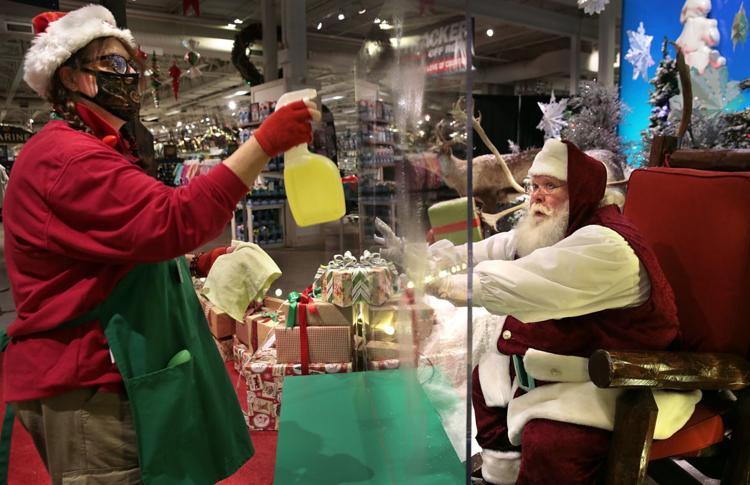 "Santa could be in the vicinity," said Sharon Hicks as she shopped recently at the St. Louis Galleria with her 9-month-old son, who was one of the few kids were at the mall that afternoon. She doesn't want her baby too close to the bearded man.
Santa experiences are going online for just that reason.
In Belleville, kids can drop off letters to Santa at a North Pole mailbox in the city's public square and tune in to live "Santacasts" on Facebook to see if their letter will be read by the jolly old elf.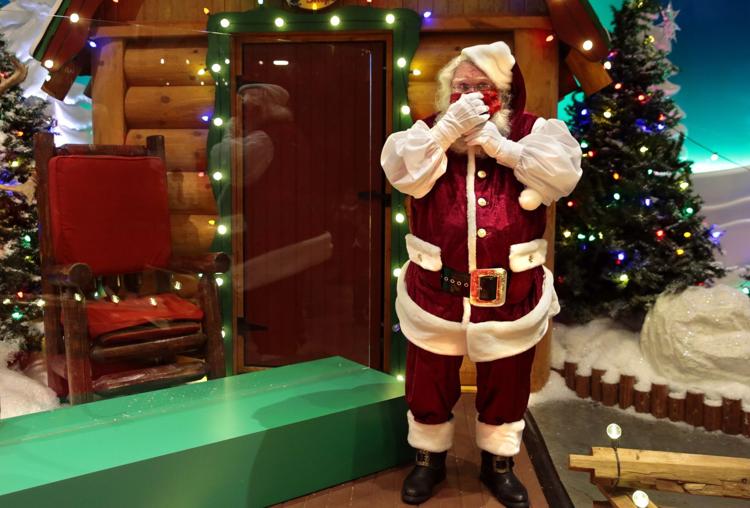 And a new St. Louis company, Kringle Mingle, is offering a variety of ways to see Santa virtually. Options include festive photo uploads, receiving pre-recorded messages from Santa and interactive video calls with him. Prices range from $2.99 to $64.99.
"It's a pain anyway," said Caroline Connelly, the company's co-owner, of going to see Santa. "Throw in social distancing and masks, and it's another challenge. This allows people to be flexible."