CHESTERFIELD • Rare was the day that Edith Marie Thompson was apart from the land her family settled 39 years before she entered the world in 1918.
It was on the property once known by some as "The Hill" and others as "Little Africa," that Thompson and her husband, Robert, began a family that stretching into the next century grew from seven children to 21 grandchildren, 58 great-grandchildren and 47 great-great-grandchildren.
And it was there, surrounded by loved ones and friends, that Marie Thompson drew her final breath on Aug. 10.
By the time of her death at age 96, the corner of Chesterfield where Thompson lived and died had long since rechristened itself "Westland Acres," an homage to the freed slave — Thompson's great-great grandfather — who in 1879 bought 150 acres of what has become prime real estate.
Legend has it that William West paid $5 an acre for the land that has housed his extended family and scores of descendants.
"A freed slave had a vision of what he wanted for his family, followed through with it and the legacy has lasted 139 years," said Daniel Gonzalez, historian with the St. Louis County Parks Department. "It's an incredible story."
The story may be drawing to an end.
As recently as the 1980s more than 50 families resided along narrow, hilly, winding Church Road.
The country lane is the only way in and out of Westland Acres. It ends, symbolically, at the Union Baptist Church and cemetery, a graveyard with headstones that provide a timeline of the West lineage.
Today, 10 families remain. The death of Marie Thompson reduced the total population to 28.
Almost all are older adults struggling to pay property taxes inflated by the construction of homes with prices in the high-six figures (or more), that now surround their outpost.
"I paid $5,000 last year and I had to save like crazy," said resident Doris Frazier.
The aging population combined with a sharp increase in the assessed value of land in Chesterfield and elsewhere in the county this year has escalated concern that a culturally significant part of local history may soon be consumed by cul-de-sacs and McMansions.
"There's going to be a time when the younger generation won't be able to keep this up," says Kristie Frazier Murdock, a child of Westland Acres now residing in Kirkwood.
Murdock, who is Doris Frazier's daughter, knows that Westland Acres will almost certainly fall into the hands of developers.
And when it occurs she has two requests:
That the new property owners acknowledge and honor the heritage of the land.
And that West's descendants are given a say in the development of the 133 acres that remain from his original purchase.
"We're not opposed to development," said Murdock. "We just want to preserve the historic significance of the property."
Gonzalez believes it is imperative to safeguard the history of Westland Acres.
"The history of the African-American experience in St. Louis County is a story that really needs to be told," Gonzalez said. "When we lose properties like this we lose the broader scope of the St. Louis County experience."
In an effort to stave off a tax sale of the property, Murdock and a handful of relatives recently launched a GoFundMe campaign.
The "Save Westland Acres" crowd-funding effort has so far drawn two pledges, totaling $120. Gary Kremer, director of the Columbia-based State Historical Society of Missouri, agrees that the passing of Westland Acres to outside interests would signal the end of a significant legacy.
"Remember, this was a time when first-generation freed men and women were adapting to a new life. And in most cases they were doing so without education, without capital and without the accoutrements of modern life," Kremer said.
An author, researcher and expert of the small black communities that sprouted in Missouri after the Civil War, Kremer said Westland Acres is an anomaly because it flourished near a major metropolitan area.
Still, to hear longtime residents tell it, the 20th century was well past the halfway point before anything remotely metropolitan found its way to West County.
Unincorporated Chesterfield at the time of Marie Thompson's birth was a farming community where residents patronized general stores and collected their mail in a town center that consisted of little more than a post office and grain elevator.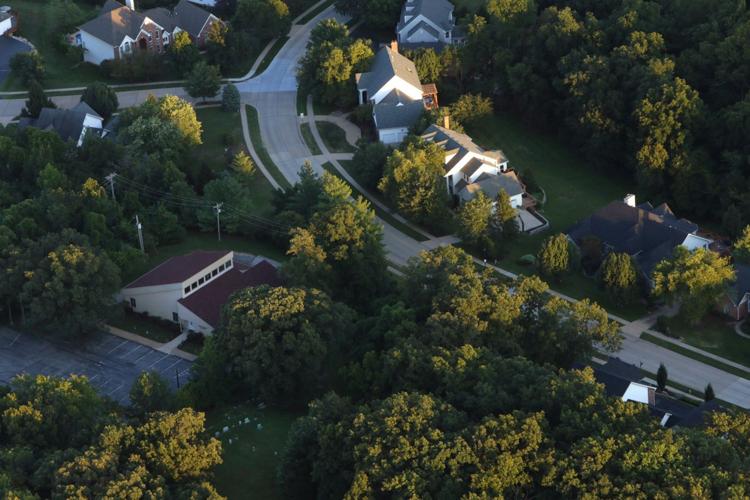 Traveling to St. Louis required a 90-minute trip on two-lane Highway 40.
Doris Fiddmont Frazier, who grew up in Maplewood, still recalls the day her future husband introduced her to the place where he grew up.
"A dirt road, homes without electricity or indoor plumbing," said Frazier. "I couldn't believe it."
Married in 1950, Clifford (who died in 2010) and Doris Frazier became agents of change in a community where life revolved around family and the Union Baptist Church.
Nearly 10 years after the 1954 Brown vs. Board of Education decision sought to put an end to separate education, it was Doris who successfully lobbied the Orrville school district (since absorbed by Rockwood) to close the segregated two-room grammar school where a lone teacher had educated the children of The Hill since the days of William West.
Clifford didn't fare as well years later when he drafted a proposal to offset skyrocketing property values by subdividing Westland Acres into affordable housing lots.
Westland Acres residents say the plan was derailed by residents of nearby developments.
Because "now we're in their backyard," Murdock says of an area where a half-acre lot is listed on a real estate site for $189,000.
Aimee Nassif, director of planning and development services for Chesterfield, said the city has no "submittals or applications for any type of permits" on file for Westland Acres.There appears to be little that can be done to keep the land in the hands of the West family.
Experts say Westland Acres is an unlikely candidate for designation as a federal or state historic site."The real importance in saving (the community) is the obvious meaning it has to its residents," said Bill Hart, director of the Missouri Alliance for Historic Preservation.
Hart and others say that landmark classification, even if it were to occur, would probably not ease the growing tax burden on homeowners. Nor can the county do much to save Westland Acres.
"There is no power to do anything in terms of this property," says Gonzalez, who nonetheless has asked the county planning department to examine possible remedies.
County Assessor Jake Zimmerman says the onus for capping the property taxes of individuals on fixed incomes — a possible solution for the residents — lies with state lawmakers.
Zimmerman, while serving in the Missouri House of Representatives, sponsored a bill to place a lid on property taxes for seniors. The legislation failed to gain traction.
As assessor, Zimmerman says he regularly witnesses the consequences.
"On one hand it's like winning the lottery for seniors who own something that is now worth a lot of money," he said. "But that's cold comfort if you're being taxed out of a home you've lived in for generations."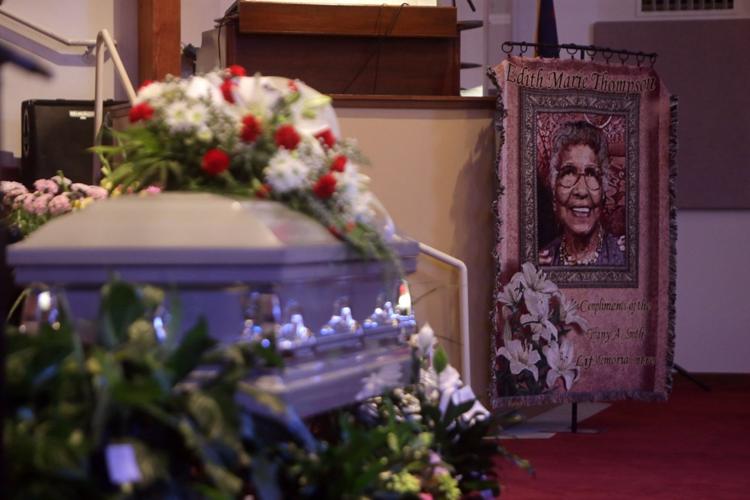 In that context, Marie Thompson left Westland Acres on her own terms.
Her death was not unexpected. For the better part of the summer it had been common knowledge along Church Road that Thompson was in "transition."
The woman known as "Mother Thompson" had arranged for her body to be taken to an Overland funeral parlor. And there she remained until the Aug. 18 "home going" that celebrated her life at the First Baptist Church of Chesterfield (Union Baptist was deemed too small for the expected number of mourners).
Afterward, a hearse bore Thompson a final time along Church Road.
At the end of the lane, pallbearers followed by family carried the copper casket past gravestones bearing the legacy of William West until they reached the stone marked "Thompson."
There, at the grave next to her husband, the children, grandchildren, great and great-grandchildren of Marie Thompson lay flowers on her casket.
Before stepping back to watch it slip slowly into the earth of the only place Marie Thompson ever called home.