ST. LOUIS • With so many port-a-potties downtown, it's unclear why a homeless man chose one in the 100 block of North Seventh Street to live in.
Employees across the street at the Wainwright State Office Building said he'd been there on and off for weeks, at least since October. He left an impression. They said he would yell sometimes or play music on a radio.
Holly Humfeld tried to help get him into a shelter, but it didn't work.
"It was horrifying to me," she said. "I couldn't imagine somebody being reduced to living in a port-a-potty. What horrifies me even worse is that it's downtown, in a metropolis. I don't understand how this can be."
On Wednesday, somebody noticed that the door to the gray and teal port-a-potty was cracked open. Police arrived on the scene around lunchtime and found the man dead, while at least one group of employees in a nearby office building celebrated the holidays with a feast of roast beef and turkey.
Their attention was drawn to the window, where they watched officials work the scene below.
"We found out the homeless man that lives in the port-a-potty across the street from our building had died," a woman wrote on Facebook. "The police just took him out of the potty to transport him. We had seen him there before . . . We don't know him or his name, but we are all pretty sad — this man has family somewhere that have no idea."
Donna Larry, a clerical supervisor, was an onlooker.
"Every morning he had some liquor and his beer," she said. "He would drink and holler and holler and holler. He'd just be screaming like he was tormented or something. I guess in the soul."
Charles Molden, 65, said he'd visited with the man several times in recent weeks while he waited to pick up his wife from work.
"Every time I see him I give him a few bucks," Molden said. "He was a nice guy. He really was. He just fell on hard times."
Molden said he'd ask the man why he didn't stay in a shelter but he didn't answer.
"Something has got to be done," Molden said. "People living on the street and people just die and they don't even clean it up."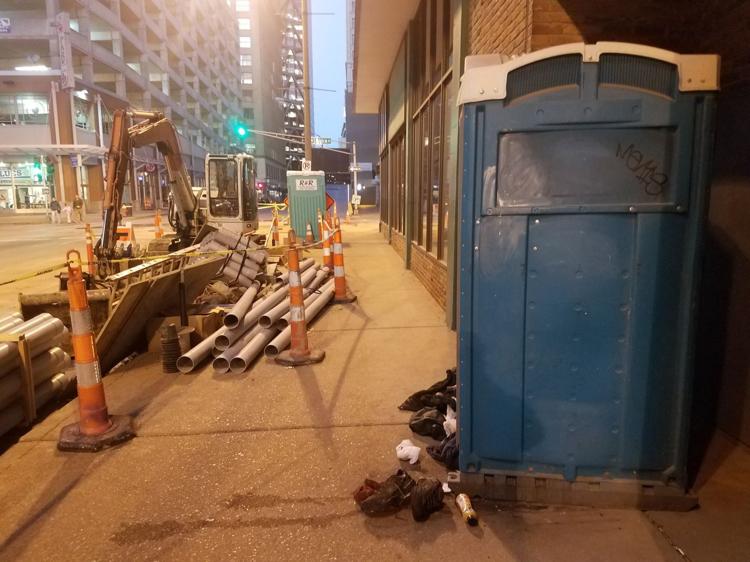 By Wednesday evening, as workers went home for the night, they walked past the port-a-potty where the man had lived. Belongings were still there: shoes, umbrella, bottle of orange juice, empty beer can, jacket, $25 Panera gift card, plastic spoon, a debit card with the name Grover Perry on it.
Police confirmed that's who they think died. His was a well-known face downtown. Officers don't suspect foul play was involved in his death.
His brother Frank Perry, of Dellwood, said a medical examiner's officer preliminarily identified the man found as Grover. He said all the details seemed to lean toward Grover, who was 56 and homeless.
Frank Perry said Grover was one of nine siblings who grew up in Wellston and Bel-Ridge. He said Grover was in a special education program and later trained to do auto body repair. He said Grover had some mental issues and never married.
"He never wanted to stay with anyone," he said. "He always wanted to be alone."
Frank Perry said he last saw his brother six months ago. He gave him some money and asked if he needed a place to stay. He said Grover walked off and laughed.
"He thought everything was funny," Frank said.