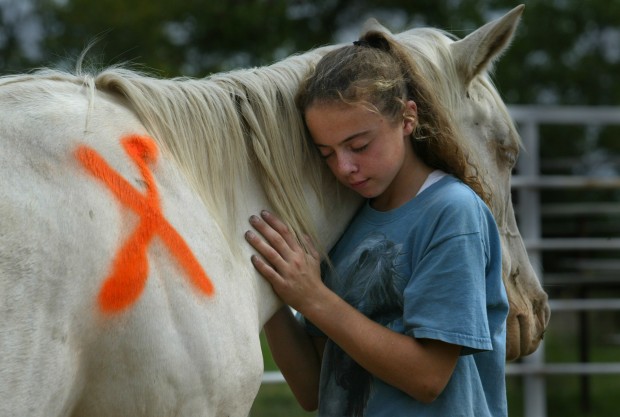 The plant was supposed to open by summer's end, employing four dozen people.
It might not have been the most appealing work: butchering hundreds of horses each day to fill dinner plates in Europe. But Rockville, Mo., population 166, needed jobs. So residents had embraced turning a defunct beef processing plant into the nation's first horse slaughtering facility since 2006.
"The whole town is for it," proclaimed Mayor David Moore in June.
Now it looks like horse meat won't be the town's salvation, at least not anytime soon.
It could take months for a judge to resolve all the questions surrounding the plant's ownership. And that seems to be the least of the problems facing the horse slaughtering industry in Missouri and nationwide.
The business of slaughtering horses for human consumption could be legislatively abolished before it has the chance to revive itself.
Congress in effect banned the practice in 2006 by cutting funding for USDA inspections of horse meat. Then late last year, it restored the funding, making horse slaughtering legal again.
Rep. Sue Wallis, R-Wyo., the nation's most visible horse slaughtering proponent, announced plans for the Rockville plant in June.
It was her second attempt in less than a year to bring a slaughtering house to Missouri. But Wallis hadn't yet purchased the plant.
When Cynthia MacPherson, a lawyer in Mountain Grove, Mo., heard about Wallis' plans, she looked into the plant and found a series of shell corporations and unusual transfers of the property. MacPherson tracked down one of the plant's creditors and sued on his behalf, asking a judge to block any sale of the plant until her client was repaid.
MacPherson had a large role earlier this year in thwarting plans to open a slaughtering house near Mountain Grove. She closed her law practice for six weeks to rally opposition. She created webpages and made fervent pleas to the City Council.
Wallis eventually abandoned the Mountain Grove proposal, only to announce a few weeks later plans for Rockville, about 90 miles south of Kansas City.
In an interview in June, Wallis said she targeted Missouri because of its location: "If you draw a 500-mile circle around southwest Missouri, you enclose more than 30 percent of the horses in the United States."
Neither Wallis nor her business partner, lawyer Dan Erdel of Mexico, Mo., returned phone messages seeking comment about the most recent questions surrounding the plant.
In recent weeks, Wallis has announced plans for another facility in eastern Oklahoma. But her chances there also appear dim. For example, it's unclear how she would circumvent an Oklahoma law that prohibits horses from being slaughtered for human consumption.
Wallis' critics contend she's merely using the announcements as a way to promote horse slaughtering.
"She does that all the time," said Valerie Misita Pringle, an equine protection specialist with the Humane Society of the United States. "I think she is trying to promote the idea that these horse slaughtering plants are inevitable."
For its part, the USDA has said it can't begin inspecting horse slaughtering plants until the end of the year.
But that's only if the agency still has the funding.
In June, Rep. Jim Moran, R-Va., moved to strip the USDA of money to perform the inspections. His reasoning: Americans don't eat horse meat, and taxpayers shouldn't have to subsidize foreign palates.
"When more than 80 percent of the American population opposes this practice, it's high time we put an end, once and for all, to industrial horse slaughter," Moran said in a statement. His provision is part of an agricultural appropriations bill pending before Congress.
Terry Geiler, owner of the Rolla Horse Auction, supports reopening slaughtering houses.
"We have no place to go with blind and crippled horses," said Geiler. "Take an old horse that will hurt you. What do you do with them?"
But Geiler wouldn't invest in a plant himself.
"How can a person spend millions of dollars not knowing if it's going to happen?" he said.
Supporters of horse slaughtering argue the practice means more humane treatment for horses, not less.
Congress restored the USDA's funding for inspecting horse meat partly because of a 2011 report from the Government Accountability Office. The ban had done little to keep the nation's horses from being slaughtered, the report said. From 2006 to 2010, horse exports for slaughter increased by 660 percent to Mexico and by 148 percent to Canada. Those horses traveled long distances in cramped conditions.
Reports of neglect and abandonment also rose. In Colorado alone, abuse and neglect cases jumped by more than 60 percent between 2005 and 2009, according to the report.
Geiler said paying to euthanize and bury a feeble horse can cost more than $600, causing some people to turn them loose on government land.
MacPherson has emerged as an improbable leader of the anti-slaughter movement in Missouri. She's never owned a horse, nor does she enjoy riding them. But she was appalled by the idea of slaughtering them.
When she learned about Wallis' Rockville proposal, MacPherson discovered the plant was owned by Vincent J. Paletta, with an address in Butler, Mo, according to court records. She called "anyone who had ever touched this property," she said. MacPherson eventually found Elvin Wright, owner of Elvin's Refrigeration, who claims Paletta still owes him $20,000 for work at the plant.
In June, MacPherson sued Paletta on Wright's behalf, alleging that Paletta concocted an elaborate plan with a fraudulent promissory note to protect himself from creditors.
In late 2010, Paletta created two corporations, American Beef Company LLC and Six Bears USA, according to the lawsuit.
Then Paletta had Six Bears issue a $350,000 promissory note to American Beef in March, 2011. Eight months later, Six Bears sued American Beef for failing to pay on the note and obtained a default judgment. MacPherson's suit claims the scheme violates state law and was intended 'solely in an effort to defraud creditors."
In February, Paletta was charged with two counts of theft for allegedly stealing $173,532 in cattle from the plant's previous owner, according to court records. Paletta has pleaded not guilty to the charges, and the case is pending.
Paletta's attorney, Robert Todd Wilhelmus, of Butler, did not return a message seeking comment.
For MacPherson, the next step is lobbying state legislators for a law prohibiting horse slaughtering.
"That," she said, "will be my next project."