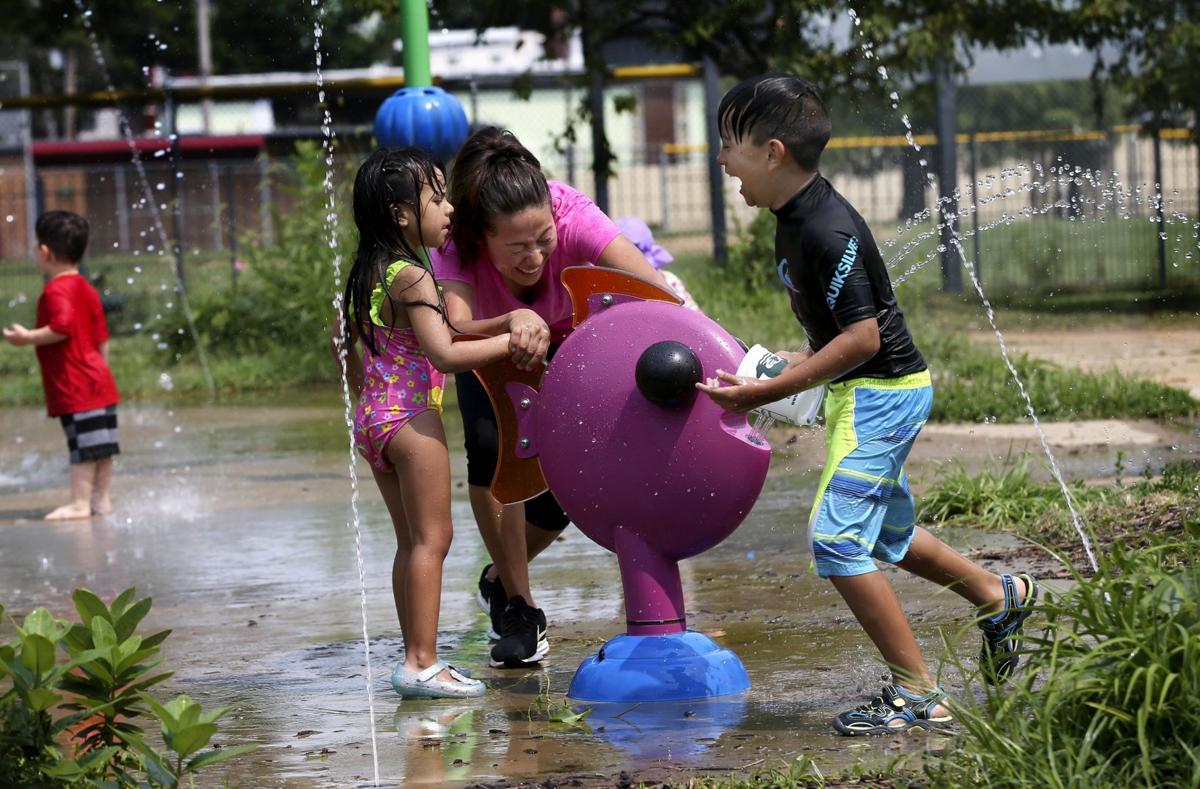 UPDATED at 3 p.m. Thursday with latest information. 
Temperatures neared triple digits and the region experienced dangerously high heat indexes on Thursday, but hang in there: Milder weather is on the way.
A heat advisory will remain in effect until 9 p.m. Thursday as meteorologists predicted temperatures could get up to 100 degrees. 
In the early afternoon, the National Weather Service reported the heat index for St. Louis city was 105 degrees. The regional high was in Cahokia, where it felt like 108. 
Forecasters on Thursday said a cold front would arrive Friday but warned that severe storms could be coming before that.
The likeliest chance for storms in the St. Louis metro area appeared to be sometime between 5 and 10 p.m. Thursday. Areas to the north, near Quincy, Illinois, for example, are expected to get more severe storms that could weaken before they reach the St. Louis area.
The heat advisory in effect Thursday encompasses most of the Midwest, including the entire state of Missouri and the vast majority of Illinois.
County and city officials and first responders throughout the region urged residents to take steps to stay cool and seek shelter if needed. It's advised to pay close attention to children, older residents and those without air conditioning and to pets, too.
For residents in the St. Louis metro region, information on cooling centers or energy assistance related to the excessive heat is just a phone call or website away:
• United Way of Greater St. Louis: 800-427-4626 or (from a landline phone) 211; online, visit https://www.211helps.org, which includes a city-by-city list of cooling centers.
• Cool Down St. Louis: 314-241-7668
Melissa Byrd, a meteorologist with the National Weather Service in St. Louis, said the recent hot spell is "pretty typical July heat" for the region.
After the cool front arrives, temperatures are expected to be noticeably lower through the middle of next week. The high temperature for Friday is expected to be in the mid-80s, and the high on Saturday will drop even further, into the 70s.
Power outages are possible during storms and extended heat streaks, but an Ameren Missouri spokesperson said the utility has no concerns for managing the peak heat period on Thursday.
Ameren suggested taking steps to increase energy efficiency and reduce stress on home air conditioning systems, such as changing air filters regularly, using ceiling fans to supplement air conditioning and closing curtains and blinds to block direct sunlight.
To stay informed about any outages or other issues, customers are urged to visit www.ameren.com/alerts to sign up for notifications.