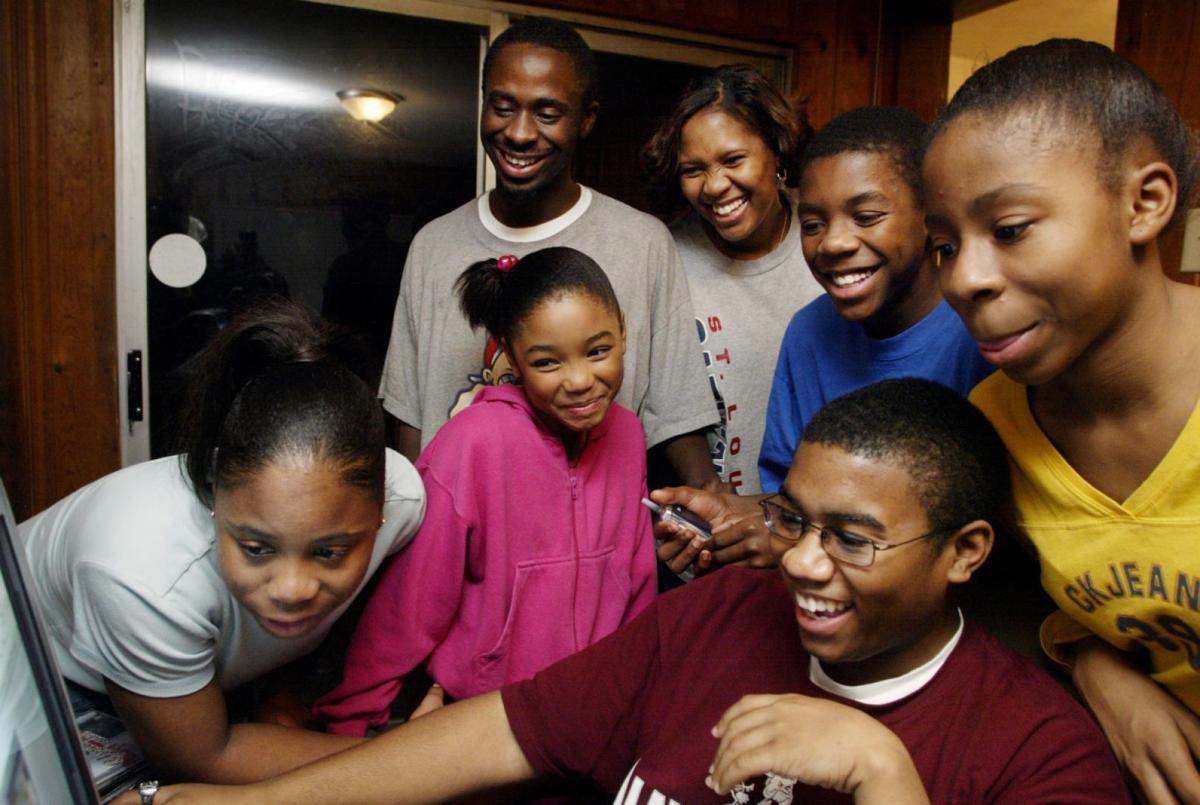 EDITOR'S NOTE: This story was originally published in the St. Louis Post-Dispatch on Nov. 28, 2004.
A little over a year ago, they were four frightened, troubled siblings, with only each other.
They had been abandoned by their heroin-addicted mother and a heroin-addicted father some of them didn't know even existed.
They had no family, they believed, except for an older sister, Keisha, who used to visit them when they were first placed in a St. Louis group home.
The ones who still remembered her visits liked and missed her, but they hadn't seen her for nearly a decade after being moved to a foster home. The two oldest would ask their social worker why they never saw her. She said she didn't know and couldn't find out, according to the children.
"So, it was just the four of us trying to make it," the oldest, Alonzo Williams, 17, recalled.
They lived with four other children in a foster home they hated. Their lives teetered on disaster.
Alonzo was in custody. Stealing cars and breaking into people's homes. The two youngest girls, Eileen Williams, 12, named after her mother, and Morgan Williams, 14, had already failed a grade and were doing poorly in school, as was Dominique, 16.
Then, late January of last year, they were told that their mother had died.
But with her death, their mother gave them what she never did in life — salvation.
In another part of town, Keisha Powell, now 32, was busy as a college student and Post Office supervisor.
Powell was raised alternately by her St. Louis grandparents, educator and community activist Mary Ellen Powell and Elbert S. Powell, and her father, Thornton Ballard. She had been a college freshman in Grambling, La., 13 years ago when she got word that her brother and sisters had been placed in a group home at Annie Malone Children and Family Service Center in St. Louis.
Then one day they disappeared. They had been adopted, Powell was told by the Missouri Division of Family Services. Worse, in fairness to the adoptive family, the agency said, Powell and her family could no longer have any interaction with them.
There was nothing Powell could have done. She was still a minor. An aunt in Denver, Yolanda Powell, had tried to work out something with the Division of Family Services to take her sister's children in, but without success.
Keisha Powell anguished over the loss of her brother and three sisters. But in some ways, she thought it was best.
"At least they wouldn't be living in poverty and begging on the streets like they were with my mother," she said.
Years went by. After a semester at Grambling State University, Powell transferred to Deaconess College of Nursing here. About a year later, she began working at the Post Office.
She left college just before the birth of her son, Derek Brown, now 11. Her daughter, Ashley Brooks, would be born three years later. She bought a small, two-bedroom home in Northwoods. Most important, she survived a bout with breast cancer, which has been in remission since 2001. Shortly afterward, Powell decided to go back to college. She is pursuing a bachelor's degree in business administration at Fontbonne University.
In that decade since Powell had last seen her younger siblings, she had all but given up on ever seeing them again.
Then her mother — who had recovered from her addiction in her last two years — died.
It was a distraught Powell who presided at her mother's funeral services. She drained her savings and dipped into her retirement fund to help pay the expenses.
"I was in a daze," Powell said, seated on a big upholstered chair that faces the fireplace in her living room. "It was all on me, and I just wasn't prepared. There's so much that I don't even remember."
She does recall one thing. Almost unbelievably, at the wake were three of the four siblings who had been lost to her for so long. Alonzo couldn't be there because he was in a state juvenile facility. Still, through Powell's grief shone a moment of joy.
"It was a hard time, but I was happy to see them, and happy that they could be there to have closure," Powell said. "I was happy that, in an odd way, our mother had brought all of her children together again."
The children were overjoyed.
"I felt happy," Morgan said.
"I was really glad to see her," said Dominique, the second oldest. "We were meeting our family members for the first time."
Powell made a promise over her mother's coffin — never to lose touch with her brother and sisters again.
She would learn later that the children had not been adopted as she had been told. For all those years, they had lived in one foster home not far away. Powell, too caught up in events since she was reunited with her brother and sisters, has never questioned the Division of Family Services as to why she was told the children had been adopted.
After the funeral, Powell befriended the foster mother so she could maintain contact with the children. She offered financial support and took the children on excursions. She bought them clothes and school supplies. She introduced them to other relatives. They eventually saw their father, Alonzo Williams, who is recovering from his heroin addiction.
"Because we had been in foster care for a long time, we didn't know our family," Dominique said. "Now we got to meet our cousins, our aunts, our father, our grandfather."
Things were going fine until the foster mother began restricting Powell's visits. "She started being resistant to letting the family interact," Powell said.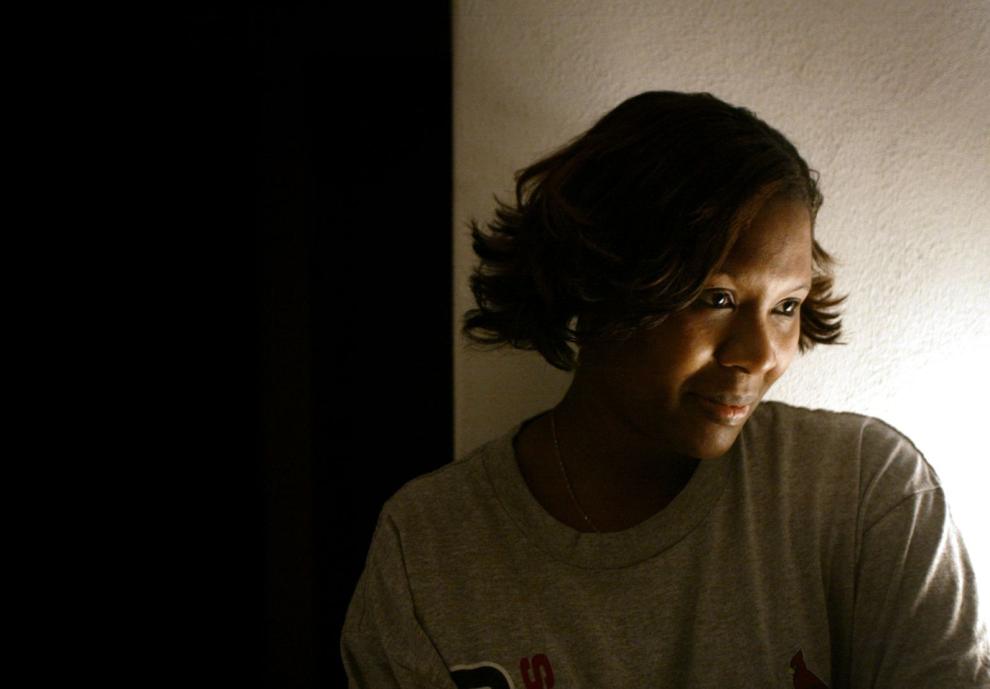 Then one day Eileen began crying after being at Powell's home.
"She just kept crying, but for a long time she wouldn't tell me what she was crying about," Powell recalled. "Finally, she said the foster mother had told her she wasn't going to let the kids see their family any more."
The children started telling Powell that they were being verbally and physically abused.
"We use to get hit with brooms, pans, shoes, spoons," said Morgan. "One time she tried to hit Alonzo with a shovel."
The children also said the foster mother berated their mother and father. Those stories, plus the fact that the children were struggling in their education, prompted Powell to seek custody.
"I thought, 'I've got two kids and I just got over my illness, '" Powell said. "'There's no way I can raise six kids."
Still, she discussed it with her father and his wife. She talked to her two children.
"And I decided to go for custody."
She hired an attorney, Benicia Baker-Livorsi, and dipped even deeper into her retirement fund to press for guardianship. Over four months, the case went back and forth in court.
"Keisha's a remarkable human being," Baker-Livorsi said. "She knew all of the things she was getting into when she fought for guardianship, and she took on those obligations with open arms. This is the most important thing to her, her family."
High-level supervisors at the Division of Family Services investigated the accusations of abuse. Ultimately, the foster mother walked away from the case, and the judge granted Powell guardianship.
"When they told me I had them, I cried," Powell said, a big grin stretching across her warm face. "My aunt cried. The children cried. We all cried."
But in some ways, the hard part was just starting.
"Oh, it's been rough," Powell said. "I was thrust into this teenage-hood, and I wasn't ready for that.
"Education is a must here," said Powell. In the first year, Alonzo, who already had failed a grade, "was skipping school or going to school and skipping class."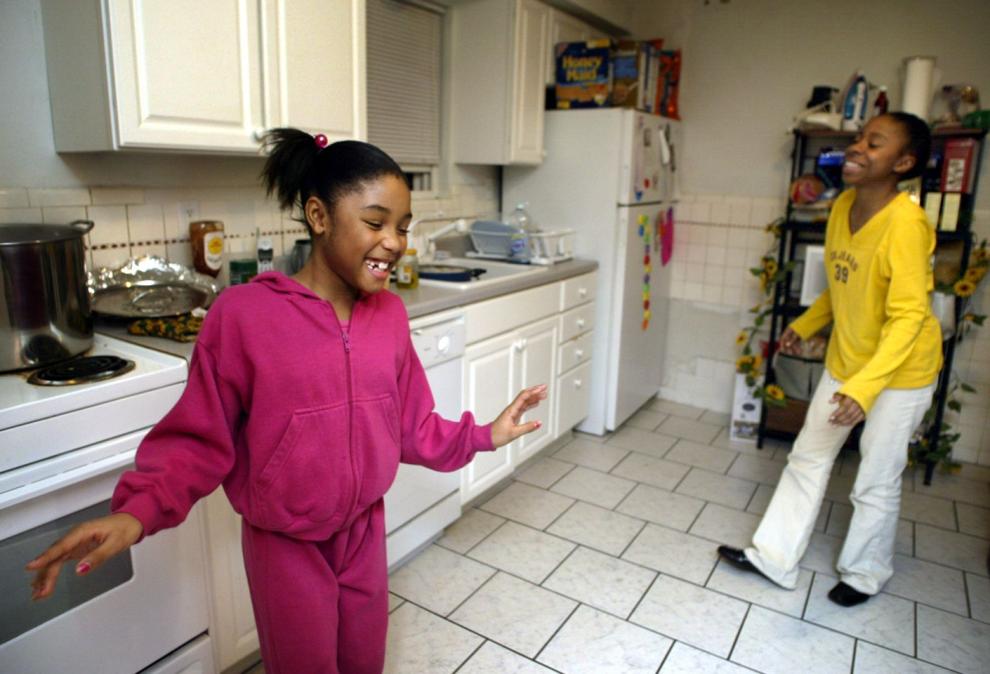 He also stayed out late and violated various rules, all things he had done with relative impunity at his foster home. Tempers boiled. Powell threatened twice to throw him out of the house.
Alonzo says, "I was doing that kind of stuff because I didn't really care. I had gotten so I thought people didn't care, so I didn't care."
Meanwhile, Morgan had a generally bad attitude at home and at school. She seemed to constantly be involved in squabbles and fights.
"I've got an attitude problem," Morgan said.
The adjustment wasn't easy for Powell's children either, who had come to enjoy a level of economic flexibility that quickly disappeared when four other children moved into the house. Powell had to sell the two-bedroom and buy a four-bedroom house with a sleep-in basement to accommodate everybody. There are more clothes, food and school supplies to buy.
Ashley said, "I was a little scared in the beginning. At first, I thought mom was going to move all eight of (the children from the foster home) in with us."
Derek said he's had his share of verbal fights, and Ashley has tussled with a couple of her aunts.
But over the past few months, Powell and the rest of the family have seen dramatic improvements. The children, for one, have begun to blend together.
"It's been fun," Derek said. "Now we have more people to play with, and now they have a family that they can talk to."
Morgan said her attitude has been getting better. "This year, I'm trying real hard not to get into trouble," she said.
And there have been significant changes in educational achievement. Everybody, it seems, is getting better grades.
The most dramatic turnaround has been Alonzo. When Powell went to pick up his report card from school recently, she broke down in tears. He had earned a 3.2 grade point average.
Alonzo could hardly believe it himself.
"It was like, 'I did this!'" Alonzo said. "First, I was in class doing nothing. Now I'm in class doing all of my work. Some of my friends can't believe it's me."
But the most important thing Powell's siblings say they have discovered is a sense of family.
"Now, we have a sense that we belong to something," Alonzo said. "Now we are part of a family."