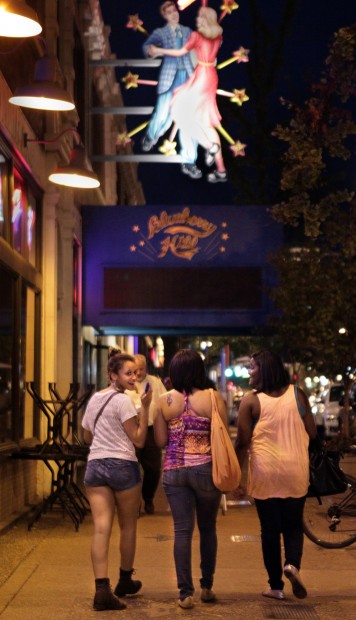 Last Saturday, long before any sign of trouble hit the streets, Facebook was buzzing about the Delmar Loop. Something big was about to happen.
Teens were lighting up their social media timelines with plans to visit the popular entertainment district straddling University City and St. Louis. One girl noted she woke up that morning to more than 60 messages inquiring about it.
"Who Going With You?" a friend asked.
"WhoEvrr Wanna Go," came the reply, in the lax writing style common to online messages.
Conversations like this were popping up across the region, from city kids who might walk or take a Metro train to suburban kids dropped off by a parent. Online, most teens sounded like they just wanted to have fun. But a few, including teens tied to a "knockout" assault in St. Louis last year, claimed they were angling for a fight. In any case, it was going to be huge. "(The) hole southside, the hole down town, the hole WEST gone be at the loop..." noted one teen.
By 12:10 p.m. Saturday — at least eight hours before the Loop swelled with the arrival of at least 300 young people, before bullets began flying and people began ducking and police swarmed in to regain control, leaving public officials to grasp for solutions — one teenage boy posted on Facebook this spot-on observation: "Damn Everyone Going To Da Loop."
There is nothing new about teens wanting to hang out with friends, to see and be seen. In prior generations, teens might cruise the strip. Or they might hang out at the mall.
What has changed is how technology allows teens to instantly broadcast plans to an ever-growing audience, according to police and others who have studied the issue. Teens can Facebook. They can tweet. They can text. A message that once might have been limited to a few friends can now be shared with strangers across entire counties. This can lead to huge numbers of teens in one place at one time. No matter the kids' intentions, this can cause trouble.
"The scale is absolutely different," said Brian Houston, a communications professor at the University of Missouri at Columbia, who is helping conduct a study of a "flash mob" at Kansas City's Country Club Plaza last August.
The problem of teenage flash mobs turning violent has been confronted in recent years by cities such as Philadelphia, Milwaukee and Chicago.
The Kansas City incident last summer followed another flash mob in April 2010. Hundreds of teens flocked to the shopping district. They got into fights. They robbed and harassed other patrons, such as one girl who was pushed into a fountain wearing her prom dress. In Philadelphia, the problem was young teens flocking to the Center City arts and shopping area. Last summer, Milwaukee contended with big groups of teens coordinating via Facebook and getting into fights at a local mall.
For police, the growing use of social media offers a challenge — and a chance to detect threats. But it's not easy to figure out which messages are worth paying attention to. Teens can hide Facebook posts from prying eyes, or resort to sending private text messages.
"In hindsight, these things are obvious," said Houston. "Predicting them is the difficulty."
Social media didn't help St. Louis police last Saturday. City police have been trying to keep up with what teens are saying online, said St. Louis police Capt. Joe Spiess, commander of the 7th District, which includes the Loop.
"We seem to always be just a step behind online," Spiess said.
University City police did not respond to a request for comment.
But St. Louis did have an especially large contingent of 15 officers patrolling the Loop that night. The numbers were beefed up based on history: Problems typically occurred during the first spell of good weather and during the holiday shopping season, Spiess said.
Even with plenty of police — "that's a small occupying force," Spiess said of the department's turnout — it is not easy to control hundreds of teens. Most of the young people were juveniles hanging out on public sidewalks. Almost all were peaceful.
But some seemed intent on causing mayhem. Teens bragged online about nascent groups such as Bandit Gang and Ocean Gang facing off in the Loop. Two members of a group called TKO — Team Knockout, which had been accused of a role in a vicious knockout assault in south St. Louis last October — said they planned to show up, too. One teen asked another, "U fighting at the loop?" like he was filling out a boxing match's undercard.
The next day, a teen noted how his gang made the local TV news: "I love my team like no other."
The Loop incident was not the only one of the weekend. Some teens planned on Facebook to drop by the Loop on Saturday and then the St. Louis Zoo on Sunday. The zoo trip seemed to fizzle out, as several teens complained about the unusual heat that day. But a zoo spokeswoman said park rangers did deal with two groups of teenagers who were pushing and shoving each other. No zoo patrons were injured. One of the groups of teens were escorted from the zoo. "It was unusual," spokeswoman Susan Gallagher said.
No single solution to flash mobs seems to work, said Houston, the professor examining the issue. His study, which will be presented to Kansas City officials later this year, used focus groups and surveys to find out why teens were attracted to the flash mobs. Teen boredom seems to be a big contributing factor. Many of the teens hailed from poorer parts of Kansas City. And many of them were black, leading other black teens to worry that they were being stigmatized by the actions of a few bad actors. "Race is a component of this," Houston said.
After the flash mob in August, Kansas City quickly pushed through a 9 p.m. curfew for most teens. Houston sounded doubtful this was a good long-term solution. But Glenn Stephenson, vice president of the company that owns Country Club Plaza, praised the new curfew.
"That helped us a lot," Stephenson said.
St. Louis officials are now considering a teen curfew to match the one in University City, which kicks in at 9 p.m., three hours earlier than across the street in St. Louis. Captain Spiess said he thought a city curfew that mirrored University City's would help.
In the meantime, Spiess said, his officers were making plans to ensure a flash mob doesn't take over the Loop this weekend.
None of this has quieted the chatter online. Last weekend, one young man even took to Facebook to admonish all his peers for bragging about what they planned to do at the Loop.
He wrote: "People putting where thy going to bang dont yall know the laws be on this..."
Soon enough, the laws will be.
Be the first to know
Get local news delivered to your inbox!