MANCHESTER • Army Spc. Matthew H. Walker was a scrawny kid, maybe 140 or 150 pounds, when he played offensive line on his high school's football team.
But he always played his heart out, going up against defensive players much bigger than him.
"Matt gave it all. Win or lose, he gave everything," his grandfather said Monday, his voice breaking as he stood in Manchester United Methodist Church near the flag-draped coffin that held Walker's body.
Hundreds of people paid tribute to Walker, 20, an infantryman in the 101st Airborne Division who died June 5 of injuries suffered when his unit was hit by enemy fire, the Department of Defense said.
He died the in Paktika Province in southeast Afghanistan, along the border with Pakistan.
Walker lived in the Hillsboro area and graduated in 2012 from Grandview High School in Jefferson County, where he served as captain on the football team during his senior year.
His grandfather, Herbert Walker, spoke Monday of the way his grandson cooed as a baby, the hugs he gave — the best of all the grandkids — and how he loved spending Christmas with family in Branson.
And he told of the happy day when his grandson graduated from boot camp at Fort Benning, in Georgia.
"We were so proud of Matt, and he was so proud to be where he was," his grandfather recalled.
Walker was a reliable and dependable soldier who hated to fail, said Brig. Gen. Mark Stammer, deputy commanding general for the 101st Airborne Division (Air Assault).
"Specialist Matthew Walker, just 20 years old, sacrificed everything for the safety of his fellow soldiers, the security of our nation and the hopes and dreams of people everywhere for a better place to live their lives," he said.
The 101st Airborne Division is based in Fort Campbell, Ky. Walker was in its 1st Battalion, 502nd Infantry Regiment, 2nd Brigade combat team.
"He was consistently asked for by name to be the machine gunner in the lead vehicle by the special forces teams with whom he served," Stammer said.
And he understood well what that responsibility meant — being out front to protect his comrades, as well as the freedom of the United States, he said.
Walker was known as a comedian who made up nicknames for his fellow soldiers, who called his small living space in Afghanistan his "bachelor pad," and who wore his Cardinals baseball hat daily, Stammer said.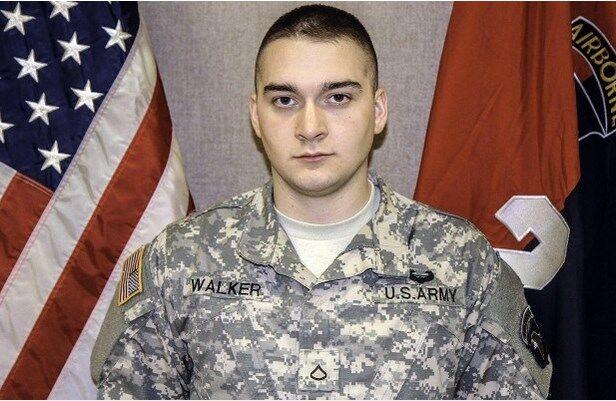 He wanted to study history and become a teacher.
On Monday, a funeral procession carrying his casket left the church in Manchester, traveled east on Interstate 64 (Highway 40) to southbound Interstate 270, ending at Jefferson Barracks National Cemetery.
Those interstates were closed to traffic at midday for the procession.
Flags waved on some overpasses and people stood next to their cars on the closed highway ramps, some saluting as the cars with their flashers on snaked past.
Medals presented to Walker's family on Monday included the Bronze Star and the Purple Heart.
Survivors include his father, David H. Walker, and mother, Heather Wooderson; and sisters Brittany Munzlinger, April Wooderson, Olivia Walker and Camden Wooderson.
Gov. Jay Nixon ordered that flags across the state be flown at half-staff Monday in Walker's honor.