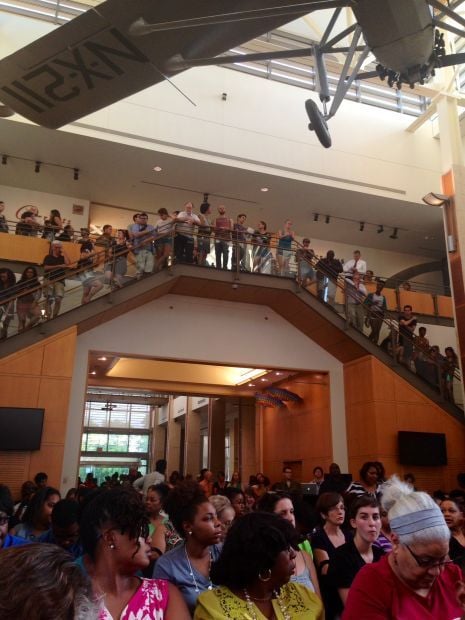 ST. LOUIS • Hundreds of people of different races, different religions, all ages and varied communities filled the Missouri History Museum on Monday night — not to study history but to make it.
The crowd filled the main foyer and overflow rooms, and packed staircases and the balcony.
They were there for a town hall meeting hosted by the museum to discuss the meaning and positive opportunities arising from events in Ferguson, and the death of Michael Brown.
Museum president and CEO Frances Levine said the museum wanted to offer "a safe space" for discussion. The event was sponsored by the activist group BK Nation and its leader, Kevin Powell, and the community organization Project Engage Network.
Levine asked for "a moment of silence and respect" on the day that Brown was laid to rest by his family.
"The past 17 days have been fraught with pain and loss and anger," she said. "Today we turn our gaze inward."
Powell, of New York, who was the main speaker and moderator for the event, then urged the crowd to find ways to combat racist attitudes and behaviors and promote political and social change.
"No one is going to do it, but … the people," Powell said. "Nothing will be done until we come together as sisters and brothers."
Powell said that included people of different races and backgrounds. He said his message over the years has been to call for progressive, multicultural change.
"This is not a game to us," he said. "This is our lives."
Powell spoke of his own life as an African-American teenager in New Jersey. Just because "we walk a certain way, we talk a certain way … wear our caps a certain way ... doesn't mean we don't deserve to live."
Many in the audience wore T-shirts that read: "#JusticeforMikeBrown."
Powell invited people in the audience to talk about their ideas for political organizing and positive action. Several dozen speakers had spoke passionately during the meeting, more than two hours long, and they continued to line up to speak while the audience applauded ideas for how to continue the dialogue. Many people gave out their Twitter names and email addresses, organization websites and phone numbers for others to get in touch.
Johnetta Elzie, 25, said she had come to Ferguson after the shooting and "saw blood in the street." Upset that one day she could have a child who faced such a death, she said she had returned every night since to join peaceful protesters or hand out water. She also was trained to help people with tear gas in their eyes.
Ashley Yates, 29, said: "I've never seen anyone get shot and left in the street for four hours."
She said she would work to establish a civilian review board in St. Louis County to look at incidents when weapons are used by police. Yates said she wanted a special prosecutor appointed.
Many of the young people who spoke said they were connecting to each other and those around the world on Twitter.
Ashley Gray, 28, of St. Louis, urged organizers not to forget the important role that African-American women can play.
"We are not exempt from police brutality or racial profiling," she said.
She pledged to work to eradicate a power structure in the world "that promotes poverty, sexism and racism."
Elad Gross, founder and president of the Education Exchange Corps, was among those teaching Ferguson schoolchildren at the local library and nearby church while their schools were closed because of the unrest that followed Brown's death. He wants to work to remove "inequity of opportunity in the entire region."
Ferguson Democratic Committeewoman Patricia Bynes urged people to show up at St. Louis County and Ferguson city meetings. "We have some questions," she said. "We want some answers. We're not going away."
And Brittany Ferrell, 25, of St. Louis, said she believed this was the beginning of a new civil rights movement with youth involvement.
"It's about justice — a new civil rights movement that we are leading," Ferrell said.
At the same time, she said, "We need the older generation to help us."