BRIDGETON — The most powerful tornado to strike the St. Louis region in decades came upon Peggy and Ron Henderson's Bridgeton home barely two minutes after the couple first heard on the news of the tornado's descent.
The sky turned black as it roared over them, ripping away the upper floor of their home, scattering their possessions onto their neighbors' properties and into the trees beyond. The windows on the lower level shattered and water pipes burst as the couple huddled in the basement.
"My husband laid on top of me on the concrete floor," recalled Peggy Henderson, whose husband is a former St. Louis police chief. "It felt like forever. I said a lot of prayers in that minute."
The Good Friday tornado sliced a path of devastation 21 miles long on April 22, 2011, tearing up trees, pulverizing homes and flipping automobiles. The tornado first touched down in Maryland Heights, smashed its way through Bridgeton, St. Ann and then St. Louis Lambert International Airport before striking Berkeley, Ferguson, Dellwood, Moline Acres, Bellefontaine Neighbors and Riverview. It then crossed the Mississippi River and into Madison County.
The EF-4 rated tornado was the strongest to hit St. Louis County since 1967. Miraculously, no one was killed. But 10 years later the mark left by the disaster is still evident on the St. Louis landscape, and in the memories of those who suffered its wrath.
"Every now and then you think about the things you don't have, but in the grand scheme of things ... there's a higher being," Henderson said. "It solidifies my purpose of being of service to others and living a good life."
The tornado disrupted an already struggling economy in north St. Louis County, where many communities were trying to recover from the housing and foreclosure crisis. "It was a deeply difficult time in the real estate market," said county Assessor Jake Zimmerman, who was sworn in just days before the storm.
He had campaigned on promises to ensure voters' assessments would go down whenever their home values declined.
"But I was not prepared for the value of structures throughout the county to suddenly go down to zero," he said.
An altered landscape
More than 2,700 homes and buildings across North County were damaged in some way by the tornado, according to county records from May 2011. Of those, 730 sustained structural damage that resulted in occupancy restrictions or condemnation.
The Post-Dispatch analyzed data from the county assessor's office and surveyed nine municipalities along the tornado's path to learn what's become of those 730 severely damaged structures a decade after the storm.
Nearly 650 have been repaired over the years, but a handful remain in disrepair or derelict.
An additional 72 buildings were damaged badly enough, or neglected long enough, that they were demolished or destroyed at some point. Forty of those have been rebuilt, leaving 32 empty lots today.
Assessment data for the 730 properties shows a geographic disparity in the recovery, which mirrors broader economic trends in North County. Most of the parcels west of Interstate 170 have increased in total appraised value since 2010, while many of those to the east have declined, particularly in Berkeley, Moline Acres and Riverview.
The Hendersons saw that firsthand on Beaverton Drive in Bridgeton, where most homeowners had the resources to rebuild and stay on their lots.
But the scars left by the tornado have been slower to heal in areas like Berkeley and Ferguson, where some residents just walked away, and sporadic demolition has continued over the years.
Kirby Bradley, who has remained on Evergreen Boulevard in Berkeley, said the only damage he experienced was a shed that was blown away and a tree that was knocked down in his front yard. But many of his neighbors never returned, and their lots now sit empty or new homes were built in their place.
"It did change the landscape quite a bit," he said.

New construction last year in Berkeley has been a bright spot. General contractor Rubicon finished building 30 new homes in September, filling empty lots across the city, including eight where tornado-damaged homes once stood. The units are fully rented, Rubicon President Mathew Hartig said.
The $7.75 million Affordable Homes of Berkeley project, financed in part with an equity investment for federal low-income housing tax credits from the St. Louis Equity Fund, was a follow-up to the similar Berkeley Manor 30-home development completed in 2013.
The need for affordable housing has driven an increase in home values in North County over the past two years, particularly since the pandemic, Zimmerman said. That's good news for homeowners looking to sell, he said, but "it's lousy if you're someone who's stuck in a bad rental situation and you want your piece of the American Dream."
A life-changing event
Connie Frazier was one of those who left her home on Evergreen Boulevard, moving to Florissant after the tornado took a chunk out of her family home.
She had just returned home with her two daughters and a friend of theirs and switched on the television when they heard on the news that a tornado was heading their way.
"As soon as my foot hit the second step to go downstairs, I heard all of the crashing and it sounded like a tree fell on our house," Frazier said. "It took off maybe half the roof, exposing our living room, one bedroom and the kitchen ... I was scared, I didn't know what was going on."
After getting estimates for what it would cost to repair their home, Frazier decided to leave. The fear she felt that night had irreversibly colored the place she'd called home for 20 years, she said.
"I just didn't want to relive it," Frazier said. "I needed a change after that."
Berkeley City Manager Debra Irvin said the city was prepared for a disaster event, but the aftermath was still tough for city workers trying to help residents in distress.
"It was very emotional for all of us getting out at that time of night and setting up triage and working with the fire department and police department," Irvin said. "Residents were afraid to come out of their homes. Their roofs were leaking, there were trees inside their homes and yet their fear of coming outside was greater than staying in their damaged home."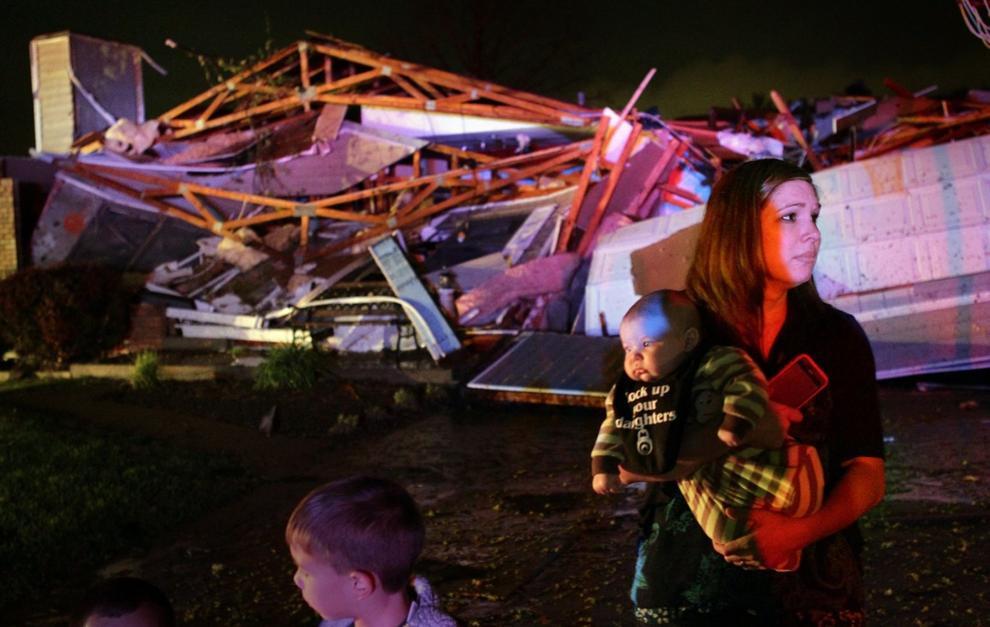 Aside from the rebuilding effort, the tornado also brought about some broader changes. For instance, St. Louis County officials made two major adjustments to their natural disaster response, according to David Wrone, spokesman for the county's department of transportation and public works.
The county purchased "interoperable radios" to communicate when cell service is unavailable in storm-damaged areas, and assembled grab-and-go bags for building inspectors that include ponchos, clipboards, caution tape and placards to identify the safety status of homes and other structures, Wrone explained.
Pearlie Bowen was out playing bingo on the night the tornado hit Helen Avenue, but her daughter-in-law and grandson were home. She returned to find her porch steps cracked, her basement windows blown in and damage to her back awning.
"I didn't have insurance, (but) I didn't suffer that much," Bowen said. "I got a lot of help. But now I'm afraid all the time … anytime there's a storm it freaks me out."
FEMA stepped in to help with some of Bowen's home repair expenses, in addition to a local Catholic charity, she said. Berkeley residents without insurance all got assistance from FEMA, Irvin said.
"It was life changing," Bowen said. "I was terrified, but my grandson was still scared and he was looking at me so I had to stay strong. I said, 'It's OK, we can fix this.'"