WEBSTER GROVES — Roughly 300 people gathered here Sunday, under the shade of tall trees at Blackburn Park, to raise awareness of racism and police brutality.
Some carried signs such as "Do you care about black lives or just black deaths," "You are the hope of the world" and "I'd like to speak to the manager of systemic racism, please."
But it was the words from a handful of Webster Groves High School graduates who organized the noon event that drew the most applause and attention.
"Racism is a learned trait," Rosa Parks, 19, told the crowd from a microphone. "It can be unlearned. We must all work to unlearn."
The protest was one of several planned in the area on Sunday, the second straight day when thousands took to the streets in various protests.
Among her list of demands:
• Ban chokeholds by police;
• Stop and film African Americans being pulled over or arrested by police;
• Audit and overhaul educational lessons about minorities at Webster schools;
• Defund police and redistribute the resources for better low-income housing, education and wages;
• Provide free access to proper mental health services for police;
• Tell black children that they are beautiful and good.
Then, at one point, Parks asked everyone to kneel for more than eight minutes as she read the names of minorities killed by police in recent years. It was the amount of time a Minneapolis police officer knelt on the neck of George Floyd on Memorial Day, the death that sparked nationwide protests such as this one.
"I know it's uncomfortable, but it's something we are going to do," said Parks, now a political science student at Agnes Scott College in Decatur, Georgia.
Leor Shomroni, 21, asked the crowd to do more than just show up at the peaceful event.
"What are you going to do about this?" he asked about racism. "I am not talking about what kind of photos you are going to post of your kids. What are you going to do for people who don't look exactly like you?"
Amalia Julien, 21, added that there is much work to be done.
"There are many layers to racism, and it's everyone's duty to learn about how it impacts our world and the way things function, as well as unlearning many of the racist notions, perceptions and messages that we've all been taught," Julien, a surgical technology student at St. Louis Community College, told the crowd.
She added: "As black people, we don't have the privilege of being able to ignore this, or brush this to the side, because it's our reality every day."
Like Webster Groves' population, the crowd was mostly white.
"We need to do a better job of making it known of the changes that need to be made," said Glenn Niehaus. "For us, a white family, it's important to listen to the things that make us uncomfortable and learn what people's experiences are."
Niehaus, who works at Bayer, was there with his wife, Emily, and three daughters, ages 3, 6, and 8.
"Everybody should be treated the same," said Clara, the oldest, a student at Avery Elementary School.
Patricia Clark, 52, an African American resident from Webster Groves, was pleased with the event.
"I am very proud of what these young people are doing to try to drive change," said Clark, who works in compliance enforcement at Edward Jones.
After the demonstration, the crowd was encouraged to head to downtown St. Louis, where they joined about 2,000 protesters who gathered at City Hall and walked to police headquarters and back, stepping over police barricades on Olive Street.
"Watching the video of George Floyd take his last breath and yell for his mother — it strikes a chord," said Marc Gwynne, who "grew up black in St. Louis."
"It didn't start with him, but I feel like it has to end with his death," Gwynne said. "I'd hate, 25 years from now, to be having the same problems that I and my parents and my grandparents have had. ... I hope we can put some policies in place and get out and vote."
Protesters also chanted the name of Breonna Taylor, who died after police shot her in her Louisville home in March.
Organizers of the Protest Against Police Murder in St. Louis read out a list of demands, including the defunding and demilitarization of the police, community control of law enforcement, reparations for the black community, representative juries and the "abolishment and reconstruction" of the police system.
Kia and Liam Springer brought their two children, ages 8 and 10, to the protest to show them "how to have a voice, how to be present," Kia Springer said.
Their daughter Nyla, 8, said she was initially "scared" to attend, but that the rally was better than she thought.
"We want to be honest when they feel afraid and say 'we understand that it's scary,'" Liam Springer said. "Their mother is brown, we don't want to pretend it's safer for her. It's safer for me because I'm white. ... (We're) normalizing the fact that we're going to have to address our (concerns). It's normal that, even though the world isn't a safe place, we can find security in our community."
Donnetta Bridges said she grew up coming to rallies like this one — her father brought her to a protest after Rodney King was beaten by police in 1991. She hopes, she said, for her grandchildren to be able to walk down the street without having to have their guard up the way she grew up needing to.
In downtown Troy, Illinois, more than 200 people gathered in front of the police department to chant and wave signs in support of the Black Lives Matter movement.
The night's last demonstration took place in Florissant, where 200 people protested after a the release of a video that appeared to show a Florissant police detective driving an SUV, knocking a man down and then striking him on the ground. The group blocked Lindbergh Boulevard in front of the police department and lay in the street for nearly nine minutes in Floyd's memory.
Small Troy, Ill. crowd swells to 200 plus for Black Lives Matter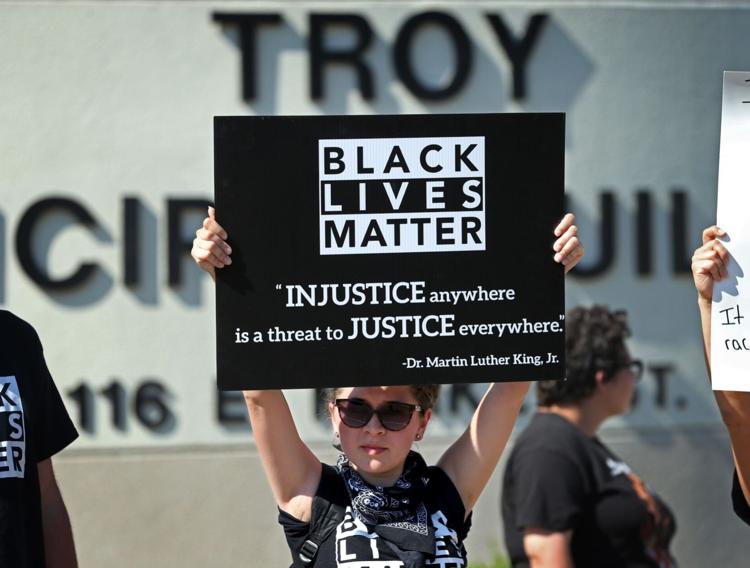 Small Troy, Ill. crowd swells to 200 plus for Black Lives Matter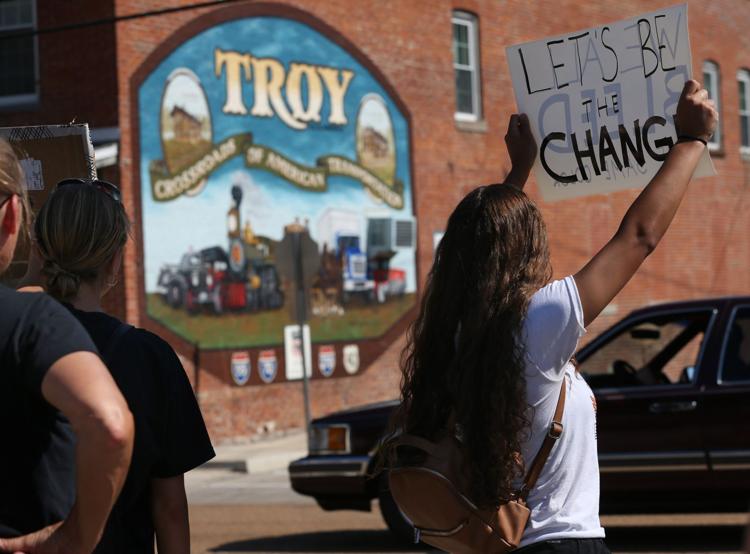 Small Troy, Ill. crowd swells to 200 plus for Black Lives Matter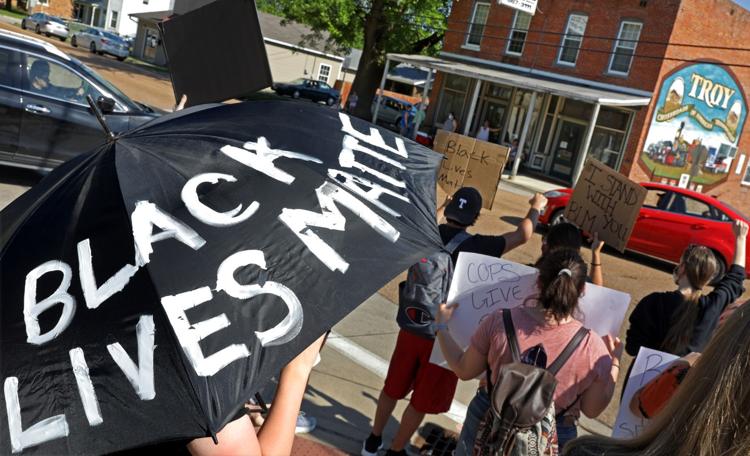 Small Troy, Ill. crowd swells to 200 plus for Black Lives Matter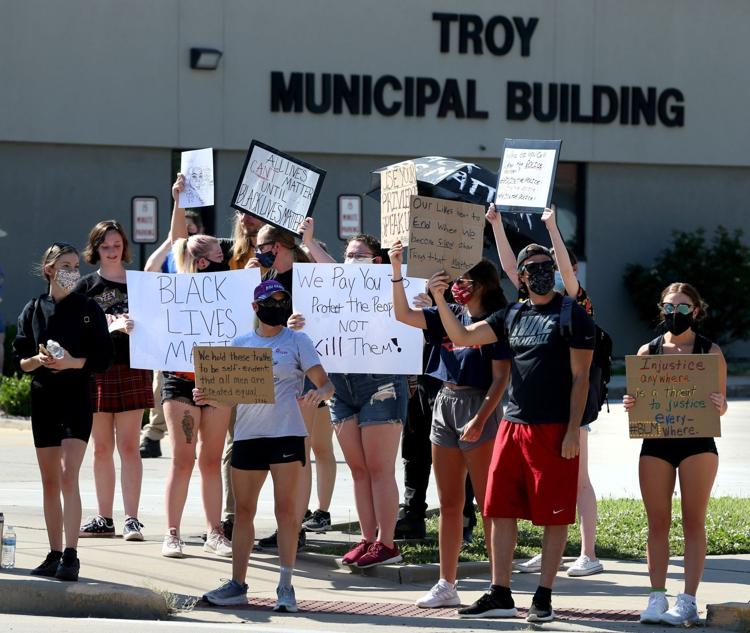 Small Troy, Ill. crowd swells to 200 plus for Black Lives Matter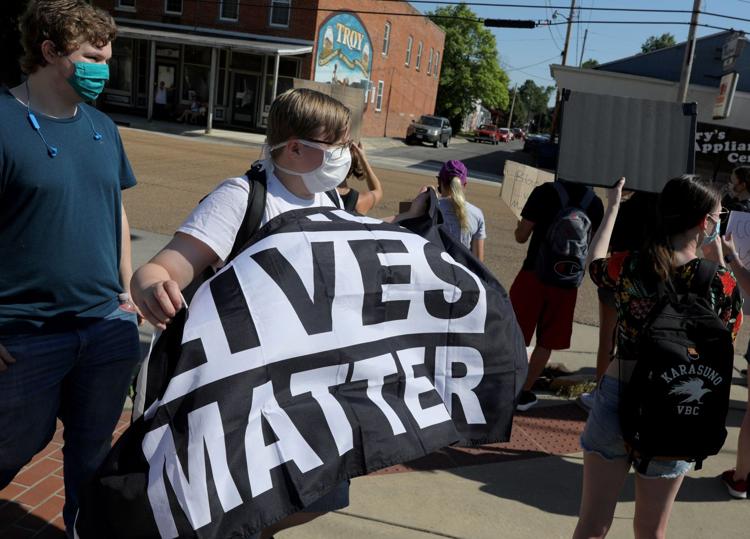 Small Troy, Ill. crowd swells to 200 plus for Black Lives Matter

Small Troy, Ill. crowd swells to 200 plus for Black Lives Matter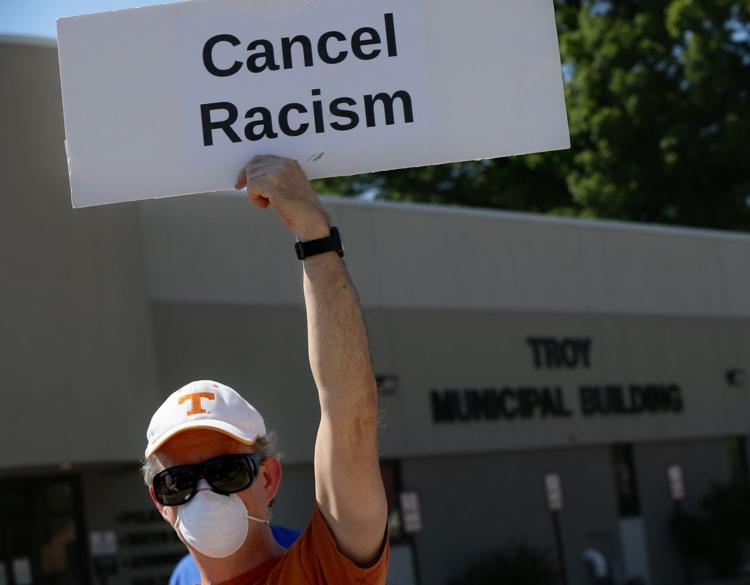 Small Troy, Ill. crowd swells to 200 plus for Black Lives Matter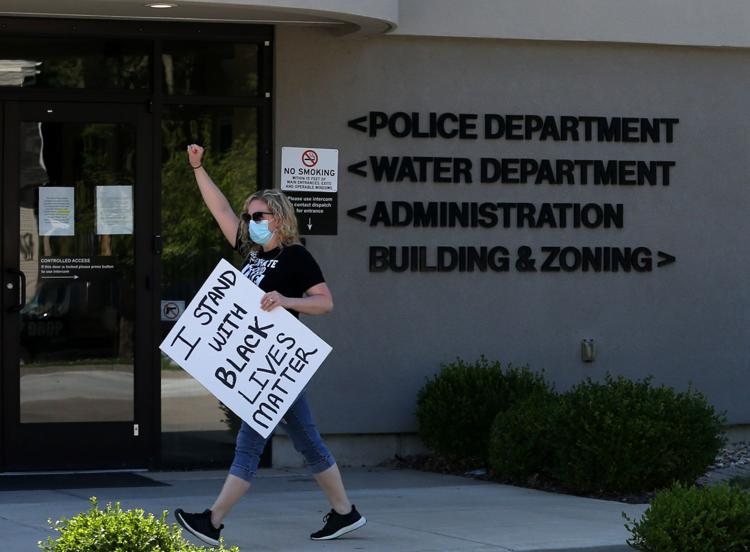 Small Troy, Ill. crowd swells to 200 plus for Black Lives Matter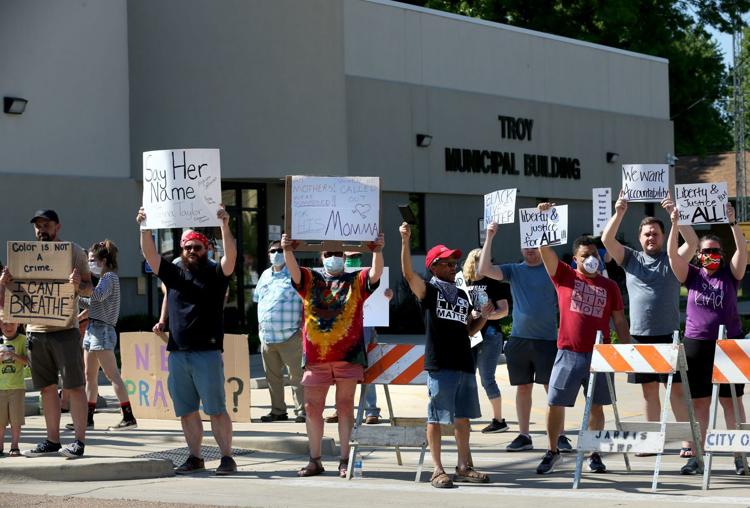 Be the first to know
Get local news delivered to your inbox!