ST. LOUIS • Talk about moving is common in this part of town, broadly called the north side. For Sylvester Clark, who has lived in his Hamilton Heights home since the mid-1960s, the idea of getting out has ebbed and flowed for at least two decades.
It was a discussion he and his wife had again last month when a 23-year-old man was found dead in an abandoned building behind their house, a burned-out shell used by those seeking shelter and an out-of-sight place to do drugs.
The death was sad, but not surprising, Clark said. Another chapter in the very long story of neglect. A city filled with thousands of vacant buildings, an erosion in the quality of life that attracts those up to no good.
Demolition crews take down an LRA property at 1701 Marcus on July 28, 2018. Drone video by Ryan Michalesko.
Eight years ago — at 2:19 p.m. March 29, 2010, to be exact, Clark said — his wife, Elizabeth, was standing at the kitchen sink peeling white potatoes. He was sitting at a table nearby. The couple heard gunshots, which they later learned came from the house next to the one where the young man's body would be found.
As Clark stood up, he felt pain in his right leg. A bullet from the shootout had made its way across the alley and through the back door of his house.
"Luckily," he said, "I was retired, so it didn't put me out of work."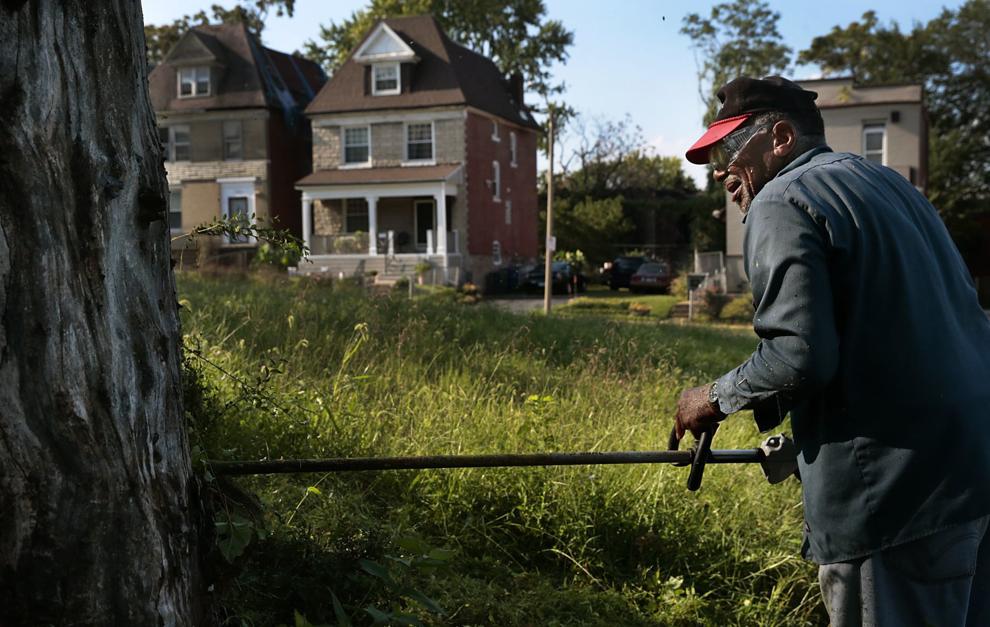 Now 82, Clark can rightly say he has seen it all, or darn near. And over the last two decades, it has not been pretty.
Longtime neighbors die, leaving behind a house their children don't want and don't care for. It falls into disrepair, like the one where the errant bullet came from. That crumbling house, a fallen tree on the roof, is one of at least 7,000 vacant structures in the city — an overwhelming number of them on the north side and most of them abandoned and condemned.
Efforts to clean up neighborhoods such as Hamilton Heights come and go, but mainly stay away with city resources spread thin. So when two long-vacant storefronts were taken down at the corner of Minerva and Hodiamont avenues in May, a few doors down from Clark, neighbors took notice. Hope sprouted. Someone cared.
Read previous reports in this continuing series here.  
The demolitions were part of Clean Sweep 2018, a program initiated by Better Family Life, a nonprofit in Clark's neighborhood, housed in the former Ralph Waldo Emerson Elementary School.
The program was born in late 2016 during a neighborhood meeting in Hamilton Heights. Residents said they were fed up with the condition of vacant lots and buildings. A St. Charles County church stepped up to help, arriving with tractors and saws. Trees came down, weeds were cut and discarded tires and other debris hauled away.
It officially became known as Clean Sweep in April 2017, as residents and community groups teamed up with city departments to cut down trees and board up buildings in the Jeff-Vander-Lou neighborhood. As another effort was being organized for the following month, serendipity struck, said James Clark, vice president of Better Family Life.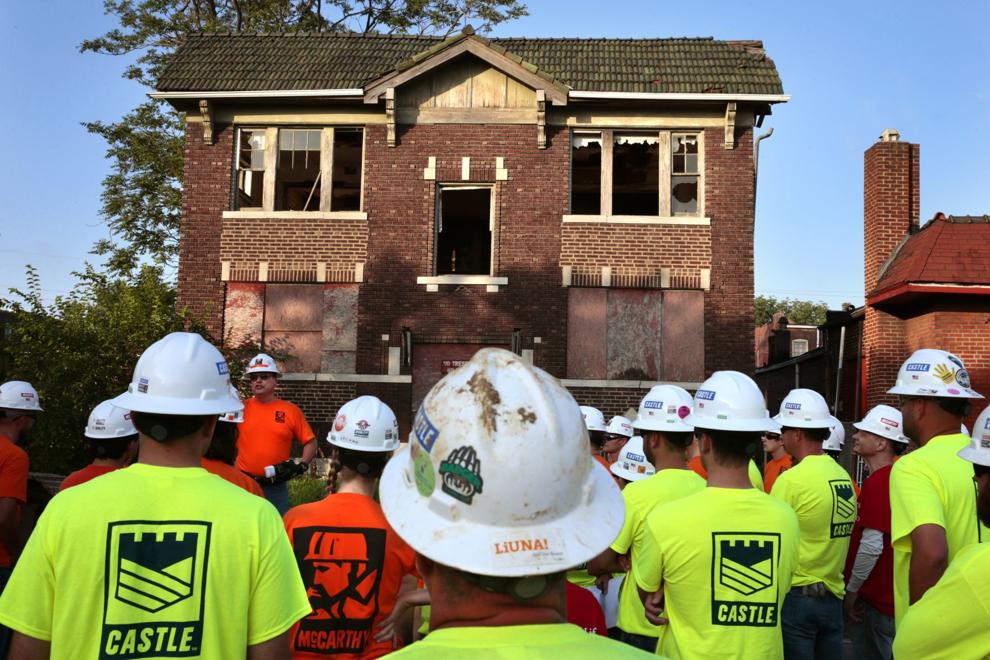 Clark, no relation to Sylvester Clark, was invited to speak at a meeting of the Regional Business Council about his organization's efforts to reduce gun violence in the city. After his remarks, Kathy Osborn, head of the council, said: "Tell us about Clean Sweep."
After he sat down, Clark was passed a note.
"James, I'm Doug Weible, from Fred Weber. We'd like to help. Give me a call."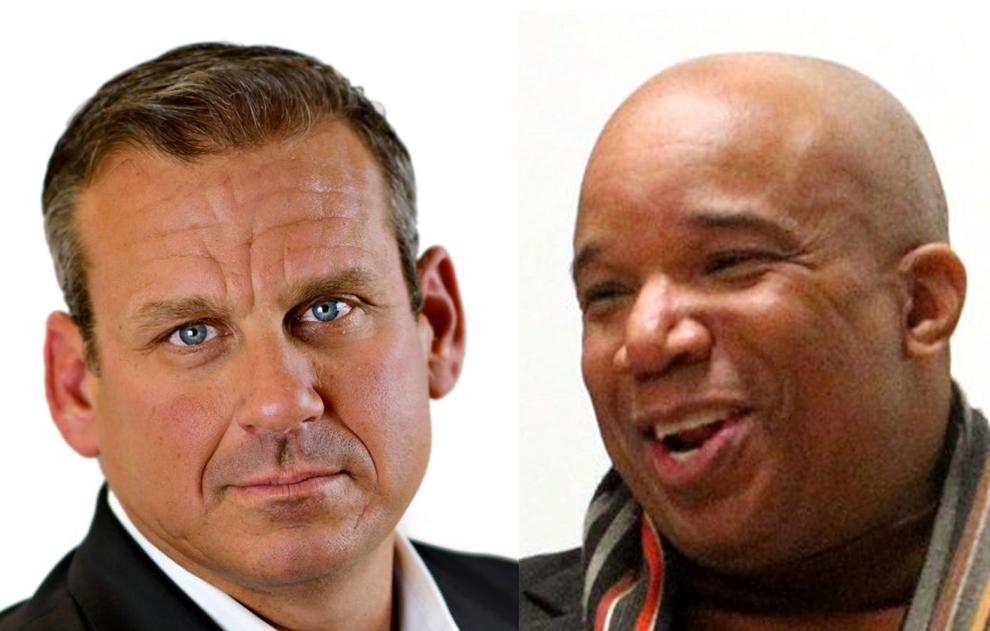 "It was a Thursday. The next Clean Sweep was Saturday in Walnut Park. Doug showed up with about 50 men and at least 20 trucks," Clark said. "His men went to work like locusts."
Weible said he was struck by Clark's commitment and passion.
"A lot of people in this town are having a lot of meetings talking about all the great things they are going to do in north city," Weible said. "While they are having meetings, James Clark and Better Family Life are out in the streets of north city, so I've got a lot of time for the guy."
Weible said his company's dedication to Clean Sweep grew after hearing from his employees the Monday morning after crews knocked down buildings, cut down trees and cleaned up vacant lots that Saturday in May 2017.
"Every one of my guys said: 'When can we go back and do it again?'" Weible said.
Weible and Clark kept in touch, having lunch occasionally and talking about ways to make Clean Sweep bigger. The result was a cleanup one Saturday a month over the last four months, focusing on a different neighborhood each time. Ten construction companies contributed to the efforts with more than 300 workers joining 1,500 volunteers and residents.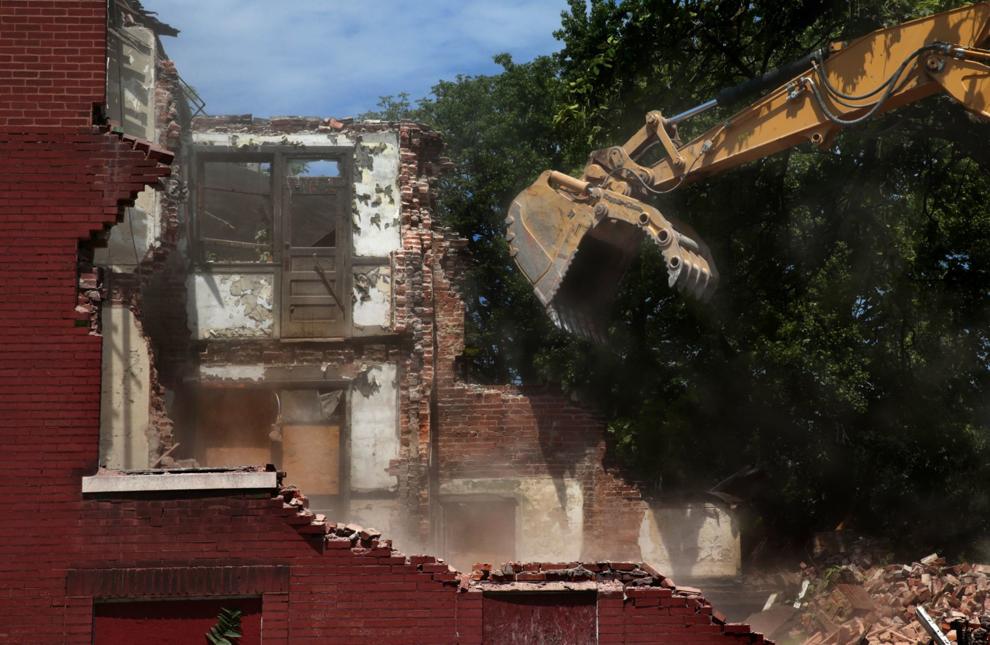 "The magnitude of the despair is bigger than anyone will realize," Weible said. "Nobody who lives west of (Interstate) 270 understands the scope of the problem in north city."
And the only way to make it better is a sustained commitment to doing so, he said.
"It is never ever going to get better until you start. Someone has to start doing something."
Changing the psyche
Osborn, buoyed by Weible's commitment, tapped contractors to get involved. It plays into the Regional Business Council's commitment to help the city tackle its high violent crime rate, she said.
"It is clear that law enforcement has a role, but a prevention role is something we can all participate in," Osborn said. After talking with St. Louis Public Safety Director Jimmie Edwards and Police Chief John Hayden, it became clear those with resources have to invest in the areas of town where disinvestment has been the norm for decades, she said.
Tony Thompson, head of Kwame Building Group, took on the role of operations manager, communicating with city departments and contractors to make sure the weekend cleanup efforts ran smoothly.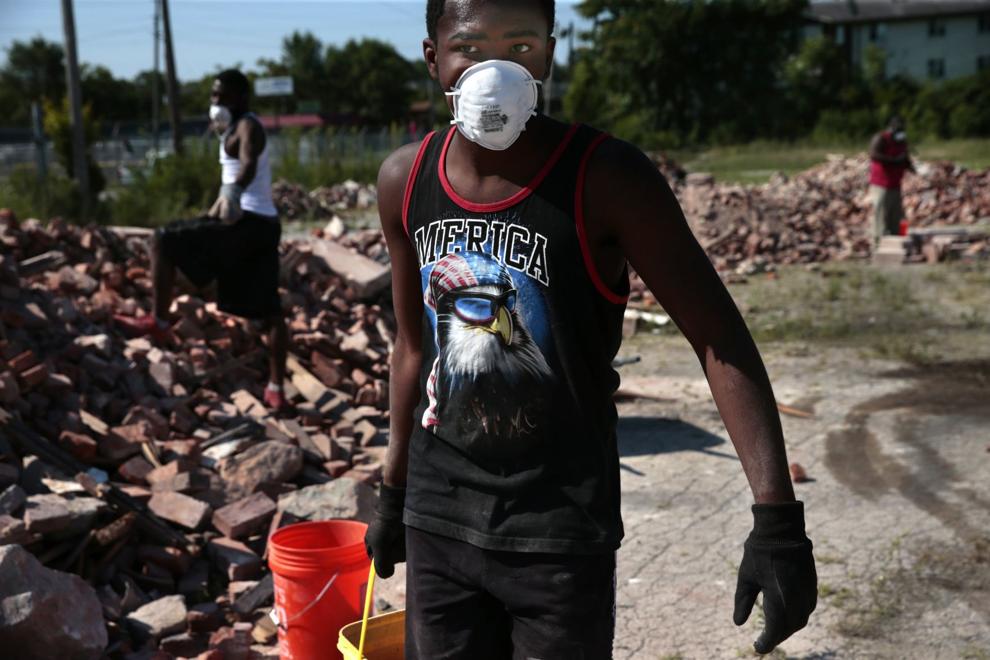 Overall, Clean Sweep is a good program, Thompson said. But it did shine a light on how those who are poor and black are treated in the city, he said. For example, the older woman in Hamilton Heights who had a tree fall on her roof and tried for five years to get help from the city.
"Think about that for a minute. There is no way a tree would fall on a house in the Central West End or midtown, or any other community and stay there for five years," he said.
Construction crews, coming in to clear trees and brush, haul away discarded refrigerators and tires and take down vacant properties. It changes the psyche of the residents.
"There's a sense of pride that comes over people and it changes the way they think — and how others think — of the neighborhood," Thompson said.
Scott Wilson, chief executive of S.M. Wilson construction company, said there was no hesitation to get involved. But he wonders if it's too late.
"Is it at the tipping point where people don't give a (expletive) anymore?" Wilson said. The neighborhoods that are in dire shape will continue to struggle when residents don't have the finances to make improvements on their homes and more and more properties become rentals.
"On a lot of these streets, plenty of homes have been taken down," Wilson said. "What my big concern would be is how do you get these neighborhoods back again? Or do you?"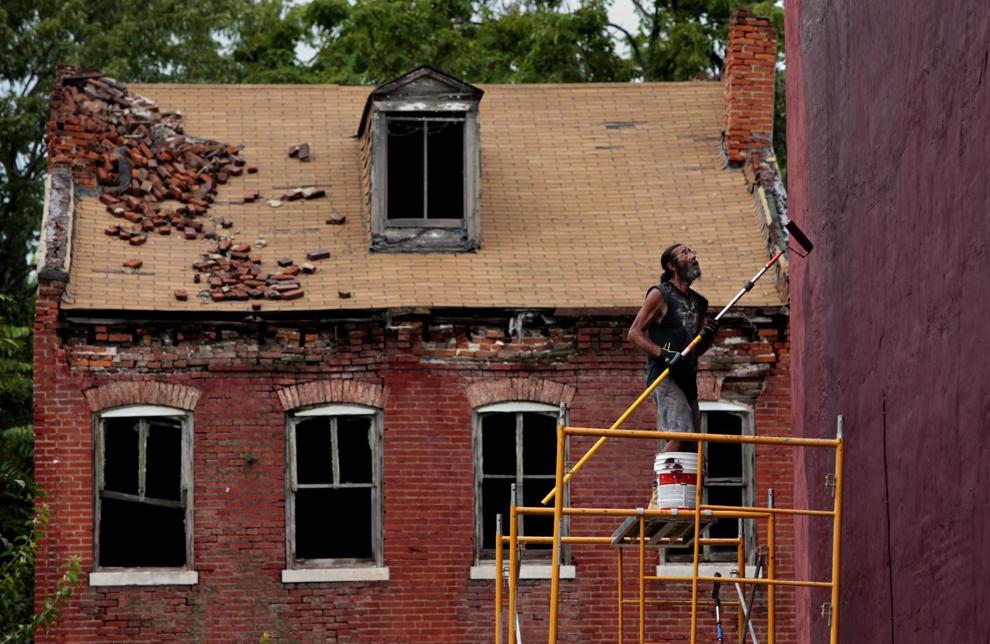 Ultimately, he thinks so, if there is more buy-in. Not just from other contractors but other companies that can rally a team of employees to chip in. It will take more than four clean-up efforts a year.
Pat Burt, a resident of Hamilton Heights for more than 50 years, said the Clean Sweep efforts came after many of her neighbors moved away. But the work is paying off for those who stayed.
"Initially, there was a gloom that kind of took over us," said Burt, a retired administrative assistant with St. Louis Public Schools who volunteered at the Clean Sweeps.
"I just want to be part of the solution," Burt said. "We don't have to be this boarded-up city."
Building on success
James Clark, 51, started work at Better Family Life when he was 22, after a three-year stint in the Army. When he joined the military, violence and drug dealing were taking over neighborhoods, including Jeff-Vander-Lou, where he grew up. Had he not left, Clark insists he would have either ended up dead or in jail. His friends were using and selling crack cocaine.
He saw how the racial divide was widening. How neighborhoods south of Delmar Boulevard were rebounding while those north continued to slide. He wanted to help remake a part of town that created idyllic childhood memories for him. Working for a social service agency that offers after-school programs, workforce development and mental health counseling seemed the right fit.
The lack of private lending north of Delmar Boulevard is a major obstacle to the city's vacancy-fighting efforts.
Cleaning up neighborhoods has been a cornerstone of the agency's efforts since its founding in 1983. One of its most noticeable efforts is the painting of murals on vacant homes along Page Boulevard. The artwork features prominent African-Americans with St. Louis ties. Bringing the Regional Business Council and construction companies on board for neighborhood cleanups earlier this year broadened efforts to shine a light on the vacancy problem. It brought people into parts of St. Louis they would not have set foot in otherwise.
"We were seeing white people come out in large numbers," Clark said.
"We saw the racial divide being chipped away at with an African-American 17-year-old male passing a 70-year-old white woman a bottle of cold water. You begin to see these episodes play out and you know this is only budding. It's not even hit full stride."
'It takes everyone'
Sheree Moore has seen news accounts of the Clean Sweep program and is heartened by the work. But so far, the efforts have been in neighborhoods around her home and not in the Ville, where she and her husband, Antonio, have lived for 22 years.
The living room of their house on Maffitt Avenue has been turned into an indoor playground for their two granddaughters.
Toys fill the dimly lit room, which includes several pictures of the girls, ages 5 and 4.
The television above the fireplace is off. Instead, Sheree Moore keeps an eye on a screen hanging in the corner, displaying images captured by the four security cameras outside.
One is trained on a playground her husband built for the girls in a vacant lot that he maintains next to their home. He has placed orange construction fencing between his house and the vacant one next door to discourage using the lot as a cut through.
Sheree Moore, 51, grew up in the neighborhood. It has been hard to see its decline, accelerated by the closing of two schools, Simmons Elementary in 2009 and Turner Middle the following year. The corner stores, once supported by families who went to the schools, are gone too.
"It's a different generation now," she said. It is tenants renting from apathetic landlords.
"They don't care who is moving in. They just want the money. Slumlords."
The Moores talk about moving, but the occasional glimmer of a brighter future keeps them from fleeing. She points south to a large mixed-income housing development on North Sarah Street. Investment inching closer to her neighborhood.

"We keep thinking it's coming, right around the corner. But it's taking so long," she said. "Still, I'm hopeful."
Hopeful that she and other homeowners can hang on a little longer. Their house needs work; most pressing, a new roof. But money is tight. Sheree Moore works the occasional office job through a temp agency but spends most of her time caring for her grandchildren. Antonio Moore has a job in building maintenance and does house painting on the side.
The vacant houses that dot the block would be good candidates for the Clean Sweep program, she said.
Organizers agree. After the success of the four Clean Sweeps this year, contractors and Better Family Life decided to add a fifth. It will be Oct. 27 in The Ville. Sumner High School alumni and church groups are being tapped to participate. But first, a cleanup effort in East St. Louis on Sept. 29.
For Sylvester Clark, who lives four miles to the west, his Hamilton Heights neighborhood will not come back. Not to how it once was. Too much of it is gone. Houses have fallen down, burned down, or been taken down. And more need to go, including the two directly behind him.
This house in the 5900 block of Minerva Avenue is where he raised his seven children, made a decent living as a mechanic and outlived his first wife. In the vacant lot beside his house, he tends to a garden. The back deck is nice, but keeping a grill, furniture or anything of value there is futile. Thieves jump the fence. Rats also are a problem, making their way through the backyard from vacant lots and homes.
"I've had to shoo them off the windowsills," he said.
Clark and a few other men on the street pick up litter and mow vacant lots.
But he's getting old. And younger homeowners aren't moving in. He will keep going as long as he can.
"I'll stay until the Good Lord calls me," Clark said. "We still have a few good people here. But to keep the neighborhood up, it takes everyone pitching in."
"Tipping Point" is a series of special reports that examine critical challenges facing St. Louis neighborhoods. To see earlier stories, go to stltoday.com/TippingPoint
Previously, about illegal dumping: